Being surrounded by the ocean, Ireland is lucky enough to have many beautiful beaches. Here are the top ten best and most beautiful beaches in Ireland.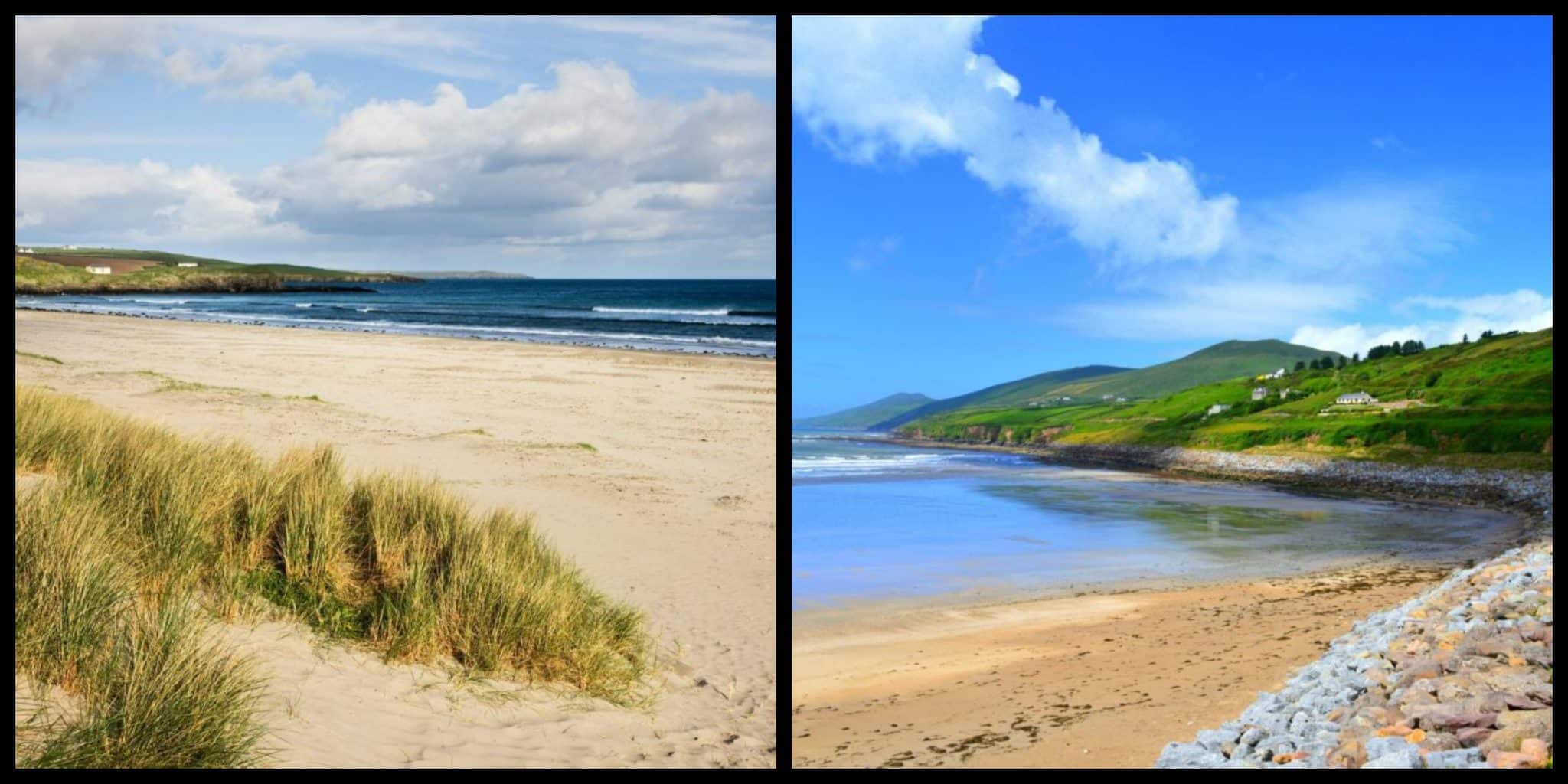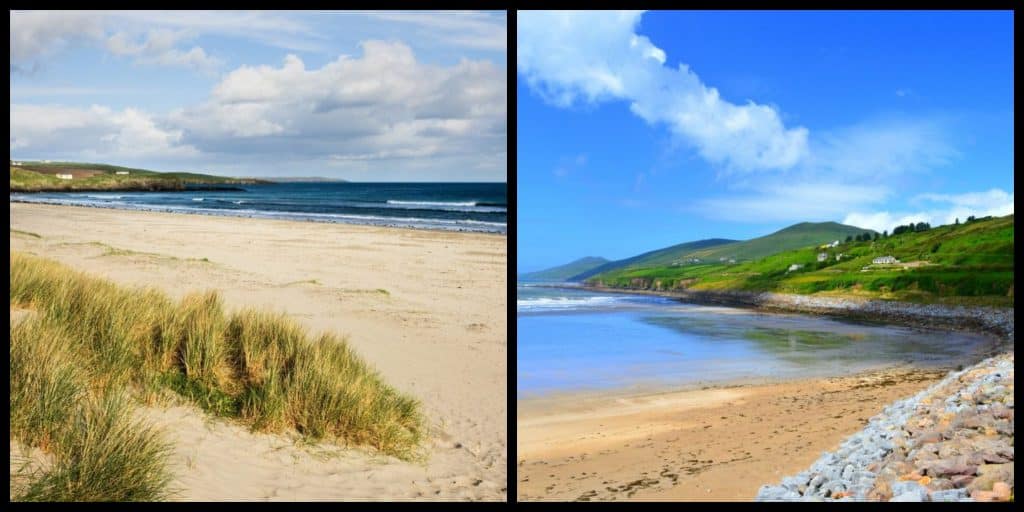 It's said that if Ireland had sun all year round we would truly be the best country in the world, but we believe we still are. Despite the weather not always being on our side, it doesn't stop us from enjoying our beautiful surroundings, especially our beaches. But it's almost impossible to choose the best beaches in Ireland.
Head to the Irish coast, and you'll more than likely find people strolling to their heart's content, surfing the wild Atlantic waves, cycling along the coastal boardwalks, or even trying their hand at kayaking or canoeing amongst the pristine waters of Ireland beaches.
In summer, when the weather is at its best, the beaches will be packed with sun worshippers and swimmers galore, all of whom just adore the Irish coast as much as we do. We have taken on the challenge to narrow it down to the ten best and most beautiful beaches in Ireland, so here we go.
10. Inch Beach, Co. Kerry – ideal for surfers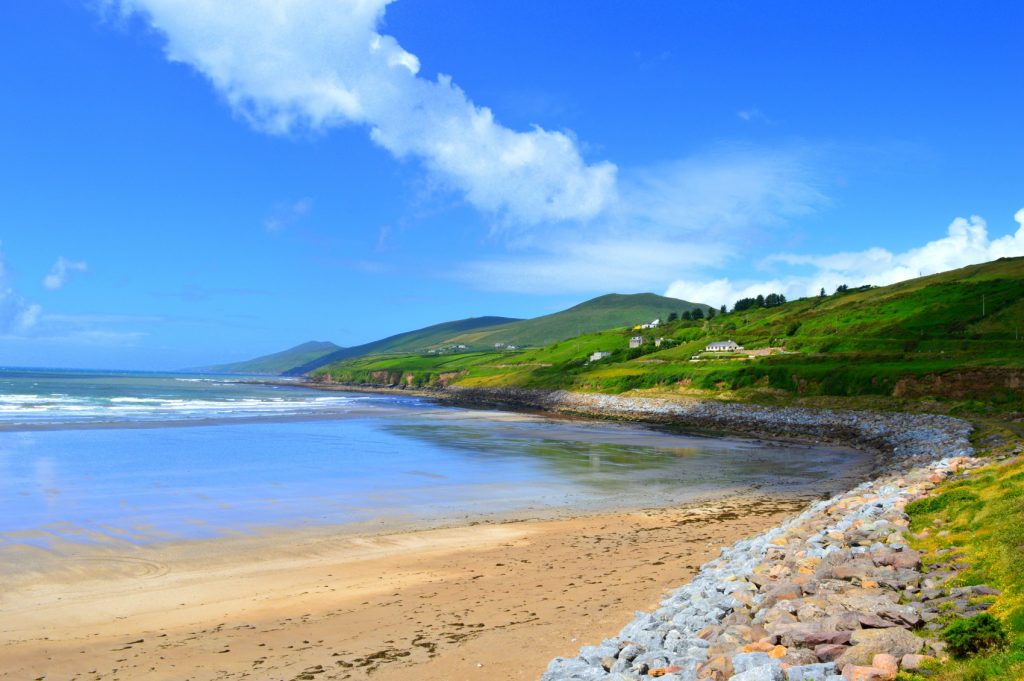 This blue flag beach is ideal for surfers, walkers, sun worshippers, swimmers, and anyone interested in learning some watersports, and is one of the best beaches near Limerick. Give Inch Beach a visit, it could be the best beach in Ireland.
9. Barleycove, Co. Cork – crowned with beautiful sand dunes
Situated close to Mizen Head, Ireland's most southerly tip interestingly enough has sand dunes that were created from a tidal wave when the earthquake of 1755 hit Europe.
8. Dog's Bay, Co. Galway – watersports anyone?
Just a stones throw from Roundstone, this stunning beach has a sister beach called Gurteen Beach, worth a visit too. Both beaches have white sandy beaches and are ideal for watersports. Another of the best Ireland beaches.
7. Inchydoney Beach, Co. Cork – one of the best beaches in Ireland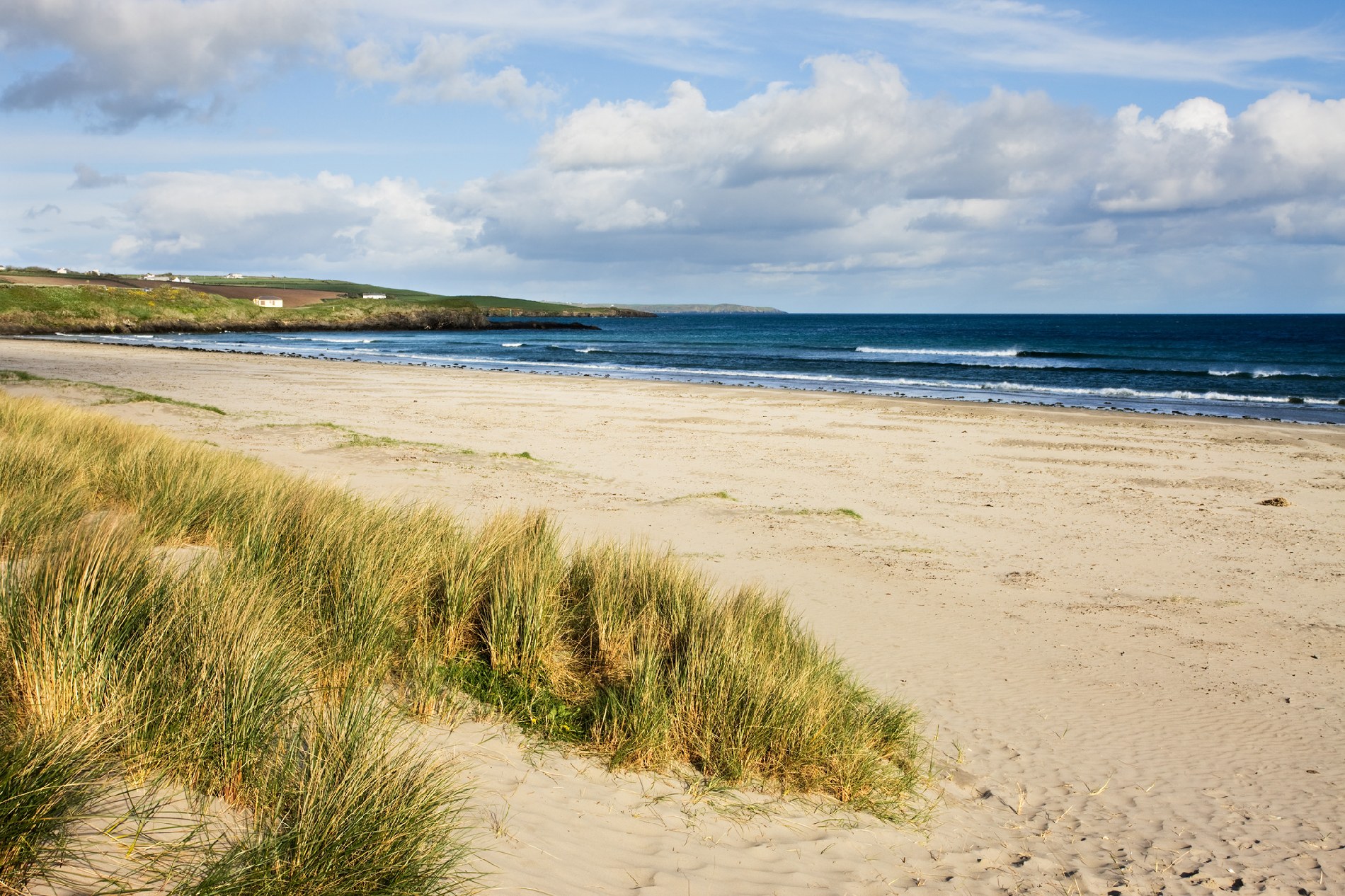 This popular blue flag beach, close to Clonakilty, is renowned for its excellent surfing conditions as well as being one of West Cork's most family-friendly beaches and is one of the best beaches in Cork.
6. Brittas Bay, Co. Wicklow – could it be paradise?
Just a short drive from Dublin, Brittas Bay will make you feel like you've landed in paradise. With a long stretch of white sandy beach, this spot is very popular in summer but is visited all year round by many.
5. Portsalon Beach, Co. Donegal – idyllic and beautiful
It's no surprise that Portsalon Beach always makes it only a 'best beaches' list, with its stunning setting, making it an idyllic place for many to enjoy. This could be the best beach in Ireland!
4. Coumeenole Beach, Dunquin, Co. Kerry – full of beautiful scenery
This beach, situated on the Wild Atlantic Way, is one of the most iconic beaches along the Dingle peninsula. Although the seas are too rough for swimming, visitors can enjoy the beautiful scenery during a walk along the beach. Movie lovers will be excited to know that this was a film location for Ryan's Daughter.
3. Keem Bay, Achill, Co. Mayo – a photographer's dream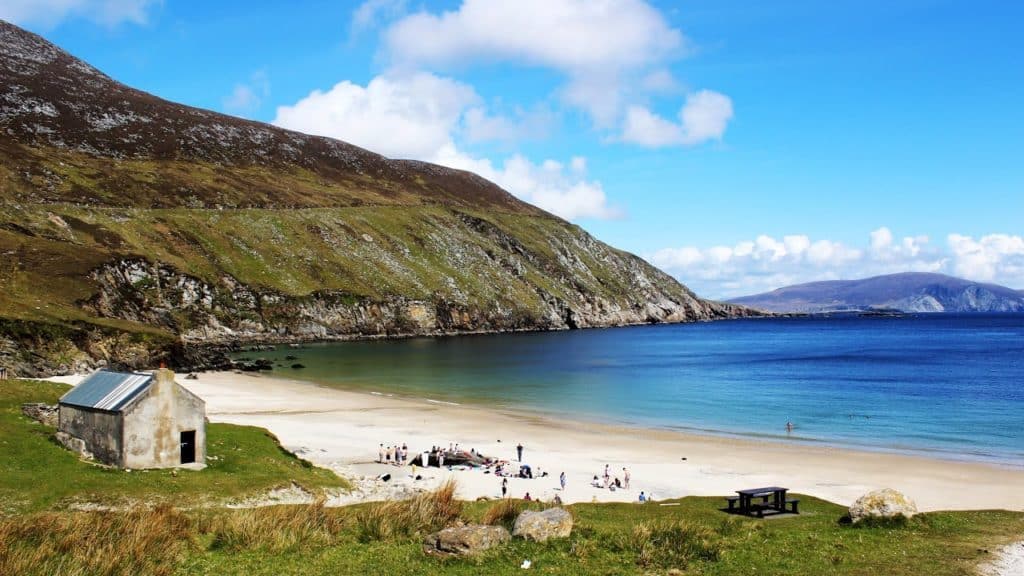 Located on the stunning island of Achill in Co. Mayo, this bay is just spectacular. Not only will you be swept away by the sea's turquoise colour, but the positioning of the beach in between high cliffs makes it a photographer's dream. It's totally one of the top Ireland beaches.
2. Trá Bán, Great Blasket, Co. Kerry – rolling green hills
Trá Bán or 'White Strand', is one of our remote island beaches, perfect for those peaceful getaways. The scenery is just incredible, with the white sandy beach at the forefront and the rolling green hills in the background. Pair this with the rock remains of traditional houses and you've got something very unique and special.
1. Curracloe, Co. Wexford – famous for films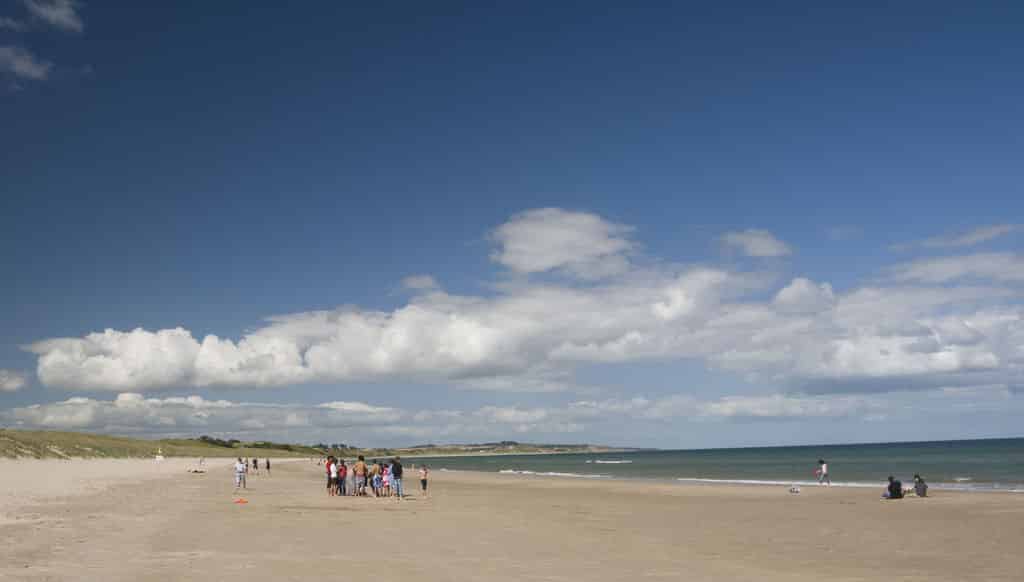 Looking for the best beach in Ireland? this award-winning beach, and a national favourite, hugs the coast for 11 km and maybe takes that spot. Not only is it just out-of-this-world beautiful, but it is also a film location for the movie Saving Private Ryan. Now, who can say they already knew that?
So there you have it, our top ten best and most beautiful beaches in Ireland. It was certainly hard to narrow it down considering we have many beautiful Irish beaches which fit into this category. Still, these ten spots are indeed something special.
Whether it's a surfing lesson you're after, a beautiful beach to take photos of, a place to hang out with friends, a family picnic spot, or just an idyllic setting to have some me time, one of these top ten will tick the box.
It's no wonder many directors have chosen Ireland's beaches as film locations, considering we have the perfect combination of white sand, blue waters, and green hills, sometimes dotted with historical elements, which just can't compare to many places around the world. All that's left for us to say now is, Happy Beaching!
More useful info on Irish beaches
The 10 best and most beautiful beaches in Ireland
Top 5 beaches in Dublin you need to visit before you die
Top 10 best beaches in Northern Ireland, ranked
Top 5 best beaches in Wicklow,
The 5 best-known nudist beaches in Ireland, ranked
Top 5 most beautiful beaches in Donegal
The 3 best beaches in County Meath
The 5 best beaches in County Mayo
Top 5 best beaches in County Wexford
Top 5 best beaches near Limerick
Benone Beach: when to visit, what to see, and things to know