The strands of the west coast of Ireland are amongst the world's finest, so come and visit some of the best beaches in Sligo to find out for yourself.
County Sligo occupies its own sacred spot along Ireland's famous Wild Atlantic Way, finding a home on the west coast just below Donegal and spearheading the Connacht province.
Owing to its virtuous geography, the county has much to offer aspiring tourists or home birds who don't want to spread their wings too far from the Emerald Isle. Amongst its repertoire is a series of magnificent coves.
Read on to discover the top five best beaches in Sligo, ranked.
IB4UD's favourite fun facts about Sligo
County Sligo is located on the west coast of Ireland and is known for its stunning natural beauty, including its many beaches and mountains.
The county is home to Benbulben, a famous mountain that is said to resemble a table.
Sligo is also known for its rich literary history, with famous Irish poets such as W.B. Yeats and Seamus Heaney drawing inspiration from the area.
The Carrowmore Megalithic Cemetery is an amazing historical site in Sligo which is Ireland's largest and oldest megalithic cemetery.
The county is home to the Sligo Folk Park, an open-air museum that showcases traditional Irish life and culture.
Sligo is known for its traditional music scene, with many pubs and venues hosting live music performances.
The county has a strong connection to the sea, with fishing being a major industry in the area.
The town of Sligo is home to a number of historic buildings, including the Gothic-style Sligo Abbey.
5. Rosses Point Beach – a popular seaside resort
First on the list of the best beaches in Sligo is Rosses Point. This is one of Ireland's many award-winning and Blue Flag beaches. It's a must-visit on your travels westward, having achieved the coveted award just this year.
Like many of Sligo's strands, you will be introduced to a stunning backdrop of the mighty Benbulben. It is only 8 km (5 miles) from Sligo town and is an unspoiled stretch of sand for you to enjoy.
It is a popular seaside resort that also boasts views of Knocknarea, the Darty mountain range, and the Sligo Bay. You will truly be immersed in the beauty and charm of the Rosses Point village.
Address: Rosses Point, Co. Sligo, Ireland
READ ALSO: Top 10 best walks in Sligo you need to experience, ranked
4. Mullaghmore Beach – one of the best beaches in Sligo
Mullaghmore Village is one of the most scenic in all of County Sligo. It is perched up north and left to the will of the Wild Atlantic Ocean, looking towards the hegemonic hills of Donegal.
To cap off its charm, the village is host to a beautiful sandy beach. It is boastfully backed by sand dunes that lie on the cusp of Sligo's crown jewel, Benbulben.
The 3 km (2 miles) strip of white sand makes Mullaghmore one of the best beaches in Sligo. It is also one of the Emerald Isle's very best for surfing.
Address: The Cottage, The Green Rd, Kilkilloge, Mullaghmore, Co. Sligo, Ireland
WATCH: OUTSTANDING Video of Mullaghmore, Co. Sligo from the sky
3. Culleenamore – wonderful sandy Sligo beach
Along the Wild Atlantic Way, if you want to indulge in escapism and are in need of a bit of peace and quiet, then Culleenamore is your kind of beach.
You will find these dreamy sands at the end of Strandhill. Here, its still waters create an idyllic atmosphere for you to relax in. It is also protected from big waves as it looks away from the Atlantic.
Horse races are held here every year. However, the animal life doesn't end there, as it is common for seals to bask in the silence with you if the sun makes an appearance.
Address: Strandhill, Co. Sligo, Ireland
READ ALSO: Five Jaw-dropping Scenic Sites in Sligo
2. Enniscrone Beach – perfect for a coastline walk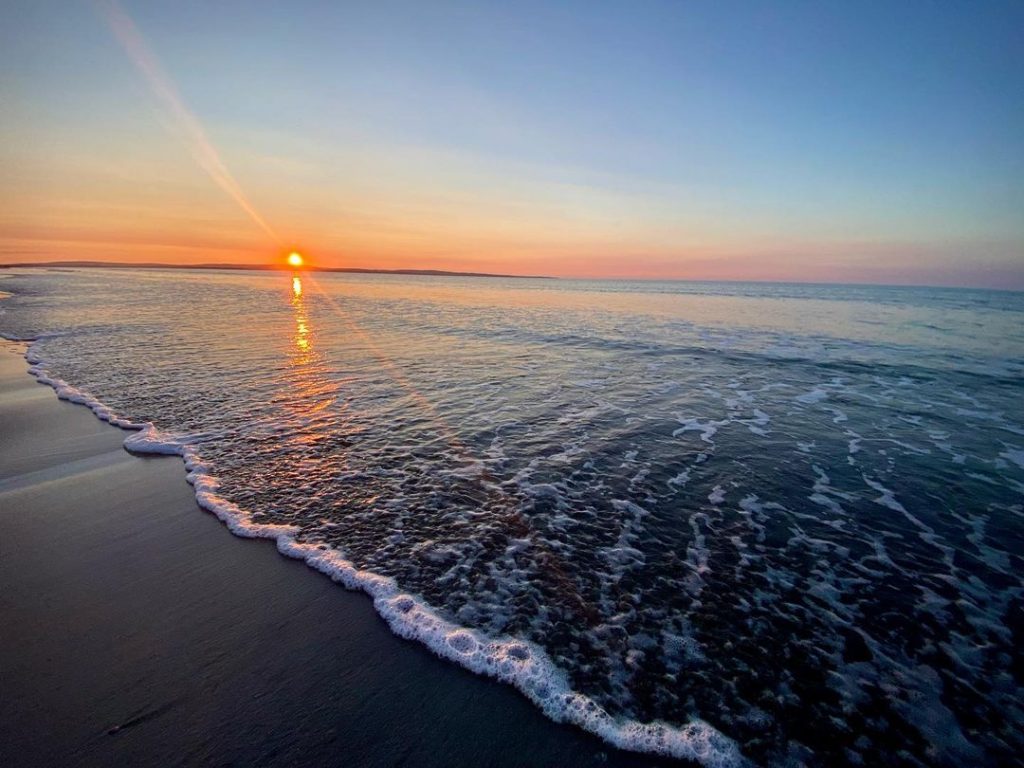 Another Sligo beach to have earned Blue Flag status, Enniscrone is perfect for a coastal walk. Here, the smooth sand is slowly greeted by the faltering waves of the Atlantic ocean.
It is undoubtedly one of the best beaches in Sligo, spreading its borders roughly 5 km (3 miles) long. It is housed next to the buzzing seaside town that is Enniscrone.
The beach is backed to its rear by sand dunes and convalesces around the Killala Bay.
This spot is a hit with families, as it offers perfect conditions for fishing, horse riding, kite surfing, playgrounds for the kids, a waterpark, caravan and camping parks, and a spa. These features also attract a host of surfers each year, and one of the more popular destinations for a family staycation.
Address: 1 Bridge St, Muckduff, Enniscrone, Co. Sligo, Ireland
READ ALSO: IB4UD's 5 most AWESOME coastal walks in the WEST of Ireland
1. Streedagh Strand – for breathtaking coastal views

Credit: Instagram / @ vanessatoginho
What's not to see at Streedagh Strand? This breathtaking beach can be found close to the village of Grange. It loops inward from the Atlantic Ocean, and rests almost in an island-like fashion partitioning the Atlantic.
As the wild waves slowly carve their way into the heart of Streedagh, take a moment.
Stop, breathe, and absorb the beautiful Irish mountains, the ocean, and of course Sligo's favourite son, the Benbulben.
The beach is only 3 km long so it isn't much of an ask for the legs, and the coastal air will soon evaporate any fatigue.
Streedagh is also worth a visit for the history buffs, as three ships from the Spanish Armada in 1588 were located here in 1985, hundreds of years later.
Address: Streedagh, Co. Sligo, Ireland
Your questions answered about beaches in Sligo
If you still have a few questions in mind, we aim to answer them below! In this section, we answer some of our readers' most frequently asked questions about beaches in Sligo.
What is the quietest beach in Sligo?
Portavade Beach is usually the quietest beach in Sligo as it is quite secluded. It offers breathtaking views of the Knocknarea mountain and provides an ideal setting for snorkelling and swimming.
What beaches are safe for swimming in Sligo?
Mullaghmore's Bishop's Pool and Poll Gorm are great places to swim, as the water is safe and shallow when the tide is out. Dunmoran Strand, Enniscrone Beach and Rosses Point Beach are great options if you want to swim further out, as these locations have on-duty lifeguards.
Which beaches are best for surfing in Sligo?
If you want to catch some waves, there are plenty of great options in Sligo. Enniscrone Beach is perfect for beginners, with gentle waves which are strong enough to sail you back to shore. Eeasky Beach is brilliant for more experienced surfers, with its two reef breaks creating perfect conditions for barrell-surfing. Finally, Mullaghmore Head is a renowned location for big-wave surfing in Ireland however, this should only be attempted by expert surfers.
More useful info on Irish beaches
The 10 best and most beautiful beaches in Ireland
Top 5 beaches in Dublin you need to visit before you die
Top 10 best beaches in Northern Ireland, ranked
Top 5 best beaches in Wicklow,
The 5 best-known nudist beaches in Ireland, ranked
Top 5 most beautiful beaches in Donegal
The 3 best beaches in County Meath
The 5 best beaches in County Mayo
Top 5 best beaches in County Wexford
Top 5 best beaches near Limerick
Benone Beach: when to visit, what to see, and things to know