Longing for a beautiful stretch of sand? Here are Ireland's top 10 beaches, according to TripAdvisor.
Ireland is a small island often known for a love of banter, Guinness, pub vibes, and trad music sessions. What often goes overlooked, though, is Ireland's beach offering.
With the wild Atlantic Ocean to the west, separating the Emerald Isle from America and Canada, and the Irish Sea dividing Ireland from the British Isles on the east coast, there's a range of cinematic beach backdrops across the island.
TripAdvisor—an acclaimed international travel booking engine and review platform—has released its annual ranking. Here they are: Ireland's top 10 beaches, according to TripAdvisor in 2019.
10. Portmarnock Beach, Co. Dublin – for "the Velvet Strand"
Located in the city-suburb of Portmarnock in County Dublin is this top beach.
Nicknamed by locals as "the Velvet Strand," this five-kilometre haven of luxuriously soft sand is a favourite of water sports enthusiasts and the majority of Dublin residents on a sunny day in the capital city.
Address: Portmarnock, Co. Dublin
9. Ladies Beach, Co. Kerry – for dreamy castle ruins
This stunning stretch of sand is located in Ballybunion in County Kerry. It makes up one of two beaches that are collectively referred to as the Ballybunion beaches.
The other is named Men's beach. These two dreamy seaside settings are separated by a cliff top, upon which a castle ruin resides. As one may guess, these beaches were named like so, as men and women used to bathe separately.
Address: Ballybunion, Co. Kerry
8. Rossbeigh Beach, Co. Kerry – for a postcard-worthy setting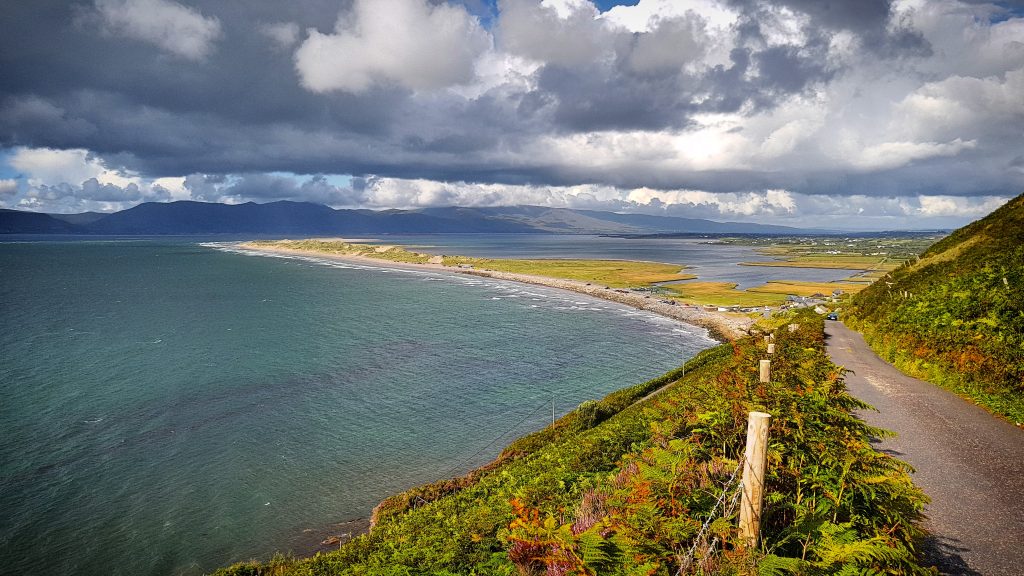 Also located in County Kerry is Rossbeigh Beach, the eighth spot on Ireland's top 10 beaches, according to TripAdvisor.
This picturesque setting is postcard-worthy, without a doubt, and is also considered one of the best Blue Flag beaches (meaning they exceed sanitation and safety standards) in Ireland.
Address: Faha, Co. Kerry
7. Lahinch Beach, Co. Clare – for a popular surfing destination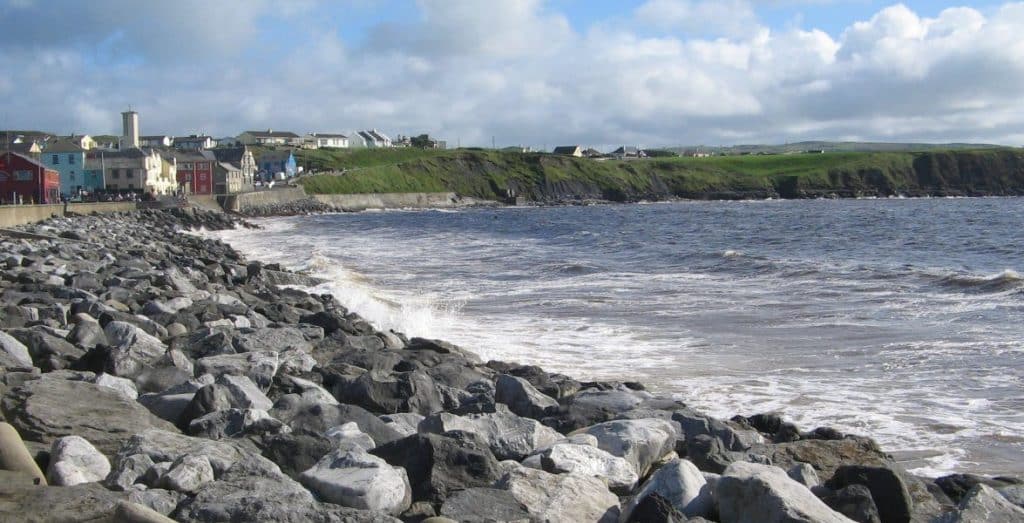 Not far from the Cliffs of Moher in County Clare is Lahinch Beach. This Blue Flag beach is one of the key places for a surf in Ireland, and with surf schools located along the stretch, every level of experience is catered for.
Affordable parking and amenities, including showers and toilets, make this a great day trip with the family, as well as an ideal pit stop en route to or from the nearby natural attraction: the Cliffs of Moher.
Address: Ennistymon Rd, Dough, Lahinch, Co. Clare
6. Coumeenoole Beach, Co. Kerry – for a seaside paradise
Another spot that has made it onto Ireland's top 10 beaches, according to TripAdvisor, is Coumeenoole Beach in County Kerry.
This seaside paradise has tremendous cinematic qualities, as ancient cliffs rise from velvety sand. Sheltered from much wind, this is the perfect place for a picnic on a sunny day in Dingle.
Address: Coumeenoole North, Co. Kerry
5. Derrynane Beach, Co. Kerry – for enchanting surroundings
Derrynane Beach is yet another Blue Flag beach in County Kerry which offers the most enchanting seaside setting year-round.
The natural harbour offers shelter from crosswinds, and lifeguards patrol during peak season, offering an added sense of security.
While in the locale, make sure to check out the nearby Derrynane Abbey and burial ground, which date back to the 6th century.
Address: Darrynane More, Co. Kerry
4. Strandhill Beach, Co. Sligo – for a perfect holiday destination
This Sligo beach is located in the seaside resort of Strandhill. A popular destination for surfers year-round, who take on the challenge of the wild Atlantic Ocean, this is also a hotbed of activity in the mid-year months.
The lively seaside setting offers entertainment, dining and activities for the entire family, making it a perfect holiday destination. And it is listed as fourth among Ireland's top 10 beaches, according to TripAdvisor.
Address: Shore Rd, Carrowbunnaun, Strandhill, Co. Sligo
3. Inch Beach, Co. Kerry – for lovers of water sports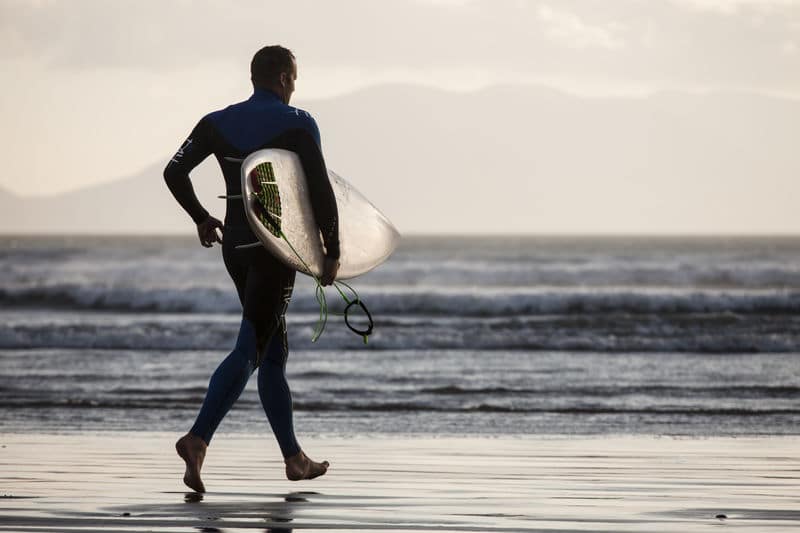 This beach in County Cork steals third place across all of Ireland's best beaches. Five kilometres in length, Inch Beach welcomes those with a love for water sports daily.
Kite surfers, wind surfers, hand gliders, and wave riders can all be spotted here on a decent day. And even if the weather isn't balmy, this picturesque Blue Flag beach makes for a fantastic walk on a winter's day.
Address: Inch East, Inch Beach, Co. Kerry
2. Banna Strand, Co. Kerry – for a perfect picnic spot
Located in Tralee Bay in County Kerry is Banna Strand. This sweeping stretch of sand hugs the Atlantic coastline and offers endless space on a sunny day to catch some rays, or makes for the perfect place for a picnic in the dunes.
This local's gem is a key hangout spot in the summer months, so arrive early to snag the best spot of sand.
Address: Tralee Bay, Co. Kerry
1. Inchydoney Beach, Co. Cork – for crystal-blue waters
The number one on Ireland's top 10 beaches, according to TripAdvisor in 2019 was awarded to Inchydoney Beach in County Cork.
With crystal-blue waters and velvety stretches of soft sand, this makes for an ideal playground on a summer's day in Cork, making it one of the best beaches in Cork.
Endless sand dunes, perfect surf conditions, and proximity to amenities make this beautiful beach in Ireland the number one for 2019.
Address: P85 AT27, Inchydoney Island, Inchydoney, Co. Cork, P85 AT27