Looking to experience the best of Ireland's capital? Here is our Dublin bucket list: the top 25 best things to do and see in Dublin in your lifetime.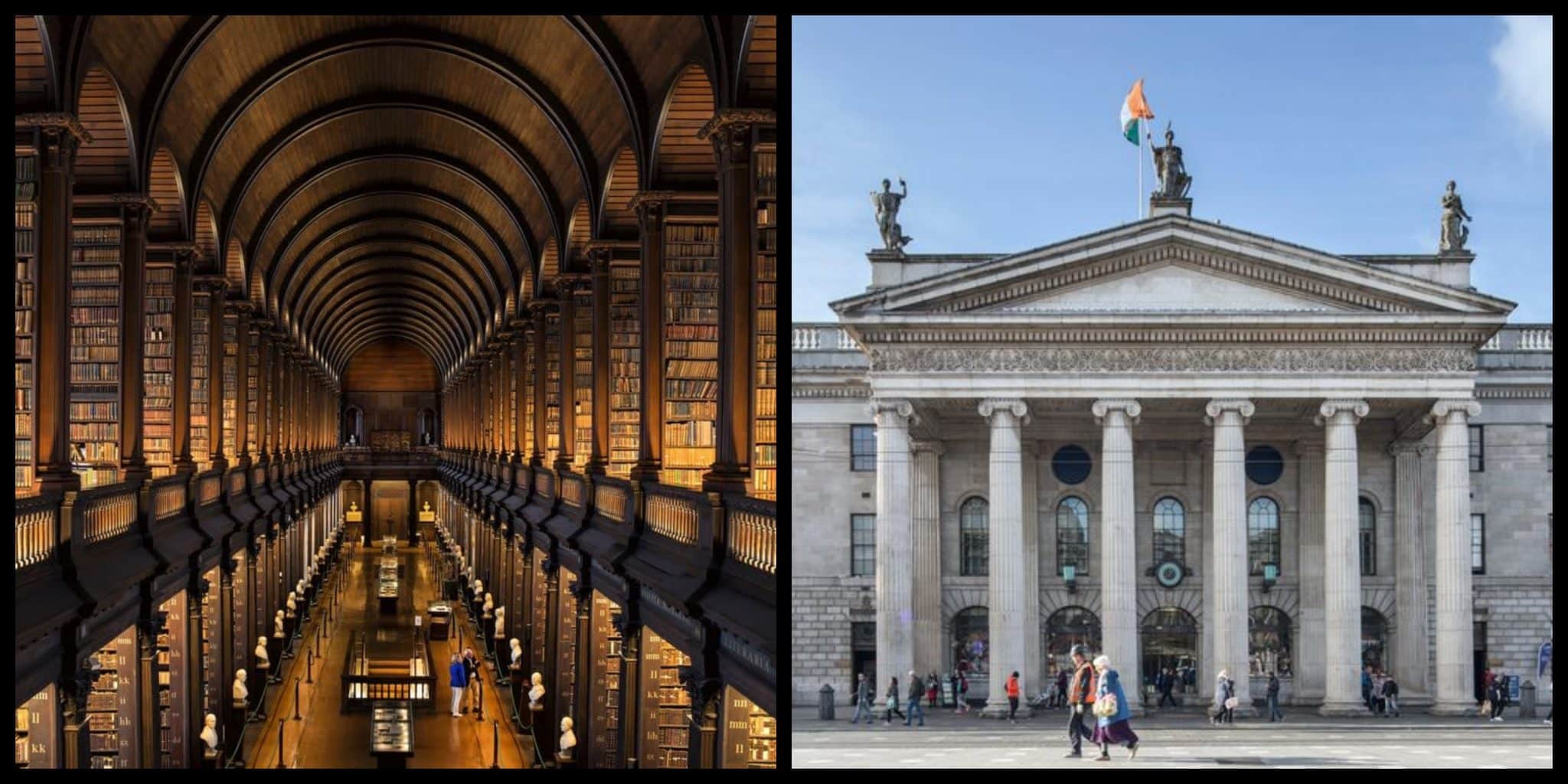 If you've never been to Dublin and love discovering new places, then we've got the list for you. Dublin is chock full of unique experiences and landmarks.
Our tourism has been booming the past few years, and we love the capital city so much that we hand-picked this list of cultural and historical landmarks we think everyone needs to visit.
If you're only going to visit Dublin once, then this is the only bucket list you need. Here are 25 unforgettable things to do in Dublin.
Ireland Before You Die's tips before visiting Dublin:
Expect rain even if the forecast is sunny because the weather in Ireland is temperamental!
Bring plenty of money, as Dublin is one of the most expensive cities in Europe.
If you're on a budget, check out our fantastic list of free things to do.
Stay safe in Dublin by avoiding unsafe areas, especially at night.
Use public transport like the DART, Luas, or Dublin Bus.
If you like beer, don't miss out on the Guinness Storehouse, Ireland's most visited attraction!
Engage with the locals, too – the people of Dublin are great and very welcoming, and they will give you great recommendations.
25. Anchor down on the Jeanie Johnston – step aboard and back in time
You may think it an odd way to kick off your Dublin bucket list, but the Jeanie Johnston is a sight not to be missed. The Irish Famine was a catastrophic period in Ireland's past, one that saw over one million Irish people die of starvation. The Jeanie Johnston is the perfect window into this time and, strangely, a hopeful glimpse.
You see, the Jeanie Johnston is the only famine ship from this period that did not see a single death aboard its decks for the seven years it travelled between Ireland and Canada. It provided an emigration escape route for those suffering through the period.
The ship tour is a true re-creation of the ship in its heyday and gives you a unique experience in exploring the journey of those fearful Irish passengers who risked their lives crossing the ocean.
Due to the popularity of the Jeanie Johnston, we'd highly recommend getting a queue jump ticket.
Read more: our review of the Jeanie Johnston
Address: Custom House Quay, North Dock, Dublin 1, D01 V9X5, Ireland
24. Explore the underground of St. Michan's Church – to glimpse the dead
This church isn't known so much for its beautiful architecture, sitting in Dublin's Smithfield district, but more for its collection of corpses. St. Michan's is home to several mummified bodies, well preserved in coffins in the basement, some being over 800 years old.
These mummies were created through specific atmospheric conditions in the basement, and even their coffins have eroded and disintegrated away to spill the corpses out. If you're looking for a thrilling and chilling experience, then look no further than St. Michan's.
Address: Church St, Arran Quay, Dublin 7, Ireland
23. Treat your taste buds at the Irish Whiskey Museum – one of Ireland's greatest crafts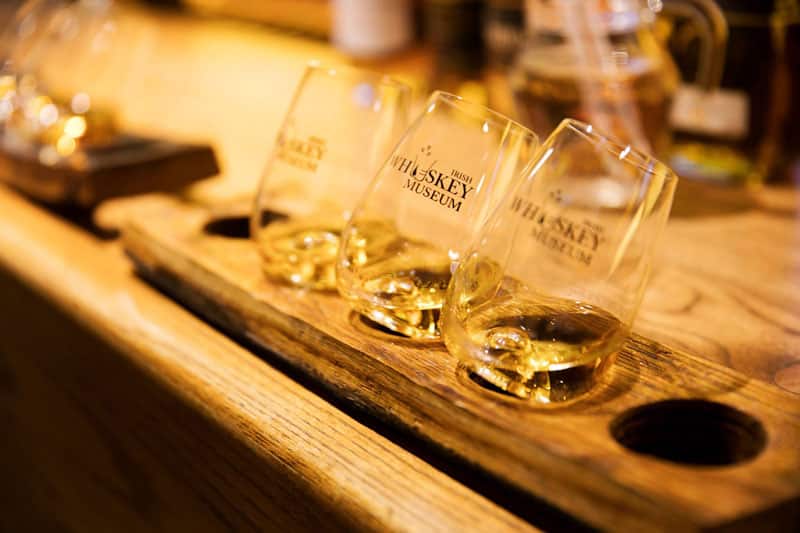 Ireland is well-known for its alcohol, being the home of the world's favourite stout, Guinness, but we're also known for other world-famous alcohols, namely whiskey. The Irish Whiskey Museum offers guided tours of their whiskey collection, as well as taster sessions, but these book up quickly, so be sure to plan ahead.
In addition, the Irish Whiskey Museum is well worth visiting over the weekend as they hold traditional live music sessions and various events to enjoy as you sip their selection. This is a worthy inclusion on our list of things to do in Dublin.
Due to the popularity of the Irish Whiskey Museum, we'd highly recommend getting a queue jump ticket.
Address: 119 Grafton Street, Dublin, D02 E620, Ireland
Read also: The Top 10 Irish whiskey brands
22. Wander through EPIC, The Irish Emigration Museum – to trace Ireland's worldwide reach
The Irish are known for their movement about the world; in fact, there are 70 million people who claim Irish heritage across the globe today. This Irish diaspora was due to multiple factors and historical events, such as the Great Famine, and those looking a better life.
The Irish Emigration Museum tracks and historicises the movement of these people, tracing their routes, where they ended up, and the effect they had on the rest of the world, as well as naming and collecting those in the huge Irish family.
The multi-award-winning attraction is full of interactive and interesting exhibitions, making it one of the finest museums in Ireland and one of the best things to do in Dubin. Further, booking a Dublin City Pass can get you reduced entry to this fantastic attraction.
Address: The Chq Building, Custom House Quay, North Dock, Dublin 1, D01 T6K4, Ireland
LEARN MORE: The IB4UD guide to visiting EPIC The Irish Emigration Museum.
21. Buy some soap in Sweny's Pharmacy – to follow in the footsteps of literature's Leopold Bloom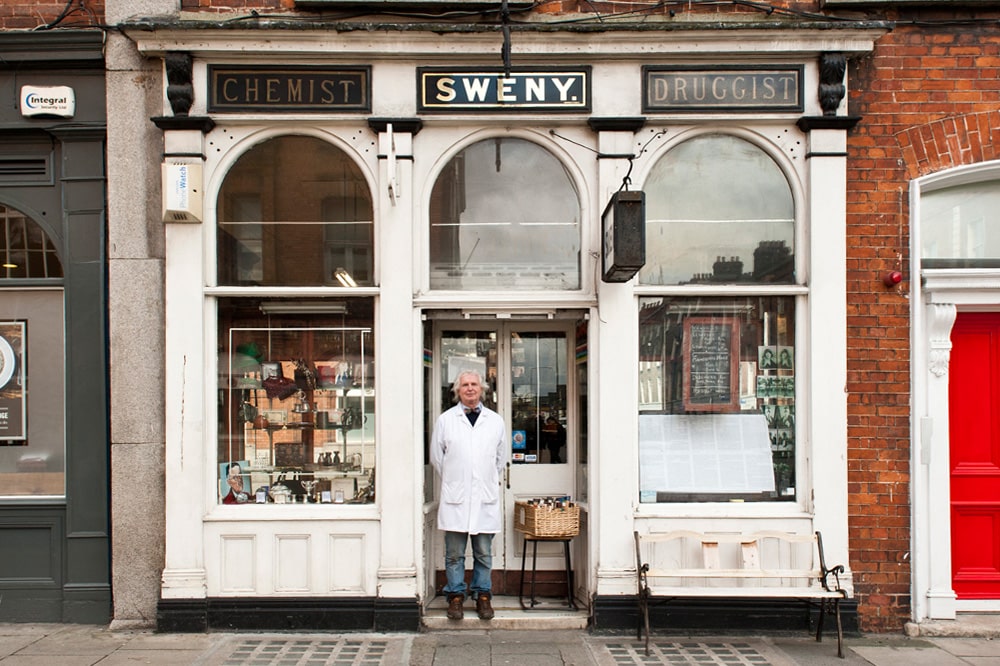 Raise your hand if you've read James Joyce's classic Irish novel, Ulysses… Yeah, neither have we. But that doesn't mean we can't admire Joyce's 1,000-page tome, especially because of its famed walk through the Dublin city streets.
Joyce's work features many of Dublin's key locations: Glasnevin Cemetery, Grafton Street, and so forth. However, Sweny's Pharmacy, a stop in the novel, exists in a time-bubble even to this day.
Inside Sweny's Pharmacy, just off the grounds of Trinity College, you'll find Joycean memorabilia, copies of his works, friendly characters in period outfits, group readings of Joyce's seminal texts, as well as lemon soap, the same kind Leopold Bloom bought while passing through.
Address: 1 Lincoln Pl, Dublin 2, D02 VP65, Ireland
20. Visit the Dublin Zoo – to make new furry friends
We're sure you've been to many zoos before, but hear us out; we guarantee Dublin Zoo will be one of the greatest zoos you ever visit.
Situated in the heart of Phoenix Park, the zoo is abundant with animals and experiences from across the entire globe and every continent. This is one of the best activities for kids in the city.
Whether you want to see bongos, baboons, or Burmese pythons, Dublin Zoo has it all. Plus, they host special events and frequent education days, so there's always something new to explore or learn. Keep an eye on their website to find out more.
Address: Phoenix Park, Dublin 8, Ireland
19. Walk the aisles of Marsh's Library – a store for all kinds of knowledge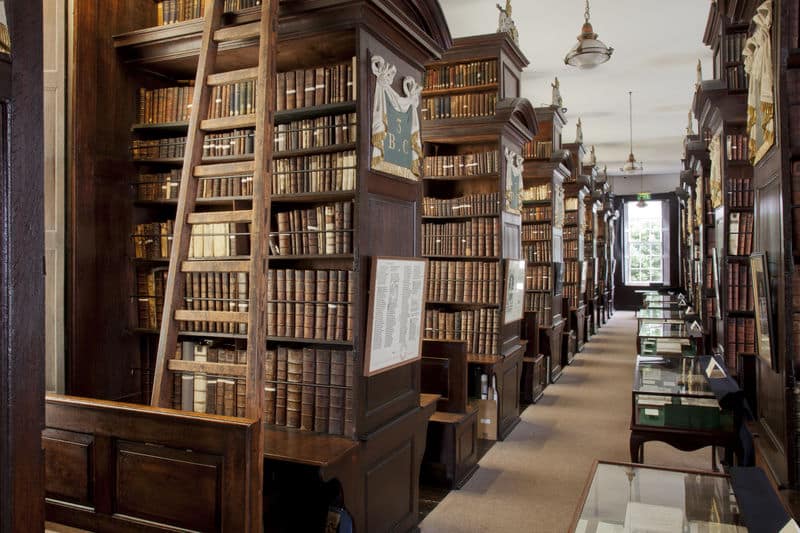 Known for being the first public library in all of Ireland, Marsh's Library is well worth a visit. It's a perfectly preserved 18th-century library filled to the brim with historical texts and information.
Guided tours are given daily, and it's really something you have to behold to believe—a definite top sight for your Dublin bucket list.
Address: St Patrick's Close, Wood Quay, Dublin 8, Ireland
18. Wander the Irish Museum of Modern Art (IMMA) – home to modern masterpieces
You've seen the Tate and the MoMA; now check out an underappreciated, and much more digestible, hidden gem of a museum. Dublin's Museum of Modern Art houses some of the most enthralling modern art pieces, sculptures, and installations you'll see across the world.
Located on the Kilmainham Hill, this museum is easily reached and well worth the stop. We'd even go so far as to say it's one of the top sights in all of Dublin.
Address: Royal Hospital Kilmainham, Military Rd, Kilmainham, Dublin 8, Ireland
17. Stop in to see the General Post Office (GPO) – the epicentre of Irish independence
When on a walking tour of Dublin, visit the GPO. Many of Dublin's sights are historically fuelled, but maybe none are more so than the General Post Office. The Greek-revival architectural building was home to one of Ireland's most important moments.
In the 1916 Easter Rising and the fight for Irish Independence from the British Government, the Irish volunteers' mains stronghold was the GPO.
The British forces stormed the stronghold, and signs of the bullets fired can be found in the walls of the building today. The GPO still runs as a post office and hosts an exhibition on the 1916 Rising.
Indeed, Dublin recently ranked high on a list of the 30 best cities in the world to visit, with the GPO undoubtedly being a contributing factor.
Address: O'Connell Street Lower, North City, Dublin 1, Ireland
READ MORE: GPO Museum, Dublin: History, facts & visit info
16. Visit the dead on the Glasnevin Cemetery tour – some of Ireland's biggest names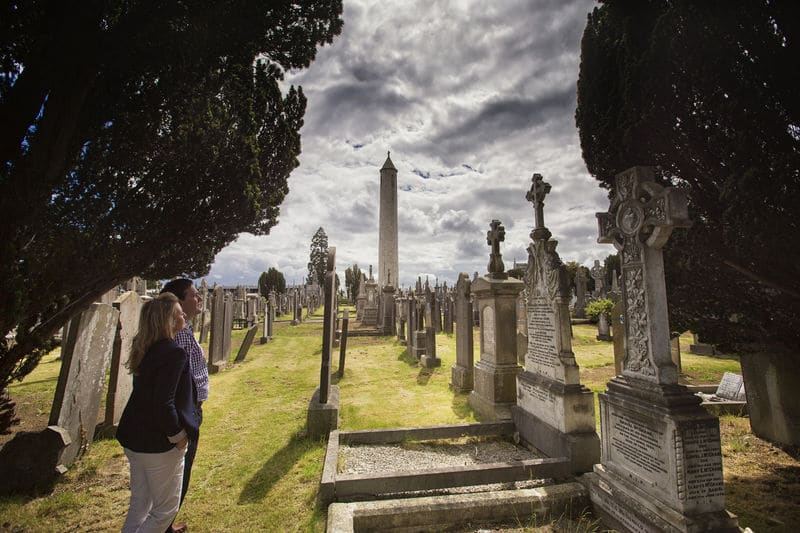 Looking for something a bit different to see in Dublin? Use your Dublin pass to take a spooky tour of the Glasnevin Cemetery. The cemetery is well-known for its collection of the deceased, hosting the bodies of some of Ireland's most prominent historical figures—Michael Collins, Éamon de Valera, Luke Kelly, and Constance Markievicz, to name a few.
There are daily tours held in the cemetery, so there are plenty of opportunities to catch one. Plus, the Glasnevin Cemetery Museum located onsite includes an award-winning interactive exhibition, such as The City of the Dead.
Read: our guide on the most famous people buried in Glasnevin Cemetery
Our video on Glasnevin Cemetery
Address: Finglas Rd, Northside, Glasnevin, Co. Dublin, D11 XA32, Ireland
15. Explore history at Dublin Castle – the historic seat of Imperial rule
Originally the epicentre of British power for over 700 years, Dublin Castle is a remarkable building sitting in the middle of the city. Erected in the 13th century, the building is made of exquisite grey stone and has been well preserved for all these years.
It is now fully open to the public, and guided tours operate daily in and out of the building. If you're looking to explore what Ireland was like under Imperial rule and British administration, Dublin Castle is the spot for you.
Not far from Dublin Castle, you will find Christ Church Cathedral. This historic church offers an insight into Ireland's religious past, making it a must-visit if you have a few extra hours after visiting Dublin Castle.
If you are interested in doing the fantastic tour here, due to the popularity of the tour, we'd highly recommend getting a queue jump ticket.
Address: Dame St, Dublin 2, Ireland
14. Catch the choir at St. Patrick's Cathedral – and marvel at its grandeur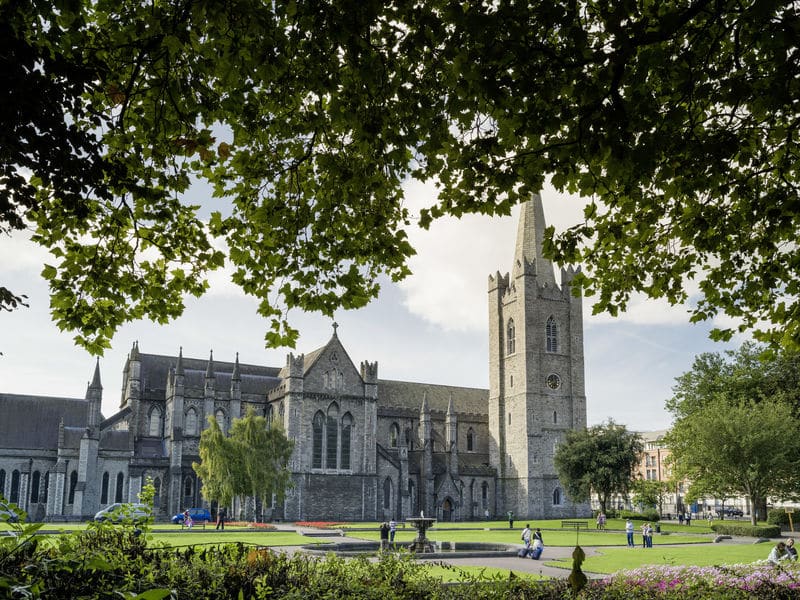 Next on our Dublin bucket list is St. Patrick's Cathedral, founded in 1191 and named after the patron saint of Ireland. It's Ireland's largest cathedral and is a beautifully crafted church that's seen many historical events in itself.
The stunning exterior is worth gawking at, and the interior is to be marvelled at, with its intricate mosaic floors and walls.
Church of Ireland Mass is still held in the church, having been in service for over 800 years, and if you happen to be visiting during school-term, try catching the choir service, a group of world-regarded vocalists.
As the largest church in Ireland, it's definitely one of the best things to see and do in Dublin 8. However, if you're curious to discover more about Ireland's religious past, we also recommend visiting Christ Church Cathedral while in Dublin City.
Address: St Patrick's Close, Wood Quay, Dublin 8, Ireland
13. Catch a match at Croke Park – to witness the sports native to this island
Croke Park is the premier destination for Irish sports, with everything from hurling, camogie, and Gaelic football played there. Croke Park is an insanely colossal stadium, holding up to 82,300 people, making it Europe's third-largest stadium. The atmosphere of watching a match, or even a concert, is electric and needs to be felt for itself.
And if you're not in the mood to catch a game, Croke Park offers a museum showcasing the national sports of hurling and Gaelic, as well as key moments in sporting history.
Address: Jones' Rd, Drumcondra, Dublin 3, Ireland
12. Take a day trip to Howth – to get away from the city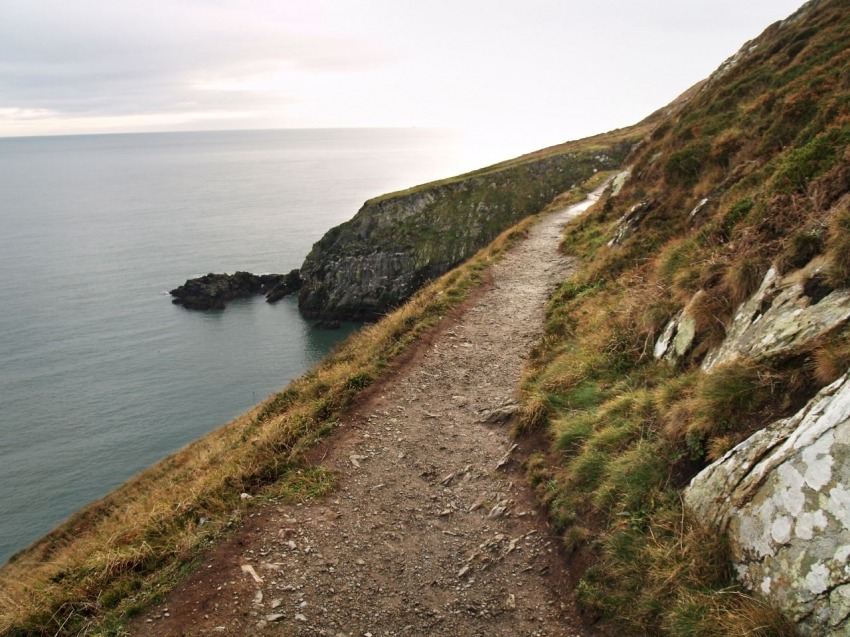 Just a short 30-minute train journey away from Dublin city, you'll find the picturesque village of Howth and its surrounding peninsula. Overlooked by the Dublin mountains, Howth is one of the most popular coastal towns in County Dublin.
Home to a pier lined with cosy cafés and restaurants serving great local fare, there is plenty to explore here. A castle sits atop a hill overlooking the Irish Sea and Dublin Bay, long-stretching beaches, fishing spots, and dozens of walking trails, all taking in the astounding beauty of the area.
Take a break from fast-paced city life and enjoy a trip to Howth. Easily accessed via the DART (Dublin Area Rapid Transit) or Dublin bus, it's the perfect pallet-cleanser for any visit to Dublin. The Howth Cliff Walk is one of the best walks in and around Dublin and is definitely worth the trip.
Read: our guide to Howth Cliff Walk
Address: Howth, Co. Dublin, Ireland
11. Tour the famous Jameson Distillery – to learn more about those green bottles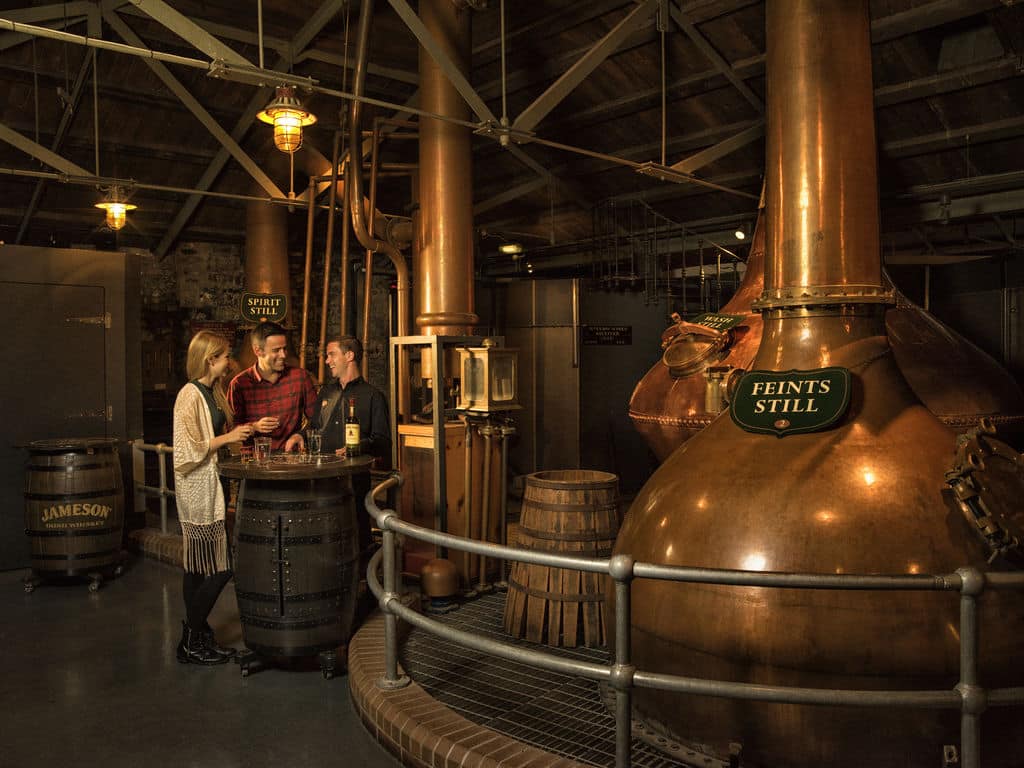 Ireland is known worldwide for its various types of whiskey. Thus, while not the only one, the Bow Street Jameson Distillery, smack-bang in the Smithfield area of Dublin, near the City Centre, is certainly one of the greatest.
Enjoy a tour of the finest Irish whiskey brewery in the entire country, learning how the drink goes from grains to the green bottle we all know and love.
This is an insightful exploration of the history of Jameson Whiskey, and tasting sessions, whiskey cocktail lessons, and interactive elements make the tour even better. All the tour guides should be stand-up comedians because they're that funny.
Due to the popularity of the Jameson Distillery tour and tasting sessions, we'd highly recommend getting a queue jump ticket.
Address: Bow St, Smithfield Village, Dublin 7, Ireland
10. Grab a drink at Temple Bar – the pints are flowing and the atmosphere is electric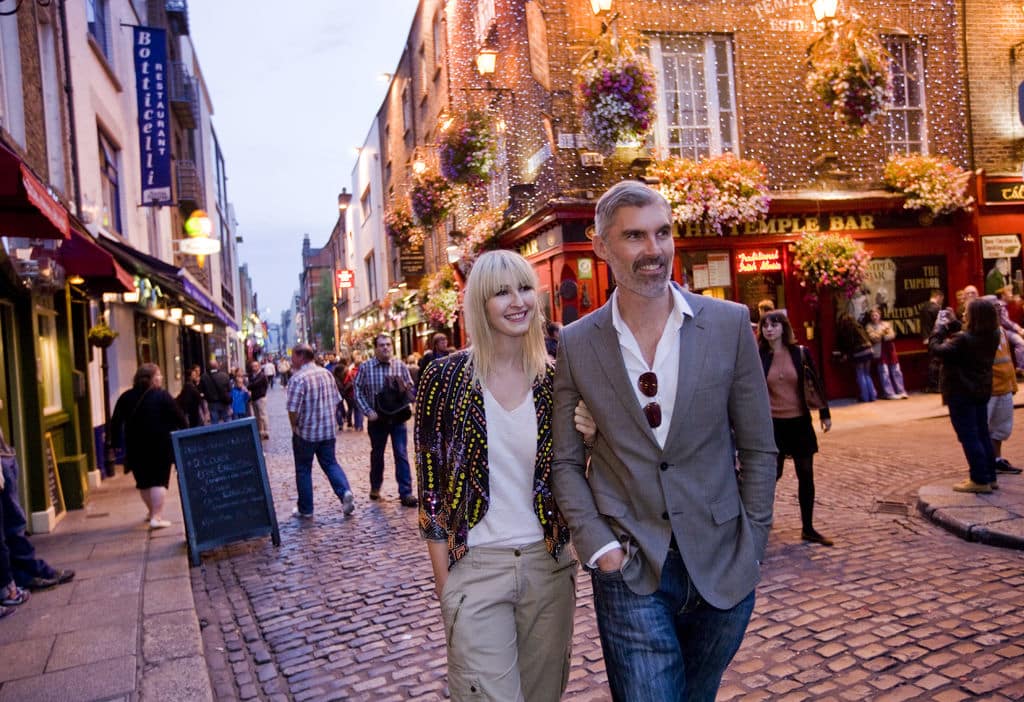 Before we get lambasted for this, hear us out: a visit to Temple Bar is a must on any Dublin bucket list. Yes, we know it's a tourist trap, we know it's overpriced, and we know it's over-crowded, but that's because it's where everything's happening. You can't go to Dublin and not have a pint in the city's most famous pub area at least once.
The live entertainment is amazing and the vibe and atmosphere of the streets are something to be experienced for themselves. Believe us, you won't regret checking in. It's one of the top things to do in Dublin during your visit.
Read: our guide the best bars in temple bar
Address: 47-48, Temple Bar, Dublin 2, D02 N725, Ireland
9. Walk across the Ha'penny Bridge – to see old Dublin
The Ha'penny Bridge is a quainter sight than others and a quick stop on any day. The bridge was originally a pedestrian toll-bridge, the funds from which were used to pay off its construction.
Ferries used to pass underneath in its hey-day. Now, it's a bridge to Dublin's past and a pedestrian bridge linking north and south of the River Liffey. It's well worth a visit, not just for its history, but because of its interesting structure and design.
Address: Bachelors Walk, Temple Bar, Dublin, Ireland
8. Stroll St. Stephen's Green – don't forget to feed the ducks and swans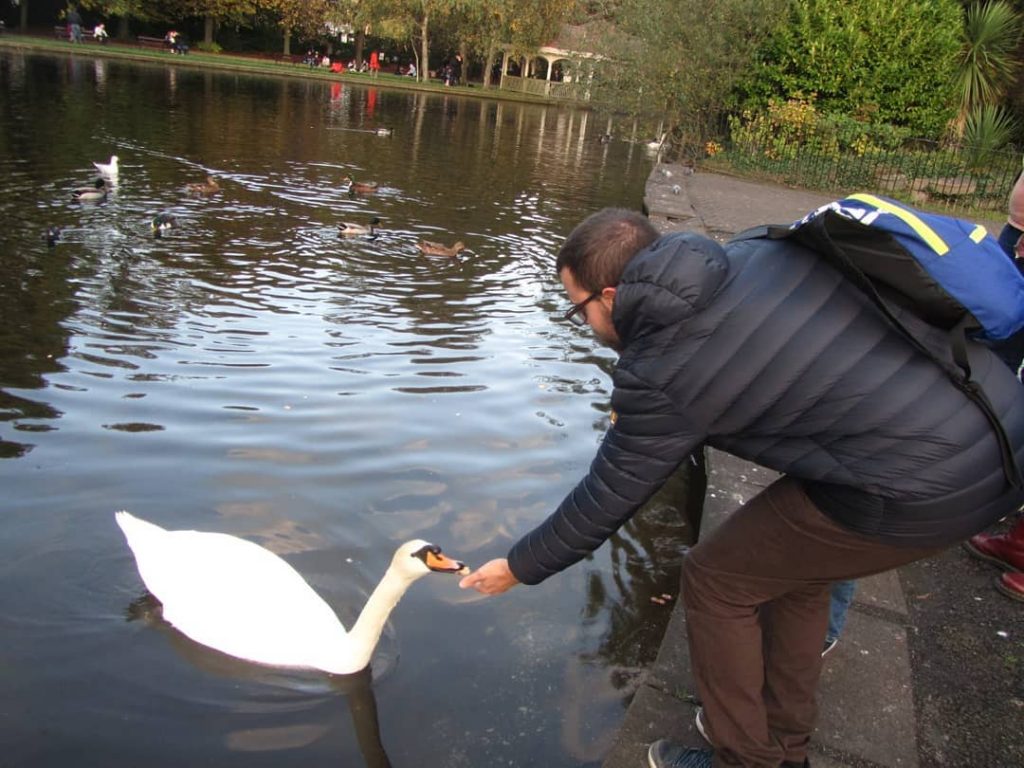 We all need a break from city life every now and then, and St. Stephen's Green is just that, a breath of fresh air in the heart of the city. On sunny days, join the other hundreds of people who lounge on the grass, feed the ducks and swans, and play games on the open lawns. There's nothing better than licking at an ice cream while strolling the grounds.
READ MORE: our guide to St. Stephen's Green
Address: St Stephen's Green, Dublin 2, Ireland
7. Touch the Spire – and get dizzy looking up at this attraction
Erected as a replacement to the controversial Nelson's Pillar in Dublin, 37 years in the making, the Spire of Dublin is an architectural masterpiece. It's a 120-metre-tall structure that punctures the air high above Dublin.
While the statue, which won over other ideas for a monument, commemorates nothing, it stands as a toast to Dublin's present fortunes and continued growth in the future.
6. Discover history at the National Museum of Ireland – and check out the Dead Zoo
The National Museum of Ireland is one of the top things to see in Dublin. Located in Dublin City Centre, this is one of the best national museums to visit in Ireland.
It's a museum hosting a wide array of exhibitions from Ancient Egypt to pre-historic Ireland. Hundreds of historical artifacts and items have been preserved through history and held here. Take it from us; you need to visit this museum.
What's more, attached to the museum is the Natural History Museum, colloquially known as "The Dead Zoo". Here, you can find hundreds of taxidermy animals from all across Ireland and the world on display in glass cabinets.
The Dead Zoo sends chills through every visitor and is a haunting experience that lets you get up close and personal with the animal kingdom.
READ MORE: top ten must-see exhibits at the National Museum of Ireland
Address: Kildare St, Dublin 2, Ireland
5. Check out global masterpieces at the National Gallery of Ireland – be sure to find Caravaggio's painting
Even if you're not well-versed in the artistic world, the National Gallery of Ireland is a must-visit on any trip to Dublin. Located in the city centre, just across from Merrion Square Park, you won't have to travel far to discover another world at one of the finest museums in Ireland.
It's home to some of Ireland's greatest artistic masterpieces, housing works by George Chinnery, John Butler Yeats, Titian, Monet, Picasso, and the dramatically lost and re-found "The taking of Christ" by acclaimed Italian painter Caravaggio.
If you are interested in art and are wondering what to do in Dublin, this place for you. There's bound to be something here to take your breath away, making the gallery one of the top things to see in Dublin.
Address: Merrion Square W, Dublin 2, Ireland
4. Explore Kilmainham Gaol's dark history – and learn more about our past
This jailhouse, known for its famous convicts, many being revolutionaries from the 1916 Easter Rising, and for its many bloody executions and harsh treatments of the inhabitants, is a must-visit stop on your visit to County Dublin.
Though the site of dark times and maltreatment, Kilmainham Gaol is one of the best ways to learn about Ireland's past and how it stands in the future. Not the brightest of stops, but one of the most insightful, which is why this is one of the most popular tourist attractions the city has to offer.
Read More: IB4UD's Guide to Kilmainham Gaol
Address: Inchicore Rd, Kilmainham, Dublin 8, D08 RK28, Ireland
3. Get lost in Phoenix Park – try to find the native deer
If St Stephen's Green is a great park, then Phoenix Park is something else. It is a huge green landmass in Dublin, so strangely placed that if you were inside it you could completely forget you're in a cosmopolitan city.
Phoenix Park is one of the biggest urban parks in Europe and is home to lawns and fields filled with perfect picnic spots and places to peacefully stroll. It is also home Áras an Uachtaráin, the official residence of Irish presidents.
Why not find the semi-domesticated fallow deer who call this park their home, or even rent a bike and cycle the perimeter? There's plenty to see in this inner-city forest.
Address: Phoenix Park, Dublin 8, Ireland
2. Traverse Trinity College Dublin's famed grounds – and check out the Book of Kells and Long Room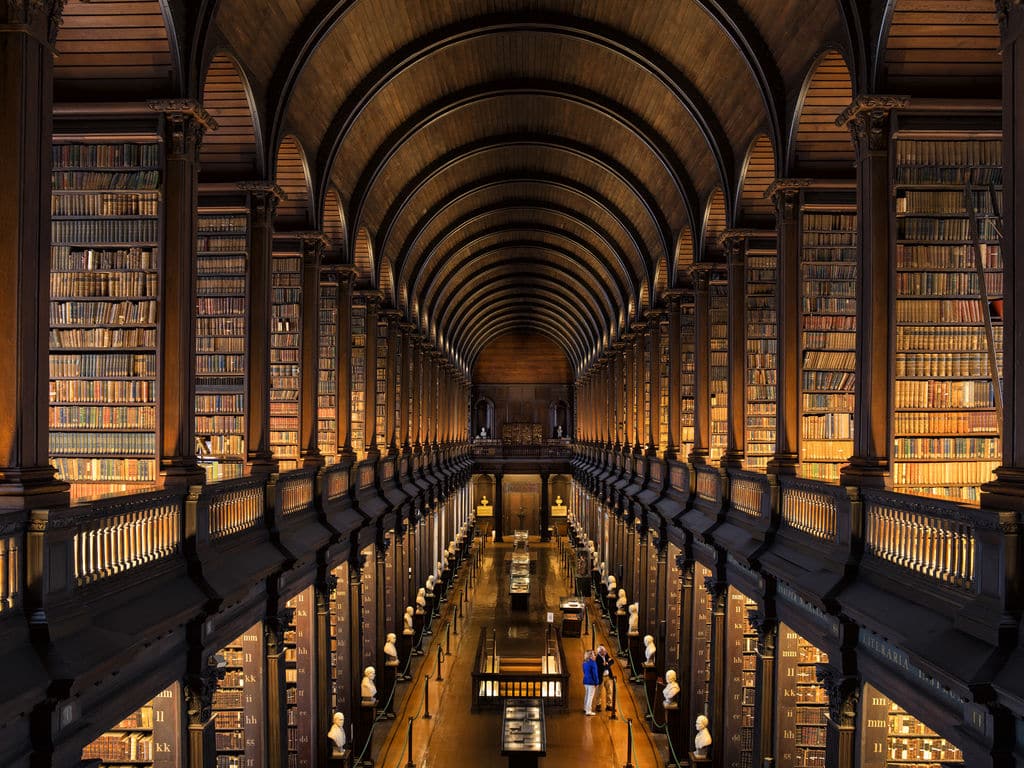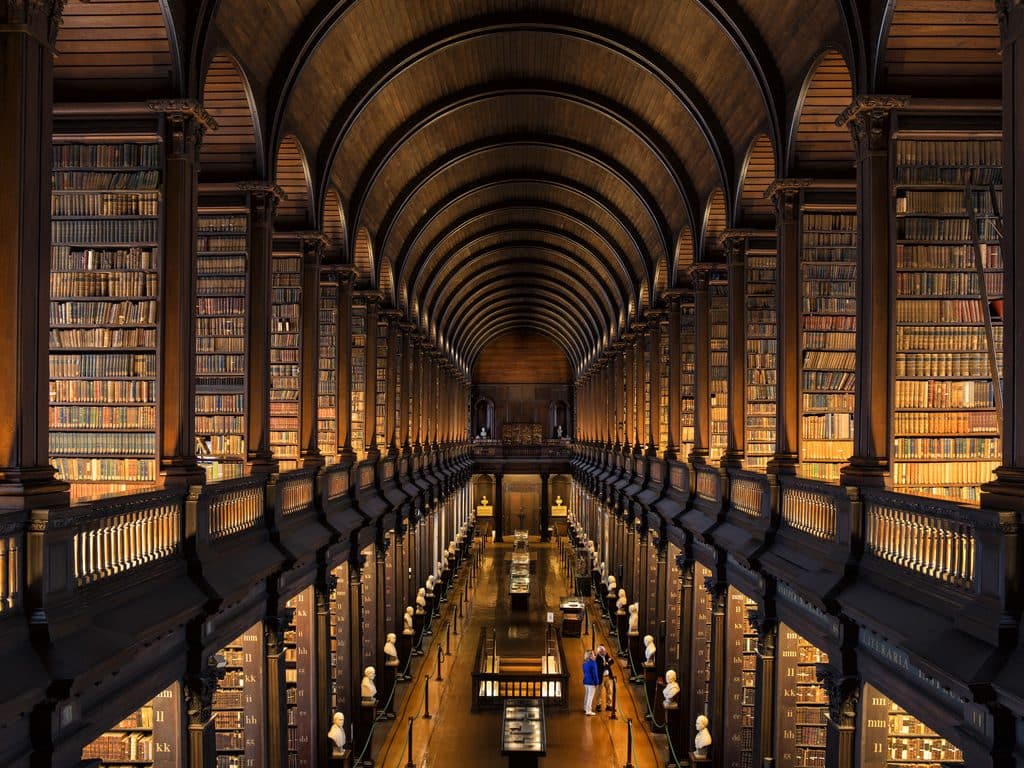 With alumni like Oscar Wilde, W. B. Yeats, Bram Stoker, Jonathan Swift, Samuel Beckett, D. B. Weiss, and countless others, it's no wonder Trinity College is regarded world-wide as a great university. The grounds of Trinity, with grand white stone buildings and beautiful libraries, beg to be explored.
Aside from the campus grounds, the Trinity Long Room (a library that will take your breath away) and the fabled Book of Kells (on show in a permanent exhibition) make Trinity one of our best things to do in Dublin.
A wander through this history library will make you feel like you've stepped inside the walls of Hogwarts, the fictional school of witchcraft and wizardry from the Harry Potter series.
If you are interested in doing the fantastic tour here, due to the popularity of the tour and the likelihood of it selling out, we'd highly recommend getting a queue jump ticket.
Read: our guide to the best literary places in Dublin
Address: College Green, Dublin 2, Ireland
1. Navigate the Guinness Storehouse – the ultimate thing to do in Dublin
Maybe you could have predicted this, but the Guinness Storehouse is our top pick for the 25 things you have to see and do in Dublin. Yes, Guinness is actually brewed here, but the main experience of this museum is the countless exhibitions on the history of Guinness and its making.
You will travel through different floors all based around the world-famous stout, and at the end, you even get the chance to pour your own pint and enjoy it from the Storehouse's sky-high glass bar.
As the Guinness Storehouse is one of the most popular attractions in County Dublin, we'd highly recommend getting a queue jump ticket here. Further, you can choose a Dublin City Pass to get a reduced rate of entry here.
Read: our guide to The Guinness Storehouse
Address: St James's Gate, Dublin 8, Ireland
Other notable attractions
Dublin is a vibrant city, home to many exciting attractions, historical sights, and great things to see and do. Our top 25 are just a small number of the amazing things the city has to offer.
If you have a little extra time on your hands, some notable attractions we haven't yet mentioned include Christ Church Cathedral, the famous Molly Malone statue, the Dublin mountains, Dundrum Town Centre, Dollymount Strand, the historic Drury Street, and many more. We also recommend taking a walk around 19th-century Georgian Dublin, including the Georgian townhouse that was the childhood home of Oscar Wilde.
Hopping on the Dublin bikes, taking a Dublin bus tour, or booking a fun-filled Viking Splash tour are some great ways to see the city's most famous sights. Booking a Dublin City Pass will also get you reduced entry to many top attractions.
Your questions answered about visiting Dublin
If you still have questions, we have you covered! In this section, we've compiled some of our readers' most frequently asked questions and popular questions that have been asked online about this topic.
What time zone is it in Dublin?
Dublin's timezone is Irish Standard Time (IST), the same as UTC+0 in winter and UTC+1 in summer due to Irish Summer Time (IST) observance. It shares the same timezone with UK and Portugal.
What time is it in Dublin?
How many people live in Dublin?
As of 2022, Dublin's population is said to be around 1.2 million people (2022, World Population Review).
What temperature is it in Dublin?
Dublin is a coastal city with a temperate climate. Spring sees balmy conditions ranging from 3°C (37.4°F) to 15°C (59°F). In Summer, temperatures rise to a range of 9°C (48.2°F) to 20°C (68°F). Autumn temperatures in Dublin are generally between 4°C (39.2°F) and 17°C (62.6°F). In winter, temperatures are usually between 2°C (35.6°F) and 9°C (48.2°F).
What time is sunset in Dublin?
Depending on the month of the year, the sun sets at varying times. On the Winter Solstice in December (the shortest day of the year), the sun can set as early as 4:08pm. On the Summer Solstice in June (the longest day of the year), the sun can set as late as 9:57pm.
What to do in Dublin?
Dublin is a dynamic city with tonnes of things to see and do! If you're keen to learn more about what to do in Dublin, have a look at the below articles for some inspiration.
How do I spend a day in Dublin?
If you're short on time, you can choose which attractions you most want to see to make the most of your time in the city. Check out our handy itinerary to spending 24 hours in Dublin to find out how to make the most of just one day here.
What is the most visited place in Dublin?
The Guinness Storehouse, a fascinating seven-storey interactive museum centred around Ireland's most famous stout, is the most popular tourist attraction in Dublin.
What is the most famous street in Dublin?
With history on every street corner, one of the best things to do in Dublin is wander the city streets. O'Connell Street, running north of the River Liffey, is the most famous street in the city. However, others to visit include Grafton Street, Drury Street, Cow's Lane, and Harcourt Street.
If you are interested in Dublin, you will find these articles really helpful:
Where to stay in Dublin
The 10 best hotels in Dublin city centre
The 10 best hotels in Dublin, according to reviews
The 5 Best Hostels In Dublin – Cheap and Cool Places to Stay
Pubs in Dublin
Drinking in Dublin: the ultimate night out guide for the Irish capital
The 10 best traditional pubs in Dublin, ranked
The ultimate 5 best bars in Temple Bar, Dublin
6 of Dublin's Best Traditional Music Pubs Not in Temple Bar
Top 5 Best Live Music Bars and Pubs in Dublin
4 Rooftop Bars in Dublin You MUST Visit Before You Die
Eating in Dublin
5 Best Restaurants for a Romantic Dinner for 2 in Dublin
5 BEST places for Fish and Chips in Dublin, RANKED
10 Places to Grab a Cheap & Delicious Meal In Dublin
5 Vegetarian & Vegan Restaurants in Dublin You NEED To Visit
The 5 best breakfasts in Dublin that everyone should visit
Dublin Itineraries
1 day in Dublin: How to Spend 24 hours in Dublin
2 days in Dublin: The perfect 48 hour itinerary for Ireland's capital
3 days in Dublin: The ULTIMATE Dublin Itinerary
Understanding Dublin & its attractions
10 fun & interesting facts about Dublin you never knew
50 shocking facts about Ireland you probably didn't know
20 mad Dublin slang phrases that only make sense to locals
10 Famous Dublin Monuments with Bizarre Nicknames
10 things you should NEVER do in Ireland
10 Ways Ireland Has Changed Over The Last 40 Years
The history of Guinness: Ireland's beloved iconic beverage
TOP 10 Amazing Facts You Didn't Know About The Irish Flag
The story of Ireland's capital: a bite-size history of Dublin
Cultural & Historical Dublin attractions
Top 10 famous landmarks in Dublin
7 Locations in Dublin where Michael Collins Hung Out
More Dublin sightseeing
5 SAVAGE Things To Do On A Rainy Day In Dublin
The 10 best day trips from Dublin, RANKED