Wondering what to do in Belfast, Northern Ireland? Look no further; we've packed all the best things to do in Belfast today into this article.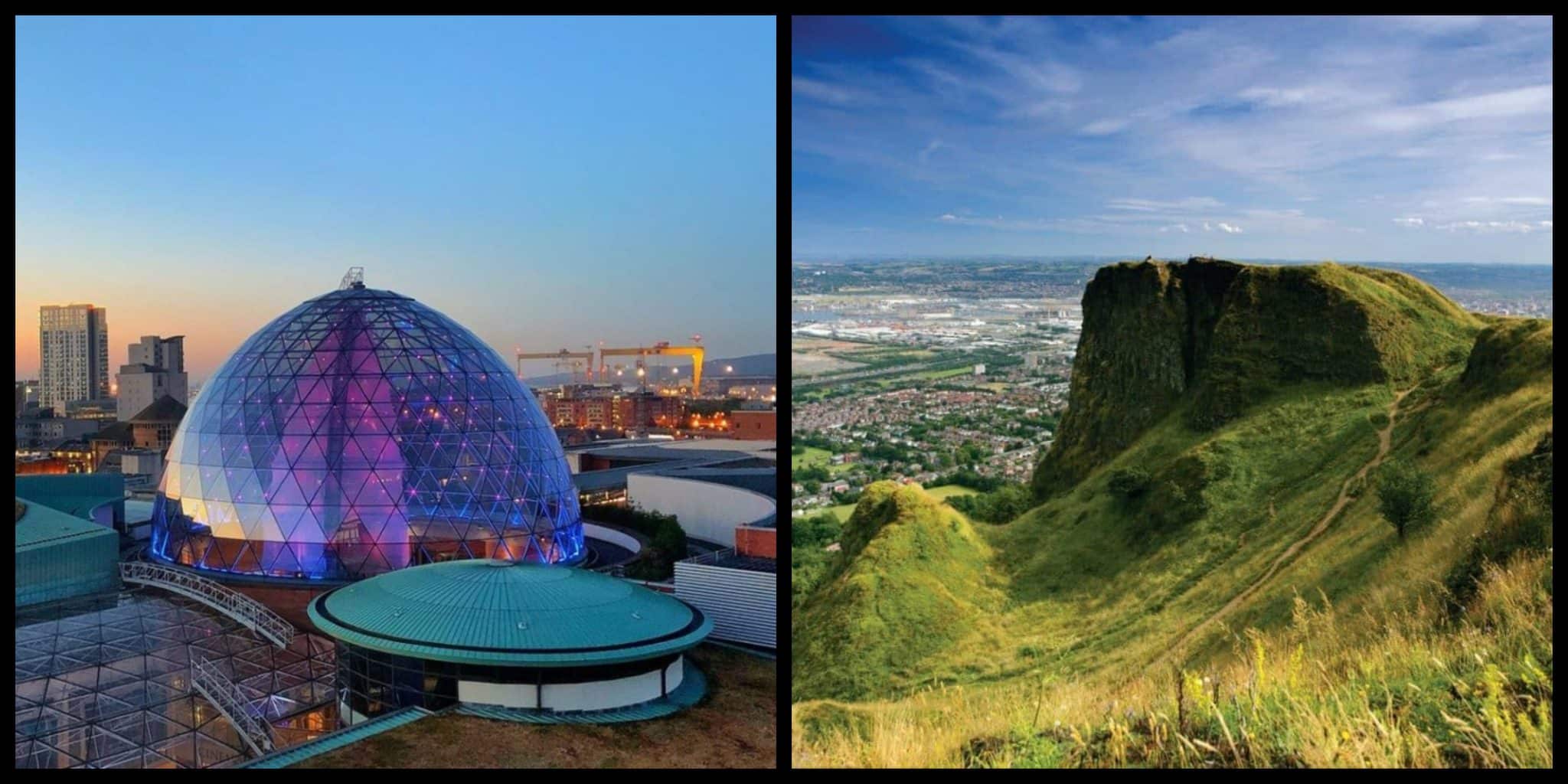 After decades of conflict and division, Northern Ireland's capital city is experiencing a massive resurgence as a tourist destination and a great place to live. There're many sights, so you may be wondering what is there to see in Belfast?
The Dublin vs Belfast comparison is ongoing, however, Belfast is a fantastic city. I know because I was born here, grew up here, and after leaving for many years to explore the world, I now live here.
It is a city with friendly locals, an infectious atmosphere, an ever-expanding range of places to eat, drink, and be entertained.
To top it all off, it is a small city with everything you would expect from a big city. So, you won't have to go too far to visit anything on this list of things to see in Belfast City.
From the famous Titanic Quarter, the original home of the RMS Titanic, with the HMS Caroline, Titanic Belfast, and the Pump House, to top museums, such as the Ulster Museum and the Ulster Folk and Transport Museum, there is so much to discover.
If you're only going to visit the city once, then this is the only article you will need. Here is our Belfast Bucket List: the 20+ best things to do in Belfast in your lifetime!
Our top tips before visiting Belfast:
Expect rain even if the forecast is sunny because the weather in Ireland is temperamental!
Book your hotels well in advance as Belfast has a shortage of hotels for the demand, so you will be paying over the odds if you leave it late.
If you're on a budget, check out our fantastic list of free things to do.
Stay safe in Belfast by avoiding unsafe areas, especially at night.
If you like the history of the Troubles, don't miss out on a black taxi tour!
Tips and advice – useful info for visiting Belfast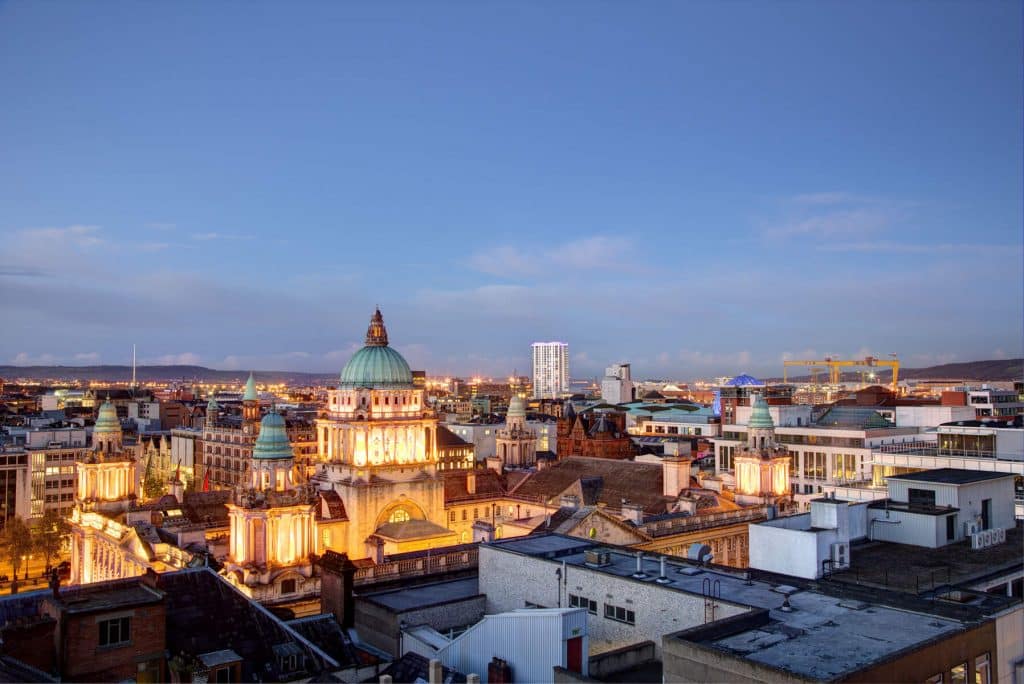 Booking.com – the best site for booking hotels in Belfast
Best ways to travel: Hiring a car is one of the easiest ways to explore Ireland in a limited amount of time. Public transport to rural areas is not as regular, so travelling by car will give you more freedom when planning your own journeys and day trips. Still, you can book guided tours that will take you to all the best things to see and do, according to your preference.
Hiring a car: Companies such as Avis, Europcar, Hertz, and Enterprise Rent-a-Car offer a range of car rental options to suit your requirements. Cars can be picked up and dropped off at locations around the country, including at airports.
Travel insurance: Ireland is a relatively safe country. However, it is important to make sure you have appropriate travel insurance to cover unforeseen circumstances. If you're hiring a car, it's also important to make sure that you're insured to drive in Ireland.
Popular tour companies: If you want to save some time planning, then booking a guided tour is a great option. Popular tour companies include CIE Tours, Shamrocker Adventures, Vagabond Tours, and Paddywagon Tours.
20. Stormont Park – for a beautiful stroll around Northern Ireland's Stormont Parliament Buildings
Known officially as 'Parliament Buildings', Stormont is the official home of the Northern Ireland Executive (the government for Northern Ireland).
Unlike many other houses of parliament around the world, Stormont Parliament Buildings is built on a beautiful estate outside the city centre that is surrounded by greenery.
Stormont Park is an excellent place to go for a peaceful walk, and if you are interested in learning about the houses, they do tours at the weekends. Visit the official website for more details.
If you are interested in politics or just want a scenic walk or both, Stormont is one of the top things to do in Northern Ireland!
Address: Parliament Buildings, Ballymiscaw, Stormont, Belfast, BT4 3XX
Where to stay in East Belfast (near Stormont): Stormont Hotel Belfast
Named after the city's Parliament Buildings, Stormont Hotel is the perfect place to stay near this iconic Belfast attraction. With tastefully decorated ensuite rooms and various dining options, this is a great place to stay.
19. The Victoria Square Dome, Belfast City Centre – for a unique 360° view of the city
If you are looking for great 360° views of Belfast City and don't have time to venture up a hill, why not check out the Dome at Victoria Square? Indeed, one of the most amazing things to see in Belfast.
Rising high above the city's skyline, the Dome at Victoria Square boasts 360-degree views across the city. Look out across the city at the city's historic buildings, such as Belfast City Hall.
This impressive attraction is free to visit and can be easily accessed by lift or stairs. Plus, this is one of the best places for shopping in Northern Ireland.
Address: 1 Victoria Square, Belfast BT1 4QG
18. Botanic Gardens – for exotic tree species and tropical plants
Looking for a bit of greenery? Check out Belfast's Botanic Gardens, another of the top things to see in Belfast. These gardens can be found just outside the city centre, right next to Queen's University.
The 19th-century Botanic Gardens are an essential part of Belfast's Victorian heritage and a popular meeting place for residents, students, and tourists.
In response to the public interest in horticulture and botany, the gardens were established in 1828 by the Botanic and Horticultural Society.
Formerly known as the Belfast Botanic Garden, the site contained exotic tree species and impressive plant collections from the southern hemisphere, many of which can still be seen in the park.
Today, the park is extremely popular with residents, students, and tourists alike. It is the perfect place to go for a stroll, a picnic, or somewhere to sit and read a book. It also boasts the incredible Palm House and the Tropical Ravine, which are well worth a visit!
The Tropical Ravine is home to various exotic plants, including Birds of Paradise. Plus, the Ulster Museum is also located here, where you can learn all about the history of Belfast City, Northern Ireland, and even see an Egyptian mummy.
You can visit this attraction on a Belfast eclectic walking tour.
Address: College Park, Botanic Avenue, Belfast BT7 1LP
17. Queen's University – a beautiful university campus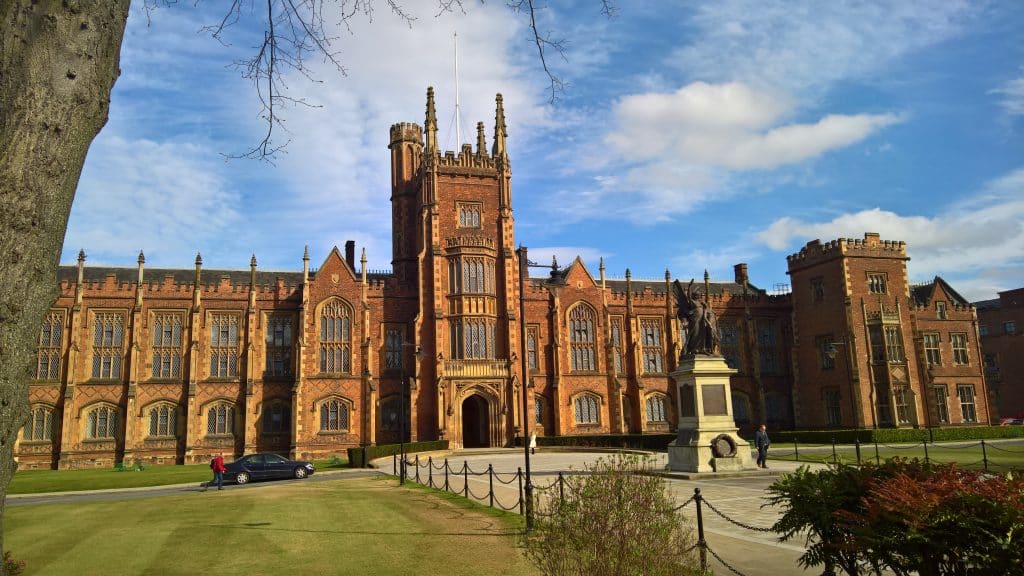 Queen's University is a beautiful building and one of the great architectural landmarks and a must-see attraction for anyone visiting Northern Ireland.
The university is a highly-respected, world-renowned academic institution ranked in the top 173 universities in the World (QS World Rankings 2020).
The main building, the Lanyon Building, was designed by the English architect Sir Charles Lanyon and is a thing of beauty.
The Queen's Welcome Centre is the official tourist information centre for south Belfast. It hosts a regular programme of exhibitions and serves as an information point for visitors and tourists, as well as offering a varied selection of souvenirs and gifts.
Guided campus tours are available throughout the year on request. Contact the centre to discuss your tour requirements.
Address: University Rd, Belfast BT7 1NN
Where to stay in South Belfast (near Queen's University): House Belfast Hotel
Located on Belfast's Botanic Avenue, House is a fantastic boutique hotel, bar, bistro, and nightclub. Ensuite rooms are completed with free WiFi, Nespresso coffee machines, Rituals toiletries, and complimentary water.
16. The SSE Arena – to catch a Belfast Giant's game
We're sure you've been to loads of sporting events, but you probably haven't experienced an ice hockey match in the city.
Located in the SSE Arena (formerly the Odyssey), you will find the famous Ice Hockey Team, The Belfast Giants! Witnessing a match is certainly one of the best things to see in Belfast.
Playing in the UK's Elite Ice Hockey League, the Giants are the local ice hockey team for Northern Ireland. Their logo includes Ireland's most famous giant Finn McCool with a hockey stick!
Going to a game is a great experience. The atmosphere is excellent, and there are always prizes during the breaks, which will keep the whole family entertained!
So, if you love sports and are wondering what to see in Belfast, the Belfast Giant's are a safe bet!
Address: 2 Queens Quay, Belfast BT3 9QQ
15. Kingspan Stadium – for an Ulster Rugby game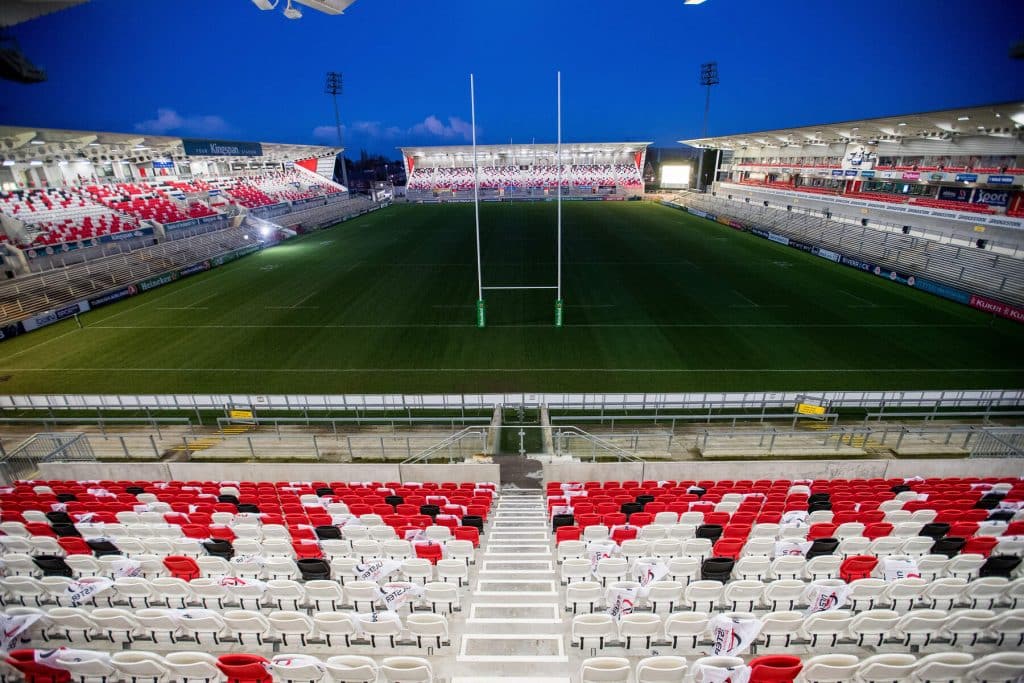 Ireland is known for being one of the best rugby nations in the world. From the north to the south, you will never be far from a world-class rugby institution.
Ulster Rugby is one such institution. Representing the northern province of Ulster, they are one of the four professional provincial rugby teams in Ireland. If you are a sports fan, a trip to see the Ulstermen is one of the best things to do in Belfast!
Sports fans will also enjoy visiting Windsor Park, the National Football Stadium of Northern Ireland.
Address: 134 Mount Merrion Ave, Belfast BT6 0FT
Related: Top 20 stadiums in Ireland by capacity.
14. C.S. Lewis Square, East Belfast – a square dedicated to a literary great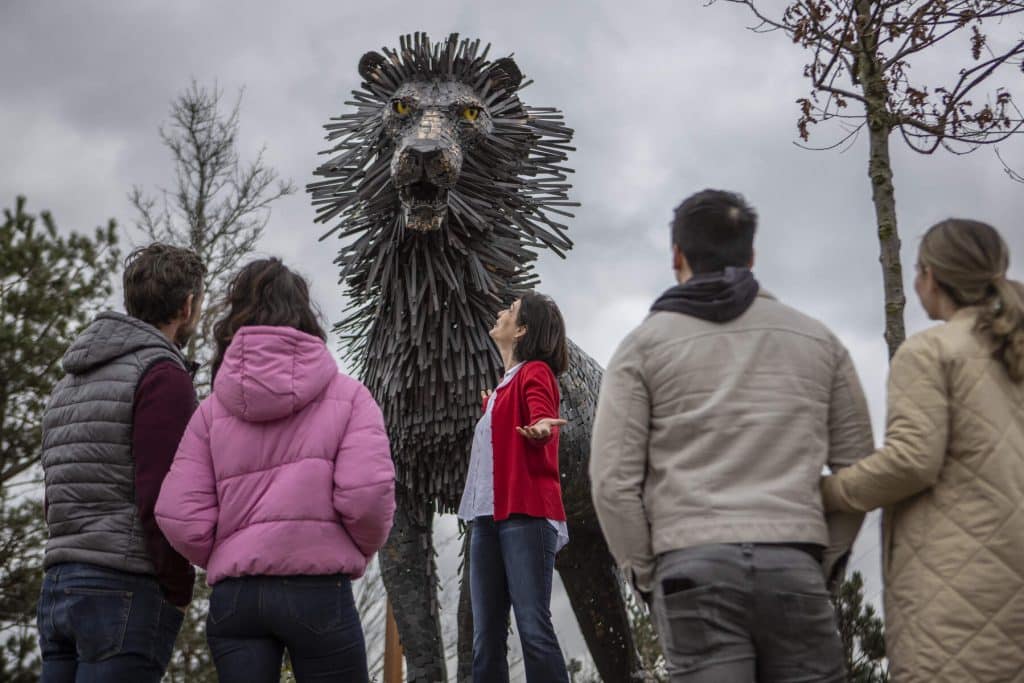 Rediscover the Chronicles of Narnia with a walk-through C.S. Lewis Square, a public space commemorating the Belfast-born author, C.S. Lewis.
The square features seven bronze sculptures from The Lion, The Witch and The Wardrobe, including Aslan, the White Witch, and Mr Tumnus.
C.S. Lewis Square is located in East Belfast beside the EastSide Visitor Centre. It is open 24 hours a day, seven days a week. So if you are a fan of classic literature, C.S. Lewis Square should be one of the best things to do in Belfast for you!
If you want to find out more about Narnia while in Northern Ireland, we recommend visiting the Mourne Mountains, which inspired the tale.
Address: 402 Newtownards Road EastSide Visitor Centre, Belfast BT4 1HH
13. Sir Thomas and Lady Dixon Park – a stroll around a beautiful park
Wondering what things to see in Belfast outside the bustling city? Look no further than Sir Thomas and Lady Dixon Park, one of the best things to see in Belfast.
Sir Thomas and Lady Dixon Park is located south of the city and is one of the city's most popular parks. It is the ideal place to take the dog for a walk, go for a jog, or go for a peaceful stroll!
Covering more than 128 acres, the beautiful park comprises rolling meadows, thickets, woodland, and gardens. It is home to a wide range of plants and animals.
Address: Upper Malone Road, Belfast BT17 9LA
Read more: Top 5 best parks for families in Northern Ireland.
Where to stay outside the city centre: Beechlawn Hotel
Located just south of the city in Dunmurry, the Beechlawn Hotel is perfect for those who want a tranquil escape while still being on main transport links to the city centre. Guests can choose from standard, superior, executive, or family rooms and enjoy a delicious meal and a pint of Guinness from the hotel bistro and Harp Inn bar.
12. Street Art Walking Tour – for some incredible art
Northern Ireland may be known for its political murals in areas outside Belfast City Centre. Still, in the heart of Belfast City, there is an abundance of incredible non-political street art to be discovered. It's truly one of the top things to see in Belfast.
Like Berlin, which has become famous for its walls, Belfast City has become a place where walls have become galleries for local artists and where street art has flourished.
All the best spots for street art have been compiled into a fascinating, gently-paced walking tour in Belfast City Centre!
The tour begins at Commercial Court, BT1 2NB. More information can be found on their website: www.seedheadarts.com
11. Drinks in the Cathedral Quarter – for the snazziest bars in town
Belfast is an incredible town for a night out, and the Cathedral Quarter has all the ingredients you need for a great night out.
Cathedral Quarter, named after Belfast Cathedral located there, has become a hub for the city's finest bars and restaurants.
Start in the cobbled street outside The Duke of York and see where the night takes you! Top bars that can't be missed include The Duke of York, The Harp Bar, The Dirty Onion, and The Spaniard.
Read More: our guide to the best restaurants in Belfast's cathedral quarter
Address: 7-11 Commercial Ct, Belfast BT1 2NB
10. Beer Bike – to experience the city on a beer bike
If you are in the city as part of a group such as a stag or a hen party, then an adventure on a Wee Toast Tour's beer bike is worth consideration.
Everyone on the bike helps to pedal the bike around the city while singing along to tunes and having a drink!
It is an entirely different way to see Belfast City Centre, including Belfast City Hall and the Albert Memorial Clock… and it is extremely fun!
Each bike holds a maximum of 15 people and comes with a driver. All food and refreshments are Bring Your Own (BYO) basis.
These tours depart from Amelia Street (close to The Crown Bar in the city centre) and must be booked in advance at Wee Toast Tours.
Address: Wee Toast Tours Departure & Return @ 34-36 Bank Street, Belfast, BT1 1HL
Check out: Top 10 quirky and unique activities in Belfast
9. Belfast Castle – for afternoon tea with stunning views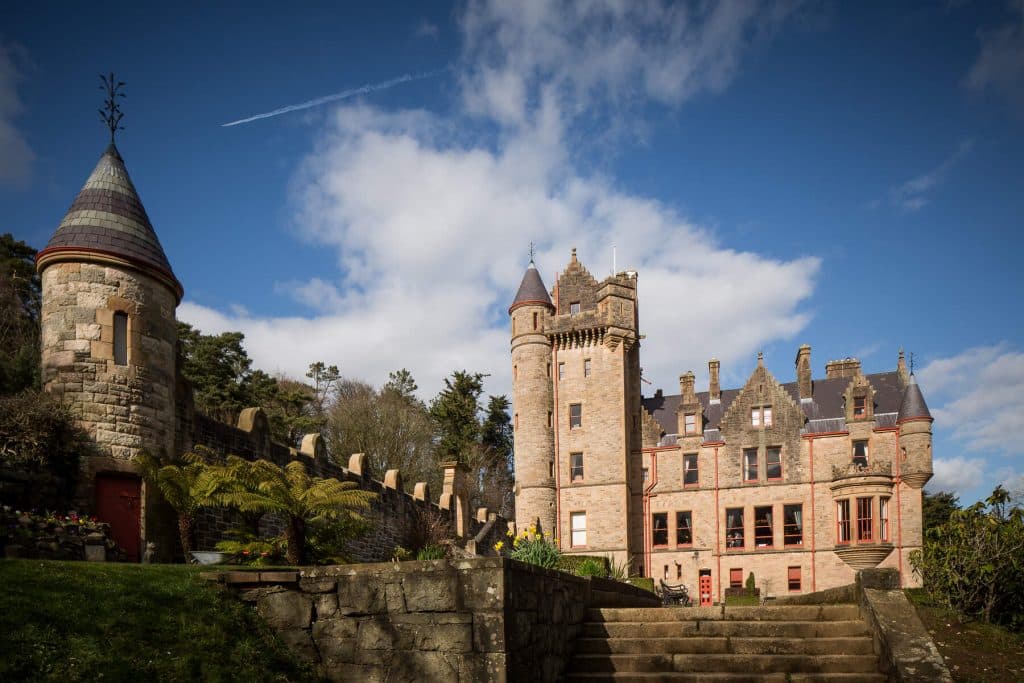 Looking for things to see in Belfast? Check out Belfast Castle. It is set on the slopes of Cave Hill Country Park in the north of the city.
This historic landmark is 400 feet above sea level and shows incredible unobstructed views of the city and Belfast Lough.
The estate contains incredible landscaped gardens and mature, mixed woodland. It offers superb views of the city from a variety of vantage points.
It is the perfect place to relax and enjoy the most scenic afternoon tea you'll ever experience in the lovely outdoor café at the castle. Nearby, you can also find the famous Belfast Zoo.
Address: Belfast Castle, Antrim Rd, Belfast BT15 5GR
8. The River Lagan at night – to see the city lit up in its glory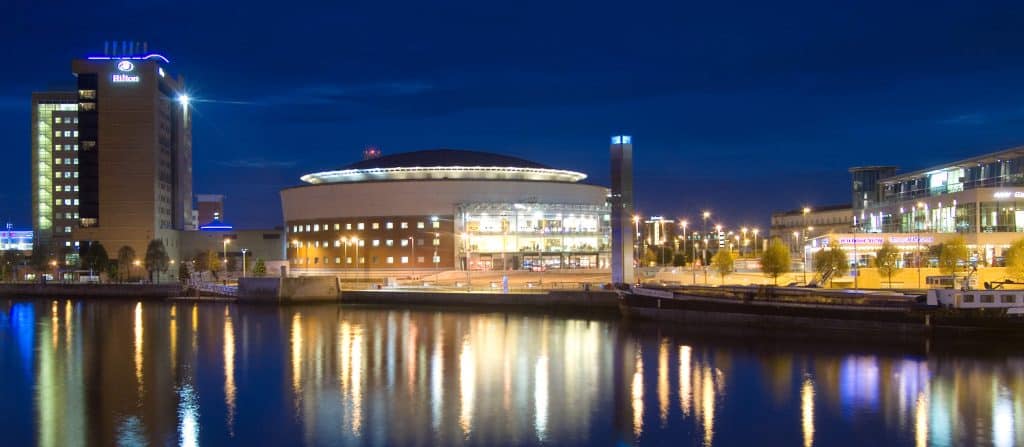 The River Lagan is a major river in Northern Ireland, and it runs right through the heart of the city. You will find some of Belfast's most iconic landmarks along its banks.
Possibly the best way to see these landmarks is to walk along the river at night to see them lit up in their glory!
We'd recommend starting at Titanic Belfast, where you can see sights of the Belfast Titanic Quarter that tell a tale of the city's maritime history and make your way towards the Waterfront Hall.
It is entirely free to do this beautiful walk, so if you wonder what to see in Belfast on a budget, this walk is a safe bet!
Address: 1 Olympic Way, Queen's Road, Belfast BT3 9EP
7. A traditional Irish pub crawl – for some Irish pub culture
It wouldn't be right to visit Northern Ireland and leave out the best Irish pubs the capital city has to offer. Why not do them all in one night!?
Our suggested pub crawl would consist of The Points, The Crown Liquor Saloon, the Art Deco-inspired Robinson's, Madden's, Kelly's Cellars, White's Tavern, McHugh's, The Harp Bar, The Duke of York, and The Dirty Onion.
Read more about our suggested traditional pub crawl here: The Belfast Pub Crawl.
Address: 12-18, Bradbury Pl, Belfast BT7 1RS
One of the best spa hotels in Ireland and most luxurious hotels in Belfast, The Merchant Hotel is the perfect place to stay for those who want to immerse themselves in the city's vibrant Cathedral Quarter. With luxurious period rooms, various dining options, and an opulent onsite spa, this is a stay you'll never forget.
6. Divis and the Black Mountain walk – one of the best things to do in Belfast
If you are looking to find the best view of the city, look no further than Divis Mountain and Black Mountain. These imposing mountains rest in the heart of the Belfast Hills, which provide a backdrop to the city skyline.
This beautiful trail along the edge of Belfast's Hills starts at the main car park on Divis Road, near Cave Hill County Park. It takes approximately three hours to complete in total.
The walk offers you the opportunity to enjoy some incredible 180-degree views of the city and further afield, including the Mourne Mountains and even Scotland (on a clear day).
Make sure to bring your walking boots as this trail is one of the best things to see in Belfast!
Address: Main Car Park, 12 Divis Rd, Belfast BT17 0NG
5. Cave Hill – for another fantastic view of the city
Another incredible view of the city from above is from the peak of Cave Hill, a basaltic hill overlooking the city.
From this view, visitors to Cave Hill Country Park can enjoy panoramic views across the city from different vantage points on the hillside.
See the city's famous sights, including Belfast City Hall and Belfast Titanic Quarter. You can also see further afield across Northern Ireland, especially on a clear day.
Starting at the car park at Belfast Castle, it is a fairly tough climb, but it is gratifying when you get to the top of this and witness the city in all its glory!
Nearby, you can also find Colin Glen Forest Park, Belfast Zoo, and more.
Address: Antrim Rd, Belfast BT15 5GR
4. Titanic Belfast – learn about the world's most-famous shipwreck
Everyone has heard the story of the RMS Titanic – the famous 20th-century ship that tragically sank on its maiden voyage. Well, this legendary ship (as well as the RMS Olympic) was built in Belfast, and the city is home to the world's most substantial Titanic visitor experience!
Titanic Belfast, located in the Titanic Quarter, opened in 2012 and has since won awards of excellence as one of the world's top tourist attractions.
At Titanic Belfast, you can do a self-guided and learn all about the famous ship, the people who built it, and the people who were on board its maiden voyage.
After you visit, be sure to pop in next door to the Titanic Hotel for a drink and bite to eat in the room where the ship was designed! Nearby, in the Titanic Quarter, you can also check out the incredible HMS Caroline.
Read More: IB4UD's guide to Titanic Belfast
Address: 1 Olympic Way, Queen's Road, Belfast BT3 9EP
Where to stay in the Titanic Quarter (near Titanic Belfast): Titanic Hotel Belfast
Located right beside the world-renowned attraction, Belfast's Titanic Hotel is the perfect place to stay for those who want to fully immerse themselves in the story of this famous ship. Art Deco-themed rooms are finished with comfortable beds, ensuite bathrooms, and tea and coffee making facilities. Guests can enjoy a delicious meal at the onsite restaurant in the historic drawing-room where the Titanic was designed.
3. St. George's Market – for fantastic local food and vibes
Located close to the River Lagan is St. George's Market, the last-surviving Victorian covered market in the city. Before the 20th-century, historians believe it was an open meat market that contained a slaughterhouse and a meat market.
Today, St. George's Market is a bustling market with around 300 traders, artists, musicians, and food vendors. The market is open Friday to Sunday and is the perfect place to soak up a bit of the local atmosphere while trying local products.
Address: St George's Market, East Bridge St, Belfast BT1 3NQ
2. Black Taxi Tour – for a unique tour of Belfast's dark past
The legacy of The Troubles is almost unavoidable if you want to understand Northern-Irish society. Probably the best way to understand Northern Ireland's history and how it shaped the present is by taking a Black Taxi Tour.
These are small group tours taken in regular London Hackney cabs in the city. Most tours last about 90 minutes and take you to some of the city's most famous political murals, intimidating peace walls, and areas of the city that were hugely affected by the troubles.
Many great black taxi tours are available in the city, including Paddy Campbell's and NI Black Taxi Tours. They are really worth the trip if you want to understand the city better.
Check our Black Cab experience here: 5 Fascinating Things You'll Experience On A Belfast Black Taxi Tour
1. Crumlin Road Gaol – our favourite thing to do in Belfast
Possibly the best and most intriguing historical museum in the city is Crumlin Road Gaol. Located, you guessed it, on the Crumlin Road.
This former prison is now a museum allowing you to see the prison wings, execution cells, tunnels to the courthouse, and to learn about the history of this building and its impact on life in the region.
The tour is brilliantly delivered and very educational. Daily guided tours last approximately 75 minutes, are open to the public, and operate between 10 am and 4.30 pm.
If you are interested in history, this is one of the best things to do in Belfast!
Address: 53-55 Crumlin Rd, Belfast BT14 6ST
Other notable things to do and see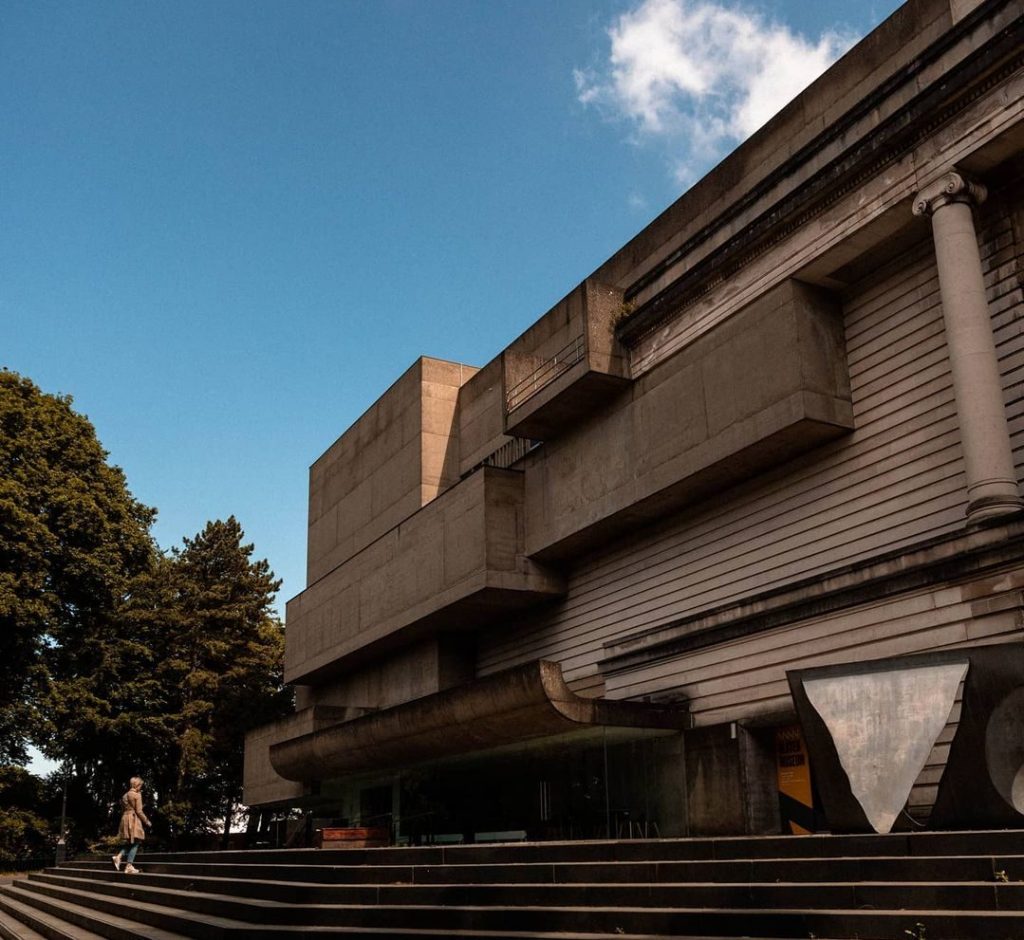 We have rounded up some of the top things to see and do while in the Northern Irish capital. However, plenty of amazing sights didn't make the list and are definitely worth visiting if you have more time. We recommend taking some time to explore the famous Titanic Quarter, checking out the site where the RMS Titanic and RMS Olympic were built and is now home to the Pump House, HMS Caroline, and Titanic Belfast.
Other great things to see and do include Colin Glen Forest Park, Belfast Zoo (make sure to check out the Asian Elephants!), the Ulster Museum, City Hall, the Palm House, Victoria Park, the Ulster Folk and Transport Museum, and St Anne's Cathedral in the Cathedral Quarter. There are also plenty of green spaces, National Trust properties, and indoor activities, such as bowling alleys and skating rinks for all ages to enjoy.
For a comprehensive overview of the city that will take you around all the top sights, you can also hop on a Belfast Hop On Hop Off Bus Tour. Discover famous areas such as the Shankill Road, the Falls Road, the Antrim Road, and the city centre.
Staying safe and out of trouble
Belfast is a relatively safe city to visit. Still, it is always important to look after the safety of yourself and others. Avoid going to quiet places at night alone.
Abide by speed limits and be aware that they are in miles per hour when driving in Northern Ireland.
Remember to drive on the left.
Be a responsible road user: don't drink and drive, and don't use your phone while driving.
Make sure to check the parking restrictions before you park.
Make sure you have all of your relevant insurance documents.
Avoid talking about politics.
Where possible, avoid going out on your own, especially at night and in quiet areas.
Read More: Is Belfast safe? (most dangerous areas outlined)
Where to stay in Belfast
Where to stay in Belfast City Centre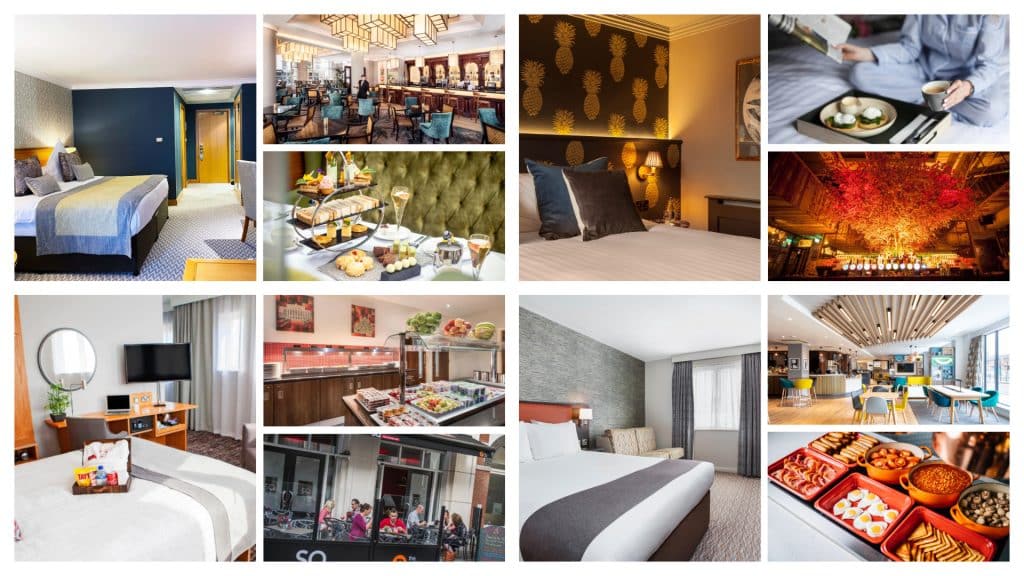 Where to stay in the Titanic Quarter
Barge at Titanic: This recently renovated houseboat allows guests to indulge in the unique experience of life on the water. The Barge is fitted with all the modern amenities and home comforts to allow for a comfortable stay.
AC Hotel by Marriott Belfast: Located on the banks of the River Lagan, guests can enjoy a fantastic stay in minimalist guest rooms offering fantastic city views. Multi-Michelin-starred chef Jean Christophe Novelli gives an unforgettable riverside dining experience.
Where to stay in South Belfast
Number 11 by the Warren Collection: This fantastic four-star boutique hotel offers room service and a shared lounge. Just a short walk from Queen's University, this is the perfect place to stay if you want to explore the city's University Quarter.
The Central Belfast Apartments Fitzrovia: Conveniently located on Donegall Street, they are within a short walking distance from the city centre. Apartments are complete with one bedroom, a kitchen with a dishwasher and a microwave, a flatscreen TV, a seating area, and one bathroom equipped with a shower.
Where to stay in East Belfast
Roseleigh House: This beautiful Victorian family-run guesthouse is just a short walk from the iconic Kingspan Stadium. The house features comfortable double and twin rooms, free parking, and a shared lounge.
Welcome to Belfast 21: This modern two-bedroom apartment sleeps up to six guests. Perfect for group trips, the apartment features two bedrooms, a sofa bed, a flatscreen TV with satellite channels, an equipped kitchen with a microwave and a fridge, a washing machine, and one bathroom with a shower.
Hilton Belfast: This four-star Belfast hotel offers spacious rooms complete with flatscreen TVs, mini-fridges, marble bathrooms, and 24-hour room service. Guests can enjoy a delicious meal in the Sonoma Bar and Grill, which has riverside views and floor-to-ceiling windows.
Where to stay in North Belfast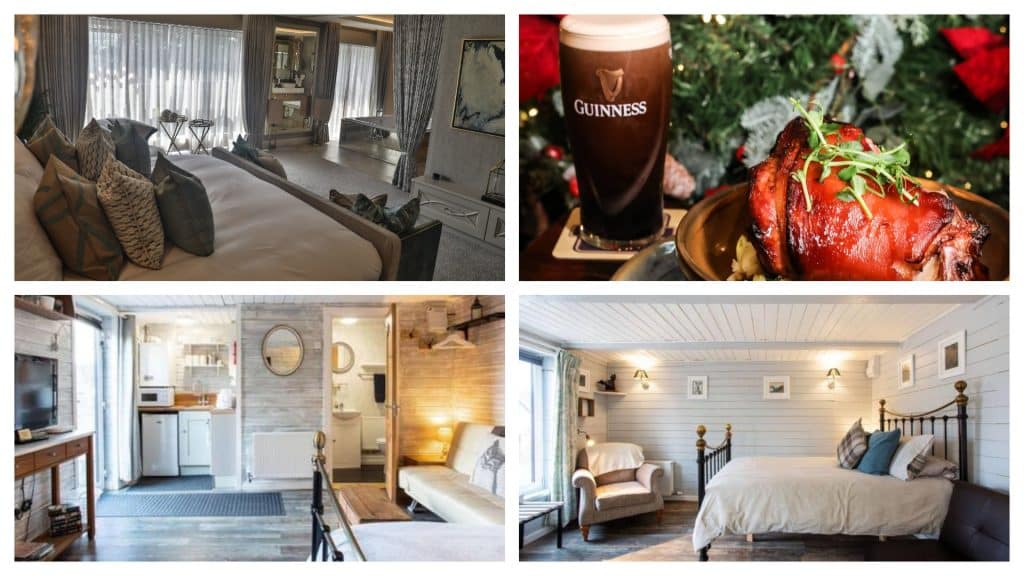 Lansdowne Hotel: Located on the Antrim Road, this is the perfect place to stay for visiting the iconic Belfast Castle. Guest rooms feature comfortable beds, flatscreen TVs, and private bathrooms. Visitors can enjoy a continental or an à la carte breakfast in the dining room.
Loughview Chalet: This fantastic private chalet with a garden and free WiFi comes complete with a patio, a kitchen, a dining area, and a seating area with a flatscreen TV. You'll even have a private bathroom with a shower and a hairdryer.
Where to stay in West Belfast
Standing Stones Lodge: Enjoy comfortable accommodation, an onsite restaurant and bar, and free private parking. All rooms are complete with a wardrobe, TV, and private bathroom.
Your questions answered about things to do in Belfast
Where is Belfast?
Belfast is the capital of Northern Ireland. It is located approximately two hours' drive from Dublin City.
In what county is Belfast, Northern Ireland?
The majority of the city lies in County Antrim, while the remainder is in County Down.
How to get from Dublin to Belfast?
Belfast can be accessed most easily from Dublin by car (approximately 120 minutes). However, there are direct and affordable options on buses and trains, too.
How far is the Giant's Causeway from Belfast?
The Giant's Causeway is approximately 75 minutes from Belfast City by car.
What to do in Belfast?
There are many amazing sights, places to stay, and things to do in Belfast. Have a look below at some of our selected articles which are bound to offer more travel inspiration.
What can you do in Belfast for free?
There are plenty of great attractions in the city that can be enjoyed for free. Some of our favourites things to see in Belfast for free are Cave Hill Country Park, Divis Mountain and Black Mountain, the Ulster Museum, the grounds of Stormont Park, City Hall, and a stroll around the Titanic Quarter or Cathedral Quarter.
What should you not miss in Belfast?
Attractions such as Titanic Belfast and Crumlin Road Gaol are unmissable experiences. Taking a Belfast Hop On Hop Off Bus Tour is a great way to see a lot in the city if you're short on time.
How many days should you spend in Belfast?
The number of days you choose to spend in the city depends entirely on what you want to do while you're here. If you only want to see the main attractions, you can do so in a couple of days. However, if you want to truly immerse yourself in the city's life and culture, the amount of time you should spend here is limitless.
If you are visiting Belfast, you will find these articles really helpful:
Where to stay in Belfast
Top 10 hotels in Belfast City Centre
The 10 BEST family hotels in Belfast, Northern Ireland
The 10 BEST Hotels in Belfast, according to reviews
Pubs in Belfast
5 Traditional Irish Pubs in Belfast You Need To Experience
The BEST Guinness in Belfast: A Dubliner reveals the top 5 pubs for the black stuff
7 Belfast bars and pubs with the quirkiest names
10 Pubs: The Traditional Irish Pub Crawl in Belfast
Top 10 pubs and bars outside Belfast City Centre
Eating in Belfast
The 5 best restaurants for foodies in Belfast
Top 5 best restaurants in South Belfast
5 new restaurants in Belfast you NEED to know about
10 Amazing Vegetarian/Vegan-Friendly Restaurants and Cafes around Belfast
Top 10 places for afternoon tea in Belfast
The 5 best breakfast and brunch spots in Belfast
Belfast Itineraries
24 Hours in Belfast: A one-day itinerary in this great city
5 best day trips from Belfast (within a 2-hr drive)
Belfast to Giant's Causeway: how to get there and key stops on the way
Understanding Belfast & its Attractions
10 fascinating facts about Belfast that you probably didn't know
Belfast named in the top 10 places to visit this decade
5 reasons why you should visit Belfast in 2020
20 mad Belfast slang phrases that only make sense to locals
10 new developments which could make Belfast the best city in Ireland
£500m plan to regenerate Belfast's Cathedral Quarter given green light
5 reasons to visit the James Connolly Visitor Centre in West Belfast
Cultural & Historical Belfast
A 360° Virtual Tour of 5 Iconic Spots in Belfast
The 5 most BEAUTIFUL buildings in Belfast 😍
Top 5 prettiest streets in Belfast
Titanic Belfast: everything you need to know before you visit
More Belfast Sightseeing
The 5 best and most scenic cycle routes in Belfast, RANKED
Top 3 best places for crazy golf in Belfast, RANKED
The ultimate 10 best walks in and around Belfast
5 things to do around Belfast which locals swear by
5 Fascinating Things You'll Experience On A Belfast Black Taxi Tour