This corner of Ireland is renowned for its stunning beaches and coastline. Here are the best beaches in Cork.
Irish people flock to their nearest beach at the first sign of sunshine, because we know too well it cannot be guaranteed. However, even in the winter and all year long, people flock to the coast for their ice-cold swim, especially on Christmas morning.
We are lucky to have an endless coastline to take advantage of and, of course, we don't take this for granted. No matter which part of the country we are in, the beach is never too far away.
With that being said, if you happen to be around the fantastic region of Cork, there are certain beach spots you cannot leave without seeing and here they are. Let's check out the top five best beaches in Cork, ranked.
5. Warren Beach – Cork's hidden gem
Located at the mouth of the Rosscarbery River, this somewhat rural beach is a tranquil place to get away from it all. It is one of Cork's best beaches due to its dedicated natural heritage area. The beach also boasts great facilities and undeniably stunning views.
This Blue Flag beach is the perfect spot for swimming, walking, and relaxing because it is sheltered. It is an often missed out beach in the region as one of Cork's hidden gems.
Address: Creggane, Co. Cork
4. Garretstown Beach – one of the best beaches in Cork
One of the best beaches in Cork has to be Garretstown Beach, which has stunning views over the old head of Kinsale.
You will find many beachgoers here when the sun is shining, but there is an adequate carpark and facilities to keep up with the crowds. Off-season, you could well be the only person here, which is ideal for a wonderful beach stroll.
It goes without saying that this beach is also a great spot for surfing. There are even surf schools nearby that take advantage of the waves. As well as these, other activities such as kayaking, coasteering, and paddleboarding are popular.
Address: Garretstown Beach, Co. Cork
3. Owenahincha Beach – a west Cork wonder
The name might be a mouthful and easy to forget. However, this is a beach view you definitely won't forget after visiting, and it is one of the most popular beaches in Cork.
Located on Inchydoney Island, the beach is rated as a Blue Flag beach and is a very popular spot for holiday goers every year. West Cork is known for its magnificent landscape and amazing views, and this coastline is no exception.
Address: Inchydoney Island, County Cork
2. Inchydoney Beach – a truly unspoiled beach
Inchydoney is in close proximity to the famous town of Clonakilty. It is a Blue Flag beach and sits on an island connected to the mainland by two causeways.
It has been named Ireland's favourite sandy beach by international tourists in 2019 on TripAdvisor and is said to be one of the best spots to learn to surf in Ireland.
Inchydoney is by far one of the best beaches in Cork and it will be one that you hear people mentioning time and time again.
It is an incredibly memorable spot and the locals don't want you to miss out. The beach is lined with pristine sand and is a hit with beach lovers all over Ireland.
Address: Inchydoney Island, Inchydoney, County Cork
1. Barleycove Beach – perhaps one of the best beaches in the world
This fantastic beach is set in the stunning area around Mizen Head, the most southerly part of Ireland and one of the best things to do in Cork. It is so beautiful that it is said to be not only one of West Cork's best beaches but one of Ireland's best beaches overall.
You will find plenty of people enjoying the sand and surf here in the summer months and the surrounding area. Indeed, it is a great place to discover along the Mizen Head peninsula.
When in the area, many people like to go horse trekking, boating, sailing, and, of course, bird watching. So, it is a spot with endless opportunities.
Address: Dough, County Cork
You could easily spend weeks in the area of West Cork alone, exploring and discovering the area's fabulous beaches. However, there are many more around the Cork region, so keep your eyes peeled for other hidden gems.
So, next time you are in this stunning corner of Ireland, do not miss out on these five best beaches in Cork, where you will make some great memories.
Notable mentions
Fountainstown Beach: This beautiful beach is not far from Cork city and offers spectacular views and facilities on arrival.
Youghal Claycastle Beach: Youghal Beach is a sandy stretch of the gold coast located near the town of Youghal.
Ringabella Bay: This excellent Cork beach is a remote and secluded beach located near Cork Harbour.
Garrylucas Beach: Just under 40 minutes from Cork city. This beach meets with pristine waters and is a favourite beach for those near Kinsale.
Ballyrisode Beach: Ballyrisode is a gorgeous beach and is only 15 minutes from Schull village.
FAQs about the best beaches in Cork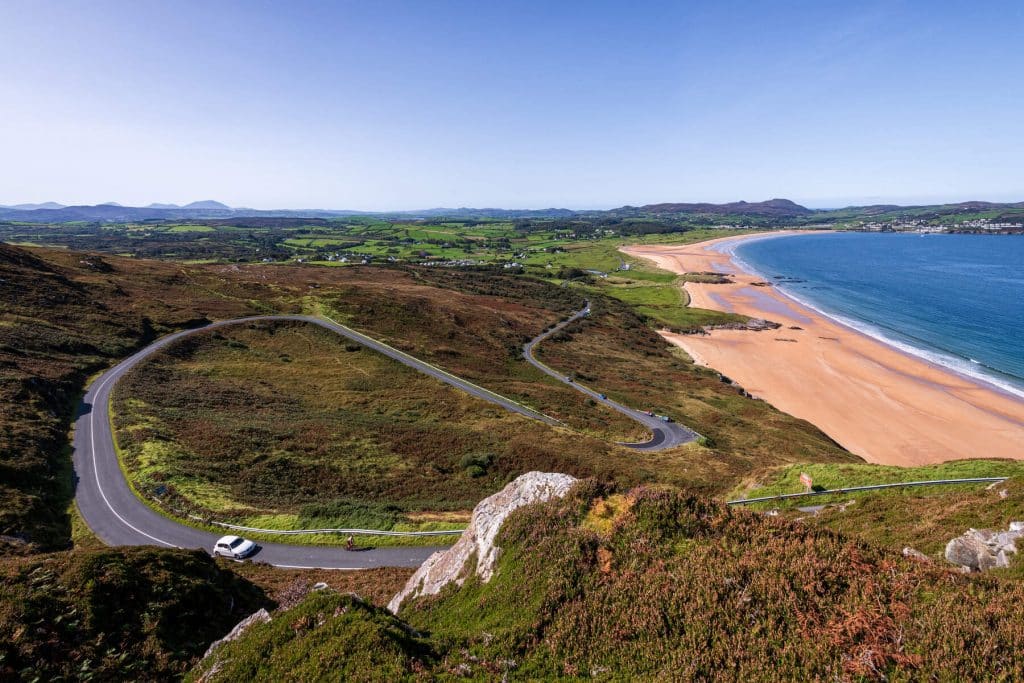 What are some of the best beaches in Ireland?
Some of the best Irish beaches are Ballymastocker Bay, Lahinch Beach, Silver Strand, and Whitestrand Beach. Others include Streedagh Strand, Portmarnock Beach, and Fanore Beach.
Are Cork beaches along the Wild Atlantic Way?
Yes, Cork beaches are located on the Wild Atlantic Way. The Wild Atlantic Way encompasses the west of Ireland, from Donegal to Cork.
When is the best time to visit the best beaches in Cork?
Perhaps the best time to visit would be in the summer season, especially so when the warmer summer months kick in and you are surrounded by the sun and golden strands. However, the beaches are suitable to visit at any time of the year.