Are you looking to experience the best of the Emerald Isle? Here is our Irish bucket list: the 25 best things to do in Ireland in your lifetime.
Welcome to Ireland – the greenest, friendliest, and most beautiful little island on earth! There are plenty of places to visit in Ireland too.
Ten million people come here each year hoping to see our beautiful sites and experience the magical Irish culture.
At Ireland Before You Die, we live and breathe everything Irish – we love it. We've travelled around it and have done our best to narrow this list down to just 25 places you should see in your lifetime.
Our Irish bucket list is a comprehensive list of top-quality places you should visit in Ireland. It includes tourist attractions, landmarks, mountains, beaches, and much more.
So here's our Irish Bucket List: the 25 things to see in Ireland before you die!
25. The Blarney Stone, Co. Cork – for the gift of the gab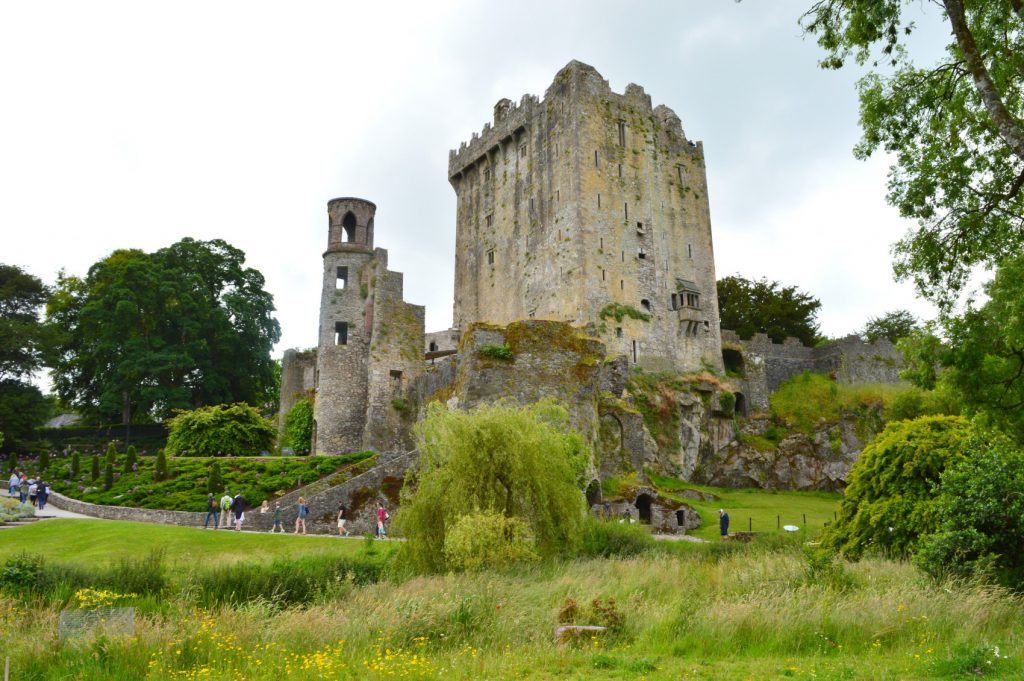 The Blarney Stone is one of the oldest and classic tourist attractions on the Emerald Isle.
According to the old Irish legend, kissing the stone endows the kisser with the 'gift of the gab' (great eloquence or skill at flattery).
The stone itself is a block of Carboniferous limestone built into the battlements of Blarney Castle, about five miles outside Cork City. It was put into the tower at the castle in 1446.
A visit to Blarney Castle is a popular tourist site in Ireland, attracting visitors from all over the world to kiss the stone and tour the castle and its gardens. As such, it is a bit of a tourist trap so be warned, the queues for kissing this stone can be long!
However, if you go on an off-peak day and get the weather, it is well worth the visit!
Address: Blarney, Cork, Ireland
24. Titanic Belfast, Co. Antrim – learn about the world's most-famous shipwreck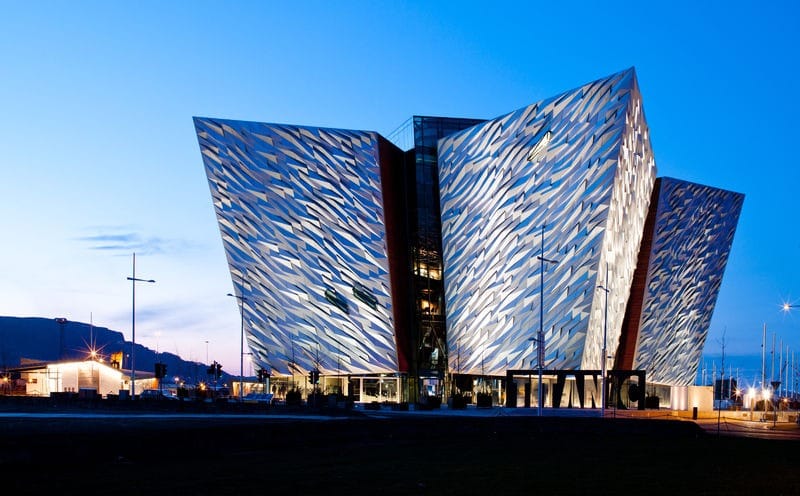 Everyone has heard the story of the Titanic – the famous ship which sadly sank on its maiden voyage.
This legendary ship was built in Belfast, and the city is home to the world's most substantial Titanic visitor experience!
Since opening its doors in 2012, the museum has won awards of excellence as one of the world's top tourist attractions!
Self-guided tours offer you the opportunity to learn all about the famous ship, the people who built it, and the people who were on board its maiden voyage.
A ticket for this tour is a bit pricy, so if you are on a budget, you can still wander around the building and take photos from the slipway.
After you visit the building, be sure to pop in next door to the Titanic Hotel for a drink and bite to eat in the room where the ship was designed!
A trip to Titanic Belfast is one of the best things to do in Belfast and a worthy place on our Irish Bucket List! Truly one of the best places to visit in Ireland.
Address: 1 Olympic Way, Queen's Road, Belfast BT3 9EP
23. Croke Park, Co. Dublin – for a big game
If you want to really experience what Irish sport is all about, you need to experience a GAA game at Croke Park in Dublin.
Gaelic games are the most popular sports in Ireland. The GAA itself is an Irish sporting association which organises and maintains two separate sports, Gaelic football and Hurling.
Croke Park is the headquarters of the GAA, and as such, there is no better place to experience a big game than here.
The passion of the crowd and the intensity of the games here is phenomenal. The biggest game you can experience here is the All-Ireland Final, but you'd need to be very lucky to get one as tickets are like gold dust!
However, you should be able to get to a quarter-final or semi-final so we'd highly recommend putting one of these games on your Irish Bucket List!
Address: Jones' Rd, Drumcondra, Dublin 3, Ireland
22. The North West 200, Co. Derry – experience Ireland's biggest race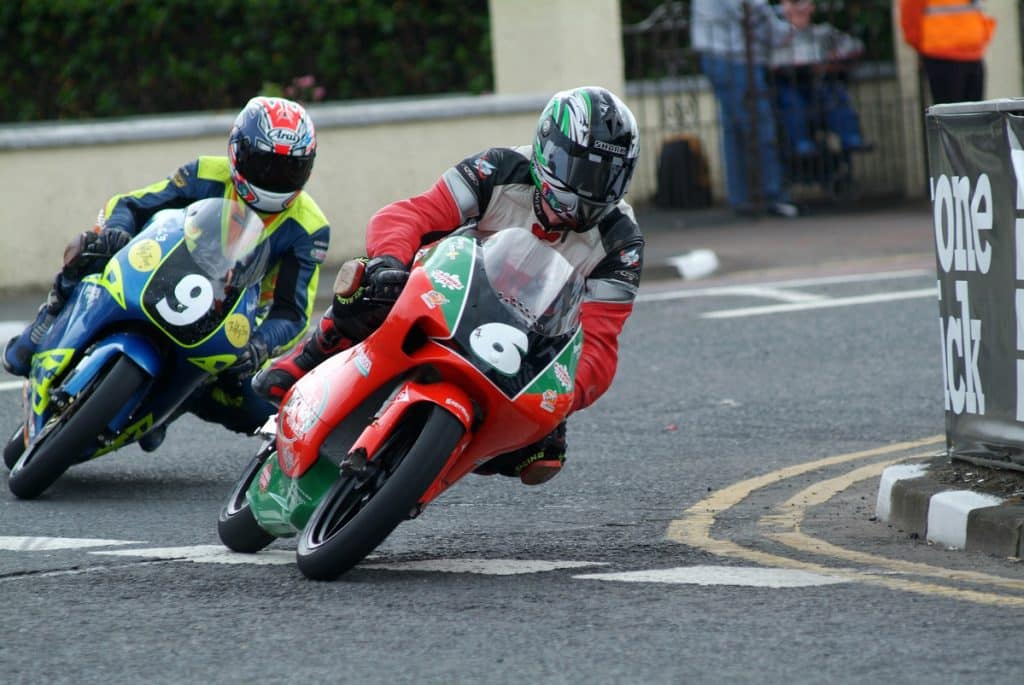 Interested in motorcycles? Then you need to put the North West 200 on your Irish Bucket List!
The North West 200 is a motorcycle race meeting held each May along the north coast of Ireland.
The course is a street circuit, made up of public roads running between the towns of Portstewart, Coleraine, and Portrush (the Triangle). It is one of the fastest in the world, with speeds over 200 mph (320 km/h).
It is the largest annual sporting event in Ireland, with the race weekend attracting over 150,000 visitors from all over the world.
Address: 48 Cloyfin Rd, Coleraine BT52 2NY
21. Sean's Bar, Athlone, Co. Westmeath – a pint in the oldest bar in the world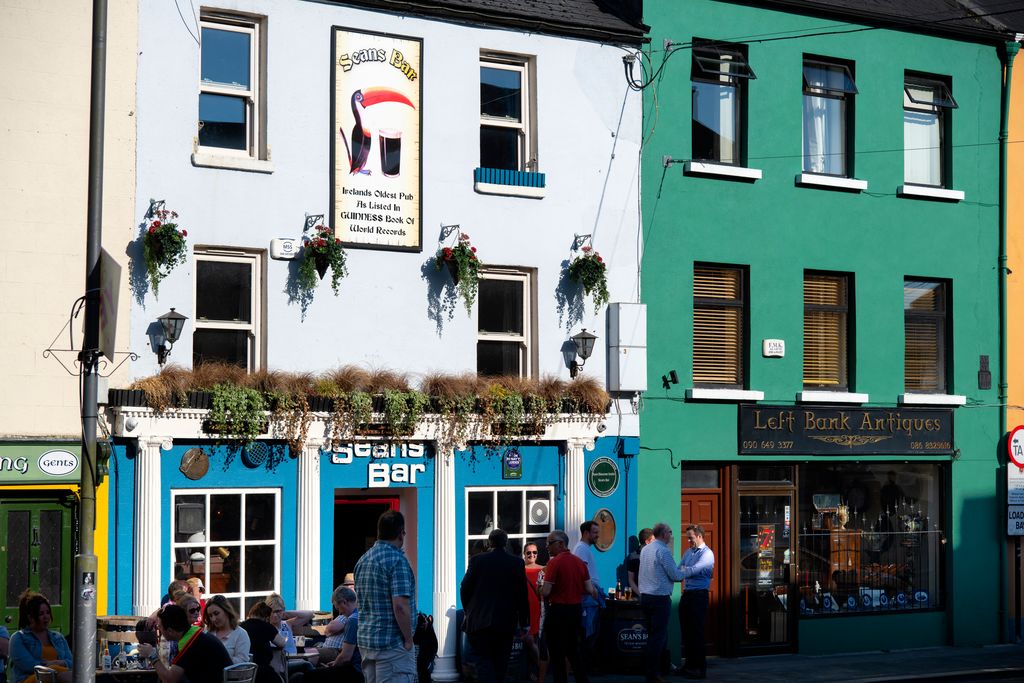 If you are interested in Irish pub culture and are wondering what to do in Ireland, then you need to go to the very centre of Ireland!
Here in Athlone, you will find Sean's Bar, the oldest bar in the entire world! It has been serving alcohol to locals at the spot of Sean's bar for as far back as 900 AD (over 1100 years ago)!
It is heartening to be able to say you had a pint in the oldest bar in the world and that is why it is a worthy place on our Irish Bucket List!
Address: 13 Main St, Athlone, Co. Westmeath, Ireland
20. Leap Castle, Co. Offaly – the world's most-haunted castle
There are many haunted castles around Ireland, but none are as infamous as Leap Castle in County Offaly.
This castle is widely recognised as the most haunted castle in the world. As such, thousands of people flock to Leap Castle each year, not only to marvel at its rich history and beauty but also to meet the spooky inhabitants of the castle!
Private tours can be arranged by contacting the owners. More info here.
Address: Leap, Co. Offaly, Ireland
19. Riverdance – to see Ireland's iconic dance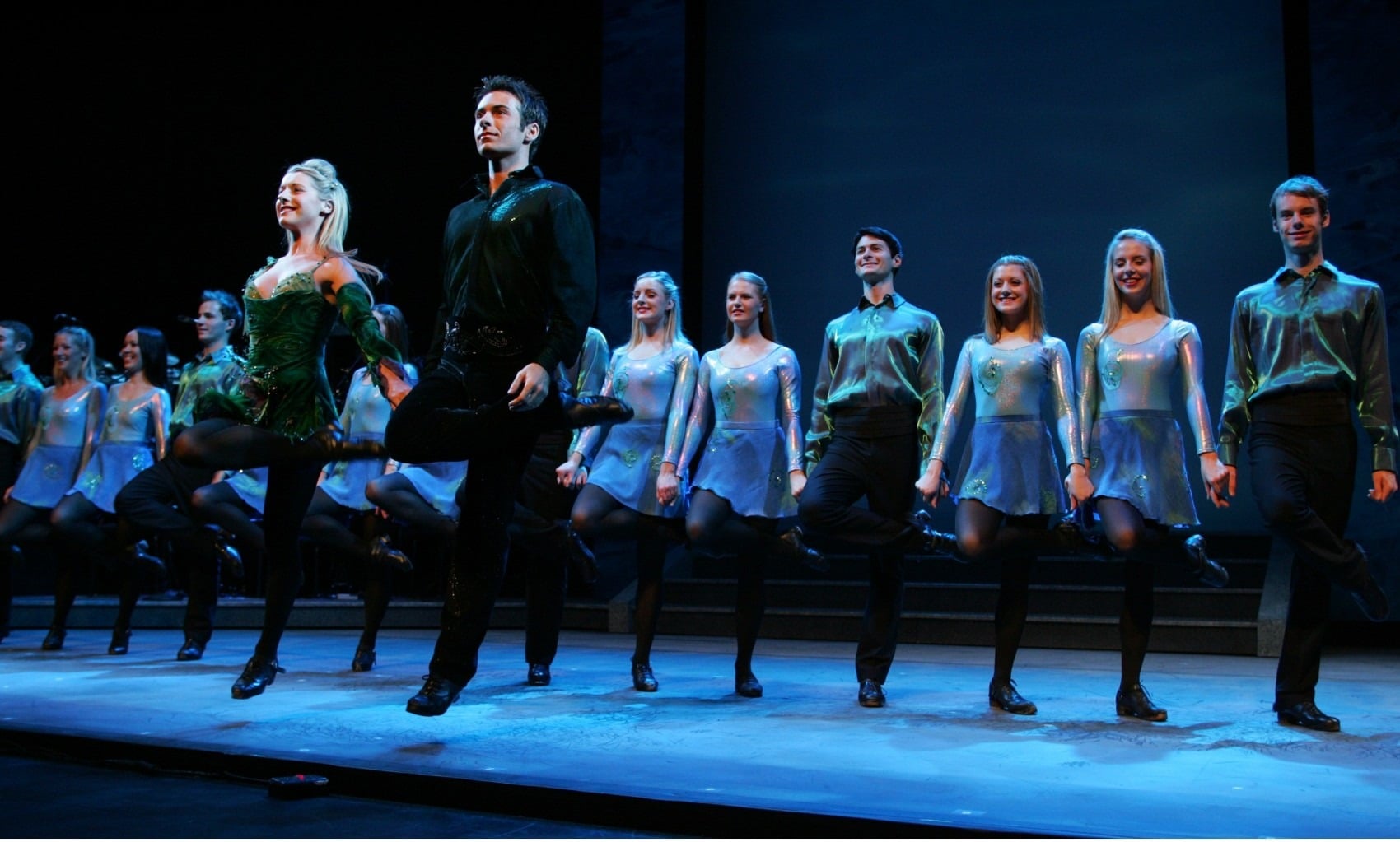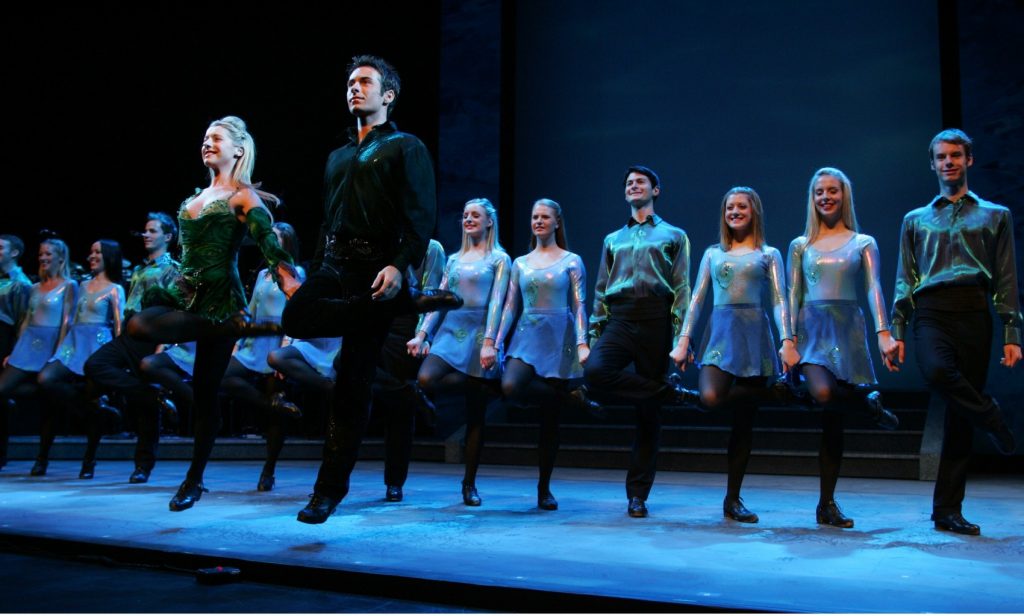 If you are interested in experience Irish music and dance, then seeing The Riverdance live in Dublin should be top of your bucket list!
The Riverdance is a theatrical show consisting mainly of traditional Irish music and dance, made famous by Michael Flatley and co. in 1994.
The performance originates from the interval performance of the 1994 Eurovision Song Contest, which featured Irish dancing champions, Jean Butler and Michael Flatley.
It is now famous worldwide, and performances can be found each year in Dublin so make sure you keep your eye out for tickets!
18. Glenoe Waterfall, Co. Antrim – Ireland's most beautiful waterfall
There are many beautiful waterfalls in Ireland, but Glenoe Waterfall has to be the best!
This cute little waterfall is nestled in the hills just outside the charming little village of Gleno.
To get here, you must find the car park on Waterfall Rd. Once you are at the car park, follow a path through the trees to the stunning waterfall. It only takes about two minutes.
If you are visiting Belfast for the weekend or are making the trip to the north coast to see attractions such as the Giant's Causeway, Glenoe waterfall is a perfect stop!
Address: Waterfall Rd, Gleno BT40 3LE
17. Carrauntoohil, Co. Kerry – one of the best places to visit in Ireland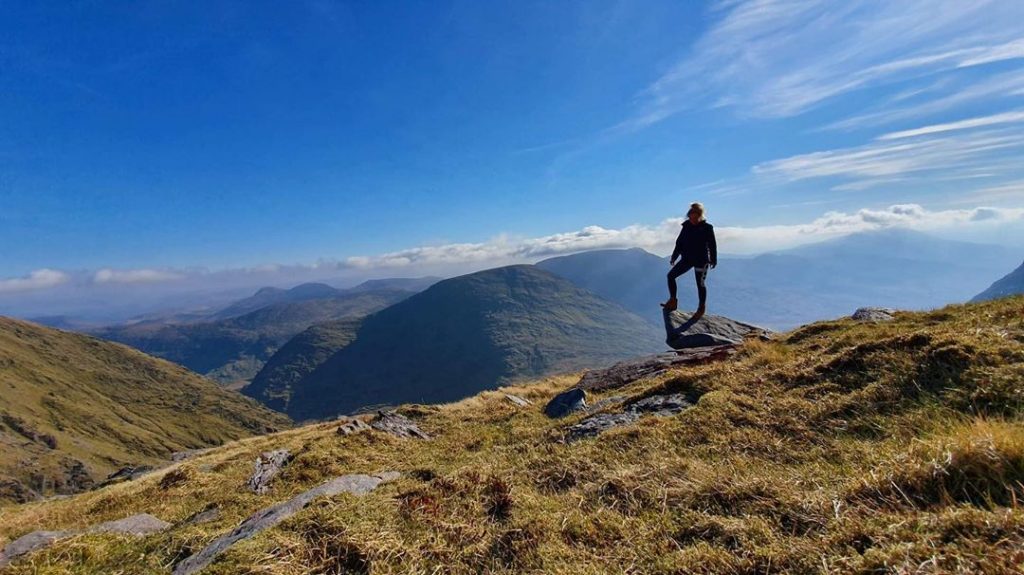 If you are interested in doing some hiking in Ireland, then Carrauntoohil should be top of your Irish Bucket List!
Located in County Kerry, Carrauntoohil is the highest peak in Ireland. It measures 1,038 metres (3,406 ft) high and is the central peak of the MacGillycuddy's Reeks range.
The mountain isn't just big, it is also beautiful, and this makes it one of the best things to do in Ireland for hiking enthusiasts.
Location: County Kerry, Ireland
16. Carrick-a-Rede, Co. Antrim – Ireland's famous rope bridge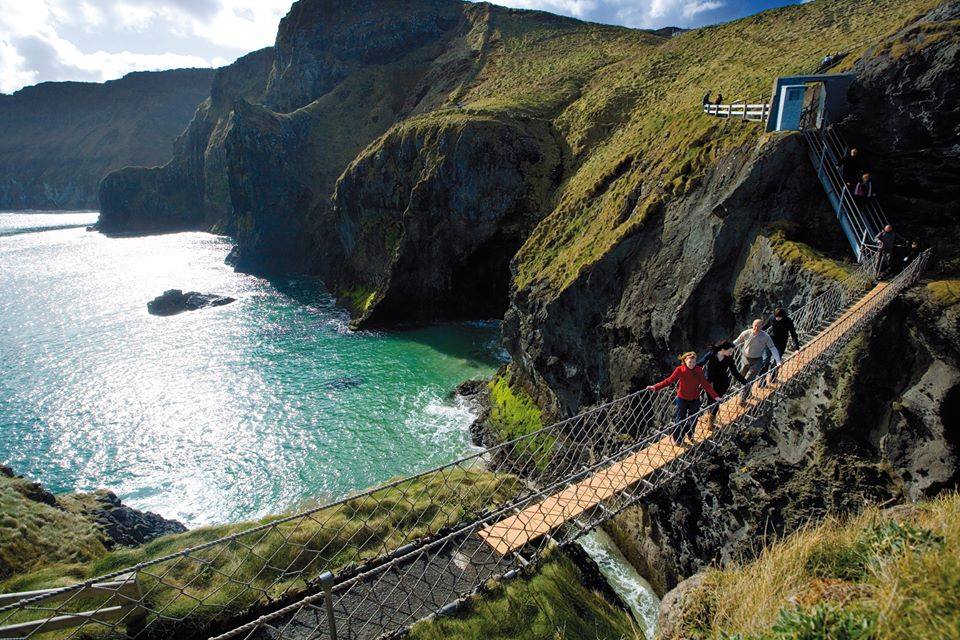 If you are a thrill-seeker and are wondering what to do in Ireland, look no further than Carrick-a-Rede rope bridge in County Antrim!
This famous rope bridge, near Ballintoy in County Antrim, is one of the top tourist attractions in Northern Ireland.
The bridge itself links the mainland to the tiny island of Carrick-a-rede (in Irish this means "rock of the casting"). It spans 20 metres (66 ft) and is 30 metres (98 ft) above the rocks below.
The bridge is owned and operated by the National Trust. A small fee is charged to cross the bridge, so make sure you bring your wallet if you want to pass as there are no ATMs for miles!
Address: 119a Whitepark Road, Ballycastle BT54 6LS
15. Murder Hole Beach, Co. Donegal – Ireland's most mysterious beach
If you love beaches, then you really should experience Murder Hole Beach in County Donegal!
Although it is not the most accessible place in Ireland, this private beach on the Rosguill Peninsula is well worth the trip!
After a short descent onto the beach, you will be greeted by beautiful caves and rugged surrounding cliffs.
Don't let the scary name (from Irish legend) discourage you from visiting as there is nothing gruesome about this location. It is pure rugged beauty and encapsulates the true meaning of the Wild Atlantic Way.
We feel it is the most beautiful beach in Ireland and should be on anyone's Irish Bucket List!
14. Newgrange, Co. Meath – for the winter solstice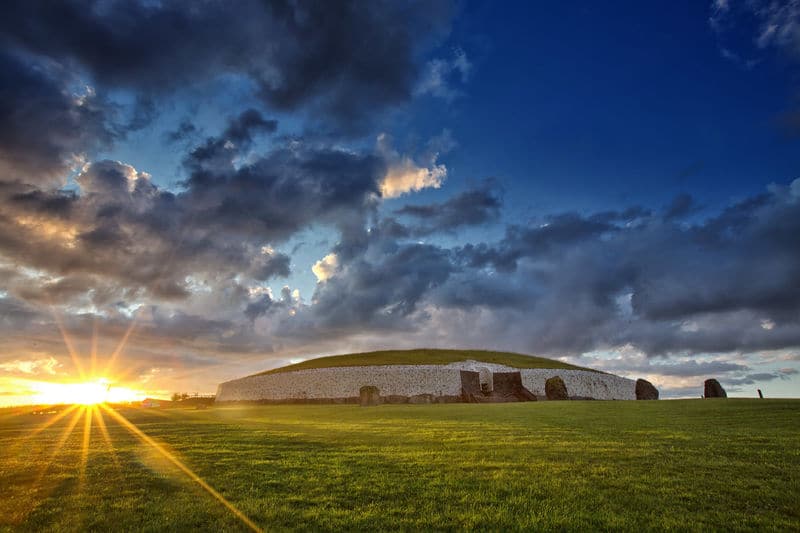 Another of the best places to visit in Ireland is Newgrange, a 5,200-year-old passage tomb located in County Meath in Ireland's Ancient East.
The incredible passage was built by Stone Age farmers and has been one of Ireland's wonders for centuries.
An incredible feature of Newgrange is a passage measuring 19m that leads into a chamber with three alcoves. During the mornings around the Winter Solstice annually, the passage and chamber are aligned with the rising sun, and the inside illuminates!
This incredible event at Newgrange should be on anyone's Irish Bucket List!
Address: Newgrange, Donore, Co. Meath, Ireland
13. Kilmainham Gaol, Co. Dublin – Ireland's most famous prison
No one place in Irish has as much history of Kilmainham Gaol in Dublin. It is one of the most famous jails in the world and definitely Ireland's most notorious prison.
The walls of this prison have held some of Ireland's most prominent leaders and those who evoked political change throughout Irish history.
The prison has also been used in many films, including the original Italian Job and In the Name of the Father.
We'd highly recommend the daily tours to anyone, especially Irish history enthusiasts.
Address: Inchicore Rd, Kilmainham, Dublin 8, D08 RK28, Ireland
12. Guinness Storehouse, Co. Dublin – where the black stuff is made
Guinness is one of the most famous beer brands worldwide and, undoubtedly, Ireland's most famous export.
If you are a fan of the black stuff, then why not learn to pour the perfect pint of Guinness at the home of the famous drink at the Guinness Storehouse?
The Guinness Storehouse is Ireland's most-visited tourist destination annually. It is an excellent day out and should be on everyone's bucket list, especially Guinness-lovers!
Address: St James's Gate, Ushers, Dublin 8, Ireland
11. Glasnevin Cemetery, Co. Dublin – visit the graves of Ireland's famous people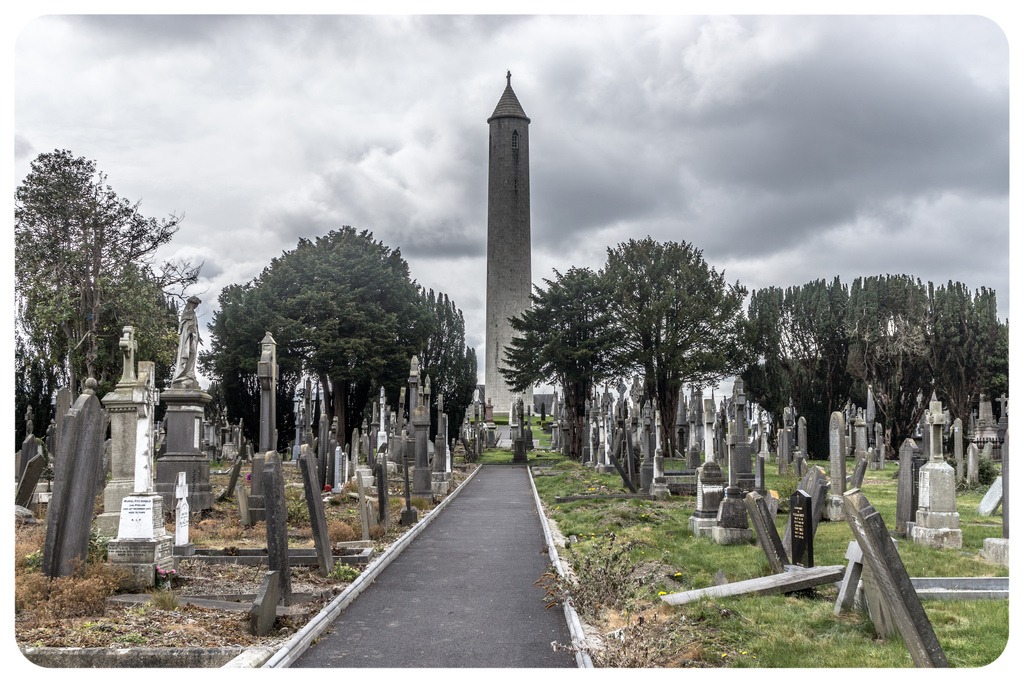 Interested in Irish history? Then let us tell you about Glasnevin Cemetery.
Glasnevin Cemetery is a large cemetery in Dublin which opened in 1832. It holds the graves and memorials of several notable figures and has a museum.
Here you can see the final resting place of Ireland's most famous leaders, including Daniel O'Connell, Charles Stewart Parnell, Michael Collins, and Éamon de Valera.
The tour here is incredible, and as such, Glasnevin Cemetery is regarded as one of Ireland's best tourist attractions for history enthusiasts.
Address: Finglas Rd, Botanic, Dublin 11, D11 PA00, Ireland
10. The Old Bushmills Distillery, Co. Antrim – the world's oldest whiskey distillery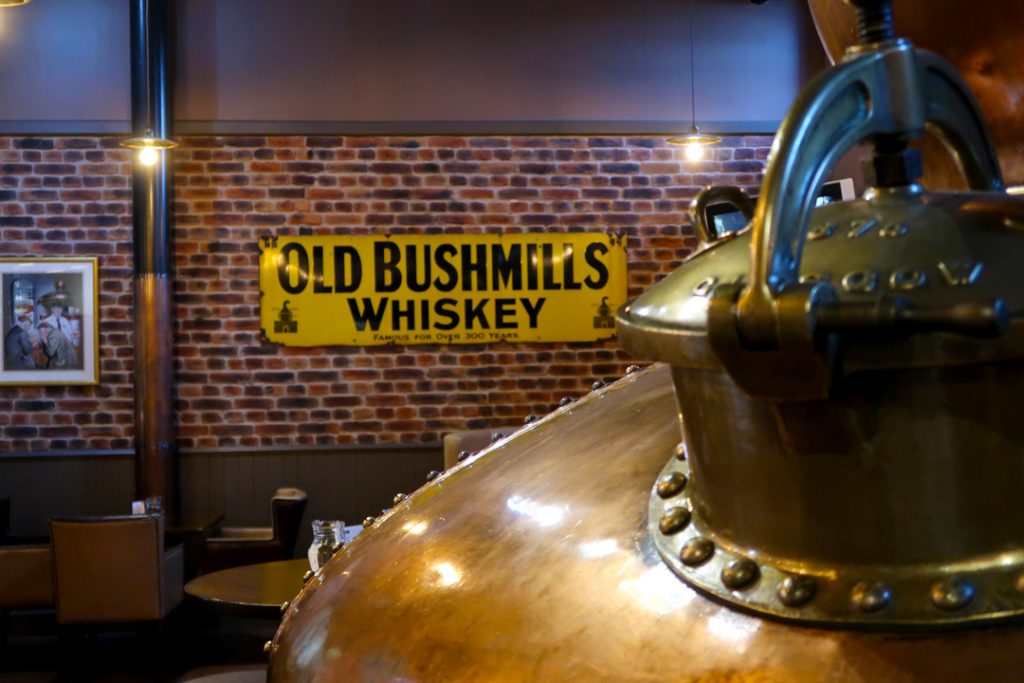 Calling all Whiskey Enthusiasts! A visit to The Old Bushmills Distillery is right up your street!
This distillery in Bushmills, County Antrim, is the oldest operating distillery in the world!
Some of the finest whiskey in the world is produced here, and the grounds are open for tourists, attracting around 120,000 visitors per year.
We've done the tour here and also the premium tasting tour, and we'd highly recommend both. Be sure to also read the six things we experienced here.
Address: 2 Distillery Rd, Bushmills BT57 8XH
9. Spike Island, Co. Cork – a trip to Ireland's Alcatraz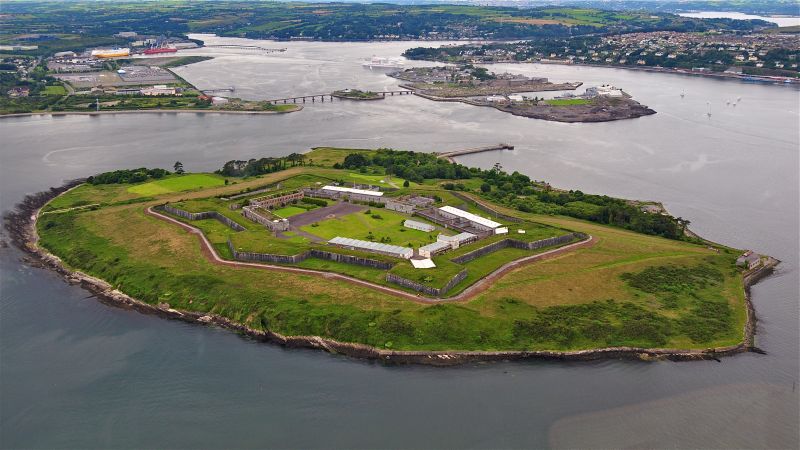 If you have ever been interested in San Francisco's famous prison Alcatraz, then you'll love a trip to Spike Island in Cork!
This island, located in Cork Harbour, has an intriguing and diverse history. In the past 1300 years, the island has transformed from a 6th-century monastery to a grand fortress, and then to a prison.
Now in the present day, it is a public museum and is the perfect day trip from Cork City!
You should leave yourself a whole day to do this activity as it's one of the best places to visit in Ireland.
Location: Cork Harbour
8. A black taxi tour, Co. Antrim – a unique insight into Belfast's troubled past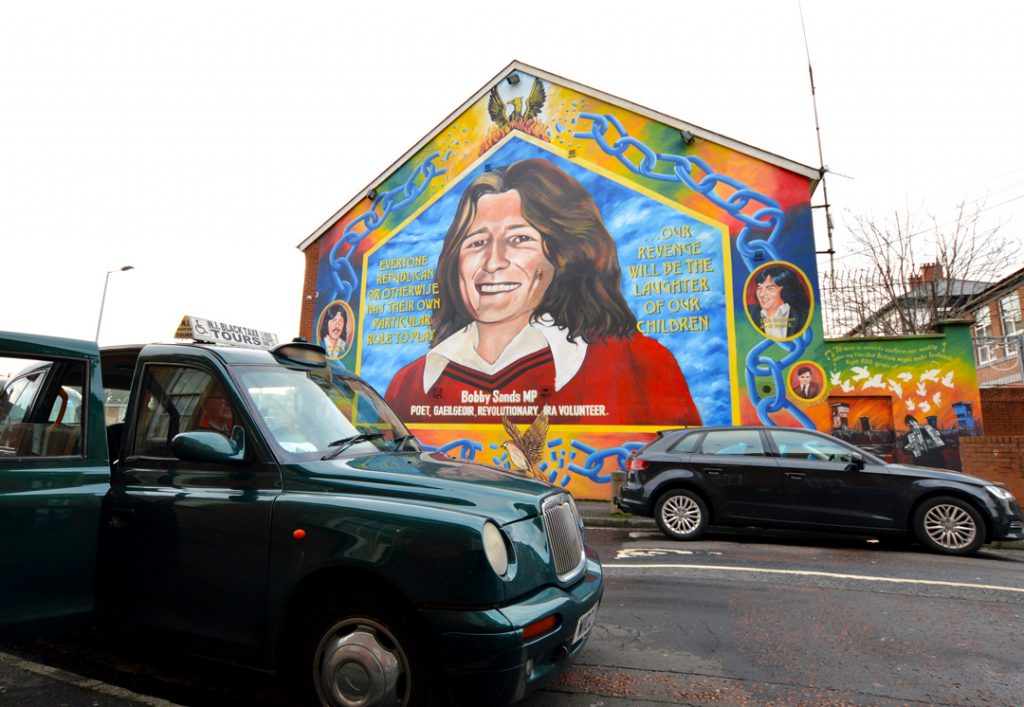 The topic of The Troubles is almost unavoidable if you want to understand life in Northern Ireland.
Probably the best way to start to understand Northern Ireland's complex history and how it shaped the present is by taking a black taxi tour through West Belfast.
A knowledgeable driver leads the tours in small groups in London-style black cabs.
Most black taxi tours last 90 minutes and take you to some of the city's most-famous political murals, peace walls, and areas which were hugely affected by The Troubles.
There are many great black taxi tours available in Belfast, including Paddy Campbell's and NI Black Taxi Tours.
Check our Black Cab experience here.
7. Slieve League Cliffs, Co. Donegal – see some of the highest sea cliffs in Europe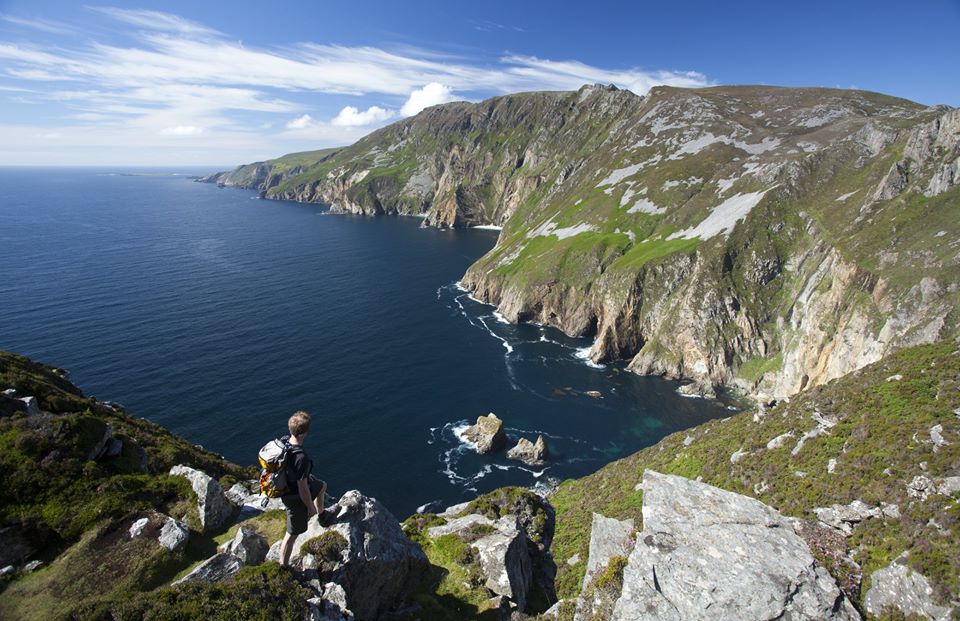 If you have been to the cliffs of Moher and liked it, then you really should get yourself to Donegal to take in the incredible Slieve League Cliffs!
These wild and dramatic cliffs tower over the sea at an incredible height of 609m, making them some of the highest sea cliffs in Europe!
These cliffs do not disappoint visitors! Indeed, they are ranked the number one attraction on TripAdvisor for the entire county of Donegal!
We highly recommended adding these cliffs to your Irish Bucket List!
Location: Shanbally, Co. Donegal, Ireland
6. Croagh Patrick, Co. Mayo – follow in the footsteps of Ireland's patron saint
Croagh Patrick is the arguably the most famous mountain in Ireland, situated near the town of Westport in County Mayo.
Croagh Patrick comes from the Irish Cruach Phádraig meaning "(Saint) Patrick's stack".
On the last Sunday in July, thousands of pilgrims climb Croagh Patrick in honour of Ireland's patron saint who, as the story goes, fasted and prayed on the summit for 40 days.
On a clear day, you can take in incredible views of Clew Bay and the surrounding south Mayo countryside from the top of the mountain.
It usually takes around two hours for the average person to reach the summit, and one and a half hours to descend.
Be sure to pack the right equipment for this climb! You'll need sturdy footwear, rainwear, and some drinking water!
Location: Teevenacroaghy, Co. Mayo, Ireland
5. Dingle, Co. Kerry – explore the incredible Dingle Peninsula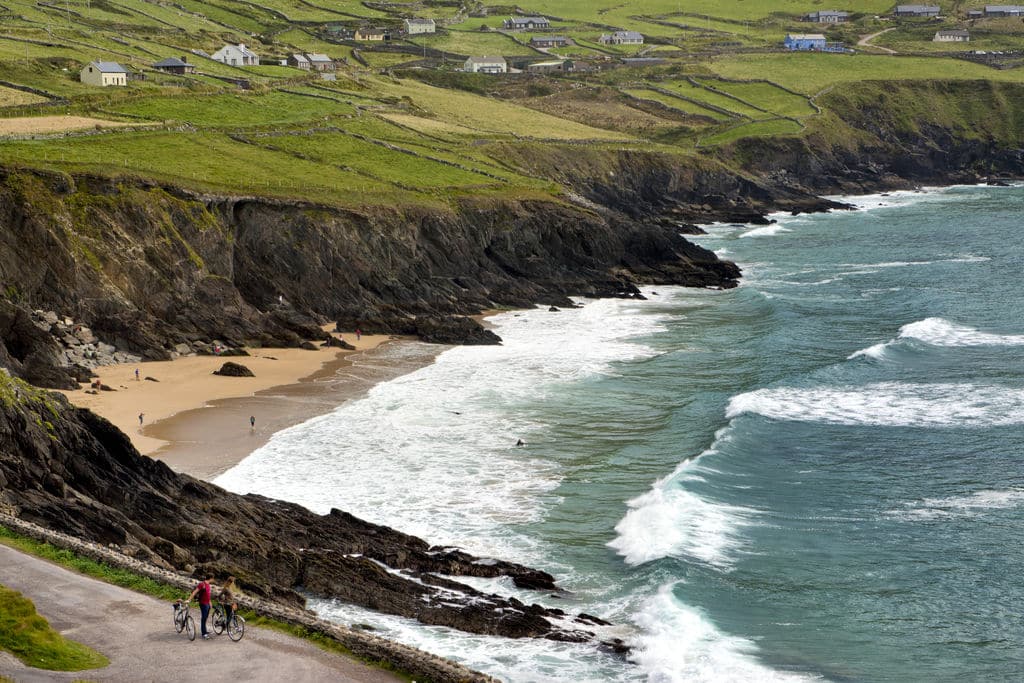 On Ireland's southwest Atlantic coast, you will find a beautiful area of beautiful sandy beaches, jagged cliffs, and beautiful green hills.
This area is called the Dingle Peninsula, and it is one of the most beautiful parts of Ireland.
Indeed, the area is famous around the world and was once described by National Geographic as "the most beautiful place on earth", and they certainly aren't wrong!
Visitors from far and wide travel to Dingle, and they are rarely disappointed. This area is quite rightfully known as one of the best places to visit in Ireland!
With so many things to do in Dingle, be sure to check out our Dingle itinerary if you are planning a visit.
4. The Ring of Kerry, Co. Kerry – possibly the most scenic drive in Ireland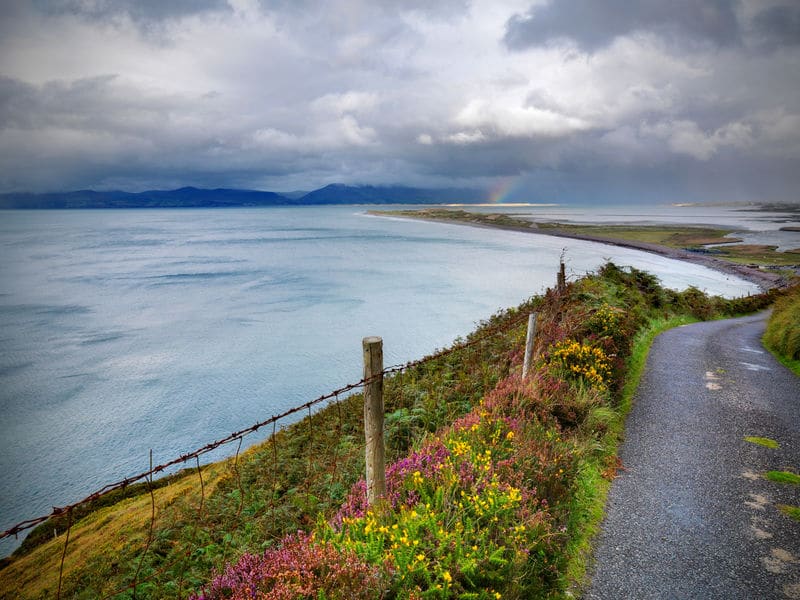 Fancy a scenic drive? Well, let me introduce you to the Ring of Kerry, another of the top places to visit in Ireland.
This 179km-long scenic drive will take you through rural seaside villages and along the rugged coastal landscape of the Iveragh Peninsula.
The whole drive is widely regarded as a must-see on any trip to Ireland. From ancient castles to stunning natural landscapes and quaint seaside villages, the Ring of Kerry has a lot to offer.
If you are visiting and are wondering what to do here, check out our guide.
3. The Giant's Causeway, Co. Antrim – Ireland's most stunning rock formation
If you are interested in stunning beauty and Irish mythology, you need to check out the Giant's Causeway on Ireland's north coast!
The Giant's Causeway is an incredible rock formation (nearly sixty million years old) located on the beautiful Northern-Irish coastline.
It is well-known all over the world, and as such, people come from all corners of the globe to check it out.
The Giant's Causeway gets its name from Irish mythology, as according to legend it was created by the Irish giant Finn McCool.
When visiting this spot, you are sure to feel intrigued and inspired by this natural phenomenon!
Address: 44 Causeway Rd, Bushmills BT57 8SU
2. Glendalough, Co. Wicklow – one of the most scenic places to visit in Ireland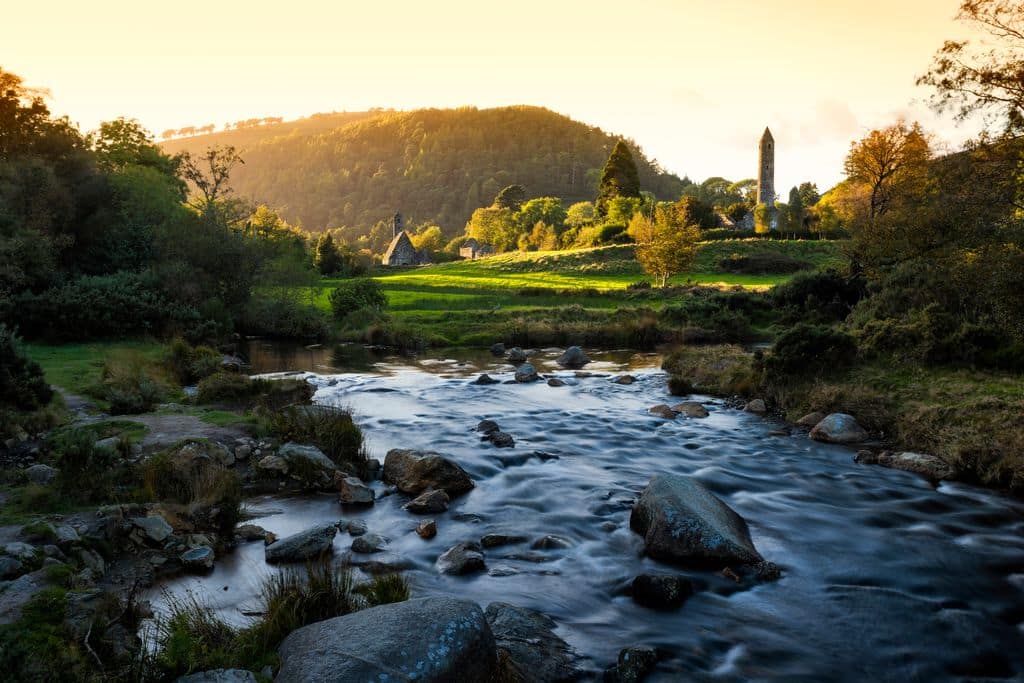 Possibly the most popular day trip from Dublin is a trip to the Wicklow Mountains.
The focal point of the Wicklow Mountains is the lake of Glendalough which has to be Ireland's most-beautiful lake!
Glendalough, or the 'Valley of Two Lakes', is one of Ireland's most prominent monastic sites, nestled in the heart of the Wicklow Mountains National Park.
The 6th-century Christian settlement was founded by St. Kevin and boasts a series of impressive remains set against a backdrop of picturesque Irish countryside.
Nicknamed 'the garden of Ireland', Wicklow is a nature-lover's paradise of rolling meadows, vast lakes, and hillsides carpeted in purple heather.
If you are looking to escape the busy streets of Dublin, then Glendalough is the perfect day trip!
Address: Derrybawn, Glendalough, Co. Wicklow, Ireland
1. The Cliffs of Moher, Co. Clare – Ireland's most-famous natural attraction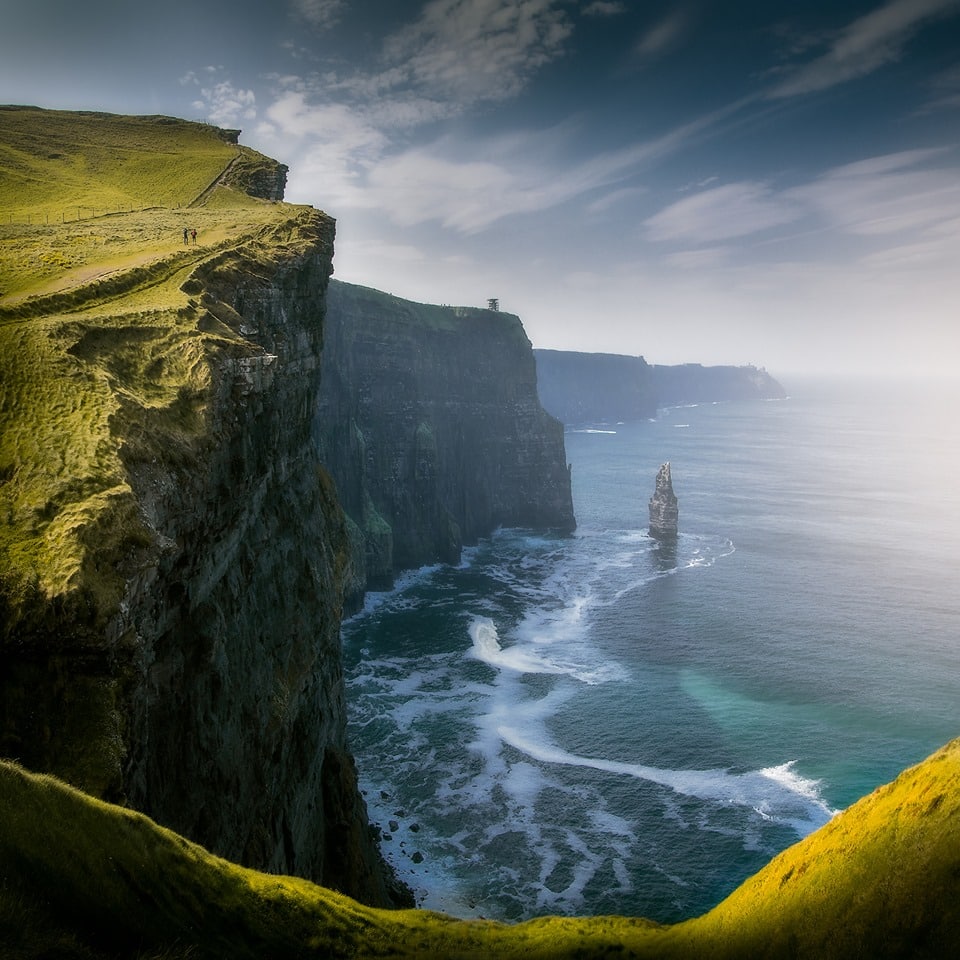 Want to be blown away by stunning natural beauty? Well, get yourself to the Cliffs of Moher, one of the best places to visit in Ireland.
With up to one million visitors annually, these cliffs are Ireland's most-visited natural attraction.
Standing at an impressive 214m (702 feet) at their highest point, they stretch for 8 kilometres (5 miles) along the Atlantic coast of County Clare in the west of Ireland.
On a clear day, from these impressive cliffs, you can see as far as the Aran Islands and Galway Bay.
It is one of the best things to do in Ireland if you enjoy scenic walks and incredible natural beauty!
Address: Lislorkan North, Liscannor, Co. Clare, Ireland
Frequently Asked Questions (FAQs)
1. What time is it in Ireland?
2. What is the population of Ireland?
6.8 million people live on the island of Ireland (2020). There are 4.9 million living in the Republic of Ireland and 1.9 million in Northern Ireland.
3. How many counties are there in Ireland?
There are 32 counties on the island of Ireland. County Louth is the smallest, and County Cork is the biggest.
4. What is the national minimum wage in Ireland?
As of 2020, the national minimum wage is €10.10 per hour.
5. When did Ireland join the European Union (EU)?
In 1973, alongside the United Kingdom (UK) and Denmark, Ireland joined the EU.
Read more about Ireland…
Irish Trip Planner: How to plan a trip to Ireland (in 9 steps)
The 10 Best Spa Hotels in Ireland, Ranked
The 20 most beautiful & magical places to see in Ireland
NI Bucket List: the 25 best things to do in Northern Ireland
Top 10 Irish cultural traditions, customs, and their origins
10 amazing Irish foods and dishes you need to try
What not to do in Ireland: 10 things you should NEVER do
Dublin Bucket List: the 25 best things to do in Dublin, Ireland
50 SHOCKING FACTS about Ireland you probably didn't know