Whoever said that romance is dead clearly isn't considering a picnic in Dublin. A romantic picnic idea with so many dreamy backdrops to enchant, this place is a playground for those with a love for stunning surroundings.
The capital city indeed is famous for being the birthplace of Guinness and the staging ground of Bernard Shaw, James Joyce, and Oscar Wilde, among others, but it is also known for its endless beauty.
Whether you're looking for a sandy stretch, a magical woodland, or a summit vista, here are the ten most romantic picnic spots in Dublin.
10. Merrion Square – for a slice of serenity
This is indeed a city park, but it can also be super serene, even on the weekends. For those of you looking for a little solace in the city, pick a spot on the side of the park opposite the playground and enjoy a little peace and quiet.
The subtle nature of this laid-back park is rare in the centre of the city and makes it a great place for a picnic in Dublin.
9. The Grand Canal – for a romantic evening picnic
The Grand Canal is a popular place to hang out during the summer and autumn months, especially on sunny evenings. We suggest you head in the direction of the Grand Canal Dock or Harold's Cross to escape the masses before popping open a bottle of vino and nibbling away on your chosen treats.
8. Botanic Gardens – for enchanting surroundings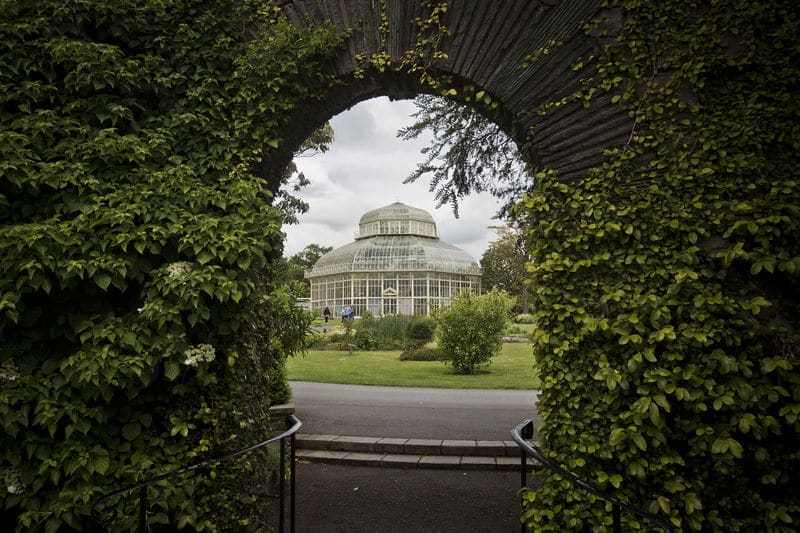 What place could be more magical than the Botanic Gardens in Dublin? This attraction is free to enter, and its grounds are as sprawling and spellbinding as they come.
Find a spot under a tree overlooking the majestic glasshouses in the Botanic Gardens, and you're sure to strike a romantic note.
Address: Glasnevin, Dublin 9
7. Howth Summit – for panoramic views
Enjoy a cliff walk around the magnificent Howth Peninsula before stopping at a scenic spot of your choosing to enjoy a romantic picnic. Howth can be accessed via train from Dublin city in less than thirty minutes, making it a super accessible day trip.
The peninsula itself is brimming with panoramic viewpoints, majestic cliff walks, scenic trails, and challenging hikes. Needless to say, you'll be spoiled for choice!
Address: Howth, Dublin
6. Iveagh Gardens – for a charming picnic spot
If you're looking for romantic picnic spots in Dublin, look no further than the Iveagh Gardens in Dublin.
This city park hides behind the National Concert Hall and impressive Georgian buildings, meaning it's only frequented by those in the know. Either way, it's often empty and makes for a stunning place to enjoy the sun alongside a picnic.
Address: Clonmel St, Saint Kevin's, Dublin, D02 WD63
5. Malahide Castle – for a fairy-tale setting
Located in the leafy suburb of Malahide on the Northside of Dublin city is Malahide Castle. On its grounds stand a 12th-century castle, play areas, sports fields, a café, and a lifestyle store.
Loaded with gardens and green lawns that stretch far into the distance, Malahide Castle is the ideal place for a day excursion and romantic picnic in Dublin.
Address: Malahide Demesne, Malahide, Co. Dublin
4. Killiney Hill – for a scenic, sky-high picnic
If you want a nice leg stretch, climbing Killiney Hill is a good shout. The site is located in the Southside suburb of Killiney, not far from Dublin.
Its sky-high summit is the ideal place for a romantic picnic. With views stretching over the city, Dublin Bay, and surrounding suburbs, sunset is sure to knock your socks off.
3. Phoenix Park – for the magnificent deer
This Dublin destination is the largest enclosed park in Europe and is home to many sights and attractions. One of its main draws, however, is that it is home to a large population of wild deer that graze at dawn and dusk.
If you're looking to let sparks fly, we suggest you enjoy a romantic picnic in Phoenix Park as the sky fades from hues of blue to darkness, while watching the magnificent deer.
Address: Phoenix Park, Dublin 8
2. Bull Island – for a stunning stretch of sand
Bull Island is home to Sandymount Strand, a stunning stretch of sand on the Northside of Dublin. On a sunny day, there are few places as enchanting as this, so load up the picnic basket and make sure to bring some blankets.
1. St. Anne's Park – for the ultimate park picnic
Topping our list of romantic picnic spots in Dublin is this epic park, also located on the Northside of Dublin, not far from Bull Island. St. Anne's Park is a huge leafy area covering 240 acres of public parkland.
Whether you're in the mood for a wildflower field, a tame rose garden, or a magical green meadow, you're sure to find tonnes of romantic picnic places in St. Anne's Park.
Address: Clontarf East, Raheny, Co. Dublin