Tipped as being one of the most magnificent scenic stretches the world-over, here is all you need to know about the Ring of Kerry route on the west coast of Ireland.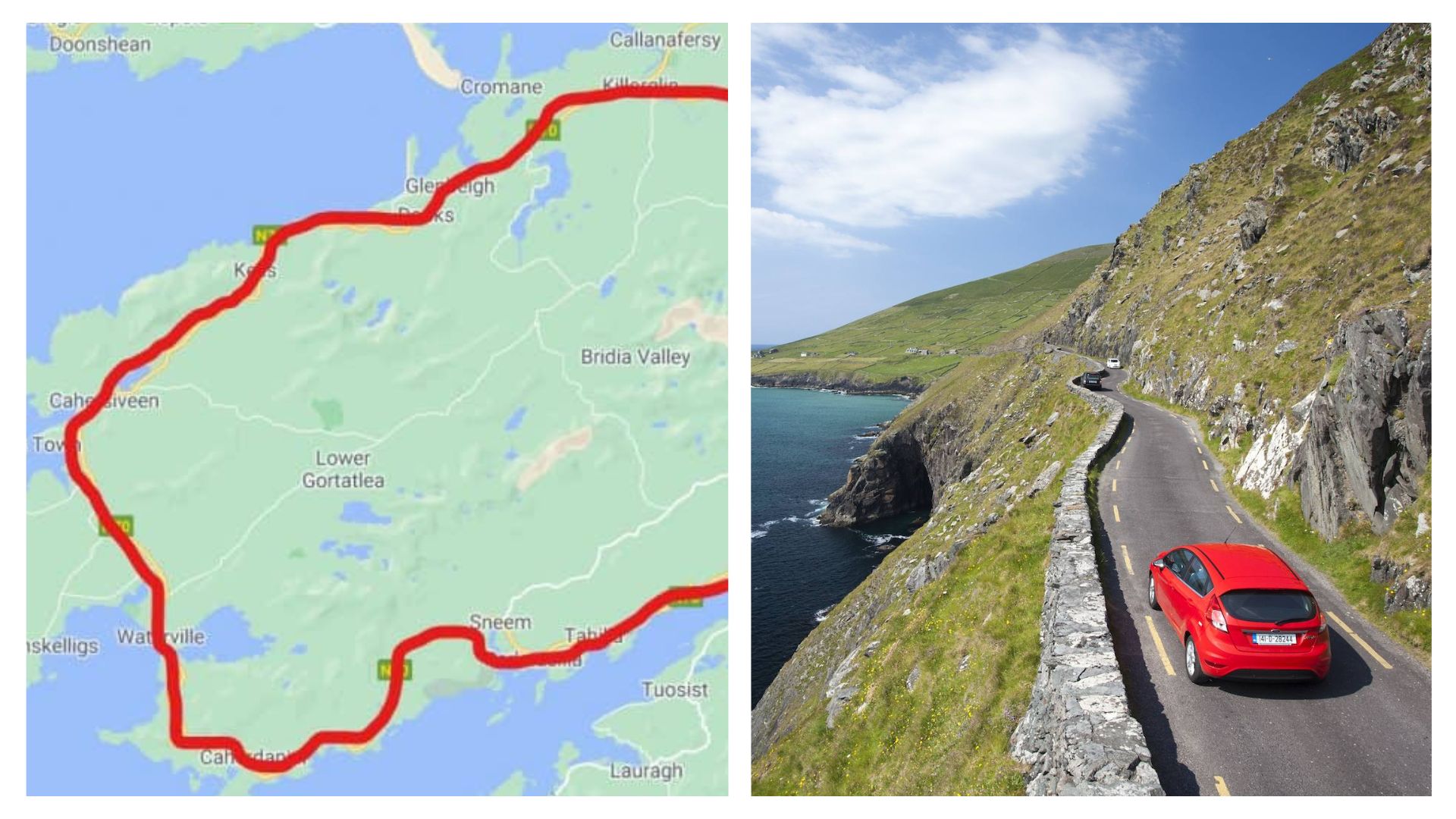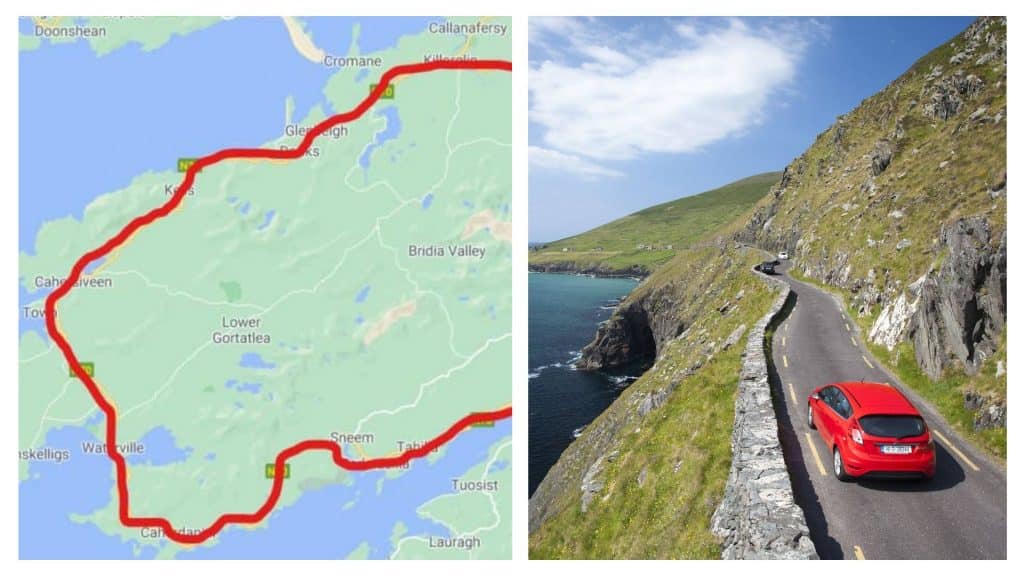 As one of Ireland's top tourist attractions, the Ring of Kerry is one of the most scenic cycle routes in Ireland and can be recognized all over the world for its beautiful scenery, rugged coastlines, and rolling countryside.
If you're planning a trip to the 'Kingdom County', then here is everything you need to know about the Ring of Kerry route.
Basic info – the essentials
Route: Ring of Kerry route
Distance: 179 kilometres (111 miles)
Start / End Point: Killarney, County Kerry
Duration: 3-3.5 hours (without stopping)
Overview – in a nutshell
The Ring of Kerry route is one of Ireland's most famous attractions and is situated within the Wild Atlantic Way, along the southwest of Ireland.
Located in Kerry – colloquially known as 'the Kingdom' of Ireland – the scenic loop is famous for its awe-inspiring landscapes, remote beaches, weather-worn cliffs, heritage sights, and charming country towns.
If you're looking for a slice of 'real Ireland', you'll find it here.
What to pack and when to visit – IB4UD's top tips
The last decade has seen a significant increase in visitors, both local and international, to the Ring of Kerry. Today, it is one of the Emerald Isle's most coveted destinations.
If you want to enjoy the Ring of Kerry route without being stuck behind a tour bus or standing shoulder to shoulder at its key sights, avoid high summer.
Spring and autumn often offer mild weather, and without the crowds to reckon with, the beauty of this unique part of Ireland will truly come to life.
Winter is a magnificent time to visit too, and you're bound to get great deals on hotels, although the weather will be much colder and wetter.
Irish weather is pretty unpredictable. Always pack rainproof clothing and good walking shoes as you'll certainly be on your feet a lot while explore.
Consider renting a car to easily explore the sights and stops on the Ring of Kerry you want to experience the most with ease.
Key stops – what not to miss
There are many things to see along the Ring of Kerry Tour route that should not be missed.
Killarney town centre (the start and endpoint) is a gem in itself, buzzing with charming pubs and independent shops worth wandering around.
Killarney National Park – home to Ross Castle, Muckross House, and Torc Waterfall – is another one of the top things to do in Kerry.
Make sure to stop off at the stunning Rossbeigh Beach for a dip in the Atlantic Ocean and take a boat ride to the mind-blowing Skellig Islands (where Star Wars was filmed).
Here is a list of the 12 best places to visit on the Ring of Kerry.
This 179 km-long scenic drive will take you through rural seaside villages and along the rugged coastal landscape of the Iveragh Peninsula.
One of Ireland's main tourist attractions, a drive around the Ring of Kerry and its highlights, is one of the best ways to explore Ireland's most southwesterly county.
From ancient castles to stunning natural landscapes and picturesque villages, the Ring of Kerry has a lot to offer. So here is a list of 12 must-see highlights of the route.
READ: 12 unmissable highlights of the Ring of Kerry
12. Ladies View – for spectacular landscapes
This scenic viewpoint on the Ring of Kerry is on the N71 about 19 km from Killarney in Killarney National Park.
Ranked by the Irish Times as one of the most photographed places in Ireland, you're sure to see some breathtaking Irish scenery with a stop here.
The name "Ladies View" dates back to Queen Victoria's 1861 visit to Ireland when her ladies-in-waiting expressed their admiration for the view.
Address: Ladies View, Derrycunnihy, Killarney, Co. Kerry, Ireland
11. Ross Castle – a great Ring of Kerry stop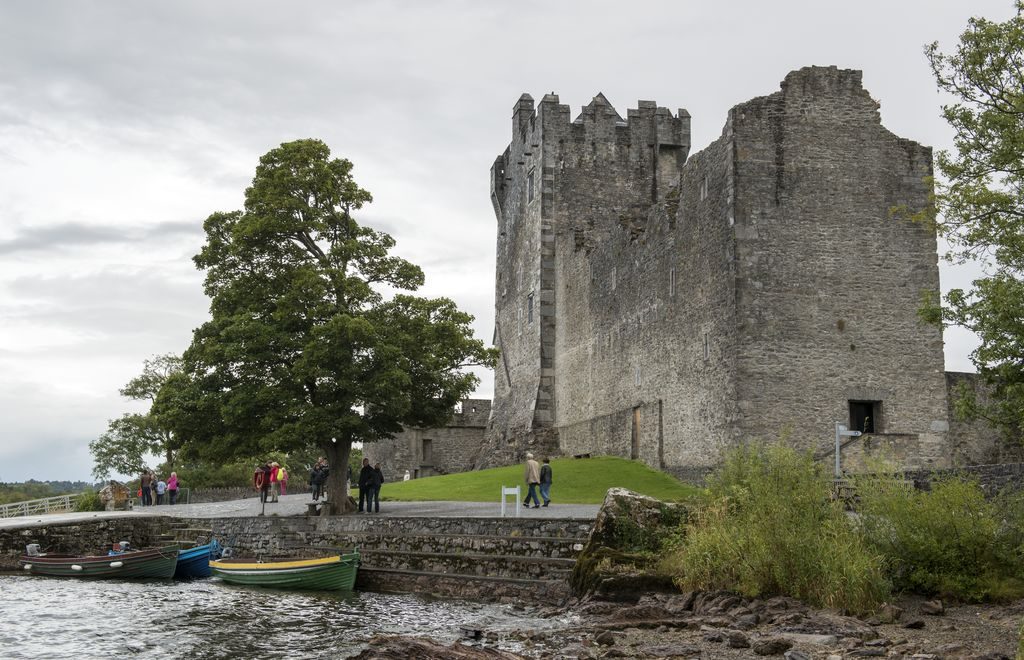 The 15th-century Ross Castle is a tower house and keep is located on the edge of Lough Leane in Killarney National Park. It's a must-see if you're taking a tour of the Ring of Kerry, especially if you're interested in medieval castles and architecture.
The castle was built by Irish Chieftain, O'Donoghue Mór, in the late 15th-century and is believed to be amongst the last to surrender to Oliver Cromwell's Roundheads during the Irish Confederate Wars of 1641-1653. This is definitely one of the top things to do on the Ring of Kerry.
10. Torc Waterfall – natural splendour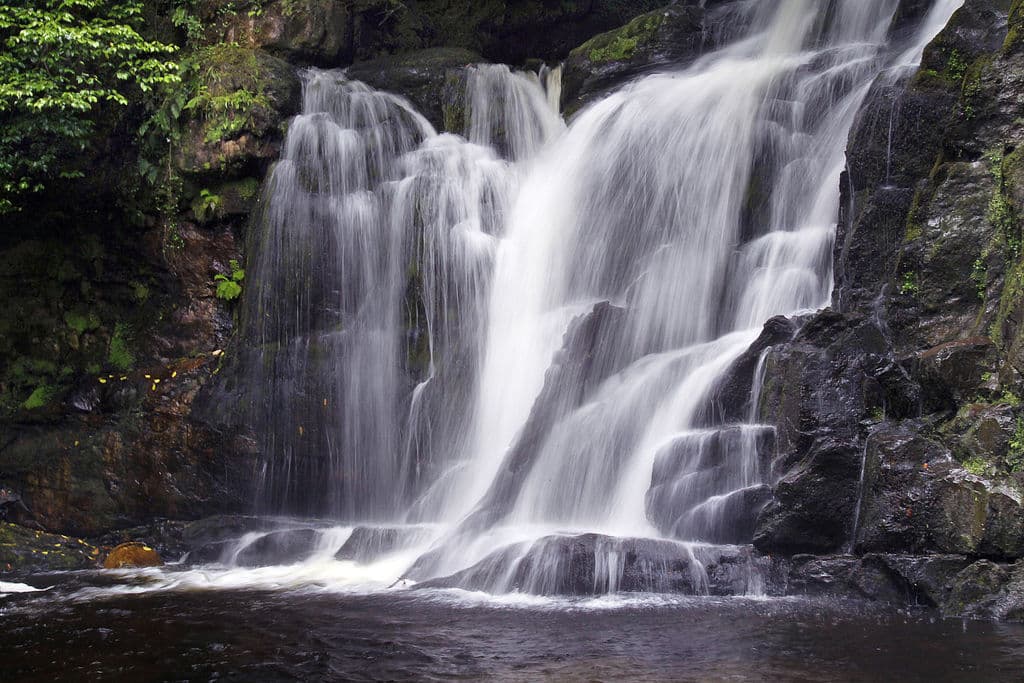 Another must-see sight in Killarney National Park is Torc Waterfall. The 110-metre long waterfall is just a five-minute walk off the N71 Killarney Kenmare road and is surrounded in stunning woodland scenery and one of the best hikes in Europe.
Lying at the base of Torc Mountain, Torc Waterfall is formed by the Owengarriff River and drains from the Devil's Punchbowl corrie lake at Mangerton Mountain.
Address: Rossnahowgarry, Killarney, Co. Kerry, Ireland
READ: IB4UD's guide to the Torc Mountain Walk
9. Kenmare Town – one of the top Ring of Kerry stops
This lovely town in the south of County Kerry is known as the 'Little Nest' of the Wild Atlantic Way. Located between the Ring of Kerry and the Beara Peninsula, Kenmare town is a great place to stop for lunch if you want to explore a cute, little Irish seaside town.
The town is set in a picturesque location in a mountain pass at the head of Kenmare Bay between the MacGillycuddy's Reeks to the north and the Caha Mountains to the east.
While you're here, you can take in the spectacular views of the stunning Kenmare Bay or check out the colourful painted houses.
8. Killarney National Park and Muckross House – full of history and nature trails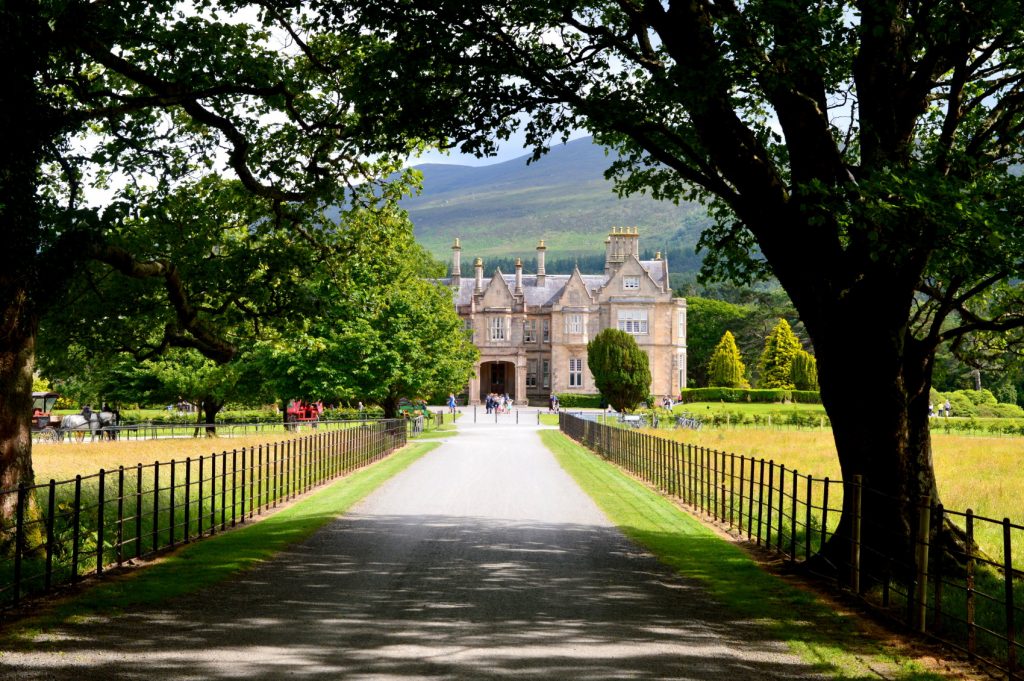 Another of the top Ring of Kerry stops, you can't take the drive without stopping off at Killarney National Park and Muckross House.
The National Park is an area of scenic natural beauty spanning over 26,000 acres. You can take in the fantastic views of Killarney's lakes and the surrounding mountains, including MacGillycuddy's Reeks, the highest mountain range in Ireland.
The house, which looks out over Muckross Lake, was built in the 19th century for Henry Arthur Herbert and his family but was sold in 1911 to William Bowers Bourn. He, in turn, gave the estate to his daughter Maud, on her marriage to Mr. Arthur Rose Vincent.
The estate was then sold to the Irish Free State in 1932. It became Ireland's first national park which still welcomes thousands of visitors every year.
Address: Killarney National Park, Co. Kerry, Ireland
7. Caherdaniel – extraordinary beaches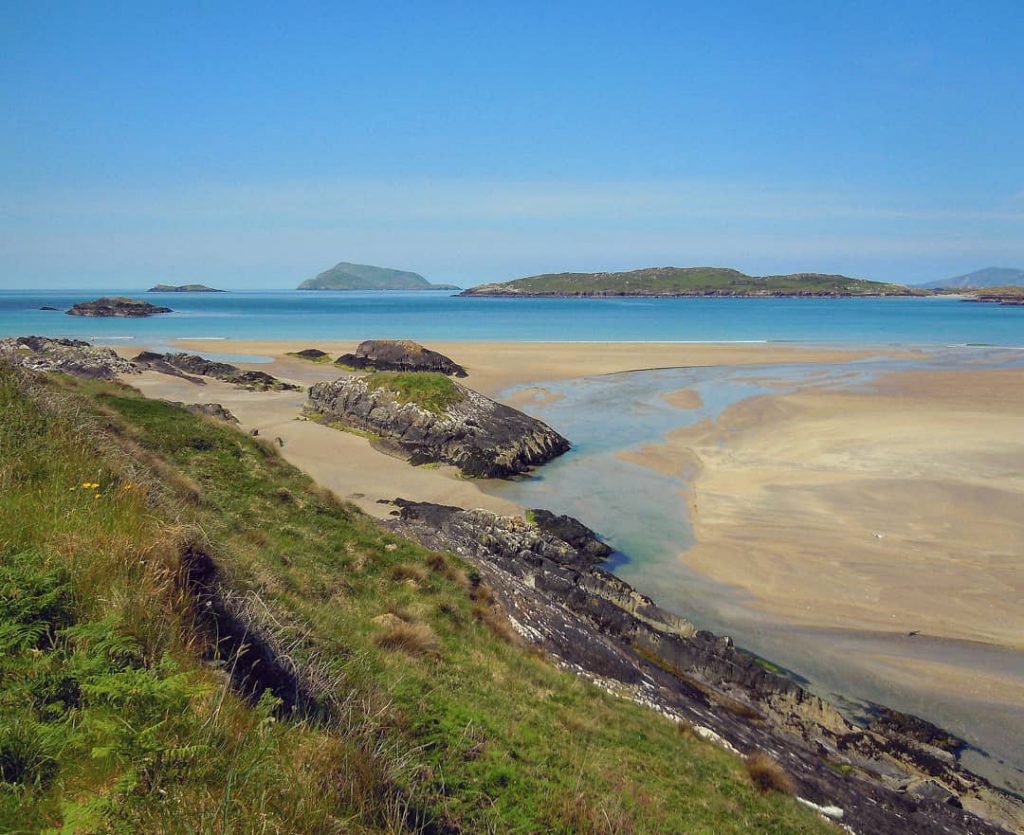 On your Ring of Kerry drive be sure to visit Caherdaniel. Caherdaniel is a village in County Kerry located on the Iveragh Peninsula, overlooking Derrynane Harbour, Scariff and Deenish Islands, Kenmare Bay, and the Atlantic Ocean.
Caherdaniel is home to one of the world's most beautiful and cleanest beaches, Derrynane Beach. This is a nice beach that you can explore when you stop off at the village.
Alongside Derrynane Beach, you can also visit the nearby Derrynane House. Derrynane House was home to Daniel O'Connell, after whom Caherdaniel got its name. Derrynane Abbey is also nearby.
There are also plenty of watersports you can try, including windsurfing and sailing, as well as a stone ringfort. Plus, you can enjoy scenic views of Derrynane Bay.
6. Cahersiveen – breathtaking sights and stunning scenery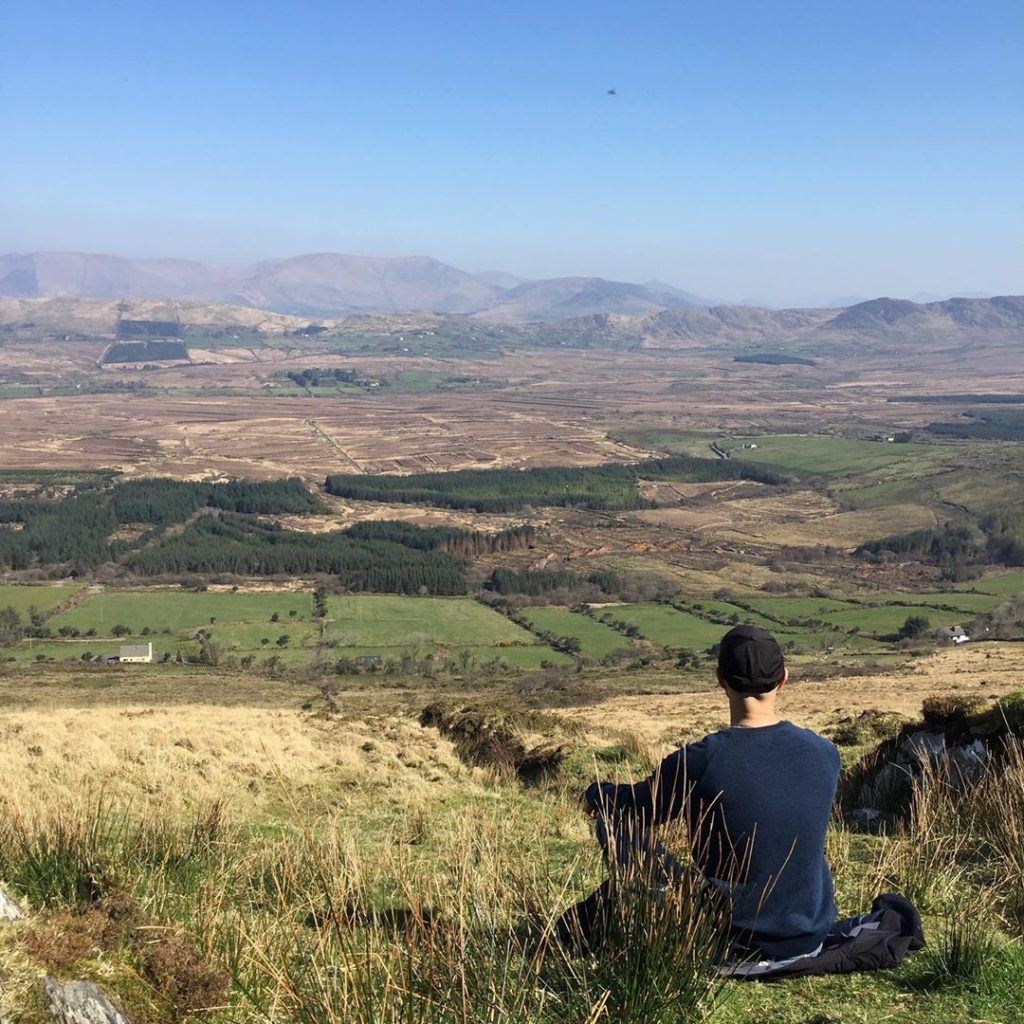 Another great town to stop off at is Cahersiveen in the region of the Skellig Ring, Kerry. Known as 'the town that climbs the mountain, and looks upon the sea', there is plenty to see and do here from breathtaking beaches, forest walks, sweeping views, and much more.
Located on the Beentee Hill on the lower course of the River Ferta, Cahersiveen is the principal settlement of the Iveragh Peninsula. It is connected to the Irish road network by the N70, so it is easy to get to if you're driving the Ring of Kerry.
While you're here, you can do the 9 km (5.5 miles) Beentee Loop walk that takes you to the top of the Beentee mountain for stunning views of the scenery around Cahersiveen and the nearby Valentia Island.
5. Kells – you can see Dingle Bay from here
Kells is a quiet, picturesque fishing village halfway between Glenbeigh and Cahersiveen. The village is also home to Kells Bay, one of Kerry's only Blue Flag beaches and one of the top Ring of Kerry highlights.
From Kells, you can take in the stunning views of Dingle Bay and Blasket Island, especially if you head to the nearby 'mountain stage'.
You can also head to 'Kerry Way' to do some hill walking and stretch your legs, or you can check out Kells Bay Gardens, an old Victorian garden home to one of the best collections of Southern Hemisphere sub-tropical plants in Europe.
4. Portmagee – a quaint village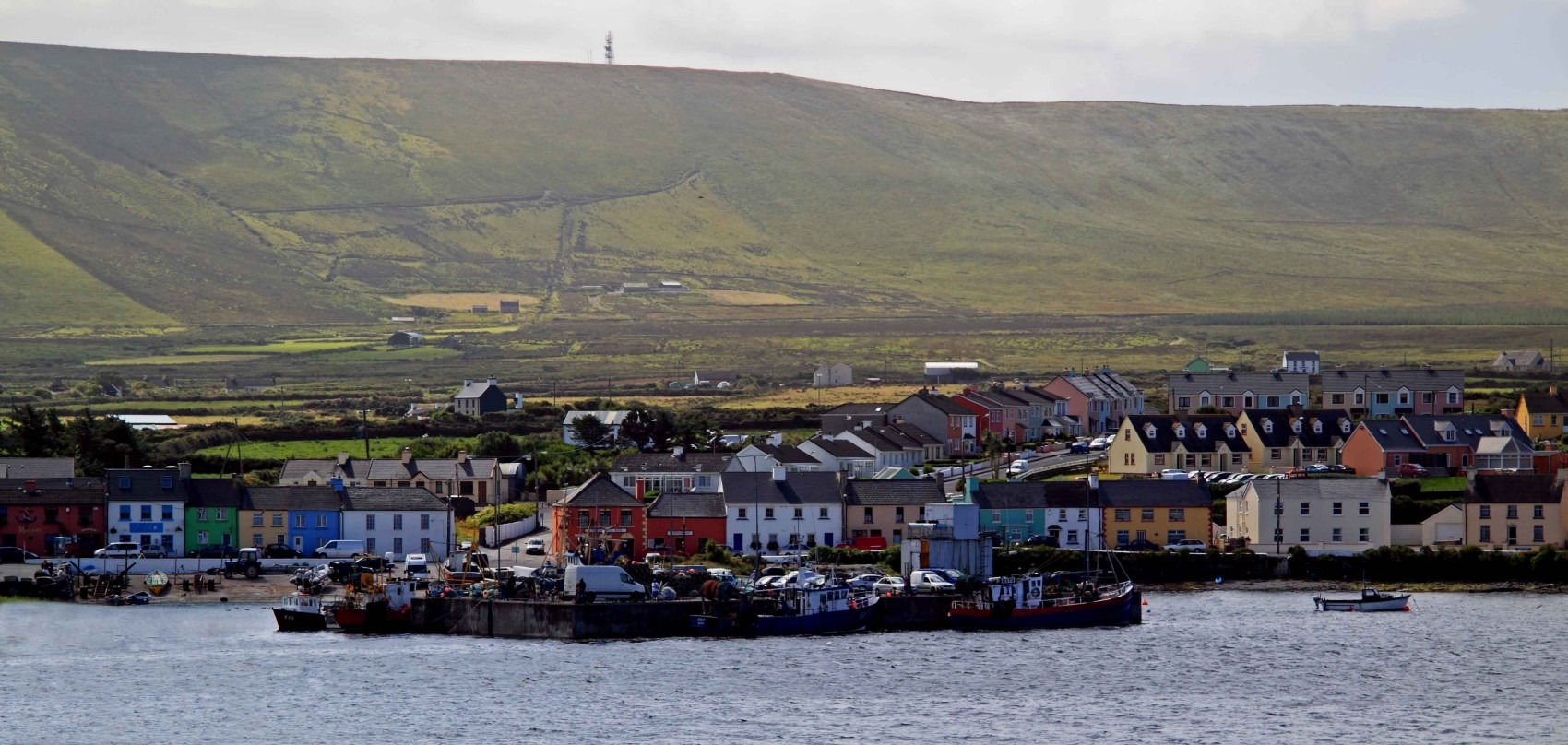 Portmagee is a village on the Iveragh Peninsula, south of Valentia Island. Locally it is known as 'the ferry', referring to its use as a crossing point to the island.
The name Portmagee comes from Captain Theobald Magee, a notorious 18th-century smuggler who traded contraband spirits, textiles, tea, and tobacco through the inlets around Ireland's southwest coast.
In December 2012, Portmagee was awarded the Fáilte Ireland National Tourism Town Award, the first town to receive the award.
This is the place to go if you want to take a boat trip out to the islands off the coast of southwest Ireland.
3. Cahergal Stone Fort – a monument of a different time
Cahergal is a stone ringfort and national monument dating back to the Iron Age, around the 7th century.
A must for history buffs, the renovated stone fort, located about 3.5 km west of Cahersiveen, is surrounded by a 4-metre high wall. Inside the fort are the remains of a circular stone house. The site is well worth a visit if you are passing by.
Address: Ballycarbery East, Co. Kerry, Ireland
2. Valentia Island – an exciting island
Linked to the mainland by the Maurice O'Neill Memorial Bridge at Portmagee, Valentia Island lies off the Iveragh Peninsula and is one of Ireland's most westerly points.
The island is home to a mix of traditional and planned built architecture and plenty of beautiful walks, including the Valentia Slate Quarry or the lighthouse at the Cromwell Fort.
Enjoy stunning views, but make sure to check the Irish weather forecast as coastal roads can become treacherous in bad conditions.
READ MORE: everything you need to know about visiting Valencia Island
1. Skellig Rocks – one of the top Ring of Kerry highlights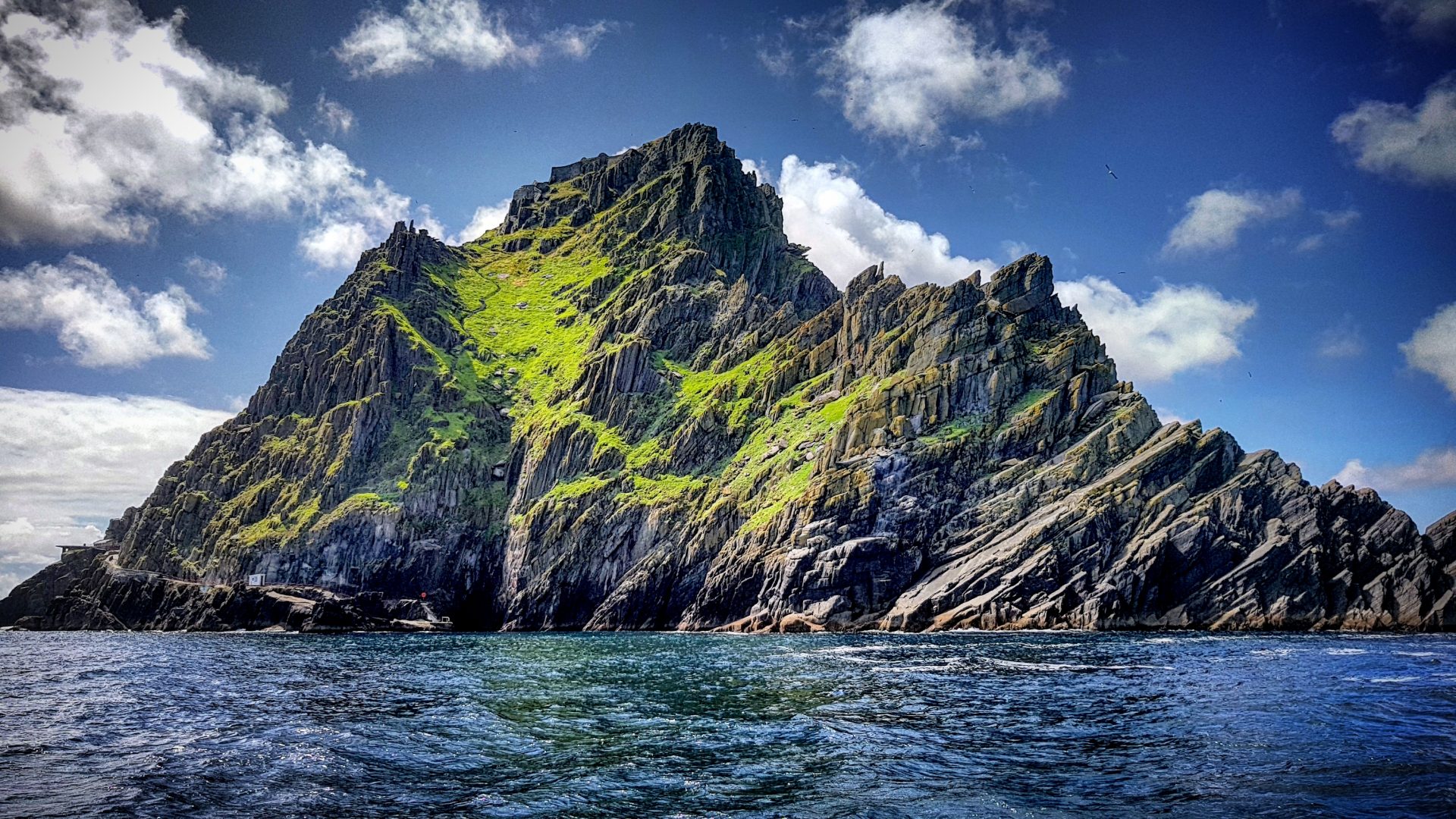 The Skellig Rocks are one of the most famous tourist attractions on the Ring of Kerry, and you can see why. You can enjoy lovely views of these natural beauties from the Skellig Ring Road.
Skellig Michael is the larger of the two uninhabited Skellig Islands located 11.6 km (7.2 miles) west of the Iveragh Peninsula. It became a UNESCO World Heritage Site in 1996.
Although the islands are today uninhabited, a Christian monastery was founded there between the 6th and 8th centuries. It remained continuously occupied until its abandonment in the late 12th century.
Plus, Skellig Michael features in the Star Wars movies when the audience is reintroduced to Luke Skywalker.
There you have it, our top Ring of Kerry highlights you need to visit when you're in this part of the country.
RELATED: Ireland Before You Die's Guide to the Skellig Ring
Directions – how to get there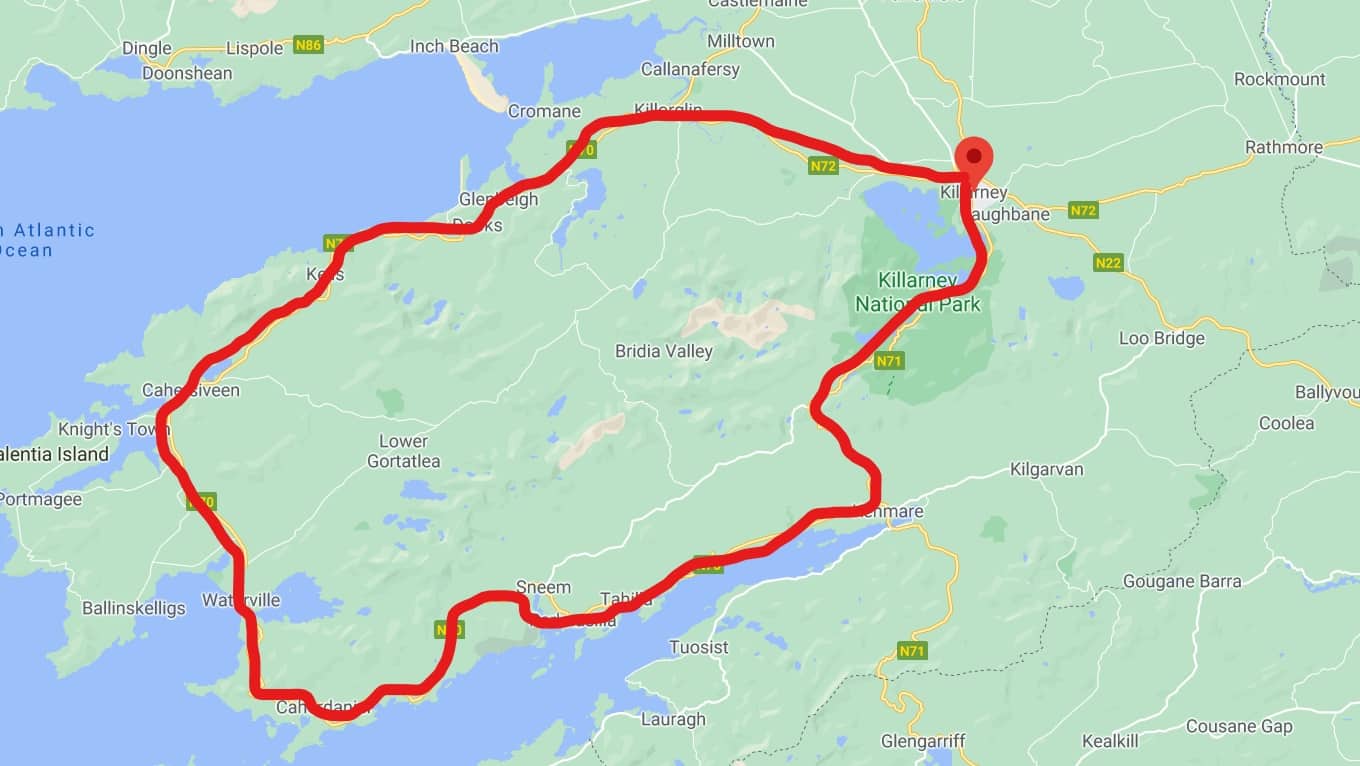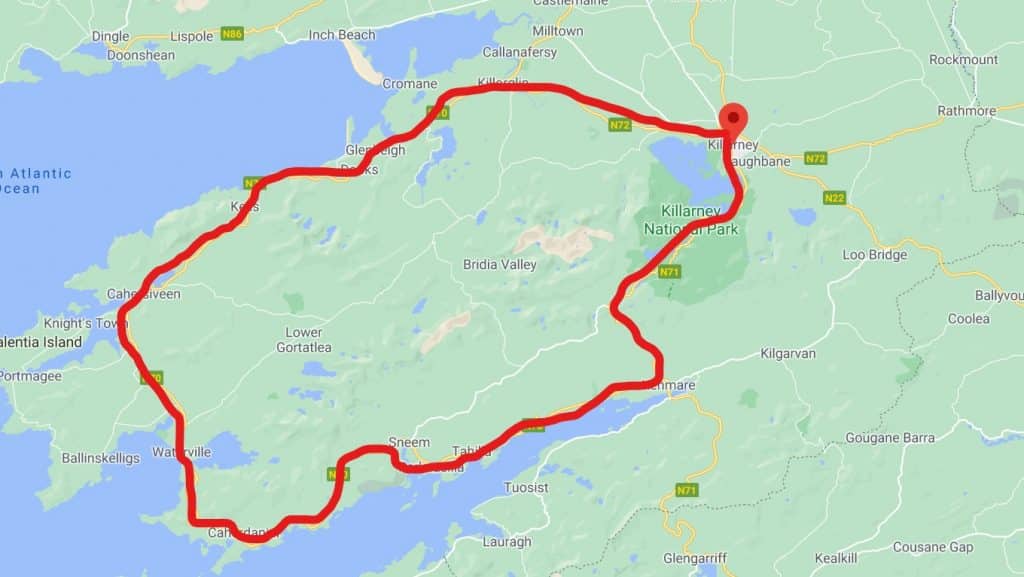 Beginning and ending this beautiful drive in the town of Killarney makes the Ring of Kerry route an easily accessible feat when journeying from anywhere else in Ireland.
Once you've begun the Ring of Kerry, make sure to travel in a clockwise direction to avoid getting stuck behind caravans and buses (which are only allowed to travel anti-clockwise).
How long is the experience – how your time will be spent
The Ring of Kerry route is 179 km (111 miles) long and is a looped track.
Those travelling by car can experience the entire Ring of Kerry route in 3-3.5 hours without stopping. Although, from an experiential perspective, we advise you to give yourself as much time as possible.
The Ring of Kerry is a hive of sights to see, attractions to encounter, and culture to experience. The option to get off the beaten track thrives in abundance here, and we always encourage our readers to explore the roads less taken.
To make the most of your experience, we would advise three days to explore the Ring of Kerry route at ease.
Where to eat – for the love of food
The Ring of Kerry is home to some seriously epic eateries, ranging from local bistros and independent coffee shops to more upmarket dining destinations.
Bricín Restaurant and Boxty House is a family favourite located in Killarney and offers a traditional Irish dining experience with food to knock your socks off.
The award-winning Yew Tree Restaurant at Muckross Park Hotel is ideal for those who like to dine in five-star surroundings.
The Strawberry Field near Blackwater is a quirky little pancake house perfect for those who have a sweet tooth.
For those who are craving a classic Irish setting, make sure to stop by O'Neills The Point Seafood Bar nearby the ferry terminal to Valentia Island.
Where to stay – for a golden slumber
The Ring of Kerry route is ripe with places to stay depending on your budget and accommodation preferences. From recommended hotels to cosy Airbnbs, this route has it all.
If you're the type of traveller who finds comfort and ease at a local B&B, we would suggest the Brookhaven House Bed & Breakfast in Waterville or the charming Grove Lodge Guesthouse in Killorglin.
For those who prefer island vibes, head to the three-star Sea Lodge Hotel on Valentia Island. In terms of four-star stays, make sure to check out The Lake Hotel in Killarney or the Parknasilla Resort & Spa.
If five-star is what you're after, it has to be the luxurious Sheen Falls Lodge which is bound to offer you a blissful stay in high style.
MORE: check out our guide to the best luxury spa hotels in Kerry
Other notable stops along the Ring of Kerry
We have listed some of the must-visit spots to visit on your Ring of Kerry road trip above. However, if you're wondering what else there is to see and do, these are some of the top attractions we haven't mentioned yet.
Moll's Gap, so-called after Moll Kissane, is a mountain pass offering amazing views of the natural surroundings. We also recommend stopping off in the lively town of Waterville, where you can see a statue of legend, Charlie Chaplin.
Other top spots include Innisfallen Island, Ballycarbery Castle, Kate Kearney's Cottage at the Gap of Dunloe, the Kerry Cliffs, Killarney town centre, Muckross Abbey, Rossbeigh Beach, the Puffin Islands, Purple Mountain, and Bray Head.
Your questions answered about the Ring of Kerry route
If you still have questions, we have you covered! In this section, we've compiled some of our readers' most frequently asked questions and popular questions that have been asked online about this topic.
Where does Ring of Kerry start and end?
The Ring of Kerry follows the N70 circular route around the Iveragh Peninsula in County Kerry. The driving route starts and finishes in Killarney.
Which way do you drive the Ring of Kerry?
Caravans and buses are only allowed to drive around the Ring of Kerry in an anti-clockwise direction. So, to avoid getting stuck behind these vehicles on narrow roads, we recommend travelling in a clockwise direction.
How long does the Ring of Kerry cycle take?
The entire route is 216 km (134 miles), so it is recommended to allow at least a week for those completing the cycling loop. This way, you will have enough time to check out the major attractions and enjoy the spectacular scenery and rugged beauty of this area.
Can you drive the Ring of Kerry in one day?
The technical answer is yes. It should only take around three and a half hours to complete a full Ring of Kerry road trip without stopping.
However, we recommend taking at least two days to enjoy this scenic route, so you can make the most of the major attractions, spectacular cliffs, lively Irish towns, and coastal views that the Ring of Kerry road trip is famous for.