Looking to stay in the European Capital of Culture 2020? Check out these best hotels in Galway City Centre.
Galway City is one of the most popular places for tourists to visit in Ireland and for good reason, it's a bustling city full of great pubs, craic, and friendly people. Whether you are visiting for a week or a weekend, you need to ensure that you are staying at one of the best hotels in Galway City Centre.
There is no better time to visit Galway City than 2020 as not only is it the European Capital of Culture for the year with its own cultural programme to look forward to, but Lonely Planet also named it "one of the world's top cities for travellers in 2020".
When visiting Galway City, you will want to ensure that you have the best possible place to stay, from top-class restaurants and excellent bars to rooftop hot tubs, the hotels in Galway City Centre have it all and will make the perfect holiday base to rest your head after a day of adventuring.
In this article, we will list the top ten best hotels in Galway City Centre to stay in the next time you visit.
10. Park House Hotel – a classic, traditional hotel
This traditional hotel located in the heart of the city centre is a great place to use as your base when staying in Galway City as it's only minutes from the train station, a proper Irish bar, and has luxurious rooms.
Prices: Average €150 per night
Address: 18 Forster St, Eyre Square, Galway, H91 PCF8, Ireland
9. Harbour Hotel – for fine dining
This Galway City hotel has excellent rooms with a sleek design, but its main attraction has to be its restaurant, Dillisk, which has become famous for its use of seaweed – they say it is "the unsung superfood of the sea".
Prices: Average €155 per night
Address: New Dock St, Galway, H91 E9PR, Ireland
8. Forster Court – perfect for large groups
This recently refurbished hotel is recognisable for its unique colour scheme and its unique gin parlour, which serves over 500 different gins from across the world. The hotel is also great for large groups of people as it has bedrooms which are big enough to sleep up to four adults.
Prices: Average €120 per night
Address: Forster St, Galway, Ireland
7. The Western Hotel – for the romantics
The Western Hotel is a TripAdvisor Excellence Award-Winning Hotel and is perfectly based within Galway City Centre, just off Eyre Square. On the outside, The Western Hotel has a Georgian look and on the inside, it is full of charming and romantic en-suite bedrooms and an intimate restaurant with a lively bar.
Prices: Average €85 per night
Address: 33 Prospect Hill, Galway, H91 Y3FA, Ireland
6. G Hotel – a well-designed hotel
Perhaps it should come as no surprise that this hotel is so well designed as the world-famous designer, Philip Treacy, created it. This five-star hotel has rooms with giant beds, comfy couches, and stunning bathrooms which contain double showers and freestanding tubs.
Adding to the unique décor of the hotel are its door handles in the shape of hats, and its Grand Salon, you will witness a dramatic 300 twinkling mirror balls.
Prices: Average €219 per night
Address: Old Dublin Rd, Galway, Ireland
5. House Hotel – perfect for a shopaholic
The House Hotel is the perfect place to stay for a shopaholic as its location is only steps away from Galway's main shopping street, aptly named Shop Street. After a long day of shopping, the hotel has a lovely cocktail bar and comfortable rooms to enjoy.
Prices: Average €125 per night
Address: Spanish Parade, Latin Quater, Galway, H91 X309, Ireland
4. The Galmont Hotel & Spa – the best place for a pamper
Besides large bedrooms with great views and a restaurant which serves some of the city's best seafood, this four-star hotel in a central location has a brilliant spa which offers the latest in Elemis treatments with its very own thermal area.
Prices: Average €180 per night
Address: Lough Atalia Rd, Galway, H91 CYN3, Ireland
3. Jurys Inn – largest beer garden
Jurys Inn has the largest beer garden in the city. It overlooks the River Corrib and is the perfect spot for soaking up the sun and having a BBQ. If the weather isn't on your side, there is a bar at the front of the hotel which offers views of the historic Spanish Arch.
Prices: Average €119 per night
Address: Quay St, Galway, H91 E8D7, Ireland
2. Residence Hotel – perfect location to experience the Galway nightlife
Commonly regarded as one of Galway City's chicest boutique hotels, the Residence Hotel has a décor that is both stylish and contemporary with a downstairs bar hosting the best of local live-music every single night. The hotel's proximity to the Latin Quarter, Galway's nightlife central, makes it the perfect location for enjoying the Galway nightlife.
Prices: Average €120 per night
Address: 14 Quay St, Galway, H91 P628, Ireland
1. The Hardiman Hotel – a great central location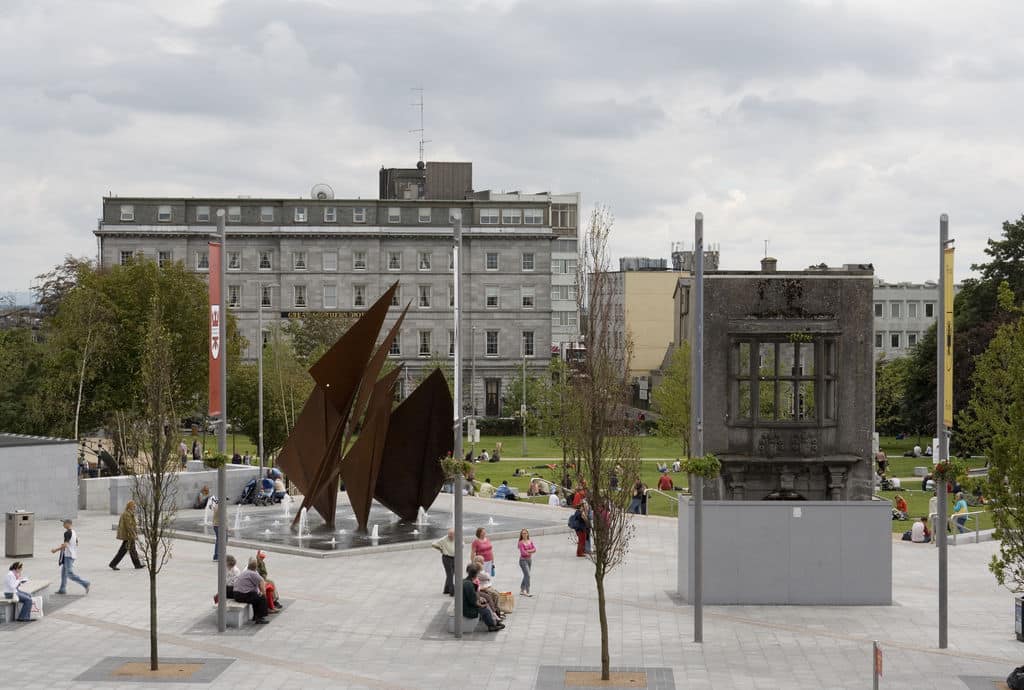 The Hardiman Hotel can proudly claim to have one of the best locations in Galway city as it is located right on Eyre Square. The hotel has managed to retain its elegant Victorian-era feel and it not only contains a spa, but it can also boast that it has an outdoor hot tub which overlooks the city skyline.
Prices: Average €172 per night
Address: Eyre Square, Galway, Ireland
Get featured on Ireland Before You Die
Do you want to get your Irish business more online exposure? Especially to those interested in travelling the best places in Ireland? Then why not get a dedicated feature on Ireland Before You Die. Find out more 
here.