From castles to natural wonders, here are the top 25 best things to do in Northern Ireland in your lifetime.
If you're travelling to the Emerald Isle and fail to go north of the border, you are missing out!
For such a small place, Northern Ireland (or 'Norn Iron' as locals affectionately know it) has some of the most beautiful and exciting places you will find anywhere on earth!
Our Northern Irish bucket list is a comprehensive list of top-quality places you should visit in Ireland. It includes tourist attractions, landmarks, mountains, and much more.
Here's our NI Bucket List: the 25 best places to visit in Northern Ireland before you die!
25. A Game of Thrones tour – for fans of the hit TV show
If you've found yourself binging Game of Thrones, you'll love a tour of the filming locations!
In case you didn't know, Northern Ireland is the home of Game of Thrones. The smash-hit HBO TV series was filmed here. As a result, Northern Ireland has experienced a resurgence as a worldwide tourist destination.
Several tour companies operate tours from Belfast and Dublin, exploring all the major filming locations of Game of Thrones.
Notable highlights include Winterfell castle, the cave where Melisandre gives birth to a dark spirit, Renly's Camp in the Stormlands, and the Iron Island's beach.
Tours from Belfast and Dublin are available with multiple tour companies. Private tours are available with Game of Thrones Tours. If you would prefer to do a self-guided tour, then check out our DIY Game of Thrones Tour.
24. St. George's Market, Belfast – for Northern Irish food and vibes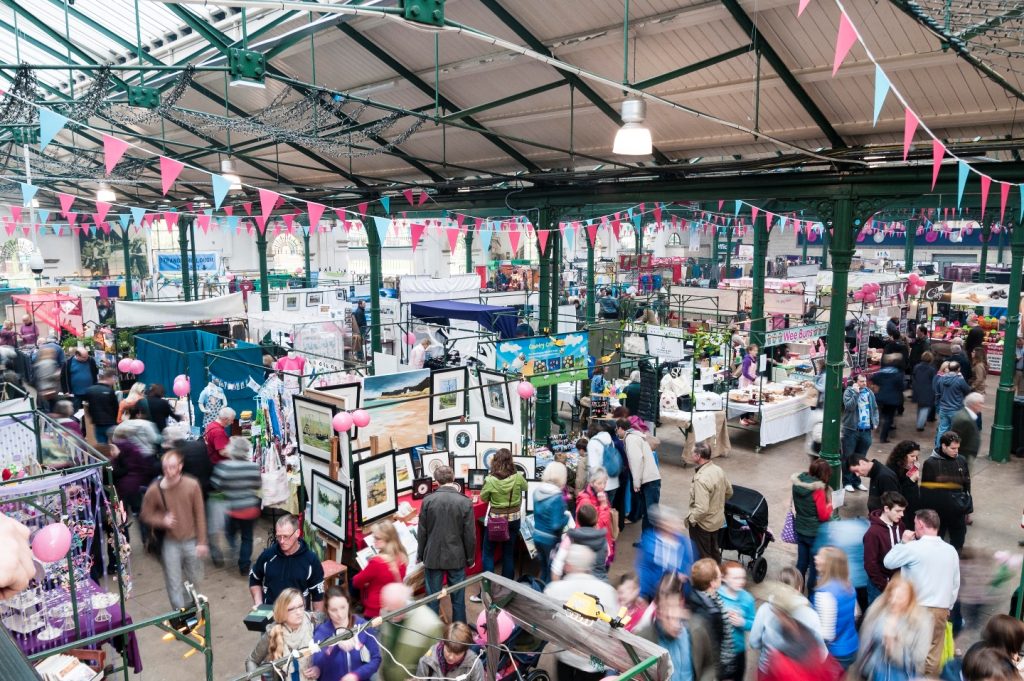 Located in the heart of Belfast is St. George's Market – the last-surviving Victorian market in Belfast.
Before the 20th century, it was an open meat market which contained a slaughterhouse and a meat market.
Today, St. George's Market is a bustling market with around 300 traders, creatives, and food vendors.
The market is open Fridays to Sundays and is the perfect place to experience a bit of 'Norn Irish' culture while trying excellent Northern-Irish food. Truly one of the top things to see in Northern Ireland.
Address: St George's Market, East Bridge St, Belfast BT1 3NQ
23. Climb Slieve Binnian, Co. Down – the most beautiful peak in Northern Ireland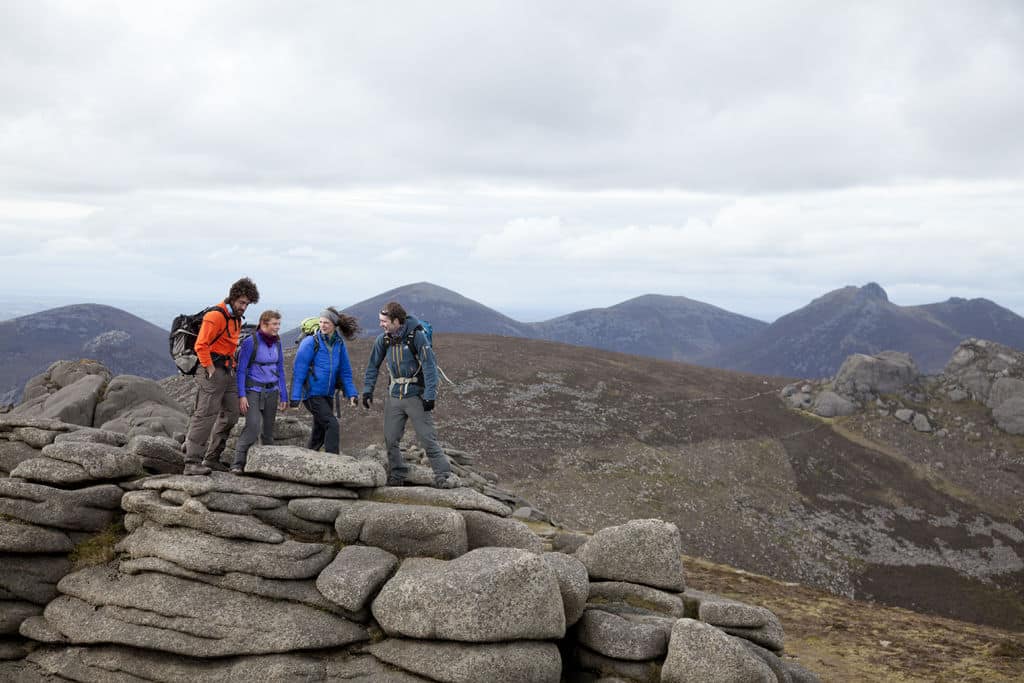 For those interested in scenic hikes, this one is for you, and another of the best places to visit in Northern Ireland.
Slieve Binnian is one of the Mourne Mountains in County Down. At 747 meters, it is the third highest mountain in Northern Ireland.
Although it isn't the biggest mountain in Northern Ireland, we believe it has a better view from the top than any mountain in Northern Ireland. It has a special place on our NI bucket list!
It is an intermediate-level hike and should take about seven hours, including breaks, to get from the car park to the top and back.
Climbing 'Wee Binnian' is one of our favourite things to do in Northern Ireland and you should climb it on a beautiful summer's day!
Address: Carrick Little (Slieve Binnian) Car Park,74 Oldtown Rd, Annalong, Newry BT34 4RW
22. The Derry Walls, Derry – the only remaining complete city walls in Ireland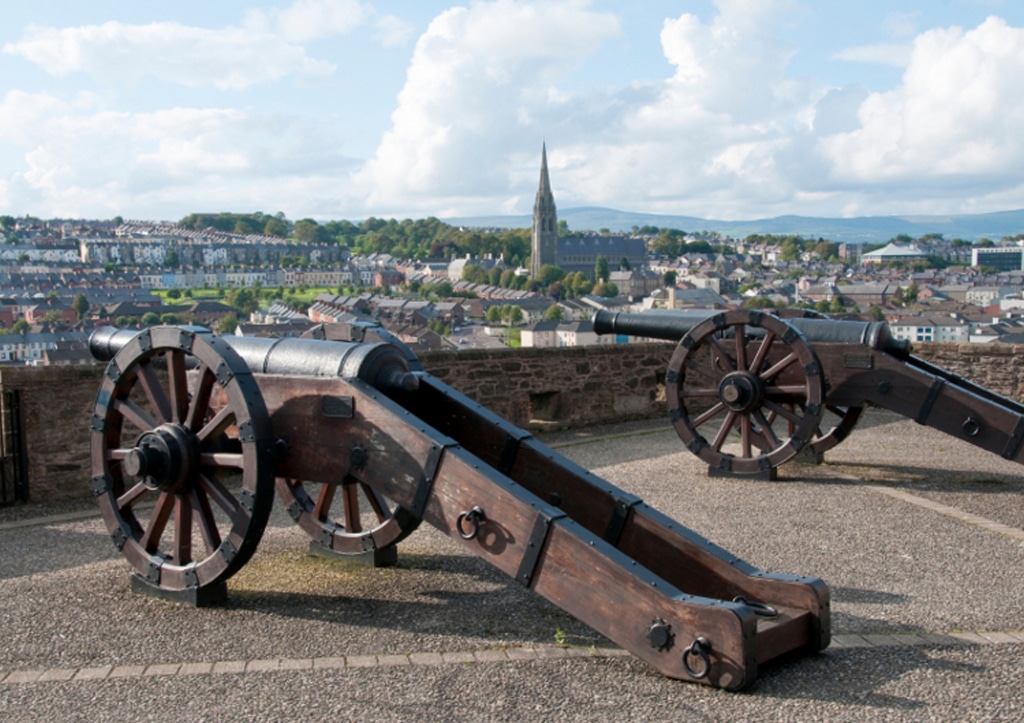 If you're interested in history and you're wondering what to do in Northern Ireland, a trip to Derry's Walls should be top of your list for places to see!
These famous walls, which are approximately 1.5km in circumference, are the only remaining city walls in Ireland.
Constructed during the 17th century, these walls serve as a great insight into historically walled cities in Europe.
A walk around the walls provides a unique view of the layout of the original town, which still preserves a Renaissance-style street plan to the present day.
There is simply no better way to understanding Derry than by walking around the old city walls!
Tours of the walls are also available here; more information can be found in the Visit Derry information centre.
Address: The Diamond, Londonderry BT48 6HW
21. The SSE Arena, Belfast – to catch a Giants' game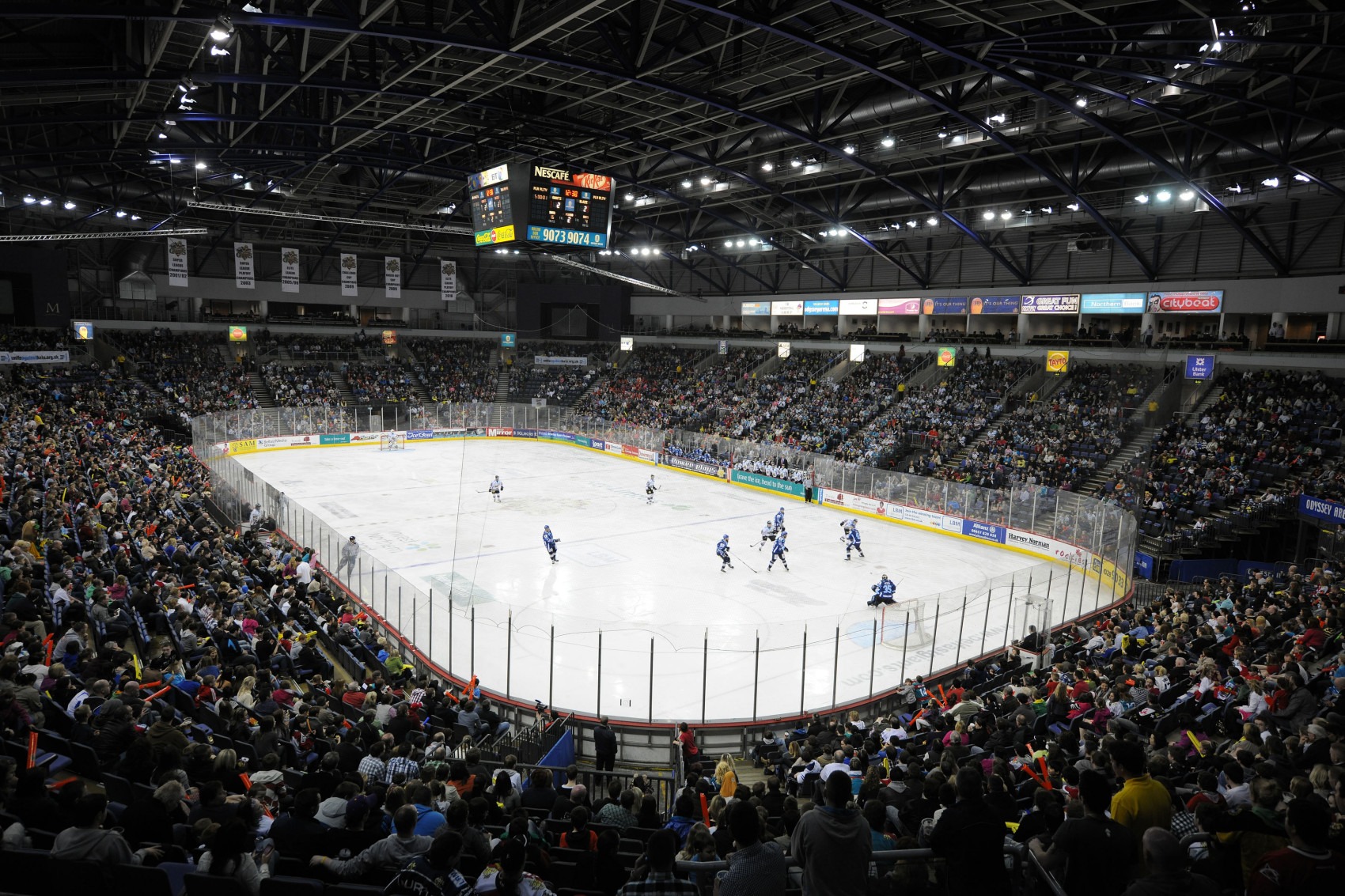 If you are looking for a fun, atmospheric, and lively experience with friends, then why not go to one of Belfast's iconic ice hockey matches?
Located in the SSE Arena, you can find the famous Ice Hockey Team, the Belfast Giants!
Playing in the Elite Ice Hockey League, the Giants are the local ice hockey team for the city of Belfast.
Going to an ice hockey game here is a great experience. The arena is fantastic, and the atmosphere is second-to-none!
Additionally, there are always prizes during the breaks to keep the whole family entertained!
So, if you are looking for a unique sporting experience and are wondering what to see in Northern Ireland, a Belfast Giants game is a safe bet!
Address: 2 Queens Quay, Belfast BT3 9QQ
20. Kingspan Stadium, Belfast – for an Ulster Rugby game
Ireland is considered one of the best rugby nations in the world. No matter where you go in Ireland, you will never be too far from a world-class rugby institution.
Ulster Rugby is one such organisation that represents Ulster (the northern province of Ireland). They are one of four professional provincial rugby teams in Ireland.
If you are a rugby fan, a trip to see Ulster is one of the best things to do in Northern Ireland!
Address: 134 Mount Merrion Ave, Belfast BT6 0FT
19. Carrickfergus Castle, Co. Antrim – Northern Ireland's most famous castle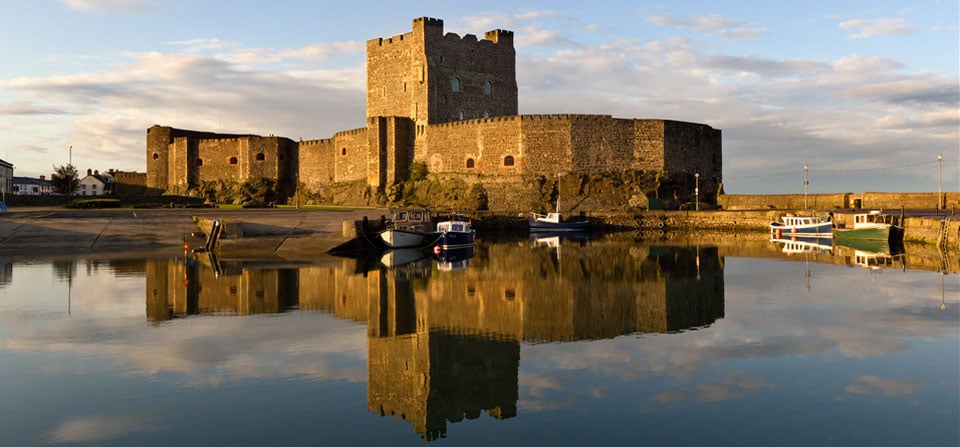 Probably the most famous and historic castle in Northern Ireland is Carrickfergus Castle. It is another of the top things to see in Northern Ireland.
Situated in the town of Carrickfergus (just outside Belfast), this castle has seen its fair share of historical events.
Besieged by the Scots, Irish, English, and French, the castle played an important military role until the early 20th century and remained a well-preserved medieval structure.
Today it is maintained as a tourist attraction, and it is well worth a visit!
Address: Marine Hwy, Carrickfergus BT38 7BG
18. Ulster American Folk Park, Co. Tyrone – for an insight into Ulster history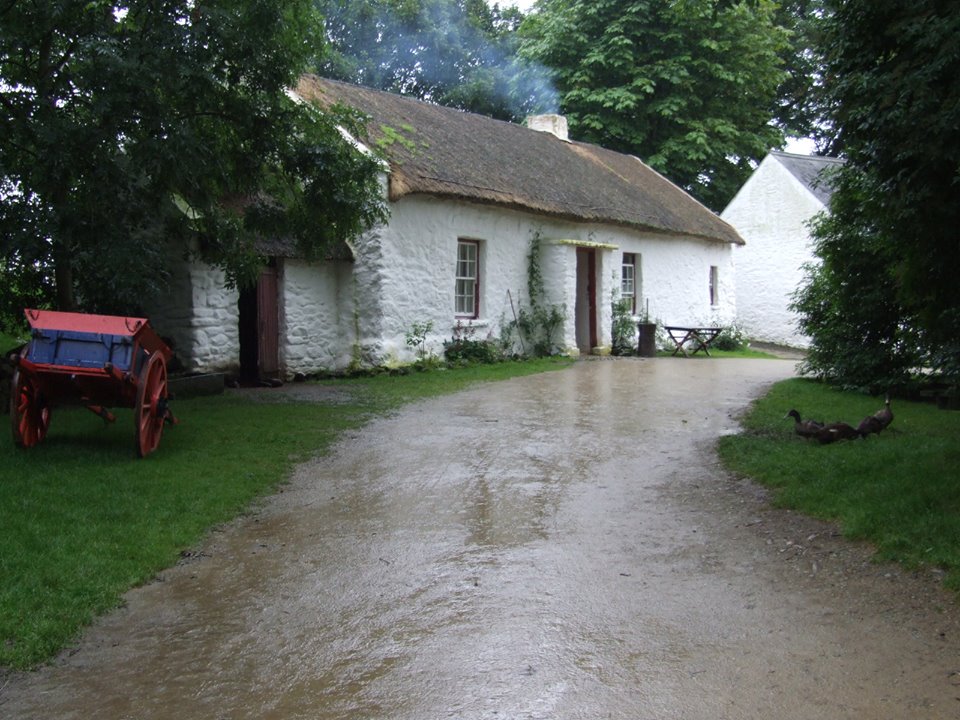 If you are from America and are tracing your roots back to Northern Ireland, there is no better place to visit that the Ulster American Folk Park.
Here you can immerse yourself into the story of the many brave migrants who made the voyage across the North Atlantic to America hundreds of years ago.
This park is a perfect time capsule of what rural Ulster was like back then, with little streets, farmhouses, and thatched cottages.
You can also experience what it was like to board an emigrant ship in the full-scale replica on show here.
It is an incredible place to visit for anyone interested in Irish history.
Address: 2 Mellon Rd, Omagh BT78 5QU
17. The North West 200, Co. Derry – experience Ireland's biggest race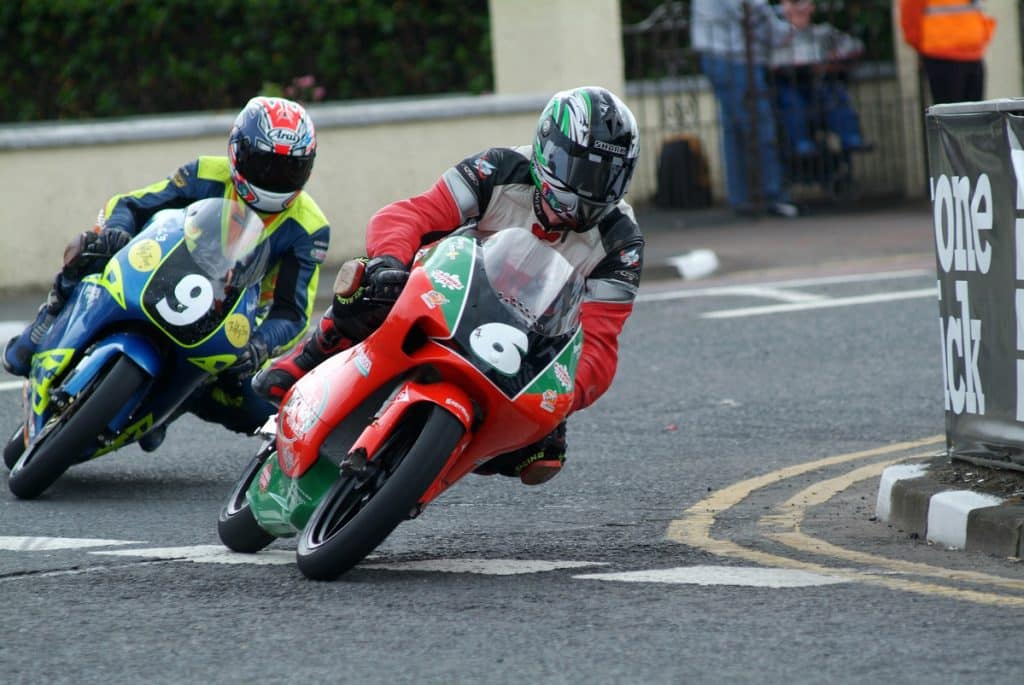 If you are interested in motorcycles, this one is for you!
Northern Ireland is one of the best places in the world for motorcycling, and the North West 200 is one of Ireland's biggest races.
This motorcycle race is held annually in May on the north coast of Northern Ireland.
The racecourse is created on the streets and roads between towns of Coleraine, Portstewart, and Portrush.
It is one of the fastest races in the world, with regular speeds of over 200 mph.
This event should be on any racing enthusiasts bucket list!
Address: 48 Cloyfin Rd, Coleraine BT52 2NY
16. Rathlin Island, Co. Antrim – the beautiful tiny island above Ireland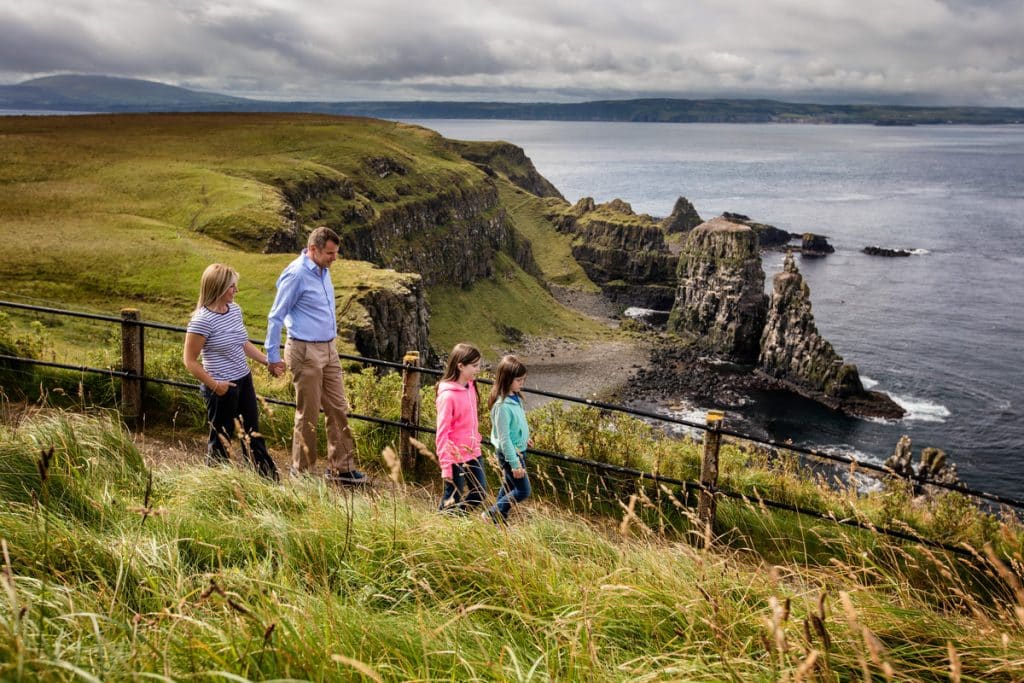 If you want to get off the grid for a few days, let us tell you about Rathlin Island, one of the top things to see in Northern Ireland.
Rathlin is Northern Ireland's only inhabited offshore island with a tiny population of just 150 people. It is also the most northerly inhabited island off the coast of the island of Ireland.
It is the perfect place to escape from the city and to have an authentic tranquil experience.
The island itself is only six miles long. It has a small amount of accommodation, along with a pub, restaurant, and a community shop.
Amidst the jagged scenery of this gorgeous island, you can discover a tranquillity and beauty like never before.
If you are visiting during puffin season (April to July), be sure to see them along with lots of other sea birds at the re-furbished seabird centre!
The ferry to Rathlin Island takes approximately 40 minutes and departs daily from Ballycastle.
Address: Rathlin Island Ferry, 18 Bayview Rd, Ballycastle BT54 6BT
15. Titanic Belfast, Co. Antrim – the birthplace of the 'world's most-famous shipwreck'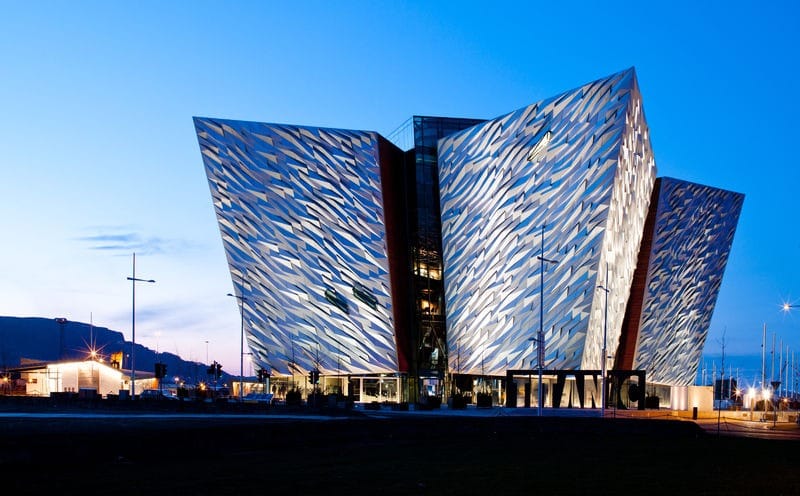 If you are interested in the story of the Titanic, then Titanic Belfast should be on your bucket list!
This fabled ship was assembled in Belfast, and the city is home to the world's most substantial Titanic visitor experience!
Since launching in 2012, the museum has won awards of excellence. As a result, it is now considered one of Ireland's top tourist attractions!
Self-guided tours offer you the chance to learn all about the well-known vessel, the individuals who assembled it, and the people who were on board its maiden voyage.
A ticket for this tour is steep, so if you are on a low budget trip, you can still stroll into the main reception area and also on the slipway.
Afterwards, be sure to pop next door to the hotel for a drink and some food in the room where the famous ship was designed!
Titanic Belfast is one of the top things to see in Northern Ireland and a worthy place on our NI Bucket List!
Address: 1 Olympic Way, Queen's Road, Belfast BT3 9EP
14. Slieve Gullion, Co. Armagh – the most beautiful mountain in Armagh
If you like an easy scenic walking trail, then get yourself to Slieve Gullion, one of Northern Ireland's hidden gems!
Slieve Gullion Forest Park offers the unmissable opportunity to experience peaceful forest trails along with spectacular mountain views.
The main 10km trail is marked and starts at the car park, through the woodlands, and to the summit of Slieve Gullion. For those who don't want to walk, you can drive most of the way up.
At the summit, you will find an incredible Bronze-Age tomb and incredible views of multiple counties of Ireland!
Address: Car Park, Slieve Gullion, Newry BT35 8LN
13. Dunluce Castle, Co. Antrim – Northern Ireland's most scenic ruins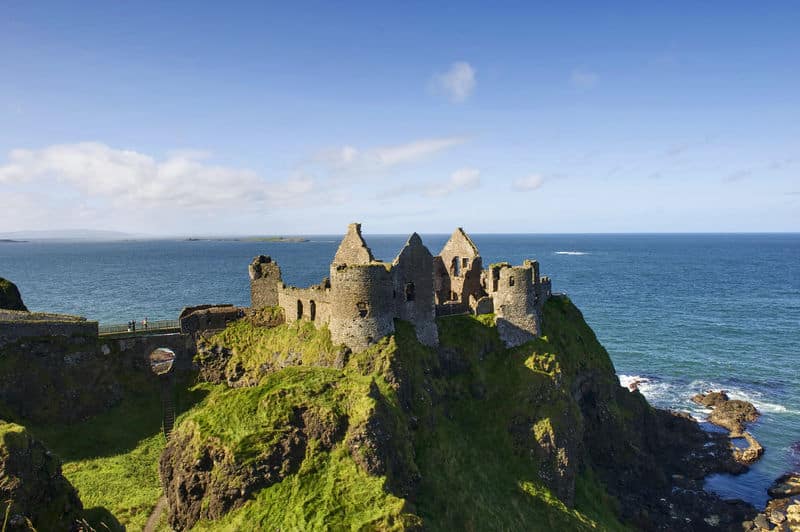 If you are interested in picturesque ruins, then look no further than Dunluce Castle, Northern Ireland's most scenic ruins.
Dunluce Castle is a now-ruined medieval castle on the north coast of Ireland, the former seat of the MacDonnell Clan. It is located on the edge of a basalt outcropping. It is reachable via a bridge connecting it to the mainland.
The castle is surrounded by steep drops on each side, which may have been an essential factor which influenced the decision to build a castle here.
The first castle to built here was during the 13th century. Since then it has seen several historical events, including the sinking of a colony ship with the loss of 240 souls.
A trip to Dunluce is recommended if you are visiting other attractions on the north coast, such as the Giant's Causeway and Carrick-a-rede rope bridge. It's truly one of the top places to visit in Northern Ireland.
Address: 87 Dunluce Rd, Bushmills BT57 8UY
12. Glenariff Forest Park, Co. Antrim – one of the top things to see in Northern Ireland
If you love walks through enchanting forests, make sure you put Glenariff Forest Park on your bucket list!
This park covers over 1,000 hectares with planted woodland, lakes, outdoor recreation spaces, and conservation areas.
There are several walking trails through the park that give spectacular views, glimpses of wildlife, plant life, and three stunning waterfalls.
Glenariff is open to the public and provides for many outdoor activities, including walking, hiking, and horse riding. There are recreational areas such as picnic and barbeque areas, as well as a tea house.
Address: Glenariff Forest Park, Glenariffe Road, Cargan, County Antrim, BT44 0QX
11. Portrush Whiterocks Beach, Co. Derry – Northern Ireland's most beautiful beach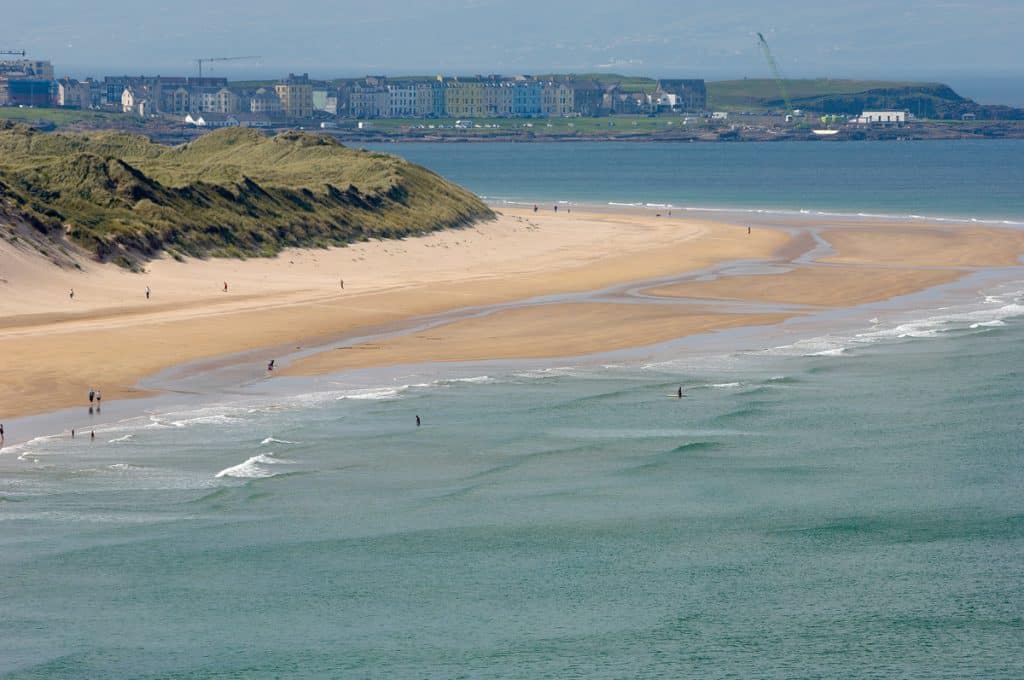 If you love beaches, then make sure you make a trip to Whiterocks Beach on the north coast! Truly one of the top places to visit in Northern Ireland.
This incredible beach was awarded the prestigious Blue Flag Award multiple times and has become a favourite with locals, and a must-see destination for international visitors.
The beach, situated just off the Causeway Coastal Route, is a unique, stunning beach with a backdrop of limestone cliffs that stretch from Curran Strand to Dunluce Castle.
Every year, Whiterocks is a mecca for water sports enthusiasts, including surfers, bodyboarders, and surf kayakers.
The beach is also popular with walkers to and from Portrush along the continuous stretch of sand that forms East Strand.
Address: Whiterocks Beach, Portrush
10. A traditional Irish pub crawl in Belfast – for some Irish pub culture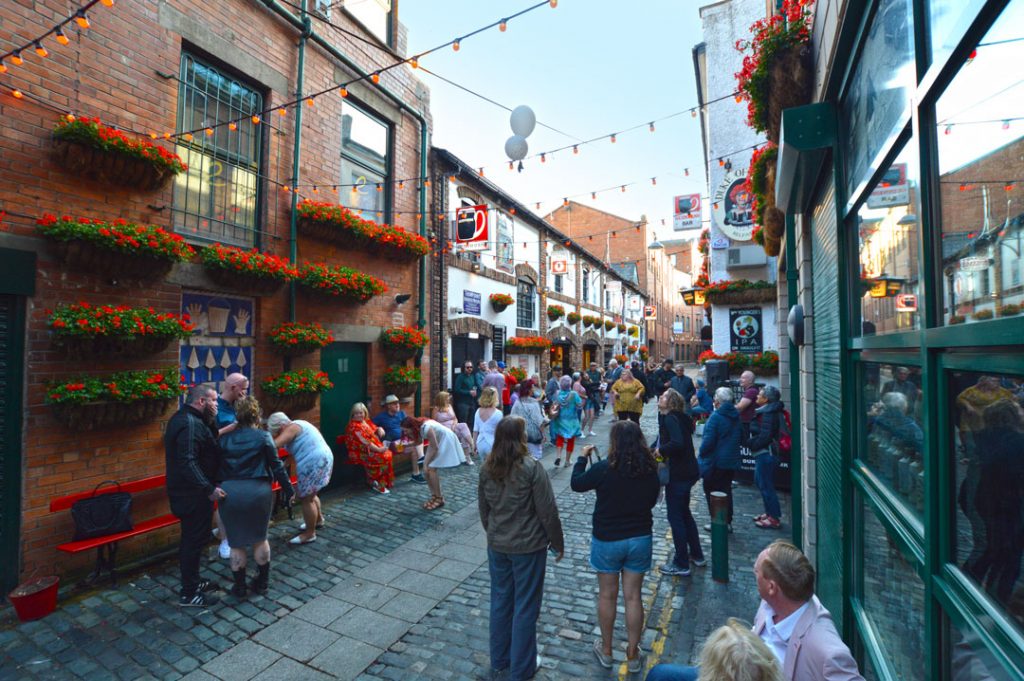 It wouldn't be right to visit Northern Ireland without checking out some of the best pubs on offer, would it?
Belfast is probably the best place in Northern Ireland to do a pub crawl as there are so many bars on offer.
Our suggested Belfast pub crawl includes some of the best pubs in Belfast like; The Points, The Crown Bar, Robinson's, Madden's, Kelly's Cellars, White's Tavern, McHugh's, The Harp Bar, The Duke of York, and The Dirty Onion.
Read more about our suggested traditional pub crawl here: The Belfast Pub Crawl.
9. Cave Hill, Co. Antrim – for the best view of Belfast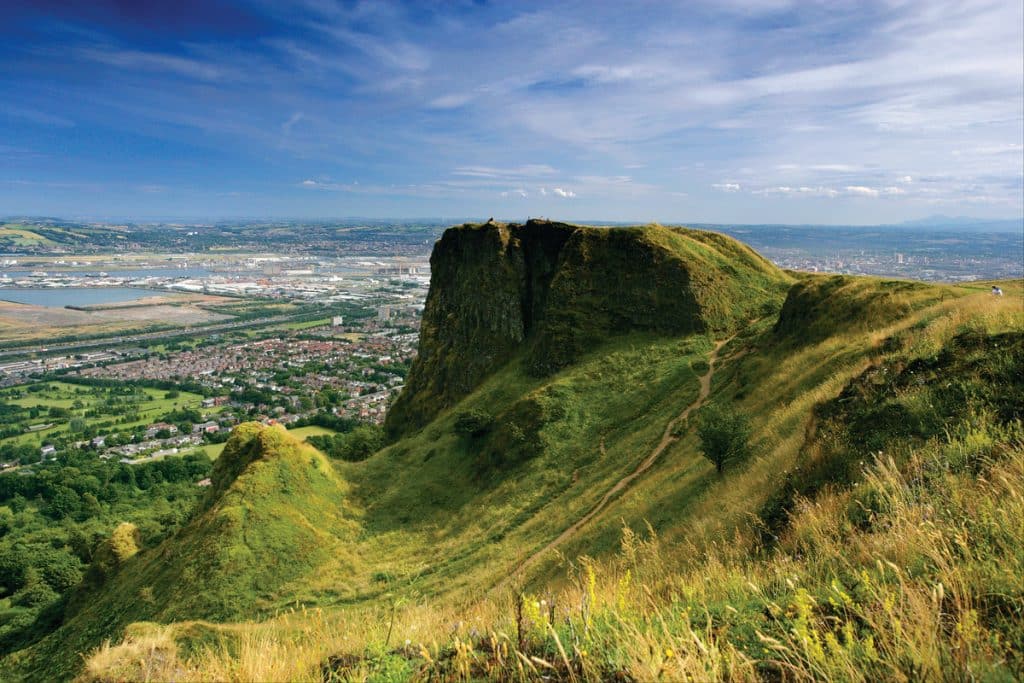 One of the best places in Belfast for a view of the city is from Cave Hill, a basaltic hill overlooking the city.
From this point, visitors to Cave Hill Country Park can take in panoramic views of the Northern-Irish capital from different vantage points on the hillside.
Starting at the Belfast Castle car park, you follow the path to the top.
Although it is a fairly tough climb, it is so gratifying when you get to the top of this and see Belfast in all its beauty!
Address: Antrim Rd, Belfast BT15 5GR
8. A black taxi tour, Belfast – a unique insight into Belfast's troubled past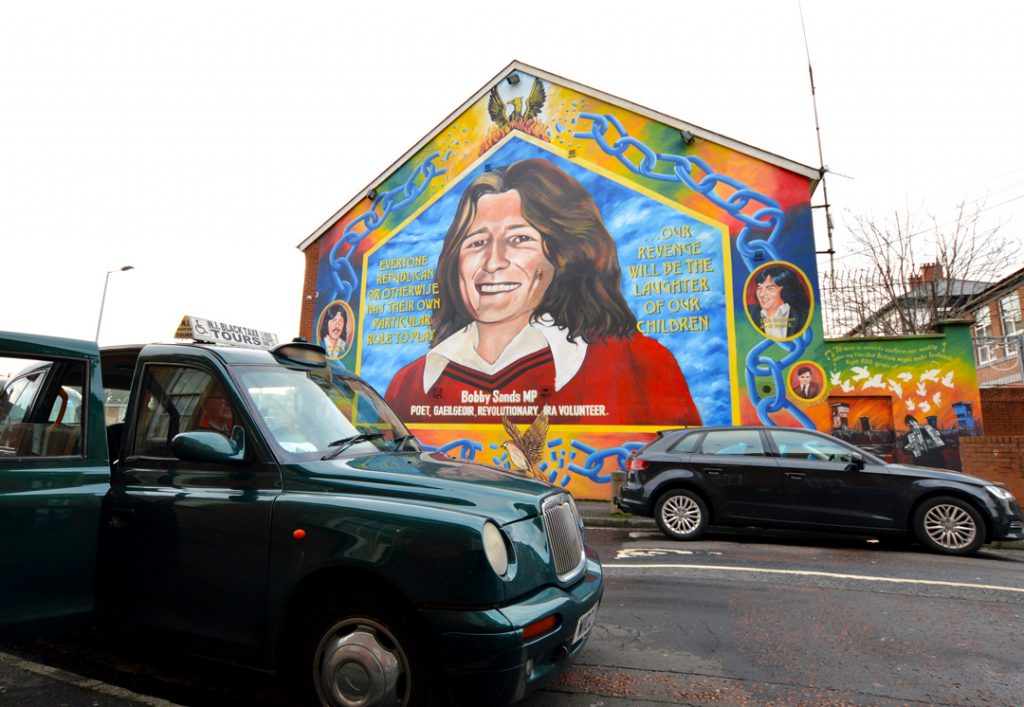 The subject of The Troubles is almost inescapable if you want to understand Northern Ireland.
Probably the best way to start to comprehend Northern Ireland's complex history and how it moulded the present-day is by taking a black taxi tour through Belfast.
On one such trip, a well-informed chauffeur leads the tours in small groups in London-style black cabs.
These tours last about 90 minutes and take you to some of the Belfast's most notorious political murals, peace walls, and areas that were immensely affected by The Troubles.
There are many great cab companies which provide tours, such as Paddy Campbell's and NI Black Cabs.
If you want more information about what you will experience on tour, read our article here: 5 Fascinating Things You'll Experience On A Belfast Black Taxi Tour
7. Crumlin Road Gaol, Co. Antrim – one of our favourite things to do in Northern Ireland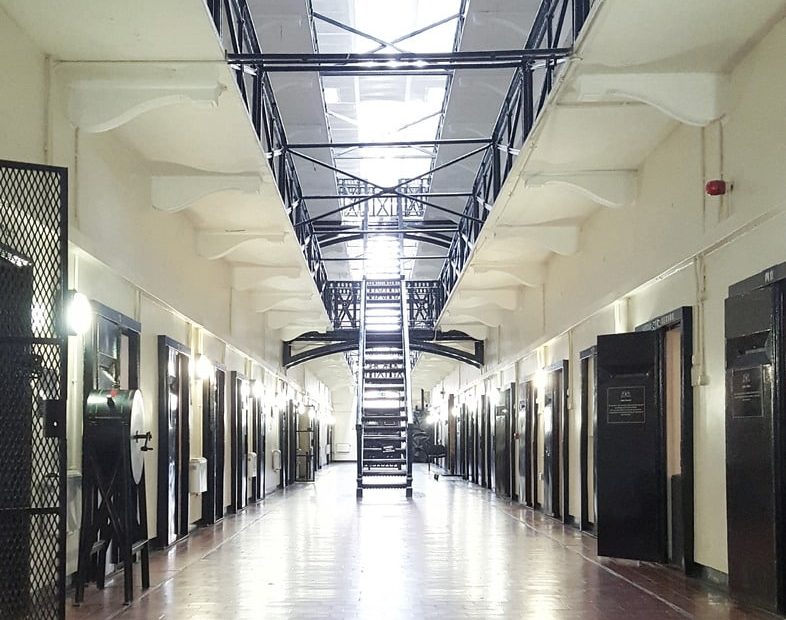 Another of the best places to visit in Northern Ireland is Crumlin Road Gaol. It's possibly the best historical museum in Northern Ireland is Crumlin Road Gaol.
This former prison is now a museum which offers daily tours. Each tour brings you through the old prison wings, execution areas, and tunnels to the old courthouse. At the same time, you learn about the history of this building.
The tours are brilliantly delivered and extremely enlightening. Regular guided tours last around 75 minutes and are open to the public daily.
If you are interested in learning about Belfast's past, this is one of the best things to do in Northern Ireland!
Address: 53-55 Crumlin Rd, Belfast BT14 6ST
6. Glenoe Waterfall, Co. Antrim – Ireland's most beautiful waterfall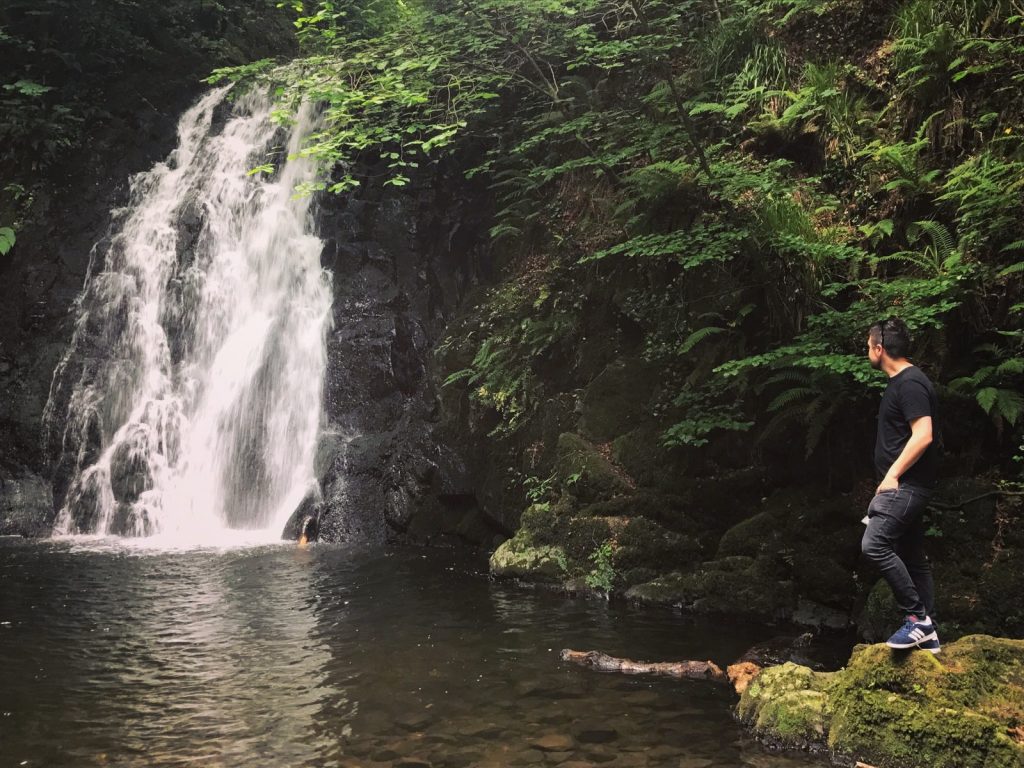 There are many beautiful waterfalls in Northern Ireland, but Glenoe Waterfall has to be top of the list!
This pretty little waterfall is snuggled in the hills just outside the charming small village of Gleno.
To get here, you need to find the car park on Waterfall Rd. Once at the car park, you simply follow a path through the trees to the stunning waterfall. The trek only takes about two minutes.
If you are visiting Northern Ireland and are staying in Belfast, a trip to this waterfall just outside the city is the perfect excursion. Another of the top things to see in Northern Ireland.
Address: Waterfall Rd, Gleno, Larne BT40 3LE
5. Causeway Coastal Route, Co. Antrim – Northern Ireland's best road trip
If you love a road trip, then the Causeway Coastal Route needs to be on your bucket list!
Spanning almost 200 miles along the coast from Belfast to Derry, this scenic drive has everything from castles to stunning landscapes, Game of Thrones filming locations, distilleries, and much more.
The route is considered one of the best drives on earth by many travel companies, including Lonely Planet, which rated the journey as one of the best in their "Best in Travel" list 2018.
This incredible drive is a worthy addition to our Northern-Irish Bucket List!
4. Carrick-a-Rede, Co. Antrim – Northern Ireland's famous rope bridge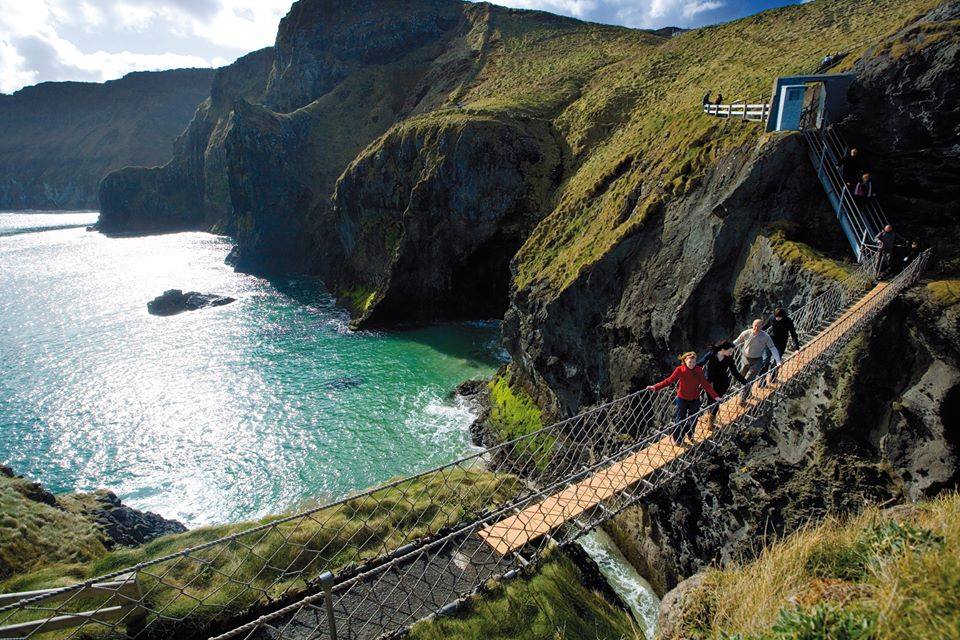 If you are looking for a thrill, look no further than Carrick-a-Rede rope bridge in County Antrim!
This famous rope bridge, near Ballintoy, is one of the top tourist attractions in Northern Ireland.
The bridge itself links the mainland to a beautiful tiny island, spanning 20 metres and 30 metres above the rocks below.
The bridge is operated by the National Trust and a small fee is charged to cross the bridge.
Address: 119a Whitepark Road, Ballycastle BT54 6LS
3. The Old Bushmills Distillery, Co. Antrim – the world's oldest whiskey distillery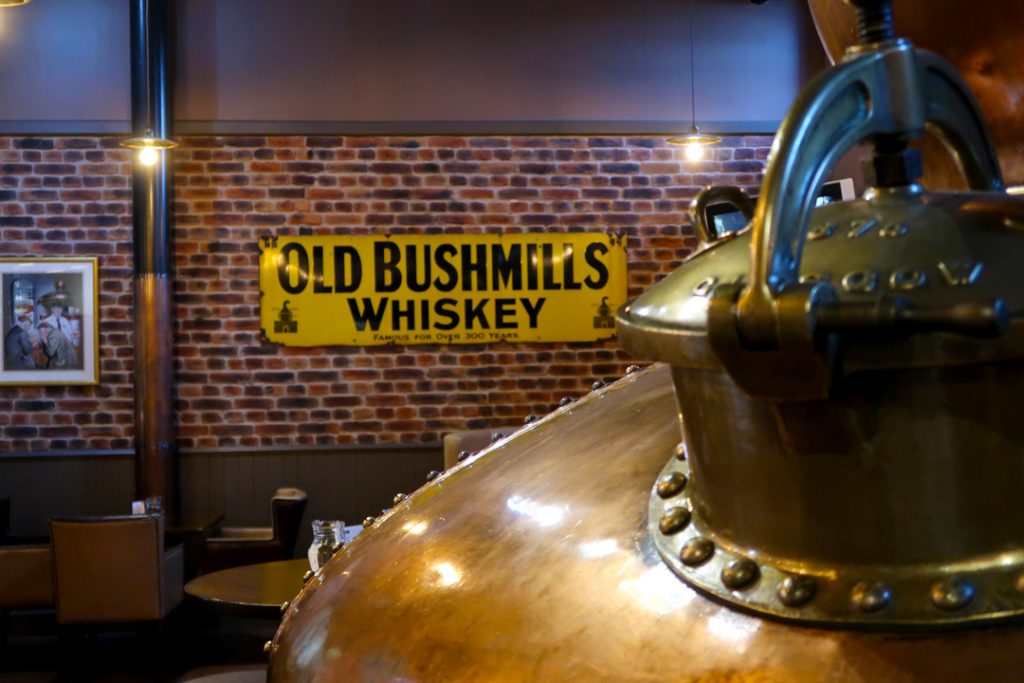 If you love whiskey, then the Old Bushmills Distillery needs to be on your bucket list!
This County Antrim distillery is the oldest operating distillery in the entire world!
Some of the world's finest whiskey is produced here, including the famous Black Bush blend.
The functioning distillery is open for daily tours which attract around 120,000 visitors per year.
We've experienced both the tour and also the premium tasting, and we'd highly recommend both. Make sure to read about the six things we experienced here.
Address: 2 Distillery Rd, Bushmills BT57 8XH
2. Cuilcagh Boardwalk Trail, Co. Fermanagh – climb Ireland's stairway to heaven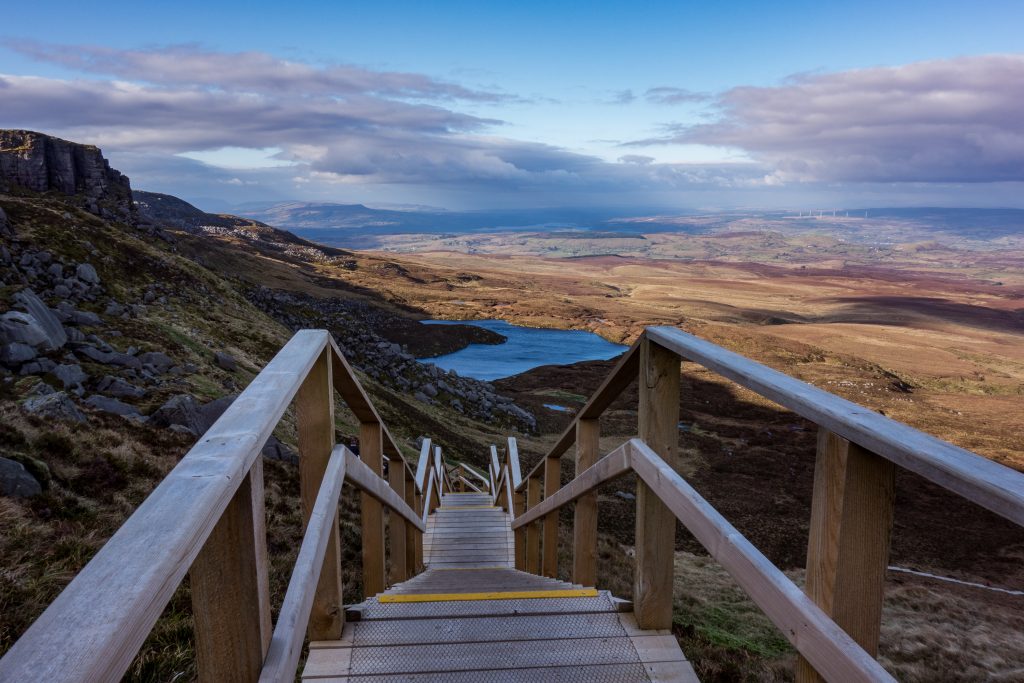 Looking one of the top things to see in Northern Ireland? Well, possibly the best walking route in the country is the Cuilcagh Boardwalk Trail – also known as Ireland's Stairway to heaven. It's truly one of the best places to visit in Northern Ireland.
This incredible trail, located just outside Enniskillen, meanders through one of the largest areas of blanket bog in Northern Ireland, traversing over tracks, boardwalk and, finally a staircase to a viewpoint.
After climbing the steep staircase and arriving at the viewing platform on Cuilcagh Mountain, you will be treated to breathtaking views of the surrounding areas.
From the visitor's car park, it takes about two hours to reach the summit of the Cuilcagh Mountain. The journey back takes slightly less time, so it is recommended to give yourself about three to five hours to do this hike.
Address: Marlbank Rd, Florencecourt, Enniskillen BT92 1ER
1. The Giant's Causeway, Co. Antrim – one of the top places to visit in Northern Ireland
If you want to experience incredible beauty with a mix of Irish mythology, then you should make a trip to the Giant's Causeway!
The Giant's Causeway is a unique rock formation (formed nearly sixty million years ago) located on the beautiful Northern Irish coastline.
These rocks are famous all over the world, and, as such, people come from every corner of the globe to see them.
According to Irish legend, the Giant's Causeway was created by the Irish giant Finn McCool. As a consequence, it is named after him.
As the story goes, Fionn built the Giant's Causeway as stepping-stones to Scotland, because he didn't want to get his feet wet!
When visiting this spot, you will not just be blown away by the incredible rocks, but also by the incredible natural beauty of the area.
Address: 44 Causeway Rd, Bushmills BT57 8SU