Thinking of visiting Belfast? Take it from us, these are the top ten hotels in Belfast City Centre you need to stay in.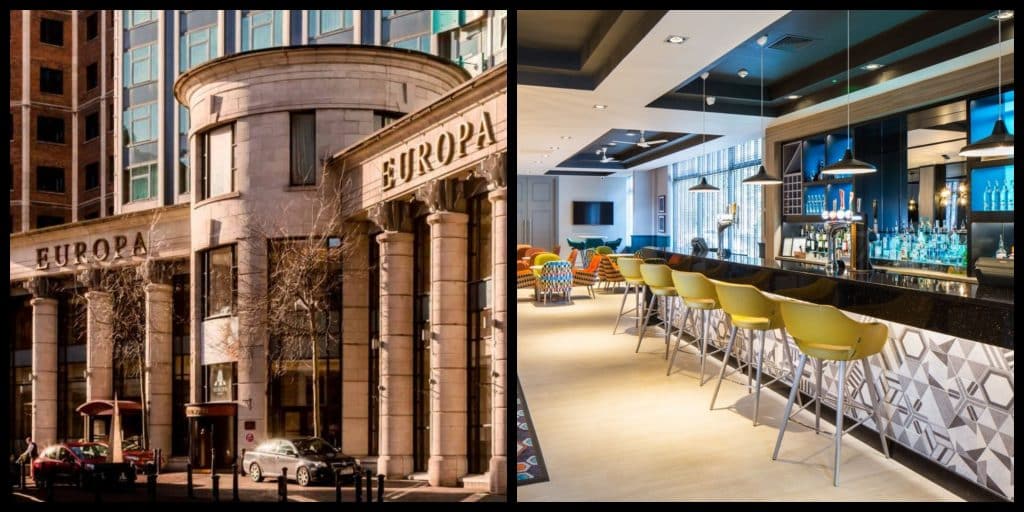 Belfast is a city on the rise. It's heading into the new decade off the back of an impressive 2019. Between January and March alone, there were more than 1.1 million trips to the city with an average of £2 million spent by tourists every day.
To cater to this increasing demand, Belfast has provided these hotels to house those who travel to the city for however long they wish to stay.
Here are the top ten hotels in Belfast City Centre for you to consider.
IB4UD's top 5 tips for visiting Belfast City Centre
Head to St. George's Market, one of Belfast's oldest attractions. This vibrant market offers a fantastic range of food, crafts, and antiques.
Consider taking a Black Taxi Tour to learn about Belfast's culture and history by exploring the political murals that adorn the city's walls.
Visit Belfast City Hall, an iconic landmark located in the middle of Belfast City Centre, where you can admire its beautiful architecture and learn about the city's history.
Explore the vibrant Cathedral Quarter, which is filled with narrow streets, historic buildings, lively pubs and a thriving arts and cultural scene.
Belfast City Centre offers a wide range of restaurants and dining options for you to indulge in. Sample traditional Irish dishes or explore international cuisines, and enjoy a pint of Guinness or local craft beer in one of the city's many pubs.
10. Jurys Inn – for a comfortable stay
Kicking off our list of the top ten hotels in Belfast City Centre is Jurys Inn, conveniently located on Great Victoria Street and just minutes from key locations by foot.
The hotel contains 270 spacious bedrooms, all fixed with an en suite bathroom and flat-screen TV's. Don't worry about leaving the hotel for food as the in-house restaurant has you covered!
Address: Great Victoria St, Belfast BT1 6DY
9. Hampton by Hilton – perfect for a short trip
The Hilton Hotel name needs no introduction, and it is no surprise that its Hampton Hotel on the outskirts of the city centre features on our list.
Complement your cosy stay with free hot breakfast the next morning, or a session in the fitness centre to make the most of your visit.
Address: 15 Hope St, Belfast BT12 5EE
8. Ten Square – a unique hotel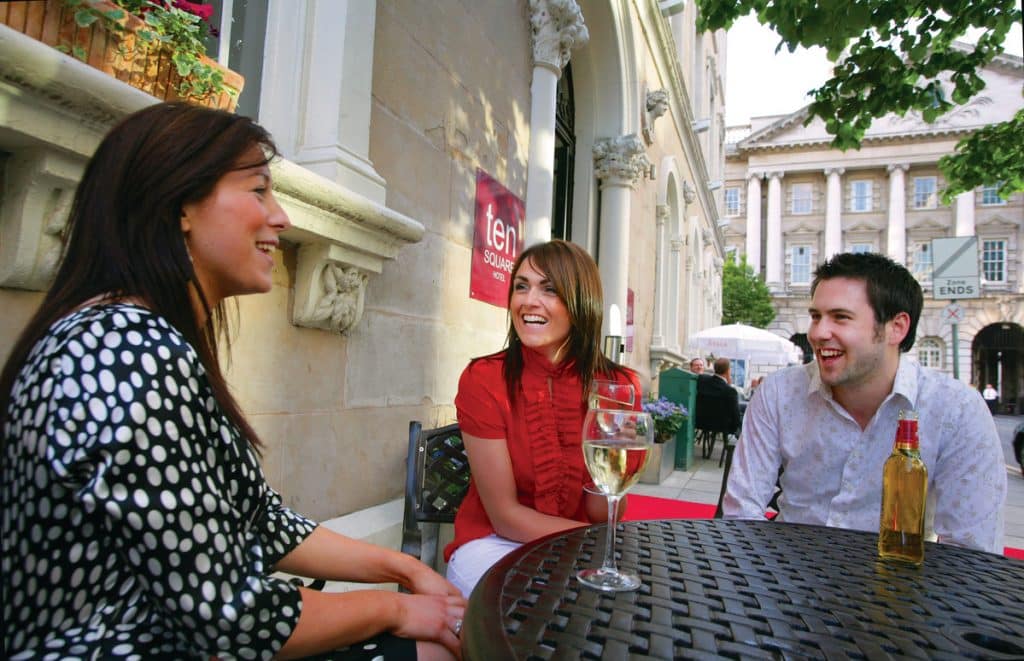 Self-described as including "131 4-star luxury bedrooms in the Heart of the City", Ten Square is more than deserving of its place on the list.
It is ideally located in Donegall Square and provides a unique atmosphere with its cocktails, beer, and live music along, with its boutique-style rooms.
Address: 10 Donegall Square S, Belfast BT1 5JD
7. Clayton Hotel – for the family stay
The Clayton Hotel in Belfast City Centre is well-located as it straddles both Dublin Road and Ormeau Avenue, both of which are lined with Belfast's finest bars, cafes, and restaurants.
The hotel itself has four stars and includes the only indoor heated pool in Belfast City, making it one of the best family hotels in Northern Ireland. Packages with the hotel include tickets to the Titanic Museum as well, perfect for a family trip.
Address: 22 Ormeau Ave, Belfast BT2 8HS
READ ALSO: The 20 best restaurants in Belfast (for all tastes and budgets)
6. Malmaison Hotel – the Belfast boutique
Another of Belfast's boutique hotels is the Malmaison Hotel, ideally located beside the Cathedral Quarter, Belfast's vibrant hub of pubs and clubs.
The stunning exterior is matched by the unique, flower-patterned rooms that make the hotel stand out from the rest of its competitors.
Address: 34-38 Victoria St, Belfast BT1 3GH
RELATED: Top 10 best pubs and bars Belfast has to offer (for 2023)
5. Merchant Hotel – the perfect wedding venue
The Merchant Hotel is one of the snazziest five-star hotels in Ireland and is located close to the Cathedral Quarter. The vastly impressive interior design is backed by comfortable rooms, Berts Jazz Bar & Restaurant, and the gymnasium, which allows you to overlook the city as you train.
Address: 16 Skipper St, Belfast BT1 2DZ
4. Maldron Hotel – a modern hotel
One of the best family hotels in Belfast City Centre is the Maldron Hotel, a domineering building in the centre of the city, and at £60 a night, it's a bargain you cannot pass up.
It is a stylish and modern hotel having everything you need for your stay, including being within walking distance to key locations, being family-friendly, having the Grain and Grill restaurant, along with the Red Bean Roastery coffee station.
Address: 20 Brunswick St, Belfast BT2 7GE
4. Europa Hotel – a traditional choice
Undoubtedly one of the most iconic hotels in Belfast City Centre is the Europa Hotel, home to 270 rooms and the perfect venue for parties and functions.
The famous 'Europa' sign that sits atop the hotel can be seen from all over the city, with the entrance of the hotel being enough to make you want to stay.
Address: Great Victoria St, Belfast BT2 7AP
2. Grand Central Hotel – for the high life
If you look at Belfast from any high point, the first thing you will notice is the Grand Central Hotel, standing at 262 feet with 23 storeys. It is Ireland's largest hotel and a great place for afternoon tea in Belfast.
The Grand Central is a truly luxurious hotel stay with 300 rooms, and be sure to cap off your stay with a drink in the rooftop bar, a bar that offers panoramic views of the city centre and beyond.
Address: 9-15 Bedford St, Belfast BT2 7FF
1. The Fitzwilliam Hotel – the city's masterpiece
Another 5-star hotel located on Great Victoria Street is the Fitzwilliam Hotel, which takes the prize as the best hotel in Belfast City Centre.
At £109 a night it is a steal for what it has to offer. An elegant masterpiece, the hotel describes itself as a "five-star superstar", thanks to its food, afternoon tea service, views of the city, and opulent accommodation.
Address: 1-3 Great Victoria St, Belfast BT2 7BQ
Thinking of staying in Belfast City Centre anytime soon? Book a stay in any one of these ten hotels above, and you will not be disappointed.
READ ALSO: BELFAST BUCKET LIST: 20+ BEST things to do in Belfast
Your questions answered about visiting Belfast City Centre
If you want to know more about visiting Belfast city centre, we have you covered! Below, we've answered some of our readers' most frequently asked questions which have been asked online about this topic.
Is Belfast good for tourists?
Belfast is a brilliant city for tourists to visit. Not only does it have a number of amazing landmarks and museums right on your doorstep, but it also has brilliant access to public transport and is a great base for exploring Ireland's other top attractions.
Can you do Belfast in 1 day?
Belfast is an ideal location for a 1-day break. This city is relatively small and has a wide array of amazing landmarks, museums, interesting sites, restaurants and pubs in a compact area. However, you could easily spend more than 1 day in Belfast city.
Is Belfast walkable?
As a compact city, Belfast is easily walkable and also has easily accessible public bikes which can be used to get around the city.
Is Belfast City Hall free to visit?
Belfast City Hall is one of the best free things to do in Belfast, with free guided tours available at 11 am, 2 pm and 3 pm Monday to Friday.
Get featured on Ireland Before You Die
Do you want to get your Irish business more online exposure? Especially to those interested in travelling the best places in Ireland? Then why not get a dedicated feature on Ireland Before You Die. Find out more 
here.