If the time has come to relocate to Ireland or if you feel a change is in the midst, and the Emerald Isle is at the top of your list, we're sure you have a million questions flying about in your head.
In a bid to ease your mind and answer some of the most common questions, we've put together a simple guide on relocating to Ireland and the 10 things you should know.
10. Getting Here
Ireland is a small island country located in Europe; it is located beside the UK. Ireland is separated into the Republic of Ireland and Northern Ireland. The former is an independent country; the latter remains part of the UK.
There are five international airports in all-Ireland (which includes Northern Ireland). There is one located in Belfast (Northern Ireland), and the remaining, which are in the Republic include Dublin, Cork, Shannon and Knock.
9. Visas
Depending on what country you are a citizen of, you may need a visa to enter Ireland. Detailed information and guidelines to procuring a visa can be found on the Irish Naturalisation and Immigration Service's (INIS) website.
8. Currency
The Republic of Ireland is part of the European Union and uses Euro as its currency. Northern Ireland is part of the UK and uses British pound sterling as its currency.
Most businesses nowadays offer contactless payment by credit or debit card, eliminating the need for travellers or locals to carry cash.
7. Driving
In Ireland, we drive on the left-hand side of the road (which seems like the wrong side of the road to many). We're partial to roundabouts, too, so be prepared for that. Also to note, whereas in some countries it is acceptable to make a turn on a red light, this is not legal in Ireland.
Many secondary roads and country roads are quite narrow, with blind turns; make sure to leave extra time and drive with caution on back roads.
6. Tipping Culture
In Ireland, the standard system is to tip 10% in a sit-down restaurant where you have received wait service. It is not considered expected to tip bartenders and taxi drivers unless you feel the service has been above par. Similarly, it is seen to be a sign of poor service to tip below 10% in a restaurant setting.
5. Banter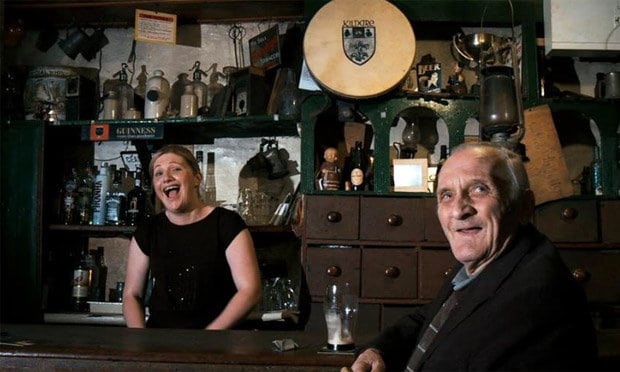 Banter is Irish humour; it is dry, it is dark; it is sarcastic. Often it can be misconstrued as mean or mocking but it is generally in good humour and only dished out amongst friends. In Ireland to "have the craic" or "banter" with someone is a sign of camaraderie.
4. Legalities
Alcohol can be sold over the counters in off-licenses (liquor stores or bottle shops) between the times of 10.30am and 10 pm, Monday to Saturday. On Sundays, alcohol is sold between 12.30 pm – 10.00 pm.
The legal drinking age in Ireland is 18 years of age. This is also the age for purchase of cigarettes over the counter. Note: some bars are 19+ or 21+. Always travel with your ID stating your age, should you wish to be served alcohol or cigarettes in Ireland.
3. The Weather
The weather is not one of our finest features, and that's no secret. Depending on whether you're located on the west coast (the rainiest) or the east/southeast coast (the driest), we can get anywhere between 150 – 225 days of rain a year.
Saying that, once the sun shines on the Emerald Isle, you'll swear you have never seen anywhere as glorious.
2. We don't all speak Irish
Mass use of the Irish language (as Gaelige) died out after the Great Famine in the 1840s. Around the turn of the 19th century, the Celtic Revival saw a resurgence in interest in our Irish roots; language included, and, although the language is making somewhat of a comeback, you'll be hard pushed to find any native who doesn't speak English fluently.
1. Cost of Living
One of the least favourable realities of living in Ireland is the cost of living. To put it simply: the cost of living is high (especially in Dublin), there is an affordable housing crisis currently, wages are low, and taxes are high.
In the aftermath of the Irish recession, the country rose from the ashes, and there are good job opportunities again, but the cost of living should be a consideration pre-relocation to the Emerald Isle.