Every country has its own weird foods and Ireland is no different. In this article, we reveal the top 10 weirdest foods that you should try at least once!
Ireland is a small country with a big personality. Often associated with traditional music and the pub scene, rolling green pastoral settings and its ancient past, what is often forgotten is its food.
Every country has its own set of standard fare, which to an out-of-towner may seem slightly odd. Ireland is no different.
Here are the top ten weird Irish foods which you should try at least once!
Ireland Before You Die's fun facts about weird Irish foods
Our beloved Tayto crisps were the first-ever flavoured potato crisps introduced in the world.
Ireland is renowned for its traditional Irish stew, which typically includes lamb or mutton, potatoes, onions, and carrots.
Did you know "Nettle soup" is a traditional Irish dish that involves using stinging nettles as the main ingredient, which are cooked down and blended into a nutritious and earthy soup?
A fun fact about Irish bread is that it is often baked with a cross pattern on top, known as a "blessing." This tradition is believed to ward off evil spirits and protect the household.
10. Garlic Cheese Chips – a late-night delight
This is a popular junk food trend that has been around for donkey's years (local slang for "a long time")!
The dish, which is generally procured from fast food establishments after midnight, consists of chips (or French fries) smothered in garlic sauce and shredded cheese.
If you're not a fan of this big, gooey, indulgent delicacy already, you will be after you try it. Needless to say, this is one of the top weird Irish foods!
Read more: 10 foods that are only good in Ireland ranked.
9. Crisp Sandwich – a childhood classic
Every single person on the island of Ireland (we reckon) has had a crisp sandwich in their life.
The perfect crisp sandwich consists of the contents of a packet of crisps (also known as potato chips), most likely Tayto crisps, between two slices of white bread.
If you haven't had the pleasure of this experience already, now is the time.
Read also: 10 weird Irish snacks everyone should try at least once.
8. Irish Breakfast Roll – the king of breakfasts
The Irish are famous for their breakfasts. If you want to step things up a notch stuff that breakfast plate into a freshly-baked baguette. To top it off, smother it in tomato ketchup or BBQ sauce – you can thank us later.
You can get Irish Breakfast Rolls in most local newsagents with a delicatessen like Centra or Spar as well as many cafes, too.
7. Blaa Bread Rolls – a simple staple
Blaa bread rolls are soft white bread buns dusted in flour. They are typically served on their own with butter or a selection of breakfast or lunch fillings. These originated from Waterford in the 17th century and remain as prevalent as ever in the Irish diet.
6. Irish Stew – perfect with a pint
Irish stew is a native dish. This meal consists of one type of meat (or a variety) alongside an array of root vegetables in a soup or broth. Irish stew is a traditional dish which dates back centuries, and although it may seem like weird Irish food, you have to try it!
Most traditional Irish pubs serve this dish, and it is best enjoyed alongside a pint of the "black stuff" (a colloquial term for Guinness).
Check out: Irish food recipe Irish stew.
5. Colcannon – Nanny's favourite
Everyone who has an Irish nanny will remember being served this dish when visiting the family. This is a classic Irish meal which consists of potatoes mashed with kale and/or cabbage.
It is usually served alongside meat and other vegetables. Colcannon is also a popular dish to be served at Halloween. In tradition, people hide rings and other small prizes in the recipe, which are the property of whoever finds them first! Despite the choking hazard, this is one of the most amazing Irish food dishes you need to try.
4. Champ – the ultimate comfort food
Like Colcannon, Champ is another Irish dish that is potato-based. This traditional recipe sees mashed potato mixed with tonnes of butter, milk, cheese (optional), spring onion and salt and pepper to season.
This dish is also best served as a side and often accompanies boiled ham or Irish bacon.
Read more: 32 local dishes you need to try in every county of Ireland.
3. Coddle – weird but wonderful
This dish definitely can raise a few eyebrows when out of towners come into contact with it. Saying that this is definitely a weird Irish food worth trying!
Coddle is another stew-style dish. It is usually made up of leftovers, thus being cheap to make and affordable to the masses.
Contents tend to include chunks of potatoes, sausages, rashers (also known as bacon), onion and sometimes carrot. Seeing as it is a "leftovers dish", there is no solid recipe.
2. Bacon and Cabbage – the perfect pair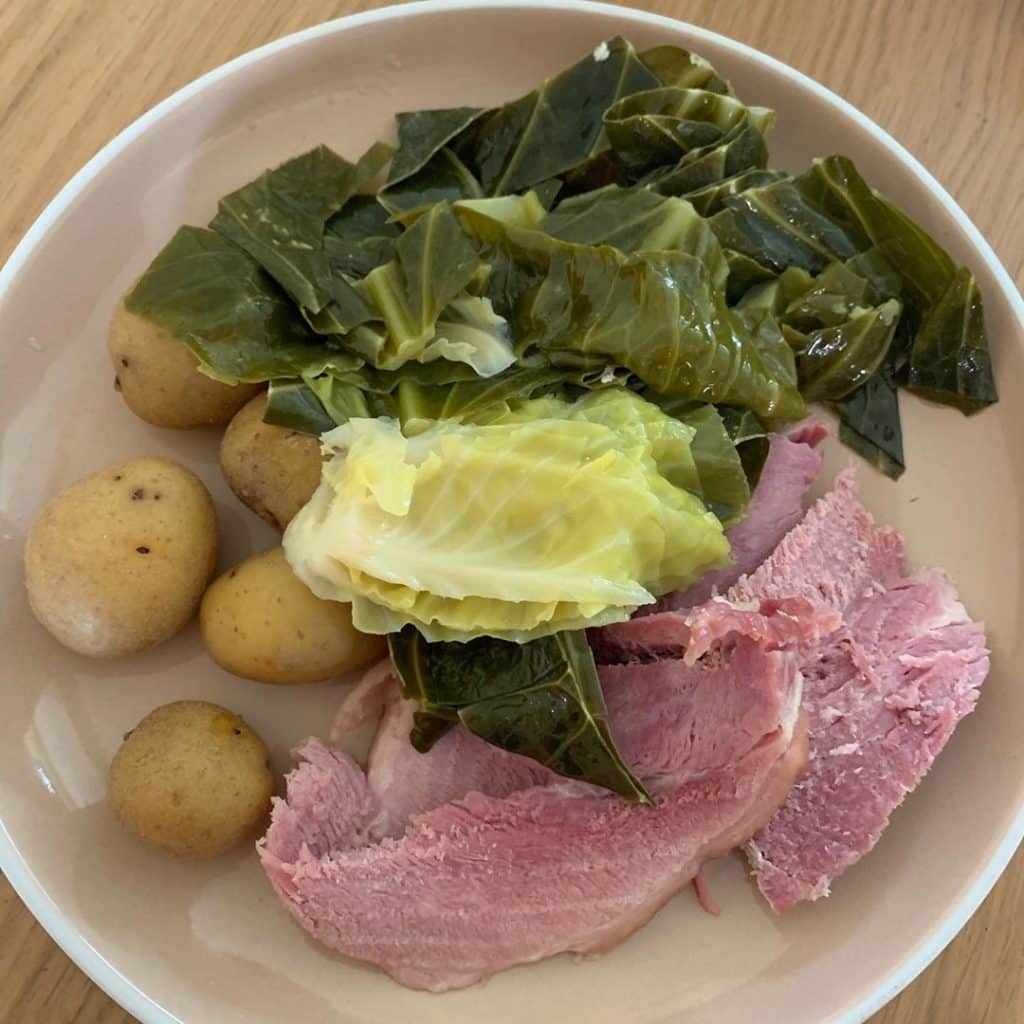 An Irish list of weird foods would not be complete without this native staple.
Bacon and Cabbage is a classic Irish dish that has survived generations in Ireland. This meal usually features – as you may have guessed – sliced bacon and cabbage and usually sits alongside a bed of potatoes.
If you happen to find an Irish nanny, steal her recipe – you can thank us later.
1. Boxty – the ultimate odd one
Boxty is a potato pancake that is made of flour, potatoes, baking soda, buttermilk (and often eggs to bring the dish together).
It originated in Ireland and is most commonly associated with counties in the North Midlands and Northwest coast of Ireland.
Today the dish has made a comeback on the Irish food scene and one reputable restaurant specialising in this traditional Irish dish, Gallaghers Boxty House in Dublin, is well worth a visit!
Your questions answered about weird Irish foods
Is a banana sandwich an Irish thing?
A banana sandwich was very popular years ago for kids and is still prepared in rural parts of Ireland. Exactly what it says on the tin, bread, butter, chopped-up banana and sugar sprinkled on.
What is a true Irish meal?
Traditional Irish dishes are all about comfort and filling your belly. Traditional foods range from boxty to Irish stew, scones and soda bread and pretty much anything with a potato in it.
What is Ireland's signature dish?
Irish stew is the national dish of Ireland.