Start the car! Here we suggest the perfect five-day itinerary for a Galway and Mayo road trip.
Galway and Mayo are two of Ireland's most stunning coastal counties. Located on the east of the island, these neighbour counties both offer endless opportunities for adventure and natural beauty as well as sites of cultural and heritage status.
Although five days is not a whole lot of time when there is so much to see, a lot of ground can be covered, given Ireland's wee size!
If you're planning on ditching the tour bus and exploring these two cultured counties via a road trip, we suggest you take the below route, which will maximise the experience in your given timeframe.
Here is the ultimate Galway and Mayo road trip in just five days!
Day 1 (Mayo): Céide Fields > Ballycroy National Park > Achill Island
Total driving duration: 1 hour and 18 minutes
For day one of your Galway and Mayo road trip, we suggest you start north in Mayo and work your way down.
The Céide Fields is a fantastic springboard into Mayo's cultured roots. This archaeological site is impressive to no end and is, in fact, the most extensive Neolithic site on the island.
Next, drive on to Ballycroy National Park, a unique stretch of land that sees blanket-bog and native flora and fauna thrive in abundance. The Ginger & Wild Café is a great stop for a bite to eat or a caffeine fix.
After you've enjoyed a stunning hill walk in the national park, head on to Achill Island to spend the night. Ted's is a great place to enjoy some local cuisine, while the Pure Magic lodge is a top spot to rest your head.
Route: https://goo.gl/maps/JHsrnPyUNWqyLxWS7
Day 2 (Mayo): Achill Island > Keem Bay/Croaghaun > Atlantic Drive > Westport
Total driving duration: 1 hour and 44 minutes
After breakfast, head on to the nearby Keem Bay. This awe-inspiring coastal backdrop looks fit for a fairy tale, and we're sure you'll think so too.
If the weather permits, enjoy a splash in the ocean, and with the stunning backdrop of Croaghaun, this experience will be one not easily forgotten!
In the afternoon, hop back in the car and head towards Westport via the Atlantic Drive route on Achill Island. This scenic drive will offer unspoiled stretches of rugged coastline, towering cliffs, sheer drops, and Instagram-worthy moments.
Stop off at Kate's Café before leaving Achill Island and head on to Westport. En route, you'll pass Rockfleet Castle, which is worth the wee detour if you're interested in ancient ruins.
Once in Westport, there'll be tonnes of things to do. We suggest you enjoy dinner at An Port Mór if you're feeling fancy! The Wyatt Hotel is a solid shout if you're looking for a budget hotel, whereas the Westport Plaza is a great four-star establishment.
Route: https://goo.gl/maps/qH3ZHxF3GnTvH22Y6
Day 3 (Mayo): Westport > Connemara
Total driving duration: 1 hour and 7 minutes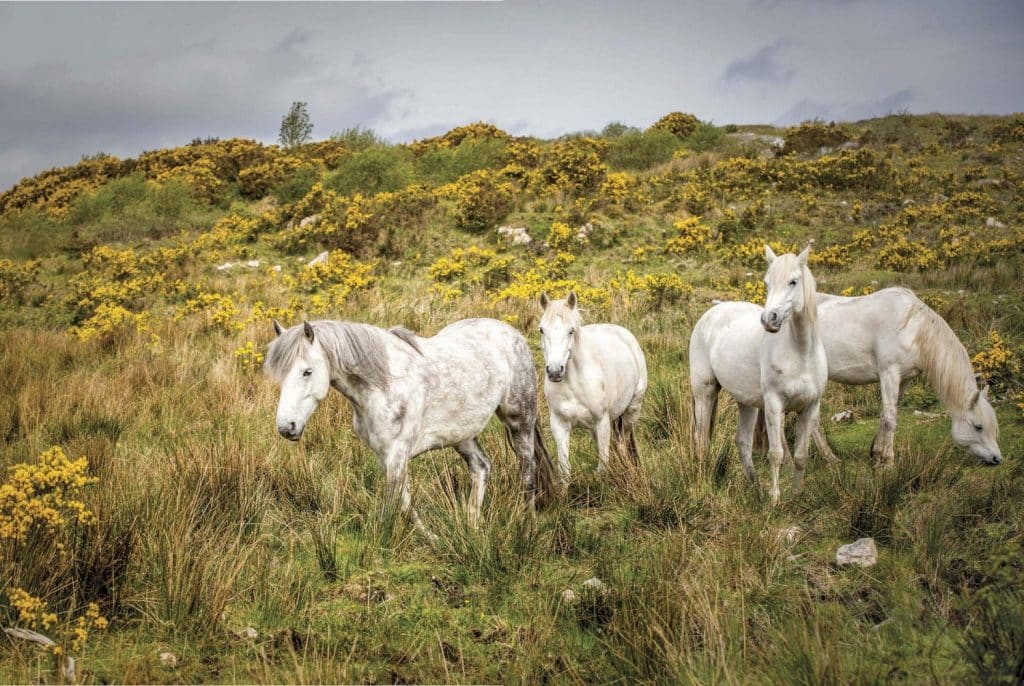 On the third day of your Mayo and Galway road trip, we suggest you enjoy all that Mayo has to offer. This vibrant townland is home to an endless array of sights, and depending on what you're in the mood for, there's bound to be something for everyone.
If you're looking to bone up on local history, check out Westport House, or if you're looking to enjoy an outdoor adventure, rent a bike and take to the Great Western Greenway!
For serious trail finders, join the ancient pilgrims and climb Croagh Patrick, or if you're in the mood to escape the masses, head over to Clare Island where there are lovely eateries and activities to enjoy.
Otherwise, grab lunch in The Pantry and Corkscrew in Westport town—a favourite of locals!
In the evening, head towards Connemara and stay in Kylemore Pass Hotel. This establishment is highly-rated and offers stunning surroundings, which will set you up for day four and has a bar and restaurant too. 
Route: https://goo.gl/maps/FWeegacjsNkiTkPs9
Day 4 (Galway): Connemara > Galway city
Total driving duration: 1 hour and 55 minutes
The second-to-last day of your Galway and Mayo road trip is all about Connemara. Its mind-blowingly beautiful surroundings are as dreamy as they come and offer endless activities to keep you keen.
We suggest you check out Kylemore Abbey, a stunningly preserved monastery founded in 1920. Spend the day exploring all that Connemara National Park has to offer, and if you're feeling particularly determined, climb the summit of Diamond Hill.
Or, if you're interested in getting off the mainland, you can take a boat from Cleggan Pier to the nearby island of Inis Boffin.
Grab a bite to eat before heading to Galway City for the night. The city is rich when it comes to places to stay, so no matter the budget, you'll be spoiled for choice!
Route: https://goo.gl/maps/mfgegYvj4vrhx3DR8
Day 5 (Galway): Galway City > Aran Islands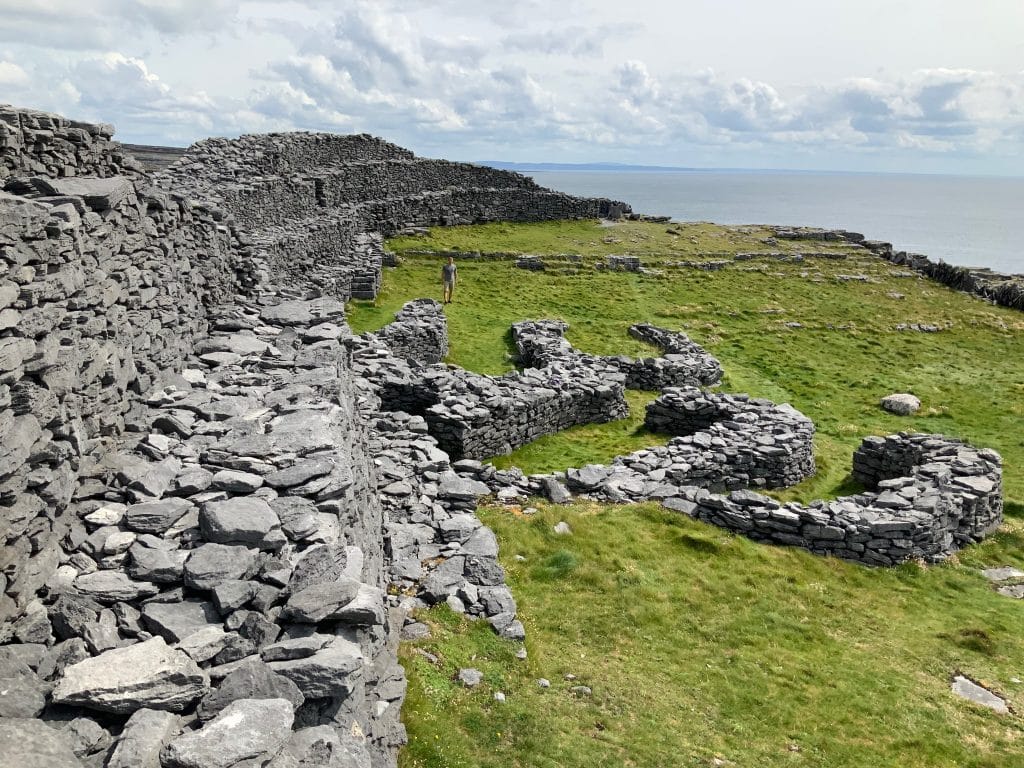 On the last day of your road trip, we suggest you start early and grab a bite at McCambridge's of Galway before doing a small spot of sightseeing. Check out Eyre Square or Galway Cathedral before hopping a ferry to the Aran Islands.
Steeped in traditional Irish culture, no trip to Galway would be complete without visiting these ancient islands, which act as a gateway to Ireland's past.
Rent bikes and go for a ride, visit prehistoric burial sites, drink Guinness with the locals, and see ancient settlements from centuries long gone stand strong on these amazing islands in the Atlantic Ocean.
If you're keen to spend one last night in Galway, we suggest you do so in the Aran Islands Hotel on Inishmore.