Donegal and beaches are synonymous with each other. Want to visit one of the best? Read on and find out how to visit, why to visit, and when to visit the stunning Portsalon Beach.
Donegal, one of Ireland's most picturesque counties, is home to the Emerald Isle's longest coastline, with the Atlantic water meeting the shores of Tir Chonaill for a total of 1,135 km (705 miles).
A coastline of this length naturally lends itself to an array of beautiful coves and stunning beaches, which the people of Donegal and beyond in Ireland can flock to on winter mornings and summer days alike.
Rivalry is therefore intense as to who takes the crown for the premier beach in the northwest of Ireland. However, one beautiful beach whose name is certainly in the mix is Portsalon Beach (or Ballymastocker Beach).
The golden beach was once named the second-best beach in the world. Read on to discover all you need to know about Portsalon Beach, including when to visit, what to see, and things to know.
Portsalon Beach – Donegal's best beach?
Also known as 'Ballymastocker Bay', Portsalon Beach was once named by The Observer Magazine as the world's penultimate beach, losing out only to a beach in the Seychelles. By the end of this article, you will see why it climbed so high in the world rankings.
Found to the west of Lough Swilly in County Donegal on the Fanad Peninsula, Portsalon is a Blue Flag Award Beach. This golden sand that populates this stretch of the Donegal coastline runs for 1.5 km (1 mile). A visit here is one of the best things to do in Donegal.
When to visit – you are welcome here any time of the year
As usual with the Emerald Isle, we can never promise that the weather will be too good or live up to your expectations, especially so when it comes to County Donegal.
However, due to Portsalon Beach's unique location, it is often sheltered from the very worst of the infamous Atlantic weather that has a penchant for battering the county's coastline.
So, for fabulous views and experience, we recommend you plan your visit to Portsalon Beach for the summer months, with the likelihood of hot weather at its strongest.
Despite this, we would also recommend you take a stroll across the sandy beach during any of the four seasons. The simmering golden-brown of the strip gently rolls into the green and blue of the flush of water and is a delight to grace in the autumn, winter, and spring.
Surrounded by hills of green, depending upon the time of year, the hope of spring or comforting colours of autumn surrounds you. Trust us, don't hold off on visiting this idyllic setting just because it's cold outside!
Distance – go the extra mile
As alluded to, Portsalon Beach stretches for a total of around 1.5 km (1 mile), making it a highly accessible beach to visit for all purposes. When the sun is out in June and July, it leaves you with plenty of space to grab a spot to tan and enjoy the water.
We would also suggest you take two to three hours to take a long, blissful walk through the sand and look out towards the sea and the Inishowen Peninsula in the distance whilst enveloped by the archetypal Donegal countryside.
This is an extremely peaceful, welcoming, and inviting beach; we certainly recommend you walk the entire beach when you attend.
Directions and location – planning your trip to Portsalon Beach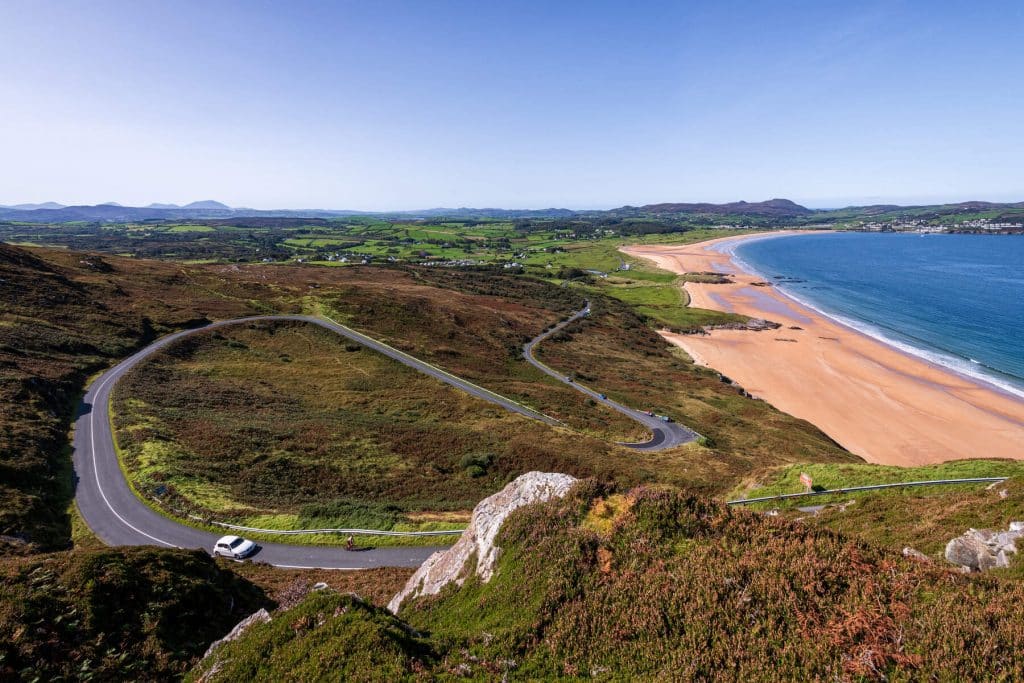 Before you take a trip to this wonderful beach, make sure to plan in advance what route is best and what roads you need to take.
When in Donegal for the best scenery, perhaps the best route to take is to cross through Rathmullan, En route, you will take in breathtaking views of Dunree Head and the Urris Hills whilst hugging the coastline.
Elsewhere in Tir Chonaill, the beach is a short 30-minute drive from the county's main town of Letterkenny, 45 minutes from Dunfanaghy, over an hour from Buncrana, and just under an hour from Ballybofey.
The beach is just over an hour's drive from Derry city, making it very accessible from the north. Ensure to pass through the towns of Letterkenny, Ramelton, and Milford along the way. If travelling from Belfast, it will take you around two and a half hours.
Travelling from further south is obviously a longer trip, but Google Maps is your friend. If you pass any of the spots above, you're on the right track!
Address: R268, Magherawardan, Co. Donegal, Ireland
Things to know – keep yourself right
It is well-known that the locals take care of the beach and keep it clean year-round, which forms part of its huge attraction for visitors as well.
Some charter operators will take you out to deeper waters for more exceptional views. These are based at the Harbour.
If you want a café, look no further than the Pier Restaurant. This opens from 12-9 pm and is tucked into the Portsalon Pier. This is the perfect way to begin your walk or end your day.
Address: The Pier Portsalon, Letterkenny, Co. Donegal, Ireland
Nearby attractions – not just a beach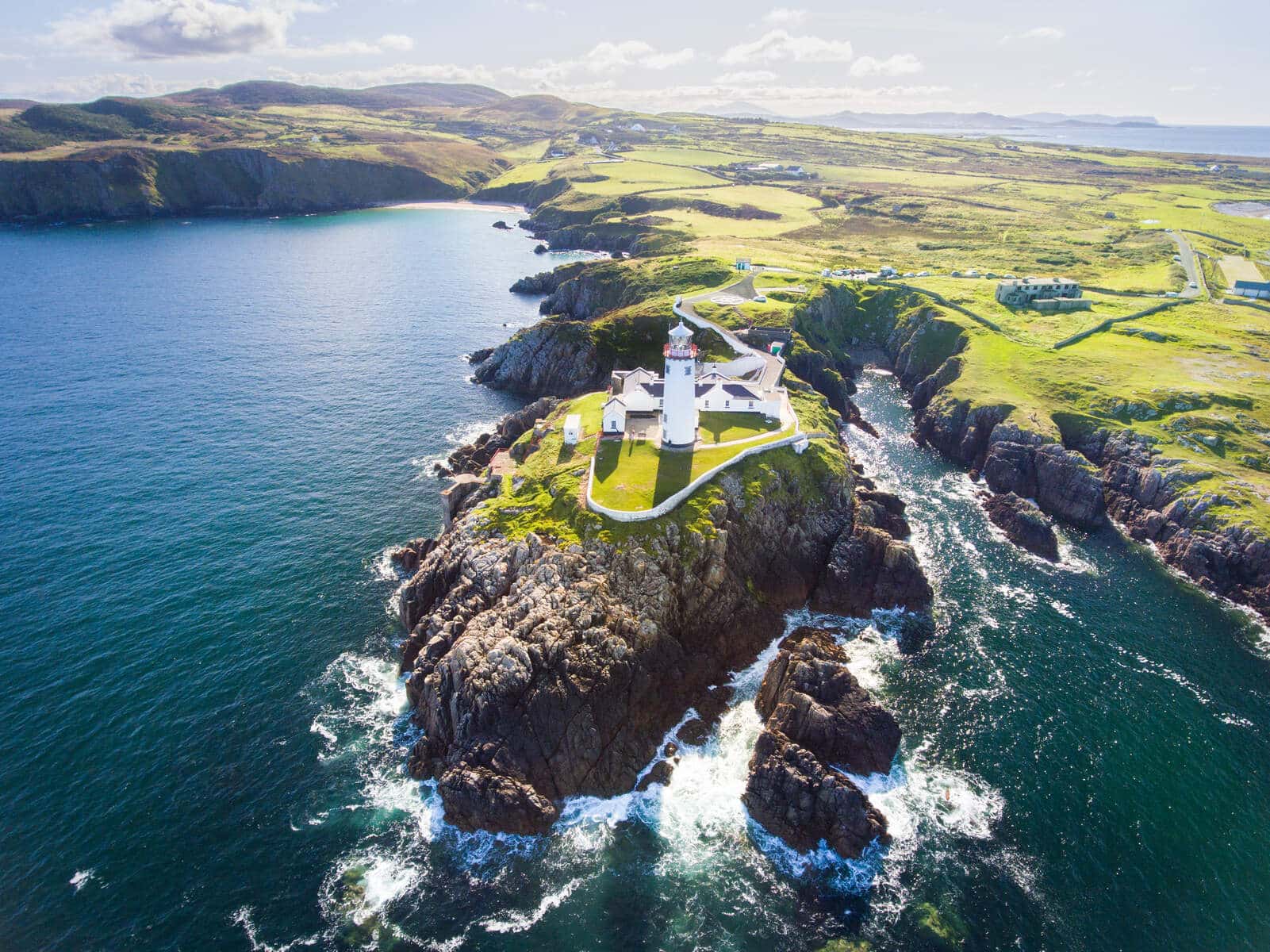 One of the best things about Portsalon Beach, if indeed you intend to visit, is that there are several amenities surrounding the beach for you to see and do as well.
The beach marries into the lovely Portsalon Harbour and village, which would be a nice way to culminate your walk and trip to the beach. You will be greeted with further views of Portsalon Beach when you rest here.
Golfers are in luck, as the Portsalon Golf Club is also situated near Portsalon Beach. There are also lots of avenues for cycling and hill-walking nearby.
Address: Portsalon Golf Club, 7 Fanad Way, Croaghross, Portsalon, Co. Donegal, F92 P290, Ireland
Lastly, the beach is the perfect springboard for visiting the Fanad Peninsula, which lies between Lough Swilly and Mulroy Bay. The majestic Fanad Head Lighthouse can be found here, which is a mere 18-minute drive. This is a must-do.
Address: Cionn Fhánada, Eara Thíre na Binne, Baile Láir, Letterkenny, Co. Donegal, F92 YC03, Ireland
Where to stay – maxing your time at Portsalon Beach
If you are not satisfied with the day trip alone and wish to expand your stay for another 24 hours, you are in luck, as there are plenty of places to stay in the surrounding area.
Booking.com – This is the best way for you to ensure you choose the best place to stay when you are visiting Portsalon and the Fanad Peninsula.
The Fanad Lodge B&B is only €98 a night and is around 2 km (4 miles) from Portsalon Beach and only a six-minute walk, making this the perfect place for you to stay.
Hotels, however, would be further out from Portsalon Beach but still within a close distance to ensure that your journey back to the coast is a short and easy one.
Perhaps the most accessible hotel would be the Beach Hotel & Restaurant, which is €145 a night and is around 13 km (8 miles) from Portsalon Beach.
If you want to splash the cash and live in luxury for a night, the famous Shandon Hotel in Dunfanaghy is only a 45-minute drive from Portsalon Beach. This is surely no obstacle considering the beauty you have come across today.
FAQs about Portsalon Beach
Is Portsalon Beach good for surfing?
Yes, Portsalon can be good for surfing. The best time to do so is in the winter, especially in January. So, make sure to get the wetsuits out.
Is parking accessible at Portsalon Beach?
Yes, there is a parking available, and it is easily accessible. However, get there early in the summer season as attendance can swell.
Is Portsalon Beach dog friendly?
Yes, of course! So long as you clean up after your pups, Portsalon Beach is the perfect spot to bring the dog for a brisk Sunday morning stroll.
What are some other great beaches in Donegal?
Unsurprisingly, Portsalon Beach isn't the only world-class beach in Tir Chonaill. Amongst a host of other Donegal beaches, we would recommend Portnoo, Marble Hill, Culdaff, and Carrickfinn.