Although there are no official nudist beaches in Ireland, being nude on the beach in Ireland isn't illegal.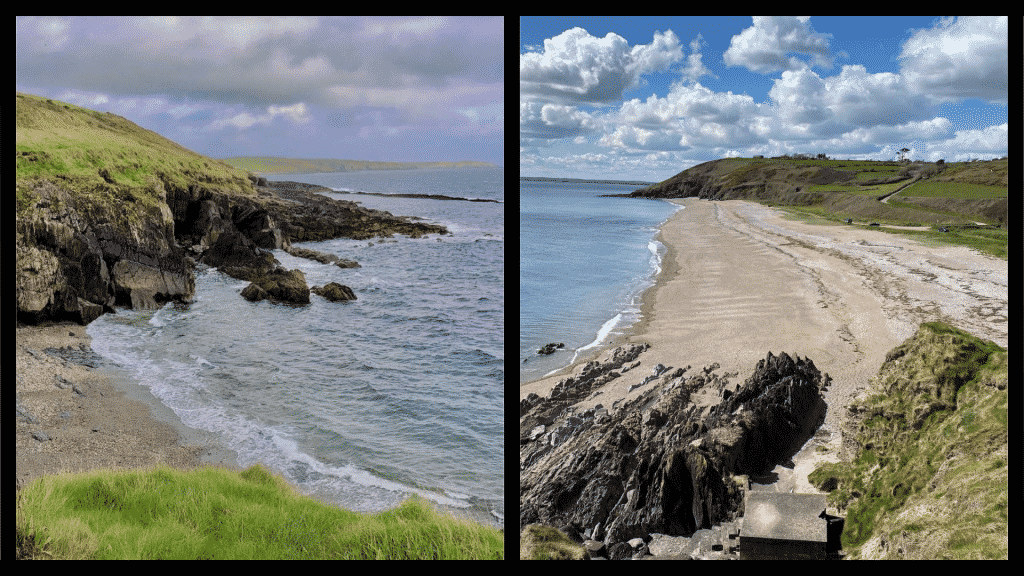 Until 2014, a 1935 criminal law act outlined that people practising naturism would be prosecuted if they did so in a space that the public generally passed through.
Now, a new law says the only way someone will face prosecution would be if that person intended to cause distress, harm, or alarm with their public nudity.
The Irish Naturist Association strongly believe that this new law protects naturists who wish to have clothing-optional beaches throughout the country. It ensures, in some ways, that they will not be prosecuted for their actions.

However, they do encourage all naturists to use common sense when getting their kit off at Ireland's beautiful beaches, as not every one of them will be suitable for naked sunbathing and the like!
Let's look at some of the best-known nudist beaches in Ireland, as outlined by the Irish Naturist Association.
Ireland Before You Die's top tips for visiting nudist beaches in Ireland:
No beaches in Ireland are actually nude beaches, but there are a handful of designated nudist beaches.
Always be mindful of who is around you, even when visiting the 'designated' nude beaches in Ireland.
Not all beaches in Ireland allow nudity, so always check specific beaches before visiting.
The Irish Naturist Association (INA) advocates for naturism in Ireland. Check their site for in-depth details on the subject.
Aside from these designated nudist beaches, avoid public nudity elsewhere in Ireland.
5. Silver Strand Beach, Co. Galway – swim free in the Galway sea
Not to be confused with Silver Strand beach in County Donegal, this is a stretch of sandy beach in Barna, County Galway.
Nudists and clothed folks alike come to this Blue Flag beach with soft sands to admire the Galway Bay, as the beach looks out directly onto the Atlantic Ocean.
It is a particularly popular beach among young families and those brave enough to take a refreshingly cold dip. It's safe to swim here at low tide, but the beach is mainly covered when high tide hits.
The 20-minute walk along the stone path to the beach is well worth it.
Address: Unnamed Rd, Co. Galway, Ireland.
READ: IB4UD's guide to the best beaches in Galway
4. Caliso Bay, Co. Waterford – remote and rural beach
Caliso Bay is located right on the edge of County Waterford. Naturists can enjoy peace and quiet on this remote beach.
Anglers, surfers, and naturists mainly frequent the secluded beach. According to the beach guide, the beach section to the car park's right is where nudists frequent, as it is more private and covers quite a stretch of sand.
READ: the top 5 best beaches in Waterford
Address: Monatray East, Co. Waterford, Ireland
3. Simon's Cove, Co. Cork – sheltered and serene
There are a few nudist-friendly spots in West Cork. Simon's Cove is one of them. Here, you can enjoy the quiet serenity in the sheltered cove.
It might just be Cork's best-kept swimming secret, as few people know about this lovely spot at the end of the single-track road from Courtmacsherry.
Simon's Cove comprises one larger cove that is great for swimming and a second smaller one just across the rocks that is perfect for jumping off the rocks. However, only when it's high water!
This spot is a beautiful place to catch the sunset and maybe partake in some nude sunbathing if you feel brave enough.
RELATED: our guide to the best beaches in Cork
Address: Simon's Cove, Courtmacsherry, County Cork.
2. Dog's Bay, Co. Galway – peace and privacy
Dog's Bay is a beautiful nudist-friendly beach just 3.2 km (2 miles) from Roundstone, County Galway. According to the Irish Naturist Association, Dog's Bay is one of Ireland's most fabulous nudist beaches.
When you exit the car park, walk along the sandy beach that slopes to the right. You will come to a fence with a gate. When you go through and walk along the cliff, you'll discover the small and secluded Dog's Bay.
Address: Ervallagh, Roundstone, Co. Galway, Ireland.
1. Brittas Bay, Co. Wicklow – the best nudist beach in Ireland
Fancy a dip au naturel? Sallymount at Brittas Bay is the place for you. Brittas Bay has long been considered Ireland's best nudist beach.
The main stunning beach is very popular for families, caravans, and camping. However, if you head about 3.2 km (2 miles) further south, you'll find the naturist-friendly beach, Sallymount.
This Blue Flag beach is well worth a visit for naturists to admire the beauty of the lapping ocean, backed by sand dunes. Just use common sense when visiting, as right around the corner will be full of clothed-beach goers, campers, and caravanners.
READ MORE: Brittas Bay: when to visit, wild swimming, things to know
Address: Ocean View, Co. Wicklow.
So, there you have it, some of the best nudist beaches in Ireland. Remember, there aren't exactly designated nude beaches in Ireland. This list is here to specify some of the best nudist-friendly beaches.
So, de-clothe with caution! Before you go skinny dipping, consider your surroundings, and practice your best judgement when visiting these nudist-friendly beaches in Ireland.
It's probably best to do a quick search before you visit to ensure that nothing has changed and check if there is a Naturist Club in the area or if the beaches in question are generally regarded as naturist beaches.
Your questions answered about the best-known nudist beaches in Ireland
If you still have questions, we have you covered! In this section, we've compiled some of our readers' most frequently asked questions and popular questions that have been asked online about this topic.
Are nudist beaches legal in Ireland?
While there are technically no set nudist beaches in Ireland, there are a handful of designated beaches where being nude on the beach is not illegal. There are also a number of nudist beaches across Europe, such as in France.
Is it illegal to skinny dip in Ireland?
At the beaches above, you are free to skinny dip without persecution.
What is the Irish skinny dipping record?
In 2018, 2,505 women broke the World Record for the largest skinny dip on Magheramore Beach in County Wicklow.
More useful info on Irish beaches
The 10 best and most beautiful beaches in Ireland
Top 5 beaches in Dublin you need to visit before you die
Top 10 best beaches in Northern Ireland, ranked
Top 5 best beaches in Wicklow,
The 5 best-known nudist beaches in Ireland, ranked
Top 5 most beautiful beaches in Donegal
The 3 best beaches in County Meath
The 5 best beaches in County Mayo
Top 5 best beaches in County Wexford
Top 5 best beaches near Limerick
Benone Beach: when to visit, what to see, and things to know