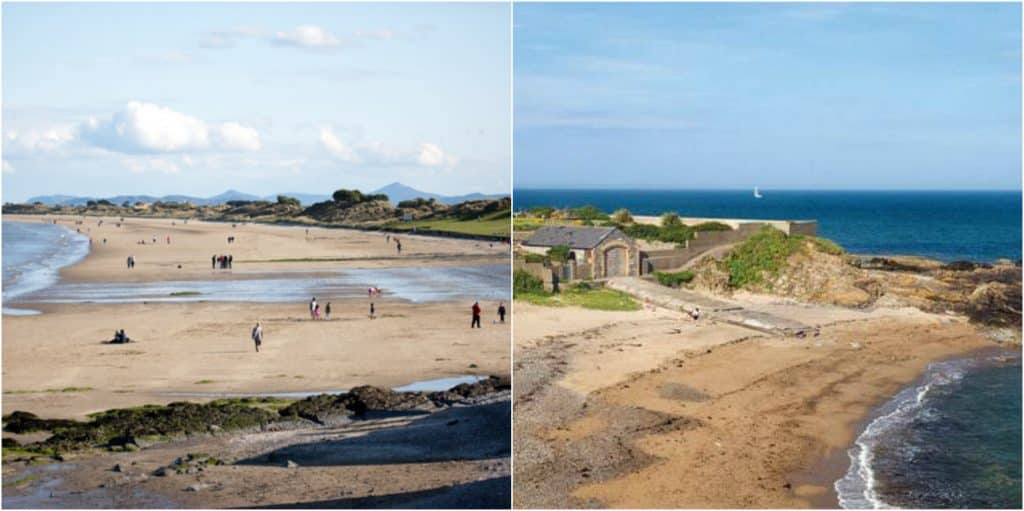 Now Ireland may not be known for its epic weather. In fact, aside from Irish people's obsession with commentating on it, it is generally pretty mediocre.
Grey skies and rain are as common as potatoes in Ireland (so remember to pack a rain jacket and some comfy waterproof gear when visiting the Emerald Isle), but so is the chance of unexpected sunny blue skies (so pack layers, too!).
Our Summers are not (usually) excessively hot and our Winters rarely drop a few degrees Celsius below zero. This means that although the weather isn't glorious all of the time, it's not the absolute worst, either.
Seeing as Ireland has some of the most beautiful beaches in all of Europe, we've learned to acclimate to our weather and enjoy the natural wonders this small island has to offer, regardless of the outside temperature.
It may not be t-shirt and shorts weather all that often, but seeing as those days are unlikely to rear their head anyway, Winter swims and "Summer" days (when it's not more than 20 degrees Celsius) on the beach are the way of the Irish. And, with beaches like these, who can blame us?
Check out these top beaches in Dublin, the capital of the Republic of Ireland.
5. Burrow Beach, Sutton
This stunning, sweeping stretch of sand is located on the Northside of Dublin in Sutton. The beach which runs 1.2 kilometres along the shoreline is away from the roadside, hidden behind private houses and offers a little slice of solace away from the world on a Summer's day.
A popular destination for locals and tourists, Burrow Beach is perhaps one of the most postcard-worthy beaches in Dublin. Fine, sun-bleached, velvety sand winds around atmospheric sand dunes; Ireland's Eye sits off in the distance and cliff faces leading up to Howth Village provide an enchanting setting.
Location: Burrow Beach, Burrow Road, Sutton, Co. Dublin
4. White Rock Beach, Killiney
Set just off Vico Road in Killiney is White Rock Beach, a gem to locals and those-in-the-know who access this little slice of paradise via a mega-amount of old stone steps which draw visitors down to the shoreline.
Although it is small in size, it is popular with those looking for some peace and quiet on a Winter's day or Summer stroll in the mid-year months. It has rich velvet sand, a stunning view of Dalkey Island and is surrounded by dramatic rocks and weathered cliff faces.
Note: not advised for those less able.
Location: White Rock Beach, Vico Road, Killiney, Co. Dublin
3. Tower Bay, Portrane
When the sun has finally reared its head, b-line for Tower Bay in Portrane and claim a sliver of sand before the place fills up. This stunning stretch of sand is located on the Donabate Peninsula and offers views of the Dublin Mountains as well as Howth.
The water is crystal-clear, the beach is surrounded by cliffs offering shelter from the winds and there are stunning coastal and cliff walks all in arm's reach. Sure, what more could you want?
Location: Tower Bay Beach, Quay, Portrane, Co. Dublin
2. Velvet Strand, Portmarnock
One of the most popular beaches in Dublin for those to flock to once the sun comes out has got to be Velvet Strand in Portmarnock, on the Northside of the city.
Not far from the centre, this stunning stretch is over 8 kilometres and is perfect for those looking for a seaside jog or walk, as well as those looking to steal some sand to sunbathe (if you're lucky with the weather!)
An ice-cream kiosk operates in the Summer months and with endless sandy dunes just waiting to be commanded this is the perfect place for a picnic on a blue-skied day.
The beach is void of rocks or cliffs and boasts only the smoothest sand making it perfect for the little ones, too!
Location: The Velvet Strand, Portmarnock, Co. Dublin
1. Dollymount Strand, Clontarf
Of all the beaches in Dublin, this has got to be one of the most famous out there. The beach, on Bull Island, is located just off the coast from Clontarf and accessed via a wooden bridge.
The stretch of sand runs 5 kilometres and it is a popular place for walkers and joggers, as well as for those with dogs, kite surfers and day-trippers.
Packed with sandy dunes aplenty, Dollymount makes for the perfect place for those looking to overlook all of Dublin. There are sterling views of Dublin Bay as well as the iconic Dublin Poolbeg Chimney's and Howth, too.
Location: Dollymount Strand, Clontarf, Co. Dublin  
More useful info on Irish beaches
The 10 best and most beautiful beaches in Ireland
Top 5 beaches in Dublin you need to visit before you die
Top 10 best beaches in Northern Ireland, ranked
Top 5 best beaches in Wicklow,
The 5 best-known nudist beaches in Ireland, ranked
Top 5 most beautiful beaches in Donegal
The 3 best beaches in County Meath
The 5 best beaches in County Mayo
Top 5 best beaches in County Wexford
Top 5 best beaches near Limerick
Benone Beach: when to visit, what to see, and things to know