The small island of Ireland is flanked by the Irish Sea to the East and the Atlantic Ocean to the West. With wild weather, this ancient land has, over centuries, evolved to offer some of the most spectacular beaches you are sure to have ever seen.
Indeed – due to Ireland's less than favourable weather – the island isn't most memorable for its days in the sun, but we feel pretty confident in saying that these are the five most unusual, yet stunning beaches in Ireland you need to experience!
Pack up the sunblock and don your finest bathing suit, or wrap up for a sandy stroll down the beach on a Winter's day. Regardless of the season, these five beaches are not worth missing on the Emerald Isle.
5. Silver Strand, Sherkin Island, Co. Cork – for flora and fauna
A short ten-minute ferry from Baltimore in Co. Cork will bring you to Sherkin Island, off the coast of Ireland.
This remote island is home to around 100 people and is small in size at 4.8 kilometres long by 2.4 kilometres wide (3 miles long by 1.5 miles wide) – making it utterly accessible for a walkabout.
Embracing the enchantment of rural island life, there is little but bare necessities: an Irish pub, simple accommodation and one of the most dreamy beaches in all of Ireland, Silver Strand.
This secluded island beach is worth the short trek from the mainland and offers crystal waters and velvet sand, as well as frequent dolphin spotting and some of the most bright and beautiful wildflowers blossoming near the shore.
Address: Cloddagh, Sherkin Island, Co. Cork
4. Annagh Bay, Achill Island, Co. Mayo – for serenity
Another unusual yet stunning beaches in Ireland you need to experience is Annagh Bay on Achill Island.
Like our last entry, Annagh Bay is an island beach, detached from the footfall of the mainland and a real "hidden gem" for any visitor who treks to reach its serene sandy shores.
Hiding on the North side of Achill Island, just off the coast of County Mayo, Annagh Bay is accessed only by boat or on foot.
Pack and picnic and bring a full day's supply of sunscreen and water – you're bound to feel like the only people in the entire world on this secluded sandy beach in Ireland.
3. Trá Bán, Co Kerry – for utter seclusion
Trá Bán is yet another island beach worth exploring if you're on a hunt for the most unusual yet stunning beaches in Ireland.
Located on Great Blasket Island, just off the coast of Ireland, Trá Bán is a remote stretch of paradise with only nature, the sound of the breeze and the warmth of the sun to keep you company.
Although once inhabited, Great Blasket Island said farewell to its last residents in 1953. Today, the island can be accessed throughout the more favourable months (Spring, Summer, Autumn – weather dependent) from the mainland at Dingle, Ventry and Dún Chaoin.
Again, pack your picnic and all you'll need on a day trip to this stunning beach in Ireland. You'll probably spot Funghie, Ireland's most famous dolphin, too!
2. Murder Hole, Rosguill Penninsula, Co. Donegal – for pure bliss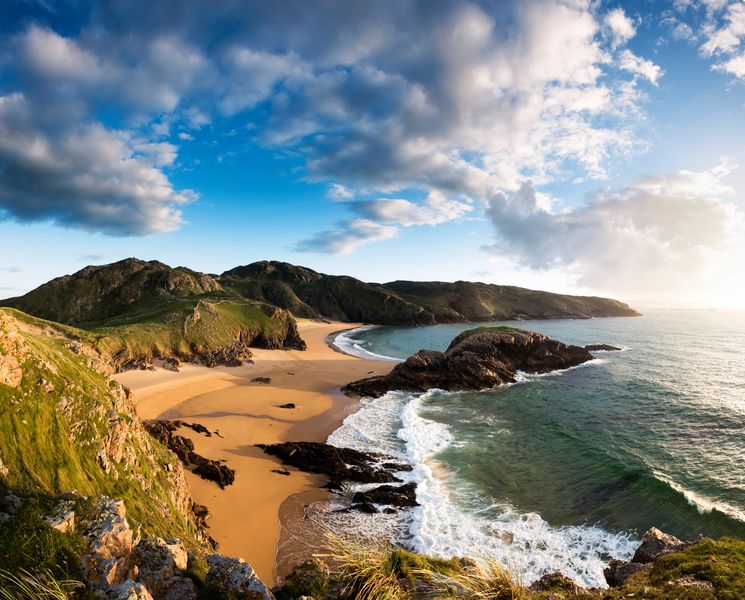 Murder Hole is a fantasy beach on the Rosguill Penninsula in County Donegal. Listed by National Geographic – the world's leading international geography and exploration guide – as one of the coolest places on the entire planet, all we can say is Murder Hole is pure bliss.
Your car will only take you as far as Downings, and it's only a short walk from there. Remember to take your camera as this is bound to be one of the most unusual yet stunning beaches in Ireland you need to experience, but also probably the most cinematic, too!
Like all of the above, amenities are non-existent so plan ahead and bring all necessities. Note: steep steps must be taken to access the beach.
Address: a.k.a Sheephaven Bay
1. Coral Strand in Carraroe, Co. Galway – the most photo-worthy
The most unusual location on our list of beaches in Ireland you need to visit is Coral Strand in Carraroe, County Galway.
As the name may suggest, this beach is made up not of sand, as goes status quo, but in fact coral. These coral stretches are actually not uncommon along the Connemara coastline and consist of red calcified seaweed, maërl or otherwise known as coralline algae.
Contrary to what you may expect, the texture isn't sharp like standard coral. In fact, it just feels like fine gravel underfoot and is perfectly pleasant to lie on (with a towel of course).
One thing for sure, don't forget your camera when you visit this most unusual yet stunning beaches in Ireland – it is photo-worthy to no end!