Feel the sand between your toes and feel the wind in your hair at one of the best beaches in County Mayo.
The wild Atlantic Ocean hugs the coastline of County Mayo, creating a wealth of beautiful and impressive beaches. From sandy peninsulas to rocky shorelines, there are all types of beaches in Mayo.
Every year, hundreds of thousands of people visit Mayo from right across the Emerald Isle and beyond for the warm welcome, beautiful scenery, great craic, and of course, the many beautiful beaches.
Whether you're looking for a sunset stroll along a sandy beach, a place perfect for a dip or perhaps a world-renowned beach, Mayo has it all. So, grab your beach towel: here are our five best beaches in Mayo, ranked!
5. Bertra Strand — a uniquely shaped beach
Just a short drive from Westport, this mainly sandy beach is truly picturesque. Overlooked by Croagh Patrick, this uniquely shaped beach is a narrow strand that juts out into the Atlantic Ocean.
In the distance, you should be able to spot Ireland's largest island, Achill Island. With views like these, it's no wonder why it's one of the best beaches in Mayo.
This is the perfect place to go for an evening stroll while watching the kitesurfers take to the waters. Its countless sand dunes are also a haven for local birdlife. If you enjoy birdwatching, this is the best beach in Mayo for that.
Address: Bertra Beach, Bertra Road, Thornhill, Westport, Co. Mayo
4. Portacloy Beach — off the beaten track
Surrounded by towering cliffs, Portacloy Beach is one of Mayo's greatest hidden gems. Nestled in a natural harbour, the waters here are like something out of a travel magazine. Although there isn't much else in Portacloy, the beach is definitely worth travelling to.
It is a beautiful and sheltered sandy beach that is popular with swimmers and snorkelers. We suggest packing a picnic and making a day of it on Portacloy Beach. Frequented by some of the local sheep, this is a picture-perfect image of the Emerald Isle.
Address: Cois Abhainn, Co. Mayo
3. Thallabawn Beach — one of the best beaches in Mayo for sunsets
Thallabawn Beach, also known as Silver Strand, is one of the most beautiful of Mayo's beaches. Although remote, this beach has beautiful golden sands and crystal clear waters.
The waters here can often be too choppy for swimming, but the waves make for the perfect place for surfers. If you like to bring out a surfboard, Thallabawn Beach is one of the best beaches in Mayo for you to hit.
Thallabawn Beach is the place to be if you're after a whopper of a sunset, too. The scenery is truly spectacular, with views out west over the Atlantic Ocean, Clare Island, Inishturk, and Inishbofin.
Watch the sun dance against the waters of the ocean as it dips behind the islands and over the horizon — truly magical!
Address: Silver Strand, A378, Thallabawn, Doovilra, Louisburgh, Co. Mayo
2. Elly Bay Beach — popular with kitesurfers
Near Bellmullet, the stunning Elly Bay is a beautiful beach that attracts people from all over Ireland. This fine sandy beach is clean and sheltered, making it perfect for those looking to go for a swim.
As well as swimming, those interested in watersports frequently visit the area to surf, kitesurf, and windsurf.
Situated amongst a bay of significant ecological importance, Elly Bay Beach is home to diverse natural habitats. Keep your eyes peeled for common seals, grey seals, porpoises, and bottlenose dolphins who often play in the waters here.
Elly Bay beach's diverse and stunning wildlife makes it easily one of the best beaches in Mayo.
Address: Irska, Ireland
1. Keem Bay — amongst best beaches in the world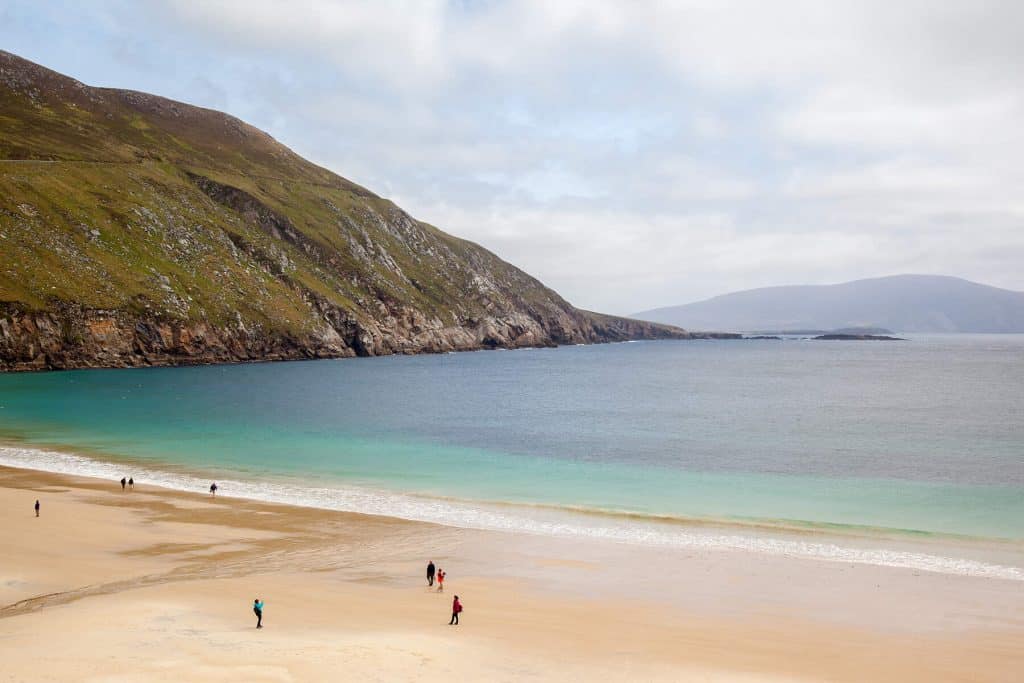 Keem Bay is the best beach in Mayo, but it is also amongst the best beaches in the world. Situated on the western side of Achill Island, this picturesque beach should not be missed when exploring County Mayo.
Surrounded by beautiful sea cliffs, this golden sand beach is jaw-droppingly beautiful.
Go for a dip in the inviting aqua blue waters, or if you're interested in seeing the world below, Keem Bay is part of Ireland's Blueway. Discover some of the amazing creatures who frequent the area either through snorkelling or paddleboarding.
Friendly basking sharks are just some of the beautiful creatures who call Keem Bay home.
Address: Co. Mayo, Ireland
More useful info on Irish beaches
The 10 best and most beautiful beaches in Ireland
Top 5 beaches in Dublin you need to visit before you die
Top 10 best beaches in Northern Ireland, ranked
Top 5 best beaches in Wicklow,
The 5 best-known nudist beaches in Ireland, ranked
Top 5 most beautiful beaches in Donegal
The 3 best beaches in County Meath
The 5 best beaches in County Mayo
Top 5 best beaches in County Wexford
Top 5 best beaches near Limerick
Benone Beach: when to visit, what to see, and things to know