Tipped as being one of the most magnificent scenic stretches the world-over, here is all you need to know about the Ring of Kerry route on the west coast of Ireland.
As one of Ireland's top tourist attractions, the Ring of Kerry can be recognized all over the world for its beautiful scenery, rugged coastlines, and rolling countryside.
If you're planning a trip to the 'Kingdom County', then here is everything you need to know about the Ring of Kerry route.
Basic info – the essentials
Route: Ring of Kerry route
Distance: 179 kilometres (111 miles)
Start / End Point: Killarney, County Kerry
Duration: 3-3.5 hours (without stopping)
Overview – in a nutshell
The Ring of Kerry route is one of Ireland's most famous attractions.
Located in Kerry – colloquially known as 'the Kingdom' of Ireland – the scenic loop is famous for its awe-inspiring landscapes, remote beaches, weather-worn cliffs, heritage sights, and charming country towns.
If you're looking for a slice of 'real Ireland', you'll find it here.
When to visit – the months in question
The last decade has seen a significant increase in visitors, both local and international, to the Ring of Kerry. Today, it is one of the Emerald Isle's most coveted destinations.
If you want to enjoy the Ring of Kerry route without being stuck behind a tour bus or standing shoulder to shoulder at its key sights, avoid high summer.
Spring and autumn often offer mild weather, and without the crowds to reckon with, the beauty of this unique part of Ireland will truly come to life.
Winter is a magnificent time to visit too, and you're bound to get great deals on hotels, although the weather will be much colder and wetter.
Key stops – what not to miss
There are many stops along the Ring of Kerry route that should not be missed.
The town of Killarney (the start and endpoint) is a gem in itself, buzzing with charming pubs and independent shops worth wandering around.
Killarney National Park – home to Ross Castle, Muckross House, and Torc Waterfall – is another one of the top things to do in Kerry.
Make sure to stop off at the stunning Rossbeigh Beach for a dip in the Atlantic Ocean and take a boat ride to the mind-blowing Skellig Islands (where Star Wars was filmed).
Directions – how to get there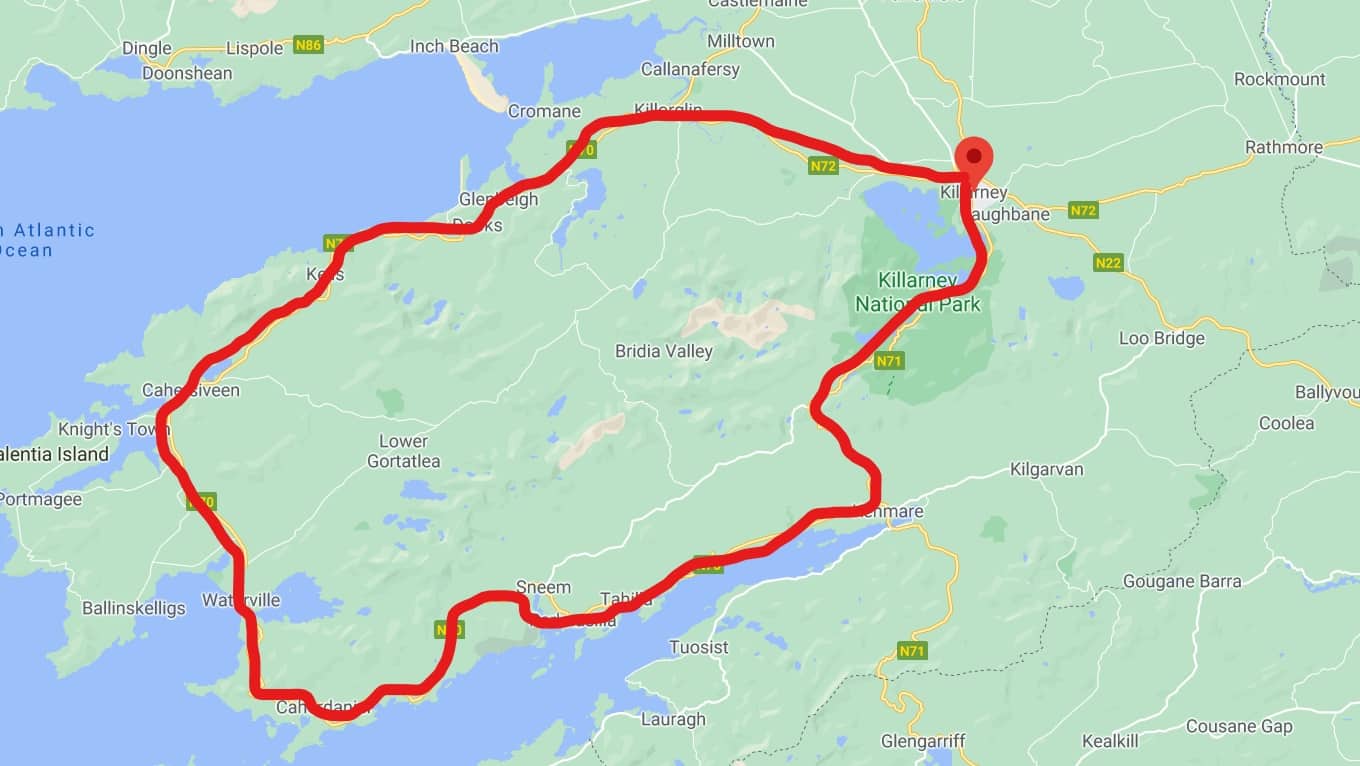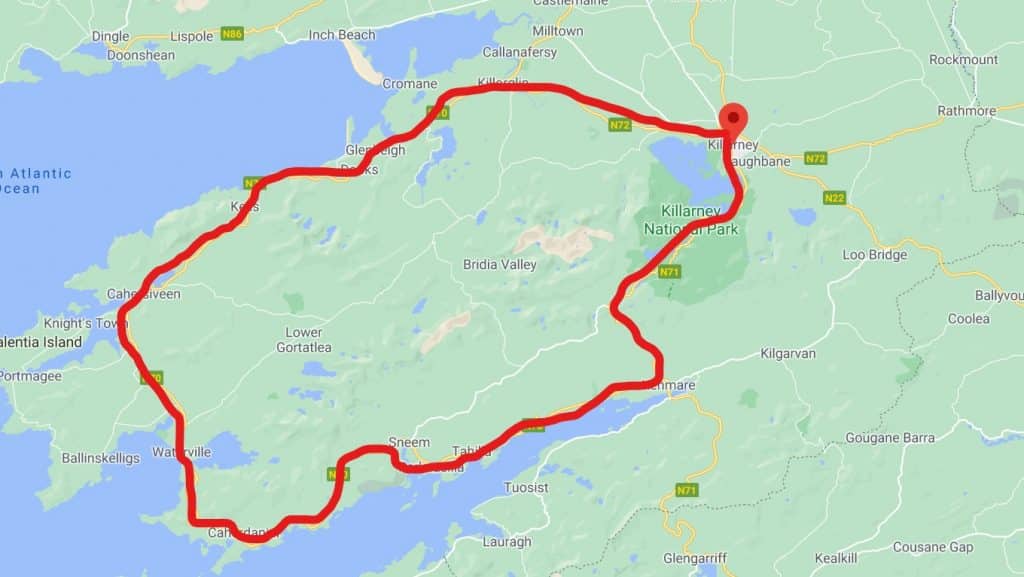 Beginning and ending your journey in the town of Killarney makes the Ring of Kerry route an easily accessible feat when journeying from anywhere else in Ireland.
Once you've begun the Ring of Kerry, make sure to travel in a clockwise direction to avoid getting stuck behind caravans and buses (which are only allowed to travel anti-clockwise).
How long is the experience – how your time will be spent
The Ring of Kerry route is 179 kilometres (111 miles) long and is a looped track.
Those travelling by car can experience the entire Ring of Kerry route in 3-3.5 hours without stopping. Although, from an experiential perspective, we advise you to give yourself as much time as possible.
The Ring of Kerry is a hive of sights to see, attractions to encounter, and culture to experience. The option to get off the beaten track thrives in abundance here, and we always encourage our readers to explore the roads less taken.
To make the most of your experience, we would advise three days to explore the Ring of Kerry route at ease.
Where to eat – for the love of food
The Ring of Kerry is home to some seriously epic eateries, ranging from local bistros and independent coffee shops to more upmarket dining destinations.
Bricín Restaurant and Boxty House is a family-favourite located in Killarney and offers a traditional Irish dining experience with food to knock your socks off.
The award-winning Yew Tree Restaurant at Muckross Park Hotel is ideal for those who like to dine in five-star surroundings.
The Strawberry Field near Blackwater is a quirky little pancake house perfect for those who have a sweet tooth.
For those who are craving a classic Irish setting, make sure to stop by O'Neills The Point Seafood Bar nearby the ferry terminal to Valentia Island.
Where to stay – for a golden slumber
The Ring of Kerry route is ripe with places to stay depending on your budget and accommodation preferences.
If you're the type of traveller who finds comfort and ease at a local B&B, we would suggest the Brookhaven House Bed & Breakfast in Waterville or the charming Grove Lodge Guesthouse in Killorglin.
For those who prefer island vibes, head to the three-star Sea Lodge Hotel on Valentia Island. In terms of four-star stays, make sure to check out The Lake Hotel in Killarney or the Parknasilla Resort & Spa.
If five-star is what you're after, it has to be the luxurious Sheen Falls Lodge which is bound to offer you a blissful stay in high style.