Craving a coastal adventure? The Beara Peninsula is a treasure trove of natural beauty, outdoor adventure, ancient heritage sites, and charming coastal communities.
The Beara Peninsula dances the border of County Cork and Kerry. Hugging the waters of the wild Atlantic Ocean in the southwest of the country, the region boasts the benefits of both luscious landscapes and striking sea views.
With historical significance, magnificent mountain ranges, and popular sights of interest, there is much to see and do on the Beara Peninsula. Here is all you need to know, including when to visit and what to see while you're there.
IB4UD's top 5 facts about the Beara Peninsula
The peninsula is named after an ancient Irish princess, Béarra, who was the wife of the chief Eoin Mór (Eoin the Great).
The peninsula is home to the Beara Way, a long-distance walking trail that spans approximately 128 miles and offers hikers breathtaking views of the landscape.
Dursey Island, located off the western tip of the Beara Peninsula, is Ireland's only inhabited island that is connected to the mainland by cable car.
Castletownbere, or Castletown-Bearhaven, is one of Ireland's largest fishing ports and is known for its bustling harbour and annual Castletownbere Seafood Festival.
The Beara Peninsula has a rich archaeological heritage, with numerous megalithic stone circles and standing stones scattered across the landscape. The Derreenataggart Stone Circle are popular sites to explore.
Overview – what you need to know about the Beara Peninsula
The Beara Peninsula juts out into Atlantic waters. To its north is the Kenmare River in Kerry; to its south is Bantry Bay in West Cork.
Today it is a rural peninsula, yet its population peaked at nearly 40,000 inhabitants during the Great Famine, and evidence of people on this stretch of land dates back as far as 3,000 BC.
The region is rich in heritage sites and natural attractions, making it a low-key alternative to the nearby Ring of Kerry, which can become wildly overpopulated during the summer months.
When to visit – according to weather, crowds, and prices
As expected, the busiest time to visit the Beara Peninsula is during the summer. Traffic will be denser and attractions busier.
Furthermore, the price of accommodation will generally be higher, and reservations for restaurants and certain attractions are advised well in advance.
For those who prefer peace and quiet, spring and autumn provide the best of both worlds. The weather can still be somewhat balmy, and there's less footfall to reckon with.
What to see – beautiful sights
Many unique attractions on the Beara Peninsula earn it the title of a 'must-visit' on any travel itinerary.
Dursey Island Cable Car – Ireland's only cable car – swings a whopping 820ft (250m) over the thrashing sea below, making it a memorable experience in itself, not to mention that Dursey Island, one of the best islands off County Cork is a sight for sore eyes.
Beaches, such as the white sand strand of Ballydonegan, also make for a great activity when visiting the Beara Peninsula. If scenic drives are more your thing, check out Healy Pass or Kilcatherine Point.
READ ALSO: Top 5 best beaches in Kerry, ranked
How long is the experience – how much time you will need
One of the best ways to experience the Beara Peninsula is by following the Ring of Beara route. This tourist trail hits most major sights and is about 130-150 km (80-93 mi), depending on which course is taken.
Although the route can be travelled by car in as little as a few hours, we suggest you give yourself at least a couple of days to explore all that the Beara Peninsula has to offer.
Where to eat – delicious food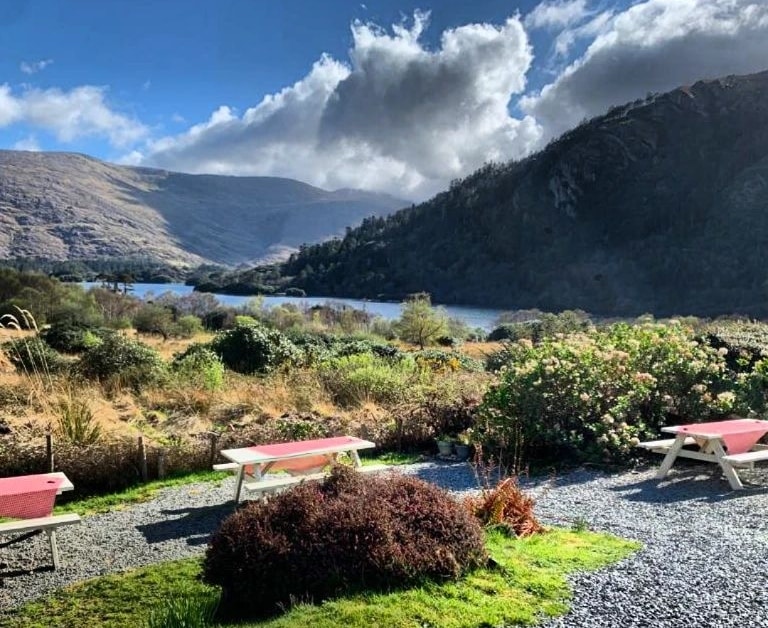 You can find modern Irish cuisine with a touch of home comforts at Josie's Lakeview House on the Beara Peninsula. For those seeking seafood, the family-run restaurant, Ocean Wild, will not disappoint.
Pub dinners go for gold at O'Neill's in Allihies. Think traditional pub surroundings of wood panelling, solid pints of Guinness and piping hot plates of freshly-caught fish and chips.
Where to stay – cosy accommodation
If a warm Irish welcome is what you're after, we'd suggest staying in a B&B, and Mossie's on the Beara Peninsula gets our vote. There are five rooms, all with a different theme and excellent views.
Alternatively, the three-star Casey's Hotel is perfect for those looking for a no-frills experience without sacrificing hotel benefits. There's an Irish restaurant on-site, a bar and a patio for dining al fresco on warmer days.
The five-star Sheen Falls Lodge gets the gold star for stays on the Beara Peninsula. Fitted and kitted with all you could want and more, a stay at Sheen Falls is nothing short of spectacular.
RELATED: The 5 best LUXURY spa hotels on the Ring of KERRY
What's nearby – what else to see in the area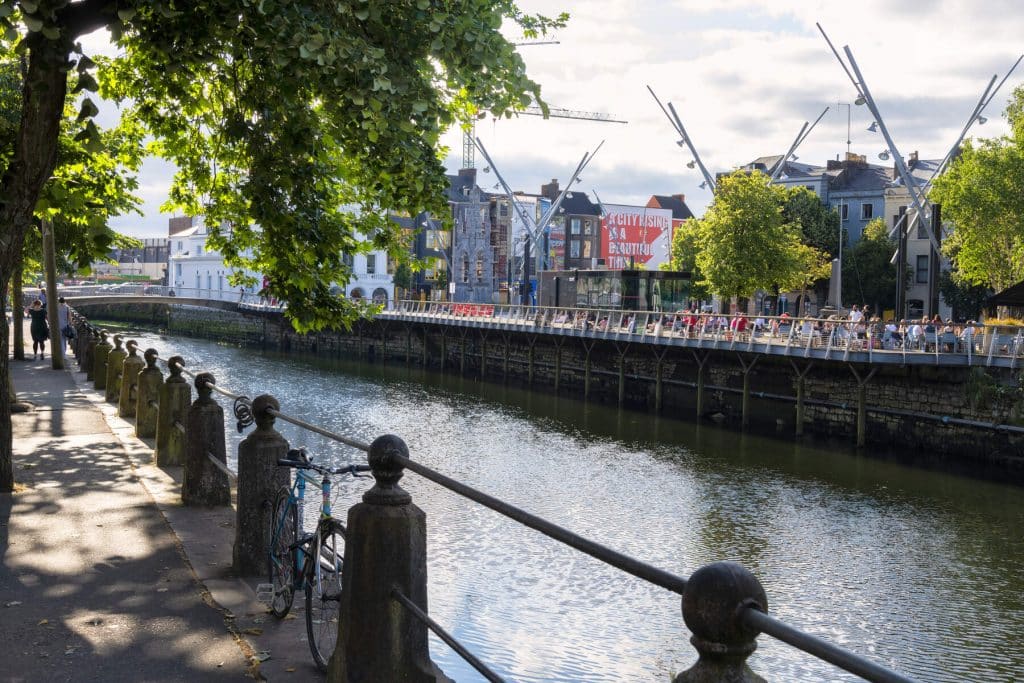 Cork city is just two hours from the Beara Peninsula by car and makes for a great contrasting experience before or after visiting the Beara Peninsula.
If time allows and you're keen to explore more scenic tourist trails in Ireland, the nearby Ring of Kerry never fails to impress.
READ ALSO: 5 things the locals love to do in Cork City
Reasons why you need to visit the Beara Peninsula
If you still aren't convinced to visit this beautiful area, here are ten reasons why you should go!
It's less crowded
Which tourist doesn't go to the Ring of Kerry? You will find busloads, literally, on the Ring. For sure, Kerry has its beauty. The scenery is certainly amazing. But you will find that on the Beara Peninsula, too.
It has a lot of desolate lands where you can take a break from anything that might be bothering your life.
The amazing Ballydonegan Beach (near Allihies)
This is a big, white sand beach. You will have a view of the typical green Irish landscape as well. It's basically like having the best of both worlds.
Now even in Ireland, you have some hot days. But remember, if you would like to go for a swim, it's the Atlantic ocean you're jumping in. Unless you are fond of cold water, paddling is the most you can do.
The sensational road between Allihies and Castletownbere
After you have taken a walk along the beach, get into your car and drive towards Cahermore to end up in Castletownbere at the end.
It's the kind of road trip where you will need a cup of coffee or stronger afterwards to digest the impressions.
Luckily Castletownbere has enough nice places to find that drink you need. Just have a look around the harbour.
The beautiful Kilcatherine Point
It feels like the end and the beginning of the world if you are standing on Kilcatherine Point. If the weather is kind to you, you will have an amazing view of the endless ocean.
If you turn your head to the right, you see the contours of the Ring of Kerry across the Kenmare River.
Getting there is an adventure. You will meet a few potholes along the way, so be careful driving towards the end and the beginning of the world.
Colourful Eyeries
So, you definitely need to see some coloured houses when you visit Ireland. And you will be able to do that in Eyeries.
Taking pictures is quite easy because you are in a part of Ireland without heavy traffic. Furthermore, the tallest known Ogham stone (Ballycrovane) is just around the corner.
Derreen Gardens
If you had too much to eat, don't worry. Just head over to the Derreen Gardens for a walk. It's the perfect place to see some fairies.
If they are not at home, you can still admire their houses and their surroundings with subtropical plants.
The scenic Healy Pass
We have seen the Healy Pass in almost every weather condition, and it has never let us down. It doesn't matter if you travel from Adrigole towards Lauragh or the other way around, you will want to stop often!
Back home, you will be spending a lot of time choosing which picture to keep out of the thousands you took.
This unknown road
This is a road you do not take unless you are lost. A road you only find if you're adventurous enough to leave the main roads.
A road we haven't found in any book so far, and now you know about it! It's rural Ireland at its best, complete with amazing scenery.
If you are in Ardgroom, take the Inward Road to Reenavaude and head over to the Cuas Pier Caves for a stop. Then take the road towards Cleandra and stay close to the coast.
Notable mentions
The Beara Way: Walkers will head from Glengairff to the scenic, circular, Beara Way, a beautiful route that hugs the hills and coastlines.
McCarthy's Bar: This is a venue for author Pete McCarthy's night of drink, talk, song and dance so vividly described in his 2000 book, McCarthy's Bar.
Your questions answered about the Beara Peninsula
We have you covered if you still have questions. Below, we've compiled some of our readers' most frequently asked questions that have been asked online about this topic.
What is there to do on the Beara Peninsula?
You can do everything from trying out the cable car, going for a hike or a walk, or dining out at a lovely bar or restaurant.
What are the most unique things to do on the Beara Peninsula?
Like we said before, Dursey Island really is a sight for sore eyes. It's one of the most unique things to do on the Peninsula.
When should I visit?
Summer is always going to be the busier time of year to visit. If you can visit in the spring or autumn, the crowds won't be as big.