There's so much to see in Ireland from quaint fishing villages to dramatic landscapes and historic towns, here are ten Irish towns you must visit before you die.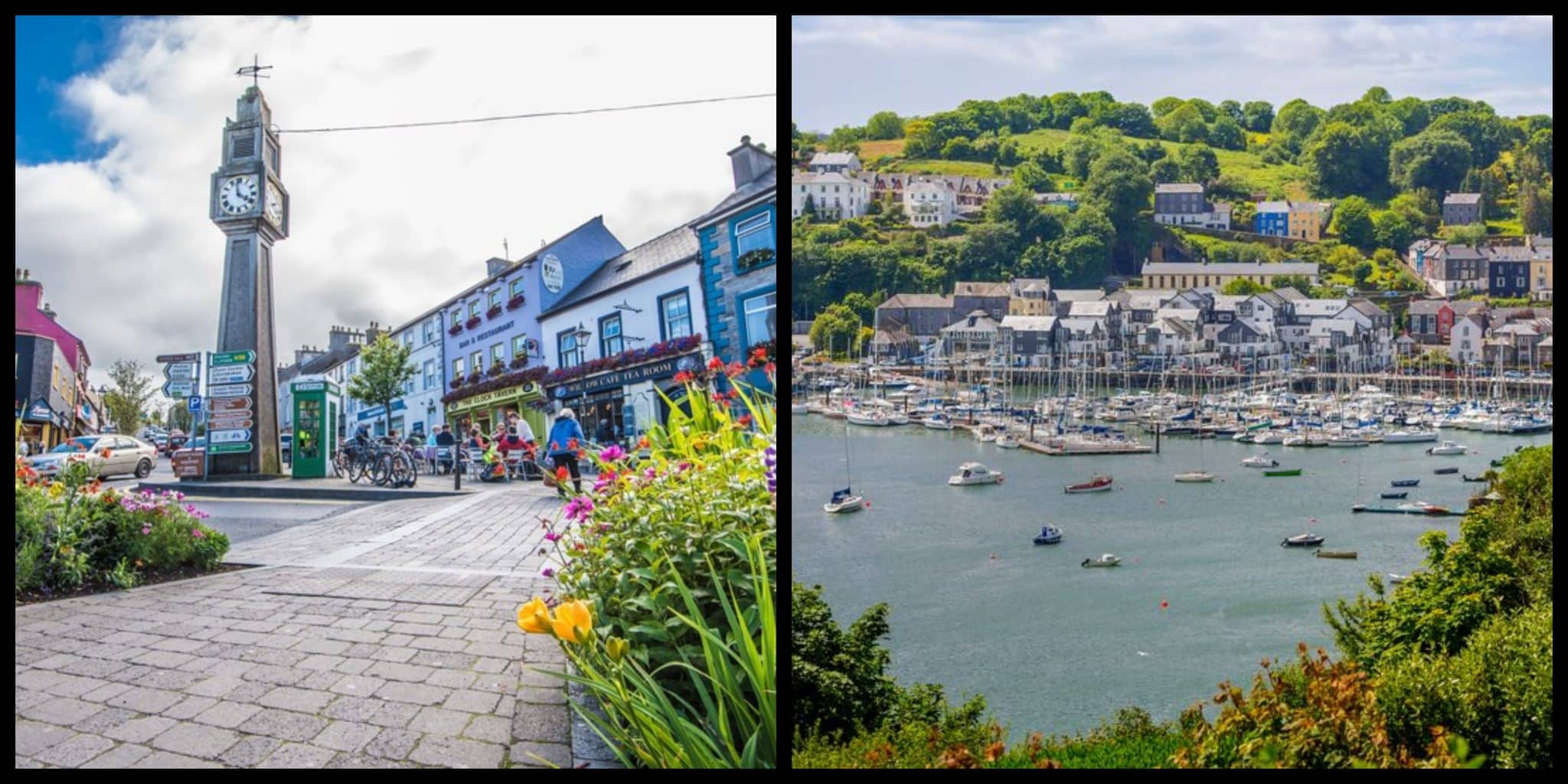 When you're planning a trip to Ireland, you've probably got your sights set on the country's capital city, Dublin. But Ireland has so much more to offer from quaint little seaside towns, mountainous countryside, and historic villages. It can be a difficult thing to pick out the best towns to visit in Ireland, there are so many amazing ones.
Dublin is definitely a must-see, but travelling outside of the buzzing metropolis is the perfect way to explore Ireland as you can see everything the country has to offer. Here are our top ten Irish towns you must visit before you die, so keep reading for some inspiration.
10. Carlingford, Co. Louth – surrounded by breathtaking scenery
Carlingford is a coastal town on the Cooley Peninsula between the waters of Carlingford Lough and Slieve Foye mountain. The town has retained its medieval uniqueness with its narrow streets and castles, including the 12th-century King John's Castle.
As well as being a great place to soak up the traditional Irish atmosphere and breathtaking scenery, Carlingford is well-known for its oyster farms. It's a great place to stop if you are a fan of fresh seafood.
9. Kilkenny, Co. Kilkenny – one of the best towns in Ireland and home to history
Kilkenny is a medieval town in southeast Ireland. It is home to the grand Kilkenny Castle, built by Norman occupiers in 1195.
Built on both banks of the River Nore, Kilkenny is home to several historic buildings, including Kilkenny Castle, St. Canice's Cathedral and round tower, St. Mary's Cathedral, and Kilkenny Town Hall.
The town is also known for its craft and design workshops, public gardens, and museums. It's truly one of the best towns in Ireland.
8. Athlone, Co. Westmeath – a superb weekend getaway
Athlone is a town in County Westmeath located on the River Shannon. There is plenty to see here, including Athlone Castle and the stunning views of the river from the town.
If you're travelling to Galway from Dublin, it's worth taking a short detour to stop off at Athlone for a tour of the town and a quiet bite to eat.
7. Killarney, Co. Kerry – one of the best towns to stay in Ireland
Killarney is one of the main stops on the Ring of Kerry. It is one of the most beautiful towns in Ireland and one of the best towns to stay in all of Ireland too.
The area's main attraction is Killarney National Park where you can visit Torc Waterfall, Muckross House, Ross Castle, and much more. The town is also home to some great traditional Irish bars and restaurants where you can grab a delicious bite to eat.
6. Dun Laoghaire, Co. Dublin – a vibrant port town and one of the best towns to visit in Ireland
A quiet retreat just 12 km outside the bustling Dublin City Centre, you will find the vibrant port town of Dun Laoghaire.
While you're here, you can take a stroll along the beautiful East Pier and indulge in some delicious fish and chips. You can also check out the National Maritime Museum of Ireland which is home to nautical art and artefacts.
5. Kenmare, Co. Kerry – quaint and colourful
Kenmare is a quaint and colourful town on Ireland's Ring of Kerry. The town is full of great pubs and restaurants serving gourmet food, so it's the perfect place to stop off for some lunch or dinner.
The name Kenmare comes from the Irish Ceann Mara, which means "head of the sea", referring to the head of Kenmare Bay.
4. Kinsale, Co. Cork – a foodie's paradise
Kinsale is a historic port and fishing town on Ireland's southeast coast in County Cork. Visitors can enjoy several activities, including yachting, sea angling, and golf. It is also the start of Ireland's Wild Atlantic Way, making it the perfect starting point for an Irish road trip.
The town is also a must-visit for foodies. Kinsale is well known for its restaurants, including the Michelin-starred Bastion restaurant. It also holds many food festivals throughout the year.
3. Clifden, Co. Galway – perfect for exploring Connemara
The biggest town in the Connemara region, Clifden, is well worth a visit, especially if you're exploring the area. This County Galway town is the perfect base from which to explore Connemara National Park as it is home to lots of local pubs, restaurants, and places to stay. It's most definitely one of the best towns to stay in Ireland.
Set amongst the breathtaking Connemara scenery, Clifden is a must-see if you want to take in the best the Irish landscape Ireland has to offer. Take a drive along the 11 km Sky Road, from Clifden Bay to Streamstown Bay, on a clear day to make the most of the incredible views.
2. Dingle, Co. Kerry – picturesque and coastal
Dingle is a picturesque little port town on southwest Ireland's Dingle Peninsula. It is known for its rugged scenery, colourful buildings, and sandy beaches, as well as the harbour's longtime resident, Fungie the dolphin, who is celebrated by a statue on the waterfront.
Visitors can enjoy a stroll through the town, take part in some exciting watersports, and even try 'Ireland's best ice cream' from Murphy's.
1. Westport, Co. Mayo – one of the best towns to visit in Ireland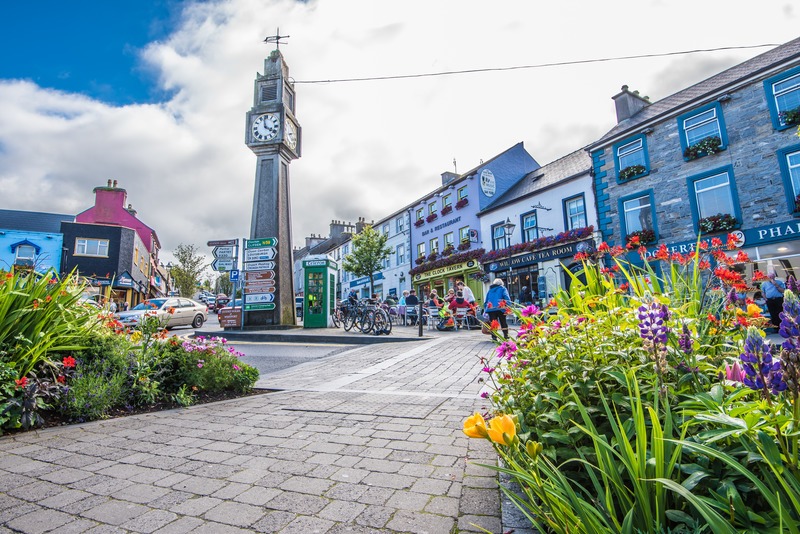 This picturesque little town on the edge of an Atlantic inlet next to Clew Bay in County Mayo is a must-see if you're visiting Ireland. Winning the award for 'Best Tourism Town' in 2014, Westport is famous for its colourful Georgian town centre and historic Westport House.
The award-winning Great Western Greenway, one of Ireland's most-talked-about walking and cycling trails, starts here, so it's a great place to take in some stunning Irish scenery.
We hope you visit all these best towns in Ireland. Let us know what you think of each, we promise you won't be disappointed.