There's so much to see in Ireland, from quaint fishing villages to dramatic landscapes and historic towns. Here are ten Irish towns you must visit before you die.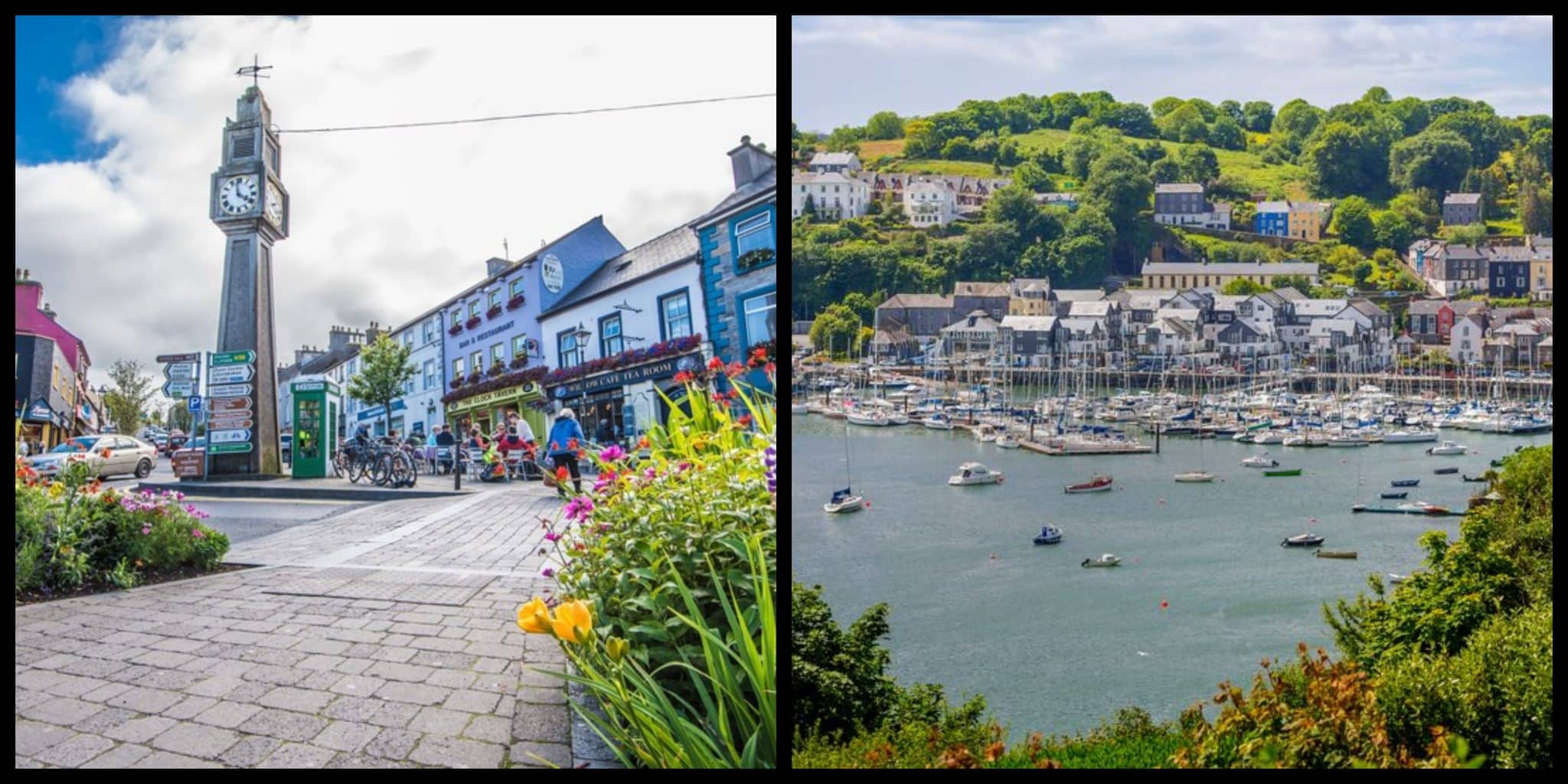 When you're planning a trip to Ireland, you've probably got your sights set on the country's capital city, Dublin. However, Ireland has so much more to offer, which is why we're listing the best towns to visit in Ireland.
From quaint little seaside towns to mountainous countryside to historic villages, it can be difficult to pick out the best towns to visit in Ireland. There are so many amazing ones!
Dublin is definitely a must-see, but travelling outside of the buzzing metropolis is the perfect way to explore Ireland as you can see everything the country has to offer.
Here are our top ten Irish towns you must visit before you die, so keep reading for some inspiration.
Tips and advice – useful info for your trip to Ireland
Booking.com – the best site for booking hotels in Ireland.
Best ways to travel: Hiring a car is one of the easiest ways to explore Ireland in a limited amount of time. Public transport to rural areas is not as regular, so travelling by car will give you more freedom when planning your own journeys and day trips. Still, you can book guided tours that will take you to all the best things to see and do, according to your preference.
Hiring a car: Companies such as Avis, Europcar, Hertz, and Enterprise Rent-a-Car offer a range of car rental options to suit your requirements. Cars can be picked up and dropped off at locations around the country, including at airports.
Travel insurance: Ireland is a relatively safe country. However, it is important to make sure you have appropriate travel insurance to cover unforeseen circumstances. If you're hiring a car, it's also important to make sure that you're insured to drive in Ireland.
Popular tour companies: If you want to save some time planning, then booking a guided tour is a great option. Popular tour companies include CIE Tours, Shamrocker Adventures, Vagabond Tours, and Paddywagon Tours.
10. Carlingford, Co. Louth – surrounded by breathtaking scenery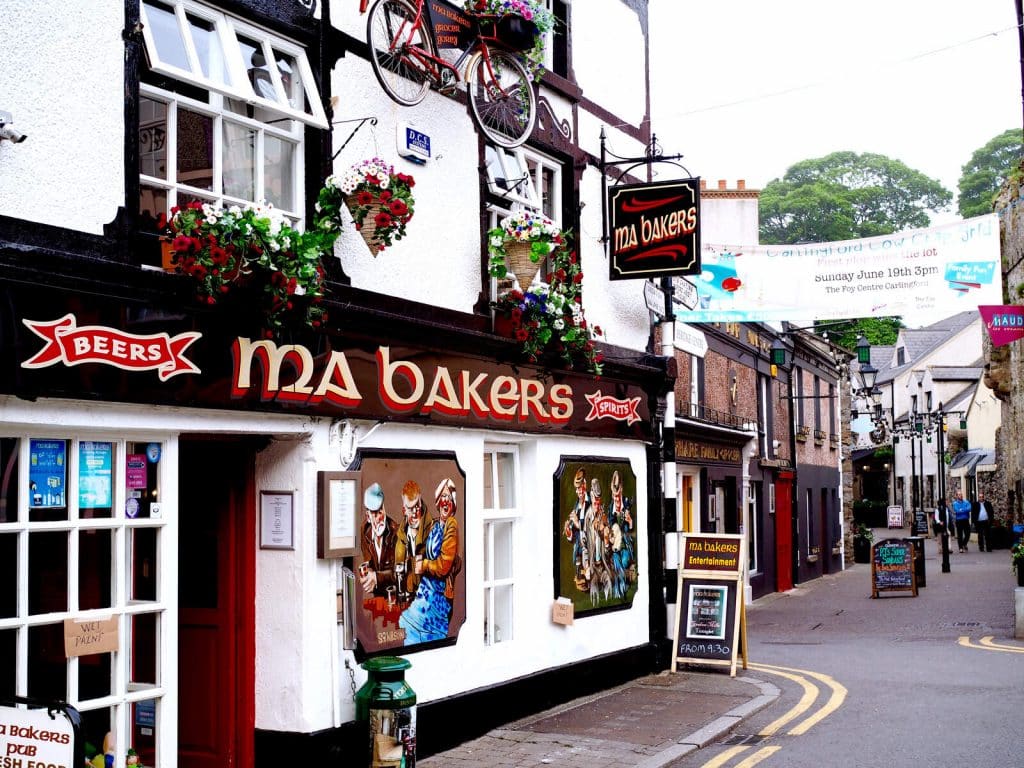 Carlingford is a coastal town on the Cooley Peninsula between Carlingford Lough and Slieve Foye mountain. The town has retained its medieval uniqueness with its narrow streets and castles, including the 12th-century King John's Castle.
As well as being a great place to soak up the traditional Irish atmosphere and breathtaking scenery, Carlingford is well-known for its oyster farms. It's a great place to stop if you are a fan of fresh seafood and one of the best towns to visit in Ireland.
Where to stay in Carlingford
Overlooking Carlingford Lough, the Four Seasons Hotel, Spa, and Leisure Club is the ideal place to stay for a luxury break. With comfortable rooms, a luxury spa, and onsite dining options, there are plenty of reasons to book a stay here.
This charming family-run hotel is located right at the heart of Carlingford town. Offering comfortable rooms, an onsite restaurant, and warm Irish hospitality, you won't regret booking a stay here.
For a budget stay in Carlingford, we recommend booking a room at the Oystercatcher Lodge Guest House. Guests can enjoy comfortable ensuite rooms and a central stay in the heart of the town.
9. Kilkenny, Co. Kilkenny – one of the best towns in Ireland and home to history
This medieval town in southeast Ireland is home to the grand Kilkenny Castle, built by Norman occupiers in 1195.
Built on both banks of the River Nore, Kilkenny is home to several historic buildings, including Kilkenny Castle, St. Canice's Cathedral and round tower, St. Mary's Cathedral, and Kilkenny Town Hall.
The town is also known for its craft and design workshops, public gardens, and museums. It's truly one of the best towns to visit in Ireland.
Where to stay in Kilkenny
This amazing five-star hotel is located less than ten minutes outside of Kilkenny City Centre. Boasting spacious, tastefully-decorated rooms, various dining options, and an onsite spa, this is a great place to stay.
Set on over 40 acres of parkland, Kilkenny's fantastic four-star Newpark Hotel is a great mid-range option. This hotel offers comfortable rooms and suites, an onsite health club and spa, and various dining options.
For those travelling on a budget, Kilkenny Tourist Hostel is an absolute must! Set in a 300-year-old Georgian townhouse, guests can choose between private and shared rooms.
8. Athlone, Co. Westmeath – a superb weekend getaway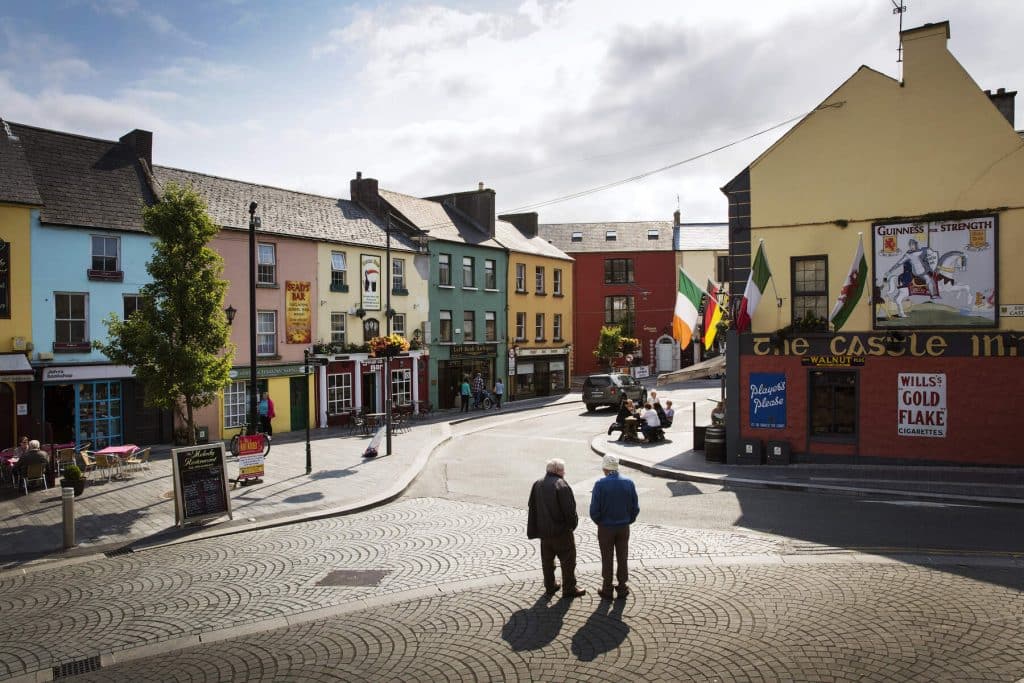 Athlone is a town in County Westmeath located on the River Shannon. There is plenty to see here, including Athlone Castle and the stunning views of the river from the town.
If you're travelling to Galway from the capital city of Dublin, it's worth taking a short detour to stop off at Athlone for a tour of the town and a quiet bite to eat. There's is lots to see and do here in one of the best towns to visit in Ireland.
Where to stay in Athlone
This beautiful four-star hotel is set on the banks of Lough Ree. Offering comfort and style, Wineport Lodge boasts various rooms and suites, onsite dining options, and a tranquil treatment suite.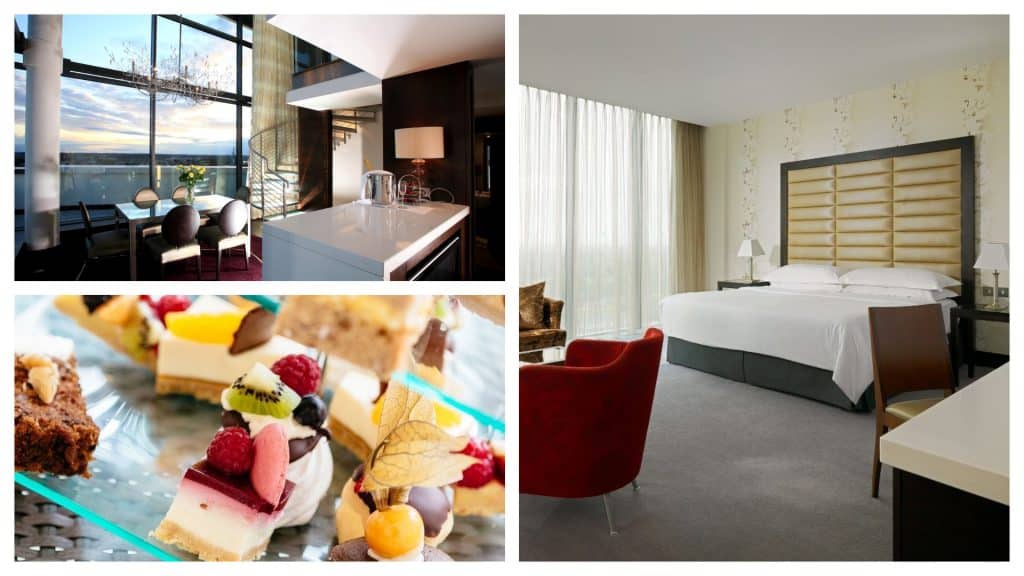 Part of the Marriott Collection, Sheraton Athlone Hotel is a fantastic four-star accommodation option with a pool, a luxury spa, and various onsite restaurants.
The Athlone Springs Hotel and Leisure Club offers luxurious accommodation at budget prices. Comfortable rooms, brilliant leisure facilities, and an onsite brasserie are just some of the highlights here.
7. Killarney, Co. Kerry – one of the best towns to stay in Ireland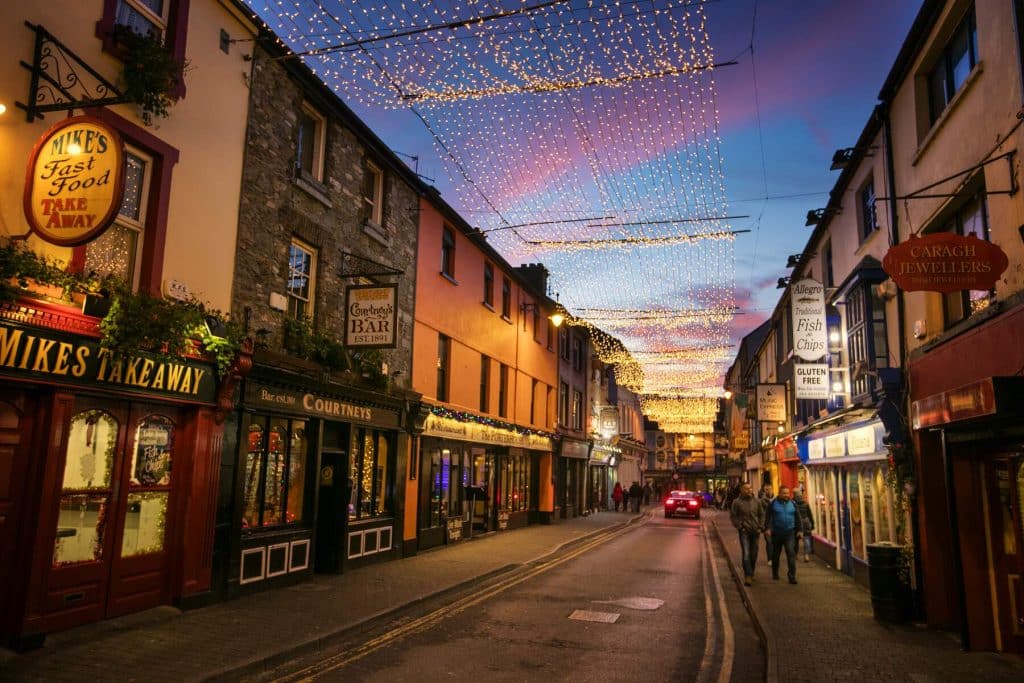 Killarney is one of the main stops on the Ring of Kerry. It is one of the most beautiful towns in Ireland and one of the best towns to stay in all of Ireland, too.
The area's main attraction is Killarney National Park, where you can visit Torc Waterfall, Muckross House, Ross Castle, and much more. The town is also home to some great traditional Irish bars and restaurants where you can grab a delicious bite to eat.
Where to stay in Killarney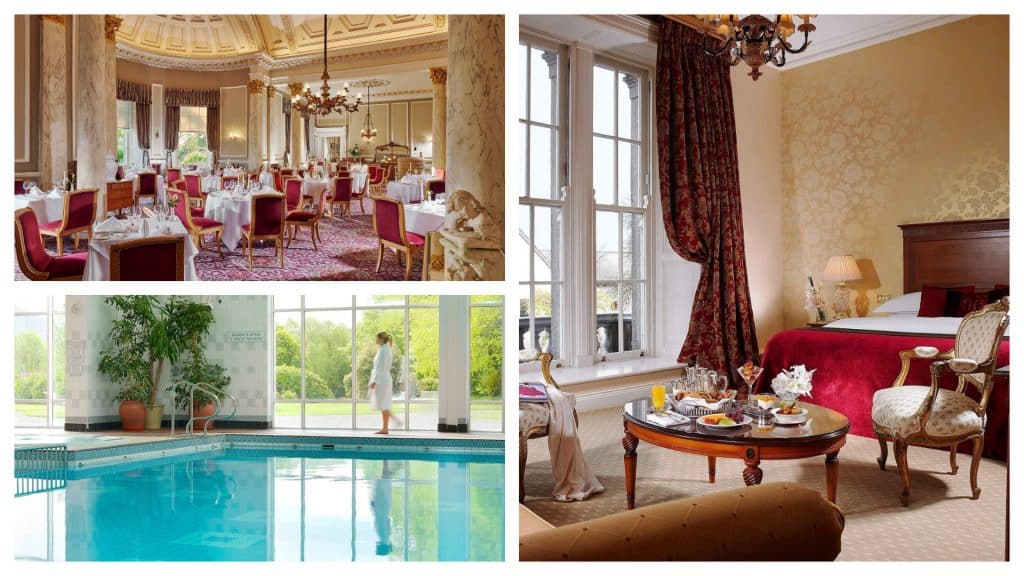 Built in 1854, the Great Southern Killarney claims the title of Killarney's Premier Historic Hotel. Boasting luxurious rooms and self-catering holiday homes, as well as an onsite bar, restaurant, and health club, you won't want to leave.
Located in Killarney town centre, the Killarney Plaza Hotel and Spa is a fantastic four-star accommodation choice that keeps guests returning time and time again. Highlights include cosy rooms, the relaxed Café du Parc, and an onsite spa and leisure centre.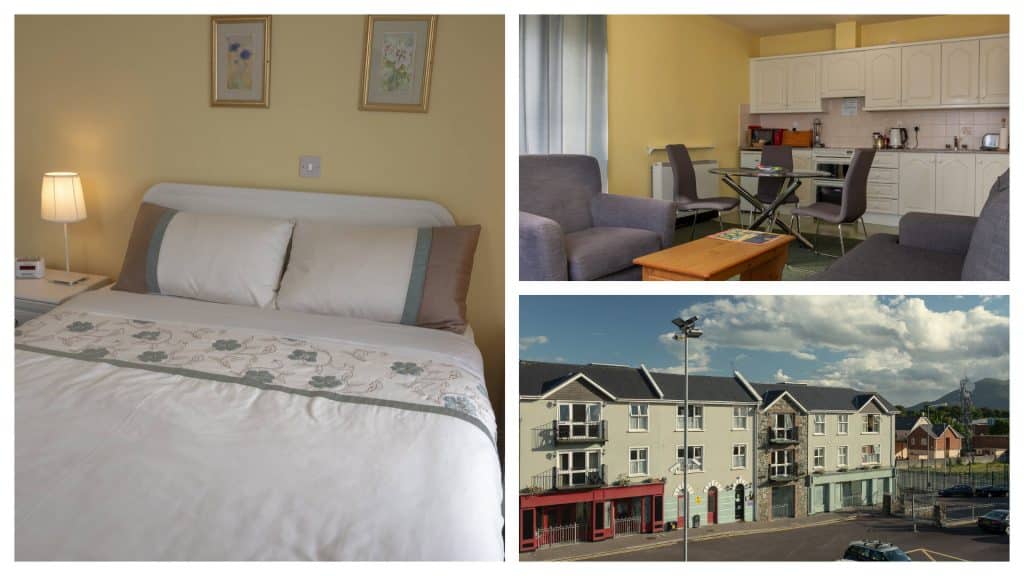 With various options depending on how many people you're travelling with, Killarney Self-Catering Haven Suites are the perfect option for those visiting the town on a budget.
6. Dun Laoghaire, Co. Dublin – a vibrant port town and one of the best towns to visit in Ireland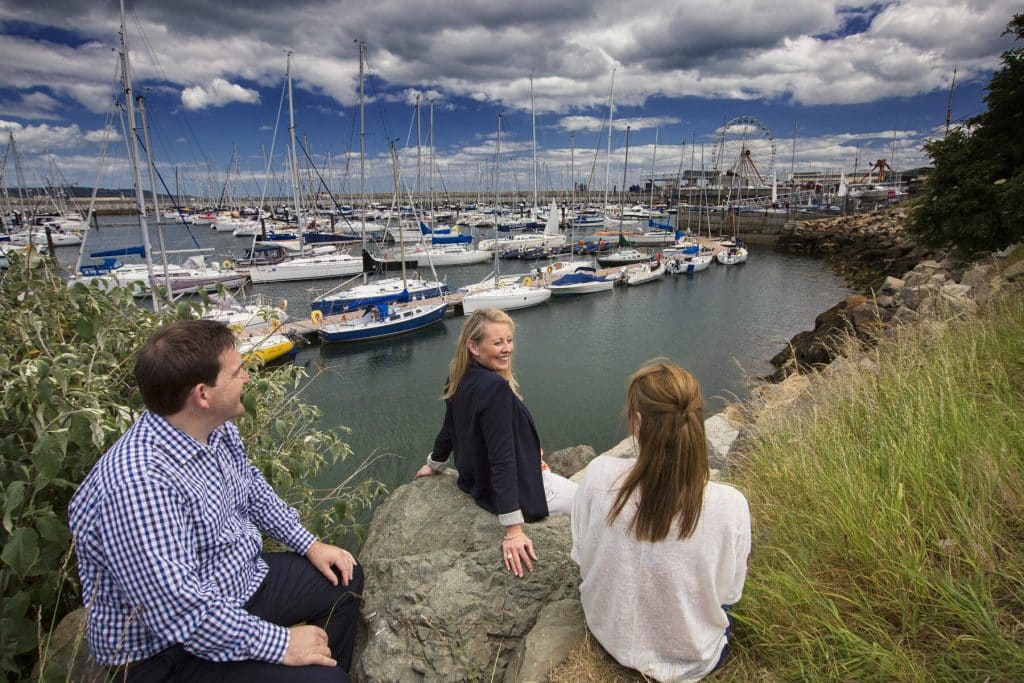 A quiet retreat just 12 km (7.5 miles) outside the bustling Dublin City Centre, you will find the vibrant port town of Dun Laoghaire, one of the best towns to visit in Ireland.
While you're here, you can take a stroll along the beautiful East Pier and indulge in some delicious fish and chips. You can also check out the National Maritime Museum of Ireland, which is home to nautical art and artefacts.
Where to stay in Dun Laoghaire
Made up of a selection of beautifully restored Victorian townhouses overlooking Dun Laoghaire Harbour, the 45 room Haddington House Hotel is the perfect place to stay for all types of travellers. Guests can dine at the hotel's very own Italian restaurant Oliveto and enjoy a drink at the Parlour cocktail bar.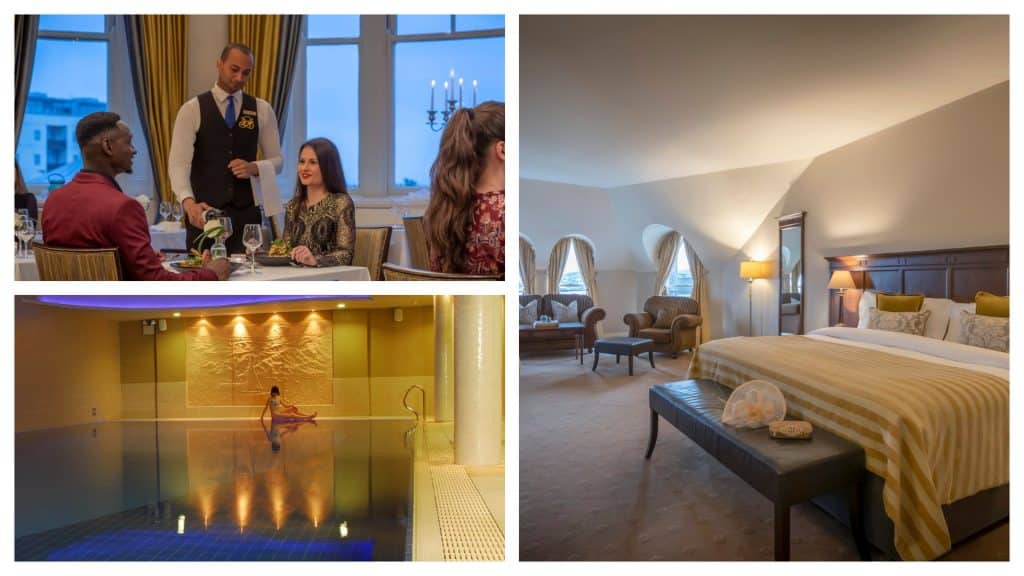 The beautiful Royal Marine Hotel is a fantastic option for mid-range accommodation in Dun Laoghaire. This four-star hotel has a traditional yet modern feel with comfortable rooms, various dining options, and an onsite spa.
Ophira Bed and Breakfast is a fantastic four-star guesthouse in the heart of Dun Laoghaire. Guests can enjoy comfortable rooms for less than €50 per night, with breakfast included.
5. Kenmare, Co. Kerry – quaint and colourful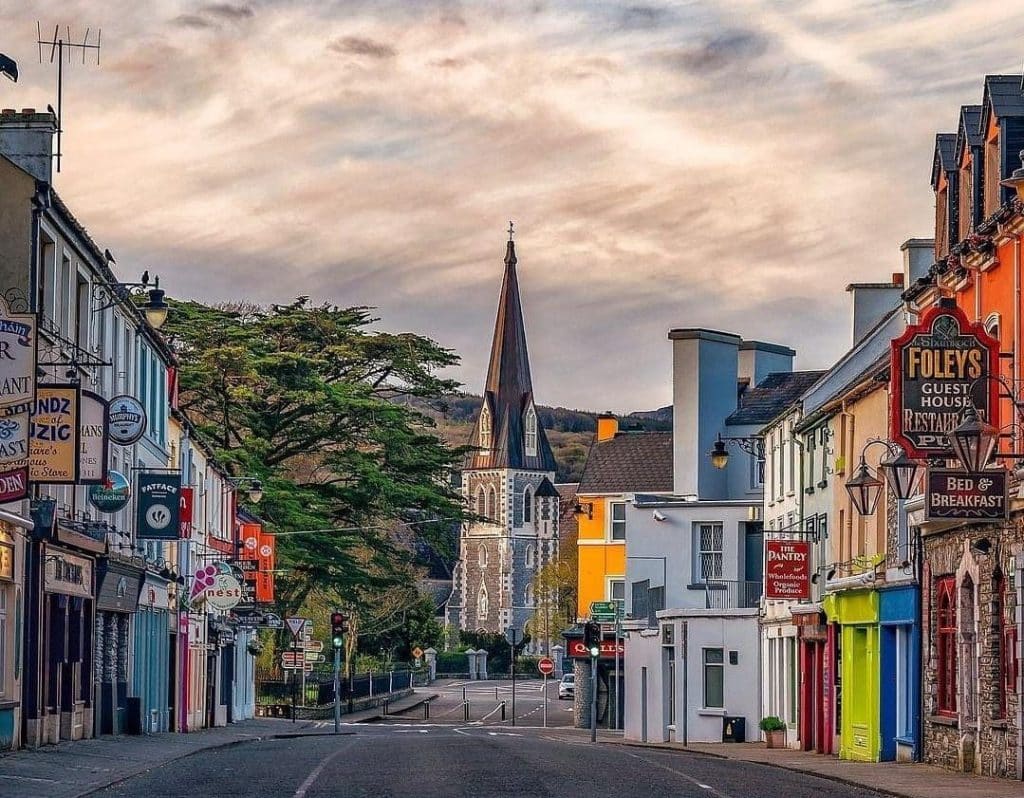 Kenmare is a quaint and colourful town on Ireland's Ring of Kerry. The town is full of great pubs and restaurants serving gourmet food, so it's the perfect place to stop off for some lunch or dinner.
The name Kenmare comes from the Irish Ceann Mara, which means 'head of the sea', referring to the head of Kenmare Bay.
Where to stay in Kenmare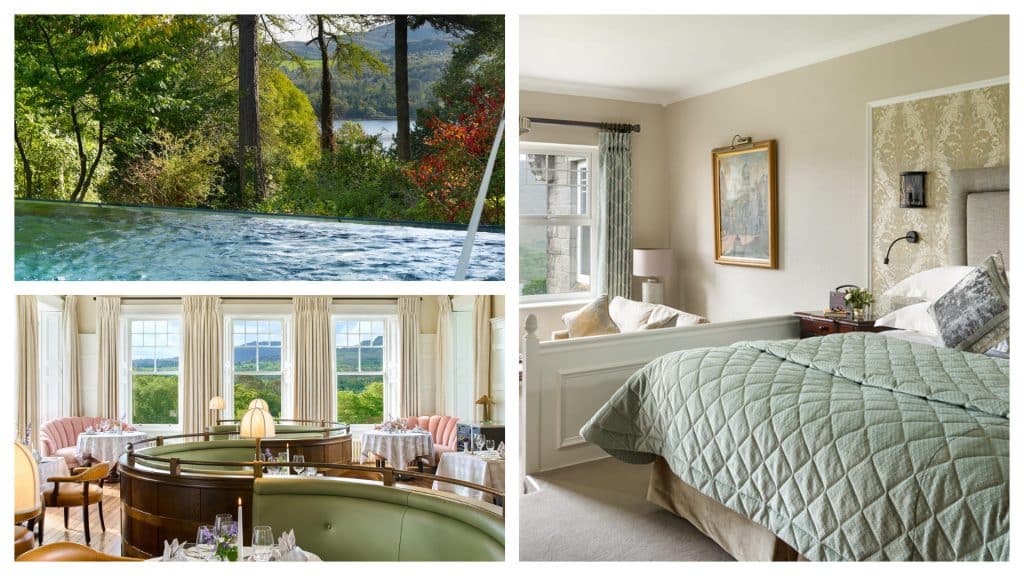 Perhaps one of the most luxurious hotels in all of Ireland, the Park Hotel Kenmare is a bucket list must. This five-star hotel boasts unique and luxurious rooms, opulent onsite restaurants and bars, and, of course, the iconic SÁMAS Spa with its beautiful infinity pool.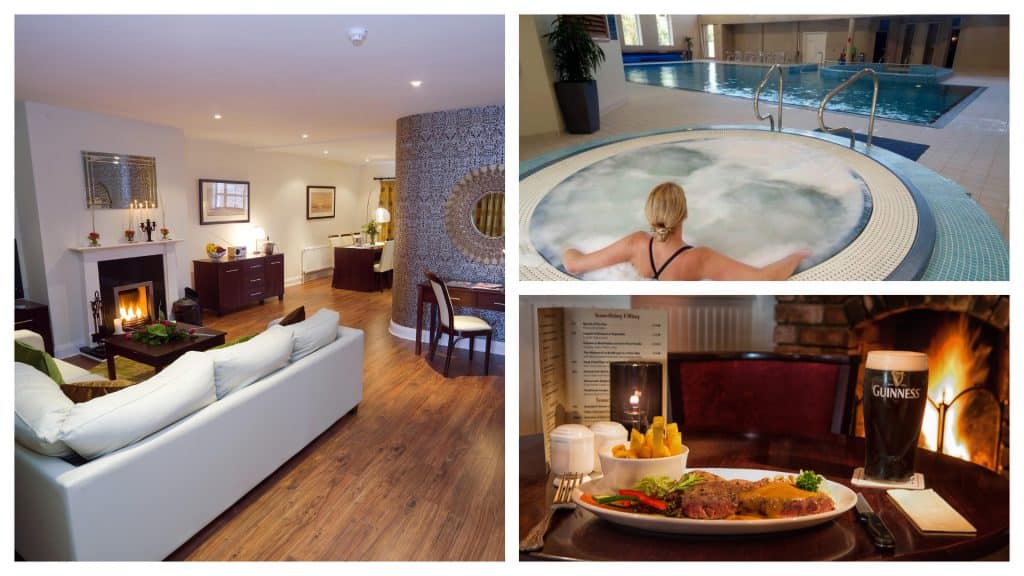 Situated just a short walk from the heart of the charming Kenmare town, the Kenmare Bay Hotel is a great option for a cosy stay. With various rooms, suites, and lodges to choose from, there is something for everyone here.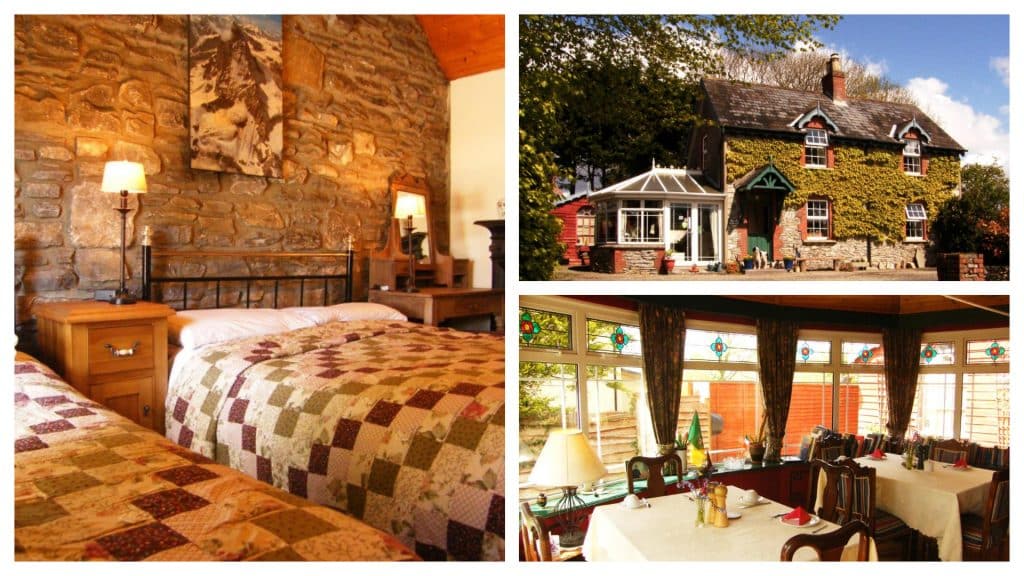 Travelling to Kenmare on a budget? If so, then we recommend checking out the wonderful Druid Cottage. Quaint and traditional, guests can enjoy comfortable ensuite rooms and warm Irish hospitality.
4. Kinsale, Co. Cork – a foodie's paradise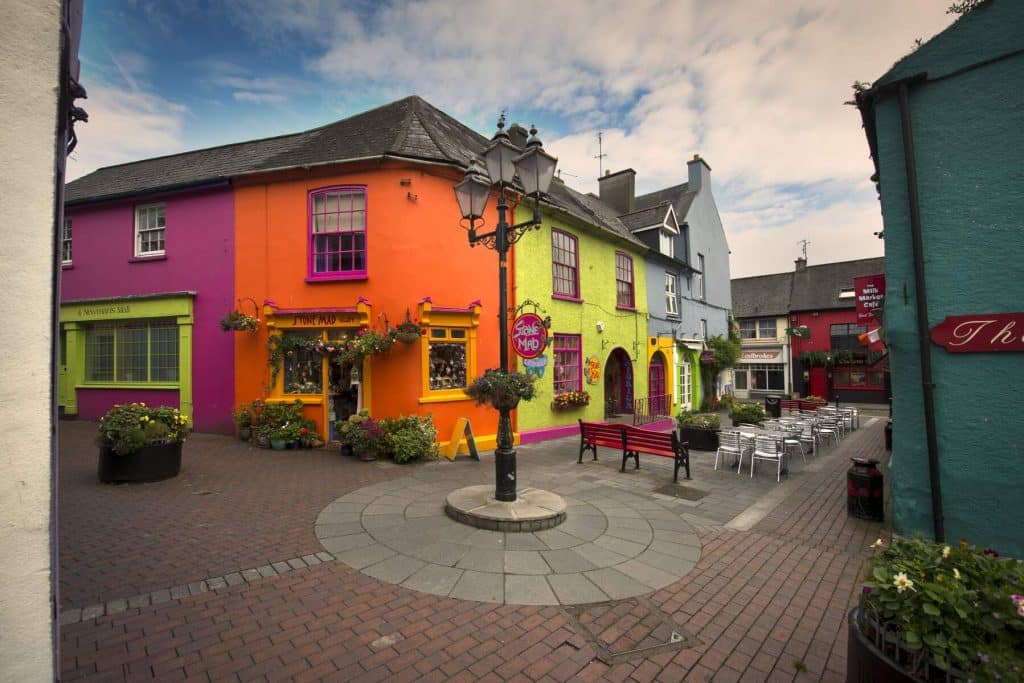 Kinsale is a historic port and fishing town on Ireland's southeast coast in County Cork. Visitors can enjoy several activities, including yachting, sea angling, and golf. It is also the start of Ireland's Wild Atlantic Way, making it the perfect starting point for an Irish road trip.
The West Cork town is also a must-visit for foodies. Kinsale is well known for its restaurants, including the Michelin-starred Bastion restaurant in the town centre. It also holds many food festivals throughout the year.
Where to stay in Kinsale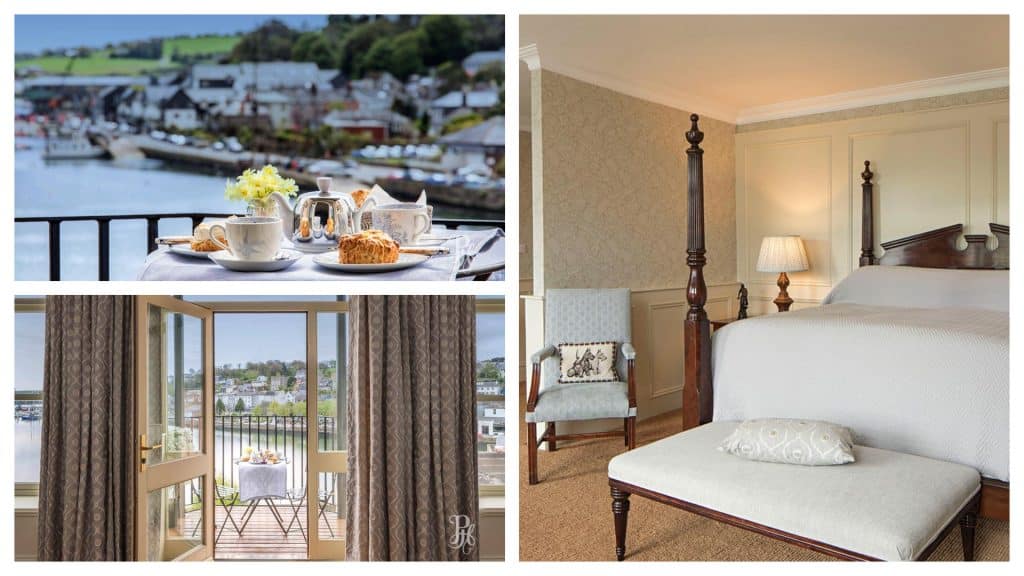 The elegant Perryville House is one of our favourite luxury escapes in the southwest of Ireland. Overlooking Kinsale Harbour, this boutique hotel boasts stunning period rooms, an exceptional breakfast, and stunning gardens.
The beautiful Trident Hotel in Kinsale is a wonderful four-star luxury hotel that offers an incredible stay at a more affordable price. With various rooms and suites to choose from, as well as various dining options, this is a great option for an unforgettable stay.
For comfortable, affordable accommodation close to Kinsale town, we highly recommend booking a room at the K Kinsale.
3. Clifden, Co. Galway – perfect for exploring Connemara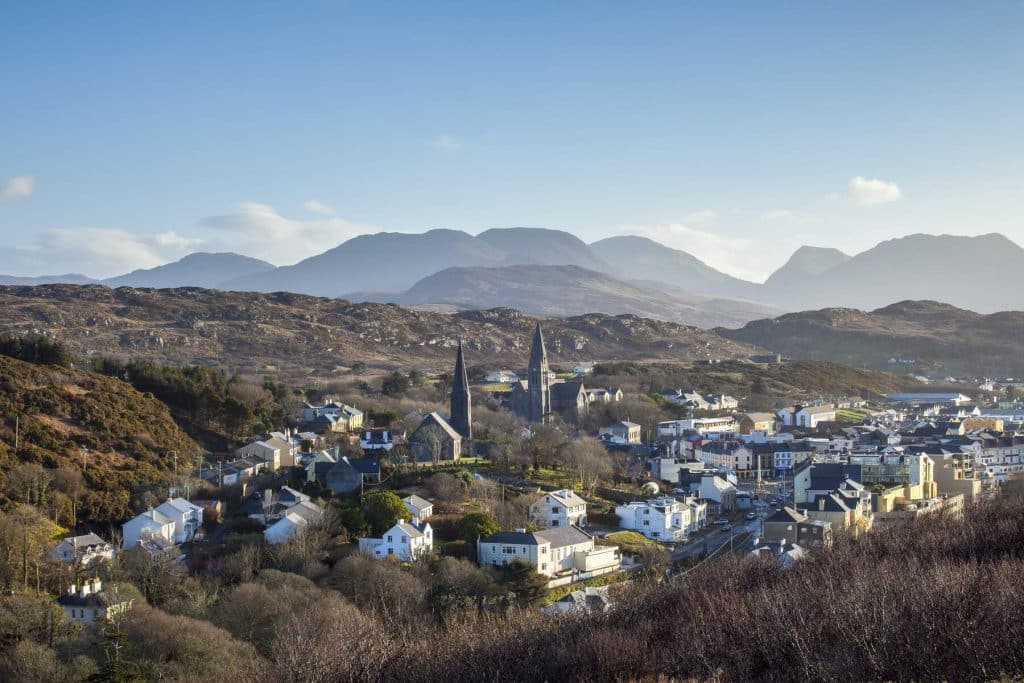 The biggest town in the Connemara region, Clifden, is well worth a visit, especially if you're exploring the area. This County Galway town is the perfect base to explore Connemara National Park as it is home to lots of local pubs, restaurants, and places to stay. It's most definitely one of the best towns to stay in Ireland.
Set amongst the breathtaking Connemara scenery, Clifden is a must-see if you want to take in the best of the dramatic landscape that Ireland has to offer. Take a drive along the 11 km (6.8 miles) Sky Road, from Clifden Bay to Streamstown Bay, on a clear day to make the most of the incredible views.
Where to stay in Clifden
Set in the beautiful surroundings of Connemara, the historic Abbeyglen Castle Hotel is the ultimate luxury countryside escape. The hotel offers comfortable rooms, an onsite restaurant, music and entertainment, and luxurious treatment rooms.
The Clifden Station House is a popular choice for families, with its comfortable rooms, onsite cinema, numerous dining options, and a spa and leisure centre.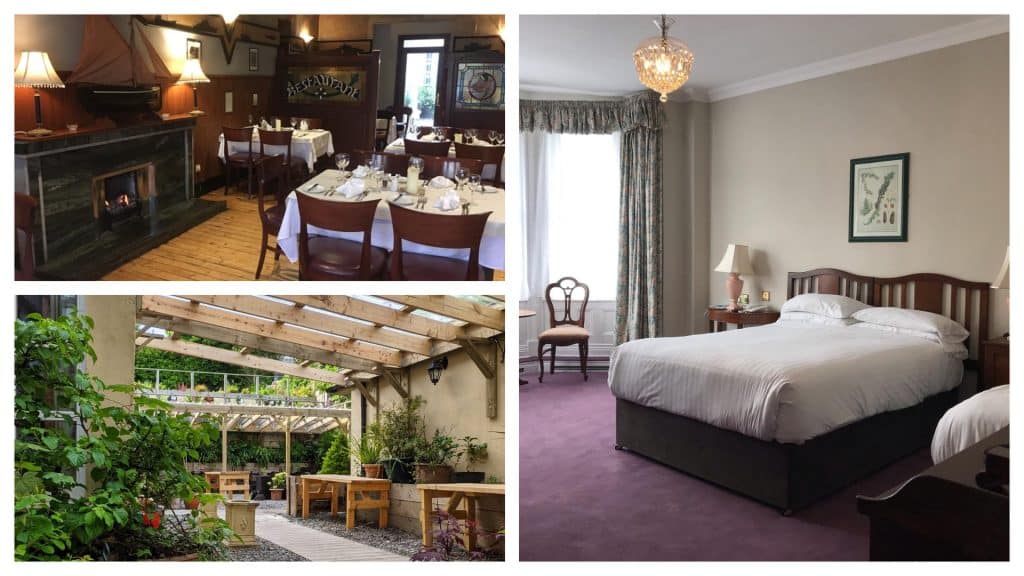 Boasting a central location, Foyles Hotel is a great choice for those visiting Clifden on a budget. Guests can enjoy tastefully decorated rooms, a delicious meal at Marconi Restaurant, and a tipple or two from Mullarkey's Bar.
2. Dingle, Co. Kerry – picturesque and coastal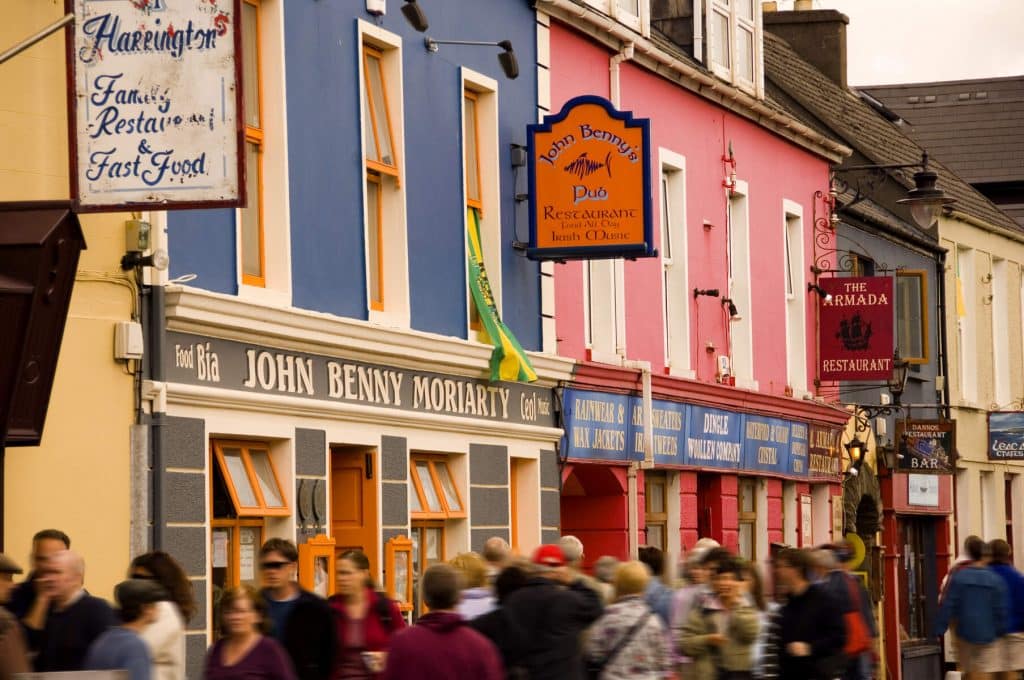 Dingle is a picturesque little port town on southwest Ireland's Dingle Peninsula. It is known for its rugged scenery, colourful buildings, and sandy beaches, as well as the harbour's longtime resident, Fungie the dolphin, who is celebrated by a statue on the waterfront.
Visitors can enjoy a stroll through the town, take part in some exciting watersports, and even try 'Ireland's best ice cream' from Murphy's. Dingle is definitely one of the most charming towns in Ireland.
Where to stay in Dingle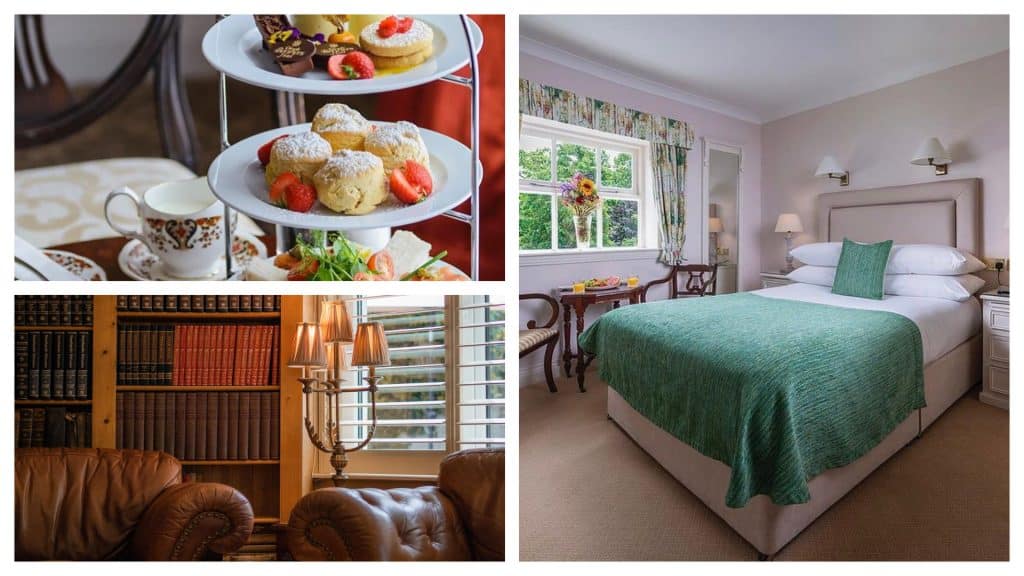 Located in the heart of Dingle town, the brilliant Dingle Benners Hotel greets guests with a warm Irish welcome. Guests can book a stay in one of the hotel's classic or superior rooms and enjoy award-winning food from Mrs Benners Bar.
With fantastic rooms and the onsite Paudie's Bar, the Dingle Bay Hotel is a great option for a comfortable stay in this County Kerry town.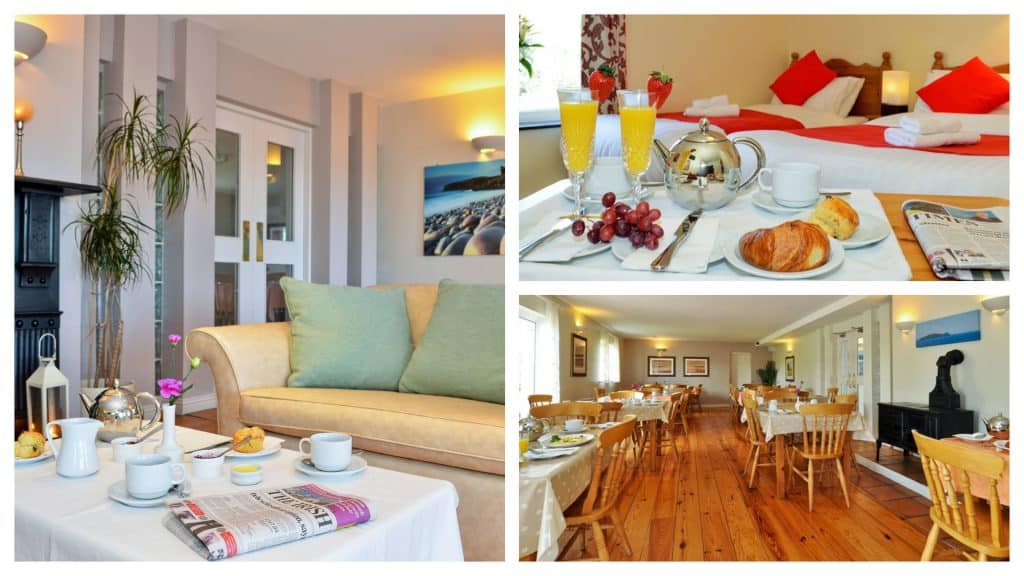 Just a five-minute walk from Dingle Harbour, Dingle Harbour Lodge is the ideal location for those looking to explore the town. With comfortable rooms accommodating for all, this is a great place to stay for all types of travellers.
1. Westport, Co. Mayo – one of the best towns to visit in Ireland
This picturesque little town on the edge of an Atlantic inlet next to Clew Bay in County Mayo is a must-see if you're visiting Ireland. Winning the award for 'Best Tourism Town' in 2014, Westport is famous for its colourful Georgian town centre and historic Westport House.
One of Ireland's most-talked-about walking and cycling trails, the award-winning Great Western Greenway, which is one of the most scenic cycle routes in County Mayo, starts here. So, it's a great place to take in some stunning Irish scenery.
We hope you visit all these best towns in Ireland. Let us know what you think of each. We promise you won't be disappointed.
Where to stay in Westport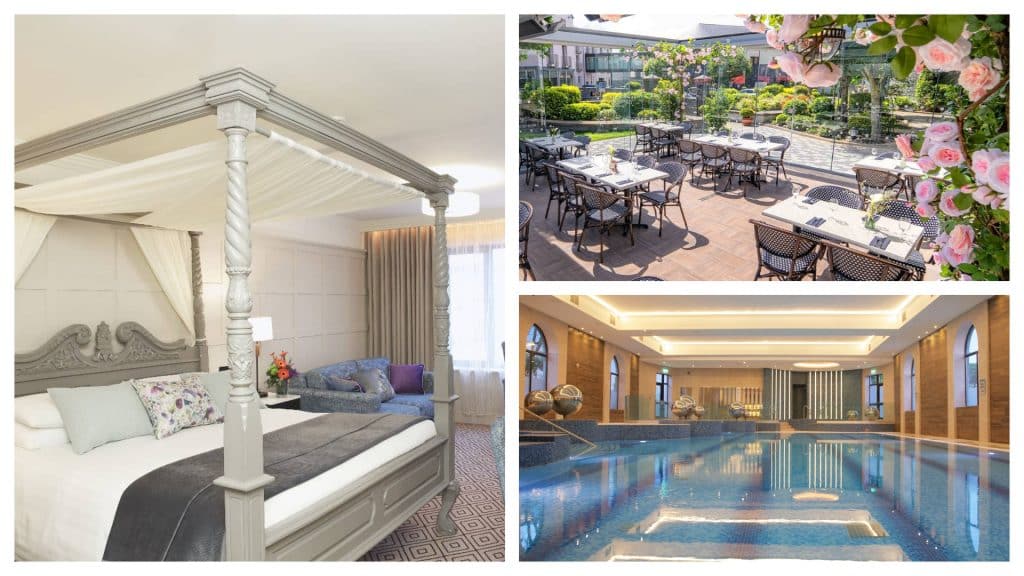 The luxury four-star Castlecourt Hotel is the perfect place to stay in Westport. The hotel offers economy, classic, and superior rooms and suites, an onsite restaurant, bistro, and bar, and luxurious spa and leisure facilities.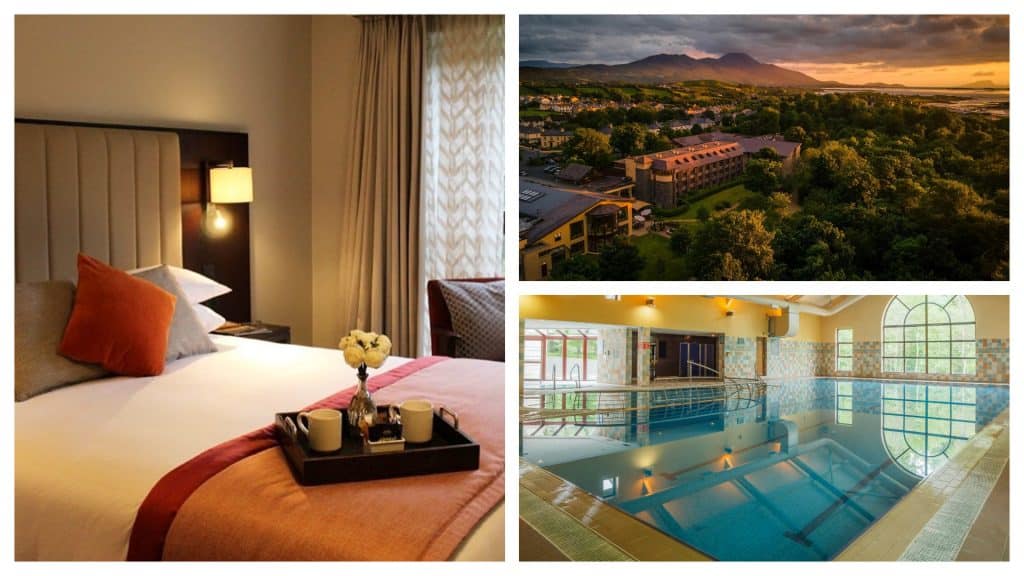 The beautiful Westport Woods Hotel and Spa is a great option for those wanting to enjoy a peaceful escape. Perfect for families, guests can make use of the onsite spa and leisure centre and the various cafes and restaurants.
For a budget stay in this bustling County Mayo town, we recommend booking yourself into a room at The Wyatt Hotel. This charming three-star boutique hotel includes 90 comfortable bedrooms, a Brasserie, a traditional Irish Bar, and an award-winning restaurant.
Other notable mentions
Enniskillen, County Fermanagh: Located in the southwest of Northern Ireland, Enniskillen is a gorgeous island town boasting plenty of history and heritage.
Doolin, County Clare: Not far from the famous Cliffs of Moher, Doolin is a charming Irish town with unrivalled Irish pub culture.
Adare, County Limerick: Defined by charming thatched cottages, you won't regret visiting this adorable Irish town.
Portrush, County Antrim: If you want to spend the day at the beach, then we highly recommend visiting the coastal resort town of Portrush, Northern Ireland.
Dunmore East, County Waterford: For the ultimate taste of Ireland's sunny southeast, a day at Dunmore East is a must. This is certainly one of the prettiest towns in Ireland.
Cashel, County Tipperary: Known as Ireland's up and coming must-visit destination, Cashel is the spot that should be on every traveller's bucket list.
Dunfanaghy, County Donegal: Located on the north coast of County Donegal, Dunfanaghy is a fantastic seaside town with beautiful beaches and a local feel.
Allihies, County Cork: This charming, colourful town in County Cork is the perfect place for a unique Instagram picture!
FAQs about Irish towns
What is the best small town to live in in Ireland?
The coastal towns of County Wicklow and South Dublin are regarded by many as among the best small towns to live in Ireland. These include Bray, Howth, and Greystones. These are also regarded as some of the best towns to visit in Ireland.
How many towns and villages are there in Ireland?
There are over 900 towns and villages in Ireland.
What's the difference between a town and a village in Ireland?
A large town has a population of over 18,000, a medium town has a population between 10,000 and 18,000, and a small town has a population of between 5,000 and 10,000. Meanwhile, places with a population of between 2,500 and 5,000 are classified as intermediate settlements, and villages tend to have a population of between 1,000 and 2,500.
Useful articles to help plan your trip…
Irish Bucket List: 25 best things to do in Ireland before you die
Top 10 snazziest 5-star hotels in Ireland
7 days in Ireland: the ultimate one week Ireland itinerary
14 days in Ireland: the ultimate Ireland road trip itinerary