Torc Mountain Walk is one of Killarney National Park's most-loved walking trails; read on to learn all you need to know when planning your visit.
Killarney National Park is a jewel of Ireland's west, and the Torc Mountain hike is a must for any outdoor adventurers.
Located in County Kerry – the 'Kingdom of Ireland' – the region is ripe with dramatic scenery, native flora and fauna, and breathtaking backdrops fit for a postcard.
For those keen to explore the region, one of its greatest attractions is the Torc Mountain walk. Set in one of Ireland's most impressive parklands, it is safe to say this will be an experience not soon forgotten.
Tips and advice – prepare before your visit
Make sure to wear comfortable, sturdy walking shoes. The terrain at Torc Mountain can be rocky and uneven.
Bring plenty of snacks and water for the hike.
Check the weather forecast before your visit and pack accordingly. It rains a lot in Ireland, even when it says it's not going to!
Bring a route map or download an offline map app for navigation.
Start your hike first thing in the morning to avoid crowds.
Basic overview – all you need to know
Route: Torc Mountain Walk
Distance: 7.1 km (4.4 mi)
Start / End Point: Upper Torc Mountain Car Park
Parking: Upper Torc Mountain Car Park
Difficulty: Moderate
Duration: 2-2.5 hours
Overview – the essential info
Torc Mountain is a peak that stands at 1,755 feet (535 metres). It is the 329th-highest peak in Ireland.
A popular addition to any Killarney National Park itinerary, the Torc Mountain hike is suitable for moderately fit adults and children alike.
One of the best things to see and do on the west coast, the route offers boarded or stoned foundations along the way.
On reaching its summit, you'll be greeted with remarkable views over the Lakes of Killarney and surrounding areas.
MORE: the best hikes in Killarney you need to experience
When to visit – avoid high summer for the best experience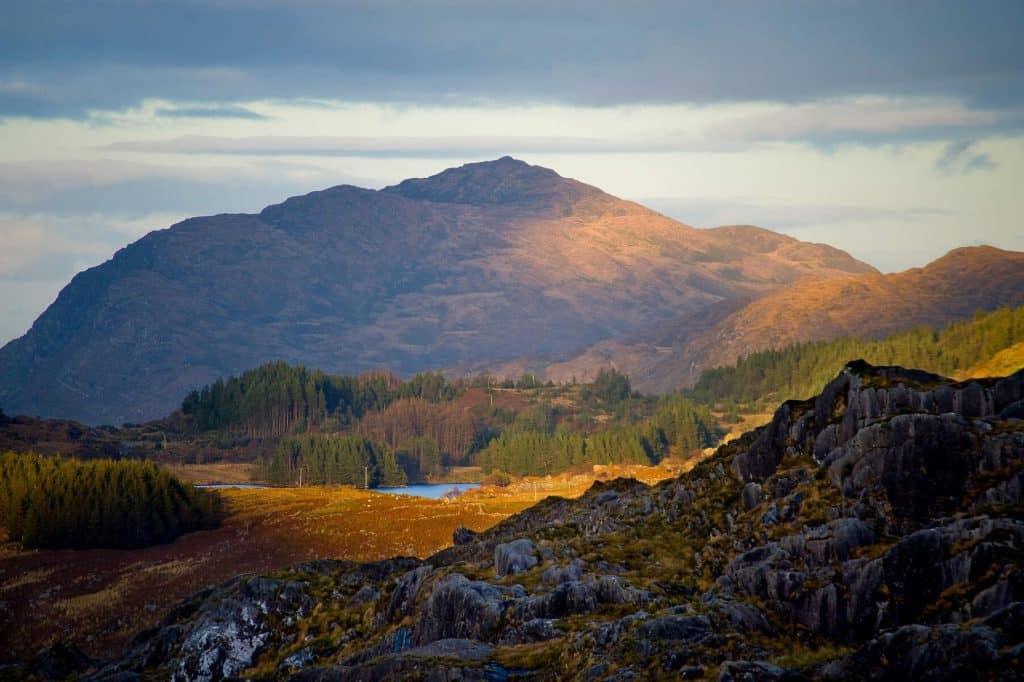 Although high summer offers the chance of the warmest weather, it also attracts crowds of tourists.
If you're keen to experience the serene beauty of Killarney National Park along the Torc Mountain walk, then try to visit during late spring or early autumn.
During these times, the Irish weather can still be somewhat forgiving, and there'll be less footfall to reckon with.
Directions – how to get there
The Torc Mountain hike is an out-and-back route that begins and ends at the Upper Torc Mountain Car Park (also known as the Killarney Hiking Parking Lot).
If you're travelling by car from Killarney, this is just a short 15-minute drive.
Things to know – insider knowledge
Along the way, make sure to take time to enjoy the blossoming wildflowers. Bird watching is also popular in this area, so bring a pair of binoculars if this sounds to your liking.
On the Torc Mountain walk, you will encounter the Owengarriff River, as well as impressive views of Killarney town and surrounding lakelands, the McGillicuddy's Reeks (Ireland's tallest mountain range) and Muckross House.
How long is the experience – from beginning to finish
Hikers can expect to complete this route in 2-2.5 hours. However, if you're walking with the kids in tow, this route is likely to take approximately 3.5 hours. This is one of the best things to do in Killarney with kids.
What to bring – the essentials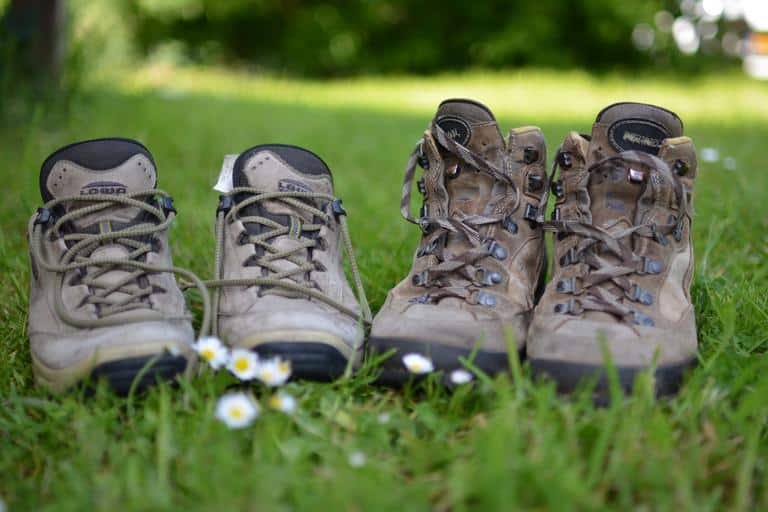 There are no facilities along this route, so make sure to bring any essential supplies with you. We always recommend water and snacks as well as sunscreen on sunny days.
A rainjacket and durable, waterproof walking shoes are a must. For those looking to document the journey, a camera is advisable.
What's nearby – while you're there
There are tonnes of things to do in the surrounding Killarney National Park. We suggest you visit Muckross House or swing by Killarney Village, which is buzzing with local life, artisan shops, and charming pubs and restaurants.
Where to eat – for a post-hike feed
The Muckross Garden Restaurant is ideal if you're looking for a dining option in the park surroundings. Alternatively, after you finish your Torc Mountain hike, head to Killarney Town, where the options are endless.
Bricín Restaurant and Boxty House is a popular Irish family restaurant for a good feed, but if you're looking for an authentic pub setting, head over to Murphy's Bar, one of the best pubs in Killarney.
READ MORE: IB4UD's list of the best restaurants in Killarney
Where to stay – for a good night's rest
There are some great hotels in Killarney for all budgets. Those seeking bang for their buck should check out the three-star Gleneagle Hotel & Apartments, conveniently located halfway between the National Park and Killarney Town.
The Great Southern Killarney is a charming four-star hotel located in the town centre which offers style and substance.
Alternatively, the five-star Killarney Park Hotel is ideal for those seeking a luxurious slumber after their Torc Mountain hike.
RELATED ARTICLE: Our guide to the best hotels in Killarney
Your questions answered about Torc Mountain
If you've got some questions about Torc Mountain, don't worry! You're not alone. That's why we've answered some of our readers' most frequently asked questions about this area.
How long does it take to hike Torc Mountain?
The most common route, which is described as "moderately challenging", takes an average of 2 – 3 hours to complete.
How hard is it to hike Torc Mountain?
Described as "moderately challenging", this is certainly not one of the most difficult hikes in Ireland. Having said that, this hike requires a decent level of fitness and mobility.
How do you get to the top of Torc Mountain?
The trails at Torc Mountain are very well-marked, and there are a number of different ones you can take. However, the only trail that will get you to the top is the Summit Trail.
Why is Torc Waterfall famous?
One of the most beautiful waterfalls in County Kerry, Torc Waterfall is a highlight for many visitors to Killarney National Park. It became a firm favourite thanks to its stunning surroundings and its location.