Tucked away in the south of Kerry, known as the Kingdom county is a little town called Kenmare. One of the main routes to get to this little place is through the mountain pass from Killarney.
From cute pubs to trawling through the musical delights at Soundz of Music, there is so much to discover in Kenmare, food, art, music and sightseeing.
Below is our suggested one day itinerary for Kenmare, County Kerry. 
Morning
Breakfast at Mick & Jimmy's
Get your most important meal of the day at Mick & Jimmy's. Situated just a fifteen-minute drive from Kenmare Bay is known for its delicious breakfasts.
Opening bright and early at 8 o'clock, this café is run by twin brothers. The breakfast menu is absolutely mouthwatering.
Consider sinking your teeth into a spinach, mushroom and cheese omelette? Or what about a lorge chocolate chip pancake. There are pastries on the menu, full Irish breakfasts and even a vegetarian option.
There really is a food choice on the menu for all tastes. On Sundays, there is live jazz music for you to listen to while you eat!
Address: 36 Henry St, Kenmare, Co. Kerry, Ireland
Discover Irish heritage at Molly Gallivan's Cottage and Bonane Heritage Park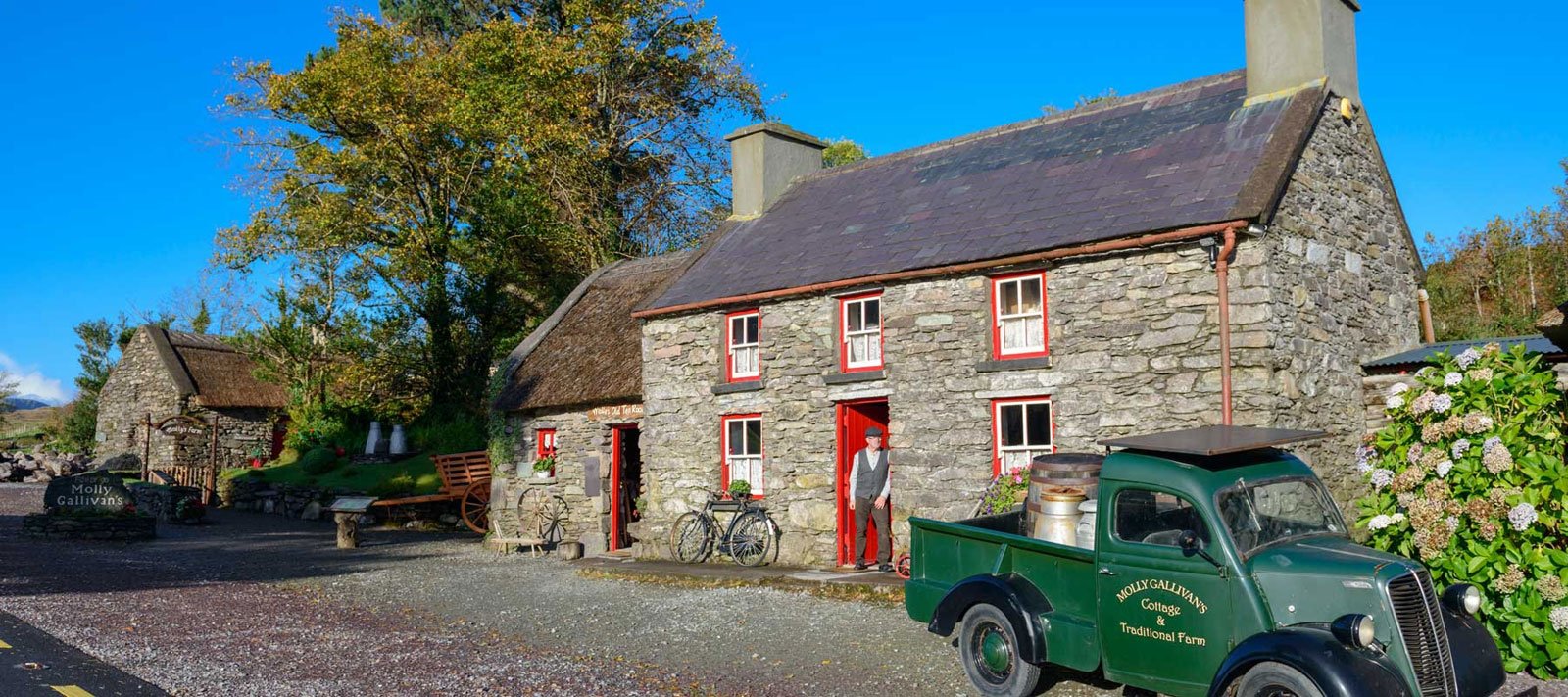 Less than a fifteen-minute drive from the city centre is Molly Gallivan's, a must see when visiting the Kenmare area.
The cottage is over two hundred years old and provides a rare insight into what life was life in rural Ireland before electricity came into the country.
There are stunning views of the mountains. Behind the cottage is the heritage park, two kilometres of paths up the mountain.
Archaeological finds that you can explore are fulacht fia (ancient method of cooking meat), famine house ruins, a ring fort and stone circles. The teashop on site provides homemade refreshments.
Address: Raleigh Bonane, Kenmare, Co. Kerry, Ireland
Understand history at Kenmare Heritage Centre
Formerly an old courthouse, the location is now used as an exhibition exploring the history of Kenmare.
A number of categories are explored; the nun of Kenmare, famous visitors to the town, the effects of the Famine on Kenmare and an exhibition on Kenmare Stone circle. Upstairs in the same location is the Kenmare Lace and Design Centre.
On display is antique lace from the Convent of Poor Clares Kenmare. You will also be shown how the lace is made and be able to purchase lace made locally in the area.
Address: Kenmare, Co. Kerry, Ireland
Afternoon
Enjoy lunch at No.35 Kenmare Restaurant
Stop for a break within the heart of the town at No.35 Restaurant. Renowned for being one of the town's best restaurants, they source locally grown produce to use in their delicious meals.
The brunch menu is rich with choice, catering to all types of dietary needs. Nibbles include hand-made rustic bread and dips, pulled pork sandwich, seafood linguini with clams, mussels, cod, salmon and squid.
There are vegetarian-friendly meals too and if you require a gluten-free dish, be sure and let your server know.
Address: 35 Main St, Kenmare, Co. Kerry, V93 Y038, Ireland
Explore the sea with Seafari Cruises
Savour the chance to explore the wildlife living in Kerry's Kenmare Bay. From the pier, the cruise will take you to the seal colony, one of the biggest in the country, with over 300 seals living there.
Other sights include otters, bird life and ancient stone castles. The cruise lasts two hours and on board, you will be treated to music, face paintings, puppet shows, onboard snacks and a souvenir shop. The Seafari team will ensure that no passenger is seasick.
Address: no 3. The Pier, Kenmare, Co. Kerry, Ireland
Find new music at the Soundz of Muzic Music Shop
This little shop is a treasure trove of musical delights. Trading for 25 years in Kenmare, the shop boasts customers from far and wide.
There are musical instruments of all types packed into every nook and cranny of this tiny shop.
For musical customers, there are music books, traditional Irish instruments including, flutes, mandolas, ukeleles, harmonicas and more.
What is unique about this shop is the rare instruments that pass through their door, you'll never know what you'll find.
Address: 9 Henry St, Kenmare, Co. Kerry, Ireland
Evening
Dinner and Drinks at The Horseshoe
Opening at 5 pm, just in time for dinner, this spot is the perfect place to conclude your exploration of Kenmare, with a meal and drinks.
The menu is largely influenced by its coastal location. Starters include seafood chowder, homemade fishcakes and a house salad.
Main courses are some of the following: Wild Atlantic Monkfish, chicken stirfry and clubhouse burger.
Ask your server for vegetarian options. Customers can then relocate to the in-house bar for drinks and their popular cocktails.
Address: 3 Main St, Kenmare, Co. Kerry, Ireland