As one of the coolest neighbourhoods in the world, there is so much to take advantage of. Here are the ten best things to do in Dublin 8
According to Time Out Magazine, an internationally renowned magazine, Dublin 8 is up there with being one of the coolest neighbourhoods in the world.
With many of the best things to do in Dublin 8, this Dublin area is ranked the 15th coolest neighbourhood in the world.
From whiskey distilleries to fantastic coffee shops, heritage spots and more, there is something for everyone in Dublin 8.
So, if you're looking to experience some of the magic of one of the world's coolest neighbourhoods on a trip to Ireland's capital, this is the list for you. Here are ten tried and tested best things to do in Dublin 8.
Ireland Before You Die's top facts about Dublin 8
Dublin 8 is home to the largest city park in Europe, Phoenix Park.
Kilmainham Gaol, a former prison and now a museum, is a popular attraction in the area.
St. James's Hospital, Ireland's largest hospital, is located in Dublin 8.
The infamous River Liffey flows through Dublin 8, where you can experience some of the best river cruises in Ireland.
Dublin's main train station, Heuston Station, is located in Kilmainham in Dublin 8.
The Four Courts, the main courts of justice in Ireland, are located in Dublin 8.
The area has a rich history and is home to some important Historic sites of the 1916 Rising.
10. Browse the Books and Browsables Market – a literature lover's delight
Situated on the picturesque grounds of St Patrick's Cathedral is a wonderful market that embodies the essence of the Dublin 8.
Celebrating Dublin's rich literary history, this market is held every Sunday. Enjoy a wide selection of new and second-hand books, vintage maps, and vinyl records.
Address: Bull Alley St, Dublin
READ ALSO: 5 must-see markets in Ireland that you probably didn't know about
9. Visit the Guinness Storehouse – for a pint of the black stuff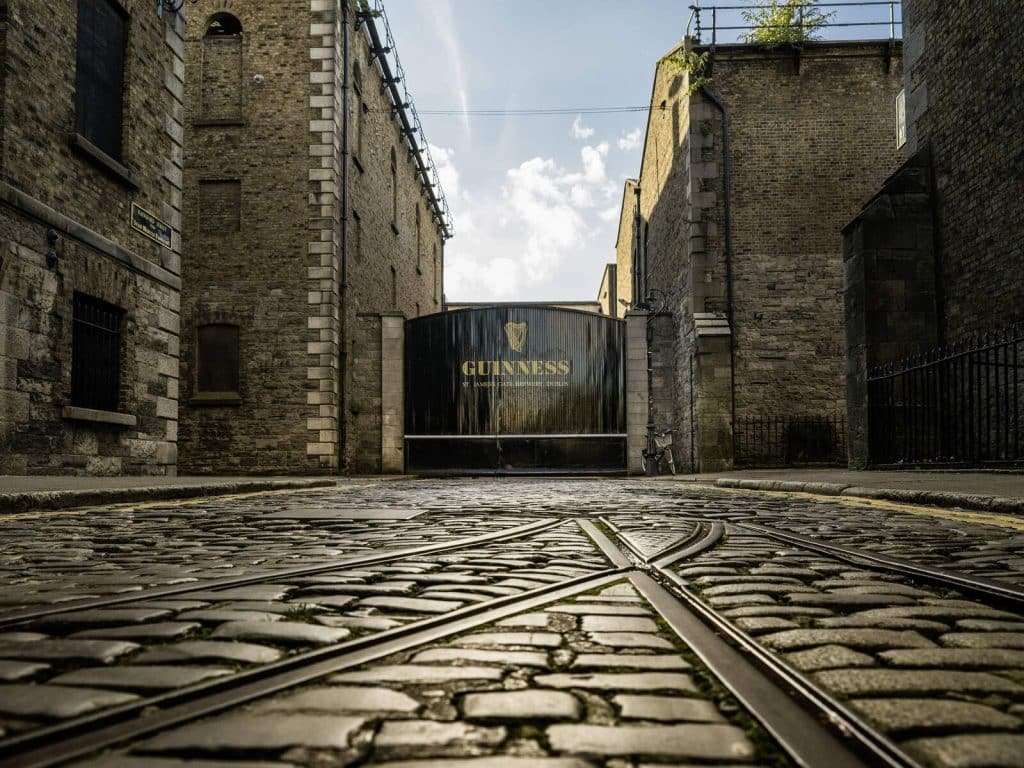 Unsurprisingly one of the best things to do in Dublin 8 is to pay a visit to the iconic Guinness Storehouse.
Serving Ireland's beloved stout, this is an absolute bucket list experience. Immerse yourself in the story of Guinness or perhaps enjoy a tasting experience in the home of Guinness.
Address: St. James's Gate, Dublin 8, D08 VF8H
8. Experience art at IMMA – for modern and contemporary art
The Irish Museum of Modern Art is the home of contemporary and modern art in Ireland.
Housing countless exhibitions throughout the year, this is a great way to spend an afternoon in Dublin 8. The museum is situated on 48 acres of beautiful land that is great to explore and is one of the best free museums in Ireland to visit.
Address: Royal Hospital Kilmainham, Military Rd, Kilmainham, Dublin 8
READ ALSO: IB4UD'S TOP PICKS FOR THE BEST MUSEUMS IN DUBLIN: A-Z list for 2023
7. Sip on a drink at Lucky's – for great vibes
While Lucky's has long been a hit with locals as a place for a great drink and an inviting atmosphere, in recent months, Lucky's has expanded beyond being just a bar.
Lucky's celebrates local artists and musicians by hosting a variety of events and shows. There is even a regular Bring Your Own Art event where artists can sell their own art!
Address: 78 Meath St, The Liberties, Dublin 8, D08 A318
READ MORE: Dublin 8: Neighbourhood in Ireland rated among coolest place to live in the world
6. Take a tour of St Patrick's Cathedral – for history and beauty
This site has been of great historical and religious importance for over 1,500 years as it is the site where St Patrick baptised people. Experience a wealth of history at this magnificent site where regular tours take place.
If time allows, we also suggest heading to Marsh's Library, a spectacular library from the late Renaissance period.
Address: St Patrick's Close, Dublin 8, A96 P599
5. Visit the War Memorial Gardens – one of Europe's most famous world memorial gardens
These beautiful gardens pay homage to the thousands of Irish soldiers who lost their lives during the First World War.
Relax and reflect in these beautiful gardens that are home to sunken rose gardens and magnificent trees. A visit here is one of the best things to do in Dublin 8.
Address: Island Bridge, Ushers, Dublin
4. Enjoy a whiskey tour at Roe and Co – a must-do experience
Located in the former Guinness Power Station, Roe and Co have reimagined Irish whiskey.
Enjoy a whiskey blending workshop where some of the secrets to this delicious whiskey are revealed. Try your hand at making some cocktails in their flavours experience of just enjoy some cocktails at the Cocktail Village.
Address: 92 James St, The Liberties, Dublin 8
READ ALSO: IB4UD's Top 10 best whiskey distillery tours in Ireland
3. Grab a coffee at Soren and Son – Dublin 8's newest coffee shop
No trip to Dublin 8 would be complete without sampling some delicious coffee in the coffee capital of Europe.
The latest addition to the Dublin 8 coffee scene is the wonderful Soren and Sons, which has beautiful views of St Patrick's Cathedral. This great people-watching spot serves a delicious selection of coffees and treats.
Address: 2 Dean St, The Liberties, Dublin 8, D08 V8F5
READ ALSO: Top 10 spots to get the best coffee in Dublin
2. Watch a show in Vicar Street – one of the best things to do in Dublin 8
As live shows begin to return to the stage, so too does the vibrant atmosphere that Vicar Street is known for.
Hosting a variety of music gigs and performances, Vicar Street is a much-loved venue in Dublin. It is renowned for the quality of shows and acts that are performed here.
Address: 58-59 Thomas St, The Liberties, Dublin 8
1. Go dog-spotting in Phoenix Park – home of the Irish president and his dogs
Europe's largest enclosed public park, Phoenix Park, is located in Dublin 8 and is also the home of the Irish president. President Michael D. Higgins owns two beautiful Bernese mountain dogs, which are often seen in the gardens of Áras an Uachtaráin.
Not only is Phoenix Park a great place to walk your dog in Dublin, but you may get to interact with the Irish president and dogs!
Address: Phoenix Park, Castleknock (part of Phoenix Park), Dublin, D08 E1W3
Your questions answered about visiting Dublin 8
What areas are in Dublin 8?
Dublin 8 is a postal district which includes the areas of Dolphin's Barn, Inchicore, Islandbridge, Kilmainham, Merchants Quay, Portobello, South Circular Road, Phoenix Park, and the Liberties.
What notable landmarks can be found in Dublin 8?
Some notable landmarks in Dublin 8 include Kilmainham Gaol, the Guinness Storehouse, St. James's Hospital, and the National Museum of Ireland – Decorative Arts & History.
Is Dublin 8 in north or south Dublin?
Dublin 8 is located in the south-western part of Dublin city.
Is Dublin 8 expensive to visit?
Dublin 8 is considered to be a more affordable area to stay and visit compared to some of the more upscale neighbourhoods in Dublin's city centre. However, the cost of accommodation and dining can vary depending on your budget and preferences.