Whiskey lovers need to look no further; here is our rundown of the ten best whiskey distillery tours in Ireland.
The Emerald Isle has a reputation when it comes to whiskey. Indeed, Ireland produces some of the finest whiskeys in the world, which is one of the reasons to visit Ireland in 2022.
From Jamesons to Bushmills, wherever you are in Ireland, you are never far from a whiskey distillery.
Some of these distilleries offer guided tours where you can understand and appreciate the work behind these scenes to produce world-class whiskey.
I have been lucky enough to tour many Irish whiskey distilleries, and I want to share my experiences with you by counting down the ten best whiskey distillery tours in Ireland.
10. The Royal Oak Distillery – a distillery that does it all
The Royal Oak Distillery in County Carlow is a world-class distillery producing excellent handcrafted Irish whiskey.
Visitors can experience the historical tradition of making whiskey as well as a multi-sensory tour of one of Ireland's largest operational whiskey distilleries.
What makes The Royal Oak Distillery unique is the fact that it is the only distillery in Ireland where all three forms of Irish whiskey (pot still, malt, and grain) are distilled in the very same room.
There are three tour options available ranging from €15 (includes one tasting of a premium whiskey) to €40 (consists of three tastings of fine limited-edition whiskies).
Address: Clorusk Lower, Royaloak, Co. Carlow, Ireland
9. Dingle Distillery, Dingle – offers more than just whiskey
Located in the very south of Ireland in Dingle, County Kerry, is the Dingle Distillery.
In terms of whiskey, Dingle Whiskey is the 'newest kid on the block' having been created in 2012 and launched to the world three years later.
At two barrels a day, their output is small scale. However, its growing reputation means that it might not be a small distillery for much longer.
The Dingle Distillery offers guided tours. However, this distillery makes more than just whiskey. It actually produces gin and vodka so you can expand your overall knowledge of spirits on visiting.
Address: Farranredmond, Dingle, Co. Kerry, Ireland
8. Teeling Whiskey Distillery – a brilliant tour in the capital
The Teeling Distillery is an Irish whiskey distillery which was established in the Liberties area of Dublin in 2015.
Dublin was once a hub for whiskey distilleries with at least 37 distilleries operating at one time.
After the last of Dublin's original distilleries closed in 1976, Teeling Whiskey Distillery became the first new whiskey distillery to operate in Dublin in almost 40 years.
This distillery was built by Jack and Stephen Teeling, whose father, John Teeling, had founded the Cooley Distillery in 1987.
It is located close to where Walter Teeling, an ancestor of the family, had established a distillery on Marrowbone Lane in 1782.
The logo of the brand contains a phoenix rising from a pot still which symbolises the return of the Teeling Whiskey brand.
The distillery offers two main tours: the standard tour for €15 and the single malt premium tasting experience for €50. Both are excellent and highly recommended!
Address: 13-17 Newmarket, The Liberties, Dublin 8, D08 KD91, Ireland
7. Jameson Distillery, Bow St. – home to the world's best-selling whiskey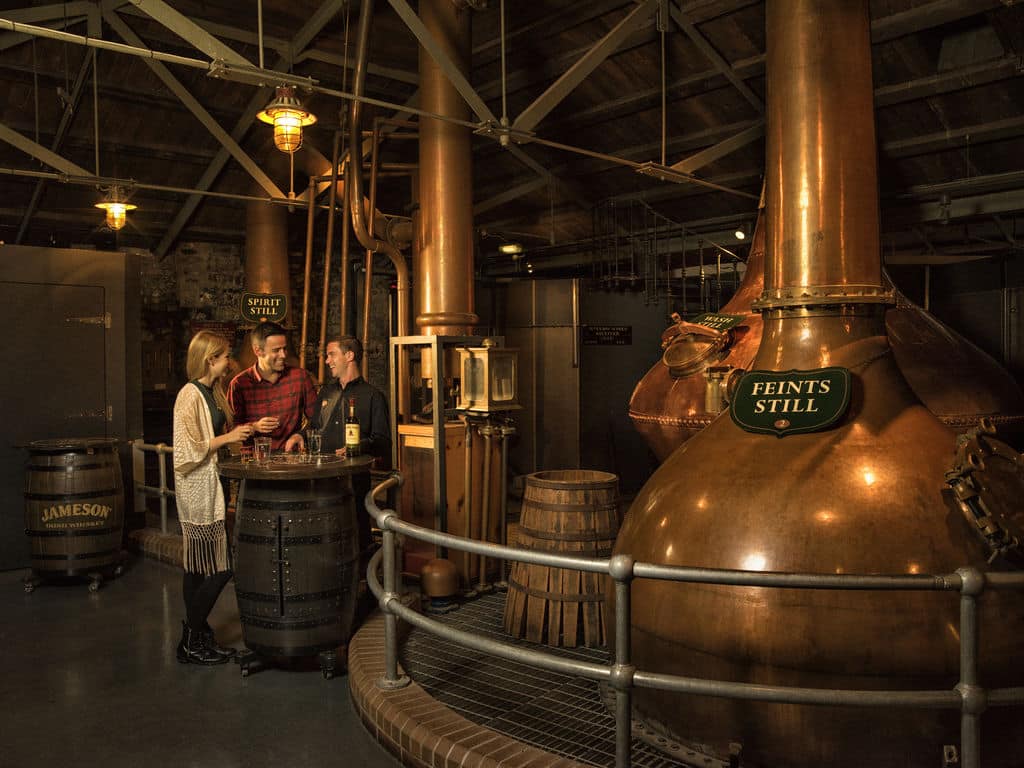 Jameson is officially the best-selling Irish whiskey in the world with annual sales topping 7.3 million in 2018.
This acclaimed whiskey has been sold internationally since the early 19th century and is available in more than 130 countries globally.
John Jameson began making whiskey at the original Bow Street distillery in 1774, and you can follow in his footsteps by taking a guided tour.
Jameson offers several unique experiences, including tours and tasting, blending your whiskey and cocktail making.
If you are a whiskey lover, be sure to add the Jameson Distillery on Bow Street to your bucket list!
Address: Bow St, Smithfield, Dublin 7, D07 N9VH, Ireland
6. Pearse Lyons Whiskey Distillery, Dublin – a distillery in an old church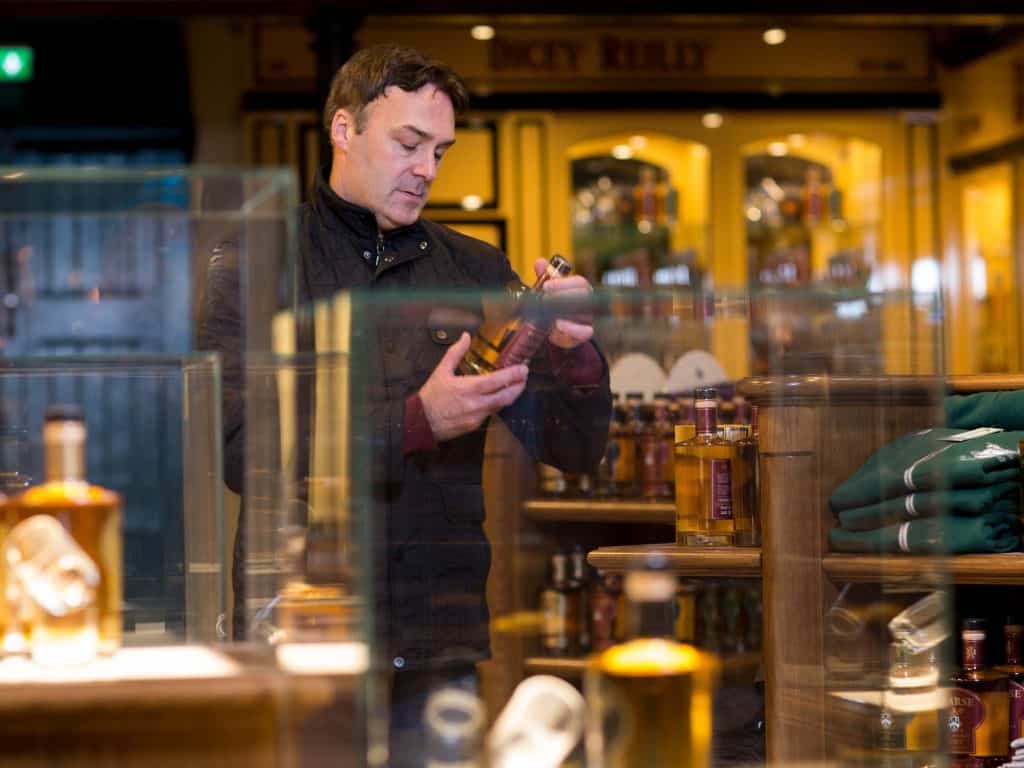 The Pearse Lyons Distillery at St. James' in Dublin opened in a converted church in September 2017.
It was said to be a new chapter for The Liberties, Dublin. Family history, a personal passion for brewing and distilling, and an entrepreneurial spirit have inspired the restoration of St. James' Church.
The tour here gives insight into the heritage and stories behind this iconic local area of Dublin, as well as the development of their range of highly-rated whiskies.
Visitors can also touch, taste, and smell every step of the distilling process, meet with the distillers and taste their signature Pearse Irish Whiskey.
The standard tours run every hour on the hour, and adult tour prices start at €20.
Address: 121-122 James's St, The Liberties, Dublin, D08 ET27, Ireland
5. Irish Whiskey Museum – too good to leave out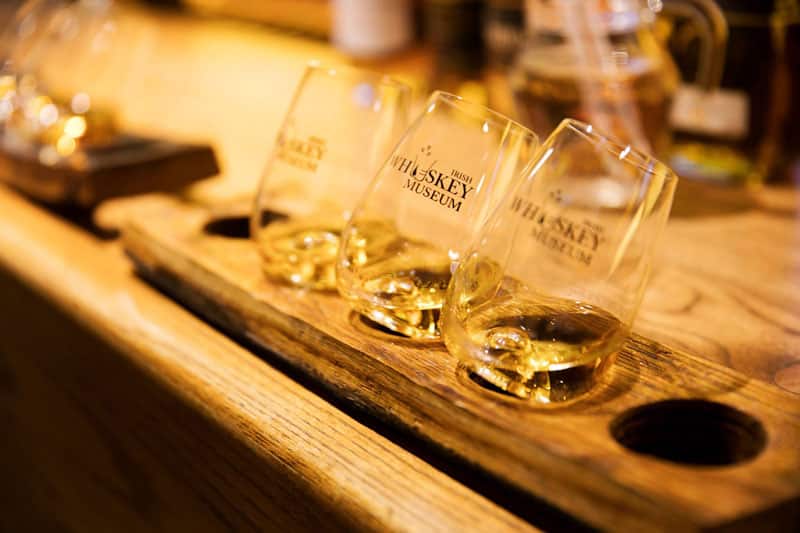 If you want to learn about more than one Irish whiskey brand, then The Irish Whiskey Museum in Dublin is the perfect place to visit.
This museum is independent of all whiskey distilleries and has over 100 different types of Irish whiskey in the building.
The guides here tell the 2000-year-old story of Irish whiskey through tours and interactive tastings of a wide variety of Irish whiskeys.
The main tour here has four different rooms which each are themed to represent another period in Irish history.
At the end of the tour, you get to taste three of the best Irish whiskeys.
Other experiences are also available here, including the Whiskey Blending Experience and the Whiskey and Brunch experience. 
Address: 119 Grafton Street, Dublin, D02 E620, Ireland
4. Kilbeggan Distillery, Kilbeggan – an excellent distillery in the heart of Ireland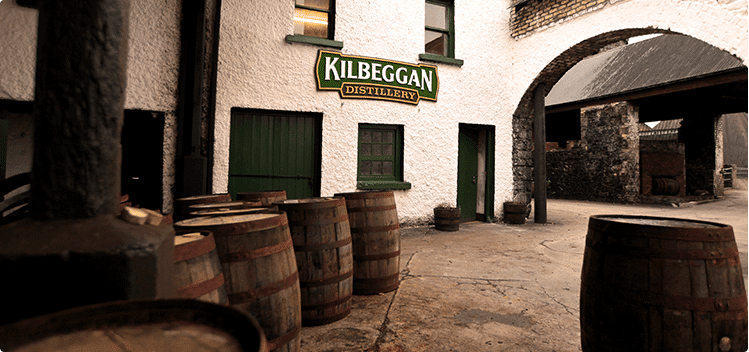 The Kilbeggan Distillery is located in the heart of Ireland, in the little Westmeath town of Kilbeggan.
The distillery dates back to 1757, which is older than Bushmills Distillery!
The Kilbeggan Distillery offers excellent regular tours for individuals or groups. Premium tasting tours are also available.
We loved our visit and feel it is one of the best whiskey distillery tours in Ireland!
Address: Lower Main St, Aghamore, Kilbeggan, Co. Westmeath, Ireland
3. Jameson Experience, Midleton – Jameson's other distillery
The Jameson Experience in Midleton is at the site of a whiskey museum located in the Old Midleton Distillery in Midleton, County Cork.
This distillery began life as a woollen mill, before being converted to a military barracks, and subsequently a distillery in 1825.
A new distillery was constructed in 1975 to house the consolidated operations of three former whiskey-making rivals, Jameson, Powers, and Cork Distilleries Company (owners of the Midleton Distillery), who had come together to form Irish Distillers in 1966.
Since opening as a visitor's centre in 1992, the old distillery has received approximately 100,000 guests per year, receiving 125,000 in 2015.
Four different types of tours are available so there should be something for everyone.
The main tour is the 'Jameson Experience' which seeks to bring their heritage to life with a history of the brand and the distillery, along with a taste of their original whiskey.
There's also the 'Behind the Scenes' and the 'Premium Whiskey Tasting' tours which are both very good.
Tour prices start at €23 for adults and include a Jameson signature drink. It's one of the best things to do in Cork on a rainy day.
Address: Midleton Distillery, Old, Distillery Walk, Midleton, Co. Cork, P25 Y394, Ireland
2. Tullamore D.E.W, Tullamore – the first Irish distillery to create a blended whiskey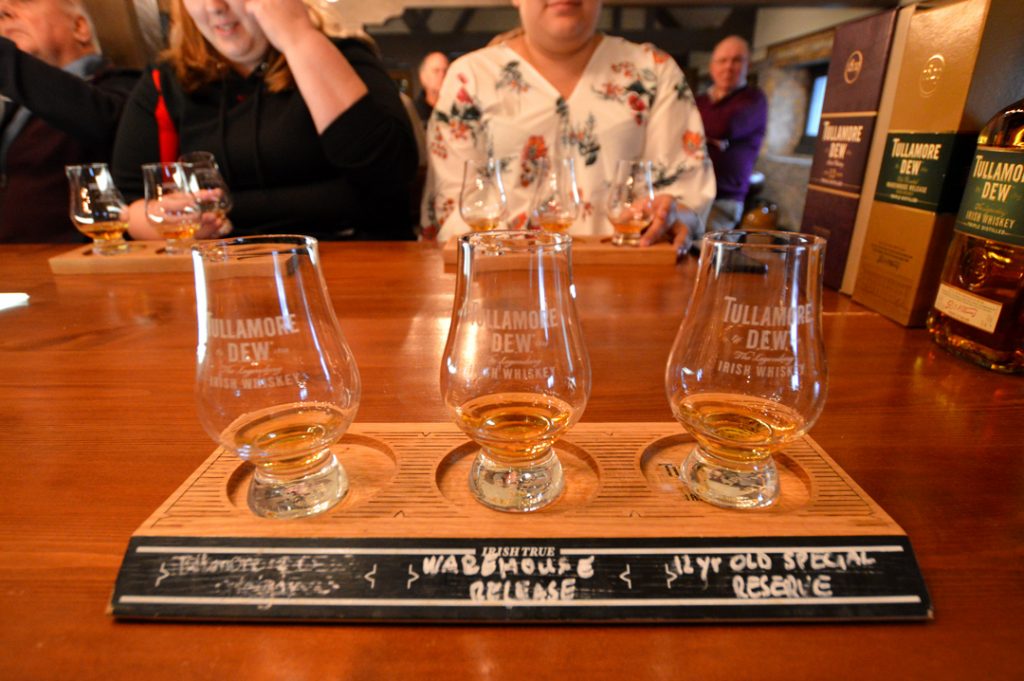 Located in the very centre of Ireland is one of Ireland's most famous whiskies, Tullamore D.E.W.
This whiskey was created in 1829 and named after its creator, Daniel E. Williams. They were the first Irish distillery to make a blended whiskey.
Tullamore D.E.W offers visitors the option of three different tours.
The main tour is the 'curious taster's journey' which is guided by one of their whiskey experts and allows you to taste three different types of whiskey.
Other premium tours are available, including the 'whiskey wise masterclass,' which allows you to taste six different types of Tullamore D.E.W whiskey.
We loved our tour and felt it was one of the best whiskey distillery tours in Ireland.
Address: Kilbride Plaza, Bury Quay, Puttaghan, Tullamore, Co. Offaly, Ireland
1. Bushmills Distillery, Bushmills – the best whiskey tour in Ireland
Located on the north coast of Ireland is Ireland's oldest working distillery – the Bushmills Distillery.
The tour at Bushmills takes visitors on an authentic factory experience, guaranteeing that their senses are entranced by the sights and smells around them.
At the end of the tour, there is some whiskey tasting. There is also a specialist whiskey shop and a wonderful gift shop.
We learned many things here, and we were lucky also to try the premium tasting tour, which was excellent!
The Bushmills tour is so good that it is a deserved place as the best whiskey distillery tour in Ireland!
Address: 2 Distillery Rd, Bushmills BT57 8XH