If you are looking to find out about the best things to do in Fermanagh, then read on because our county guide is right for you.
Fermanagh is a beautiful county located at the edge of Northern Ireland. It is one of the most visited counties in the country, and it contains many great historic landmarks and world-class tourist attractions.
From beautiful landmarks like the iconic Stairway to Heaven to the mysterious Marble Arch Caves and historically significant castles, there is so much to see and experience in Fermanagh.
In this county guide, we will fill you in on all the best things to do in County Fermanagh.
10. Cole's Monument – enjoy panoramic views of Enniskillen
Cole's Monument is a tall stone monument containing 108 steps, which was built in 1845.
When you climb up the steps, as well as getting your workout in for the day, you will also be rewarded with a breathtakingly beautiful 360-degree view of Enniskillen town.
Address: 42 Forthill Rd, Enniskillen BT74 6AW
9. Garden of the Celtic Saints – a sacred place
The Garden of the Celtic Saints is a holy place of reflection. The garden itself contains majestic hand-carved wooden sculptures and is an interesting place where visitors can learn about ancient Irish tales and legends.
Address: 34 Burfits Hill, Irvinestown, Enniskillen BT94 1DY
8. The Fermanagh Lakelands – nature at its finest
The Fermanagh Lakelands are full of natural wonders that truly showcase nature at its very best.
The Fermanagh Lakelands feature stunning waterways in beautiful surroundings, which can be explored by cycling, canoeing, or even in a water taxi!
Address: Wellington Rd, Enniskillen BT74 7HL
7. Crom Estate – an important nature conservation
Crom Estate is a National Trust property and one of Ireland's most important nature conservation areas as it contains wild deer, Pine Marten, and all eight species of native bats.
The grounds also cover a massive 2000 acres and contain pods for those who wish to go camping.
Address: Upper Lough Erne Newtownbutler County Fermanagh BT92 8AJ
6. Lough Erne – for the perfect catch
If you are looking to partake in some fishing, then Lough Erne is undoubtedly the place for you.
The lough is extremely popular for fishing and even contains a rare variety of trout called Gillaro, which can be found exclusively in the Fermanagh lakes.
Lough Erne is the perfect place for those looking to reel in some dinner.
Address: 193 Lough Shore Rd, Ross Inner, Enniskillen BT93 7ED
5. Devenish Island – an iconic island
Devenish Island is arguably Fermanagh's most iconic island. On it lies a monastic site, which was in use for hundreds of years and, to this day, contains monuments that date from the 6th– to 16th-century.
It was also attacked by Vikings in 837 AD, so the island is a real treat for Irish history enthusiasts.
Address: Devenish Island, Fermanagh
4. Finn Lough – sleep under the stars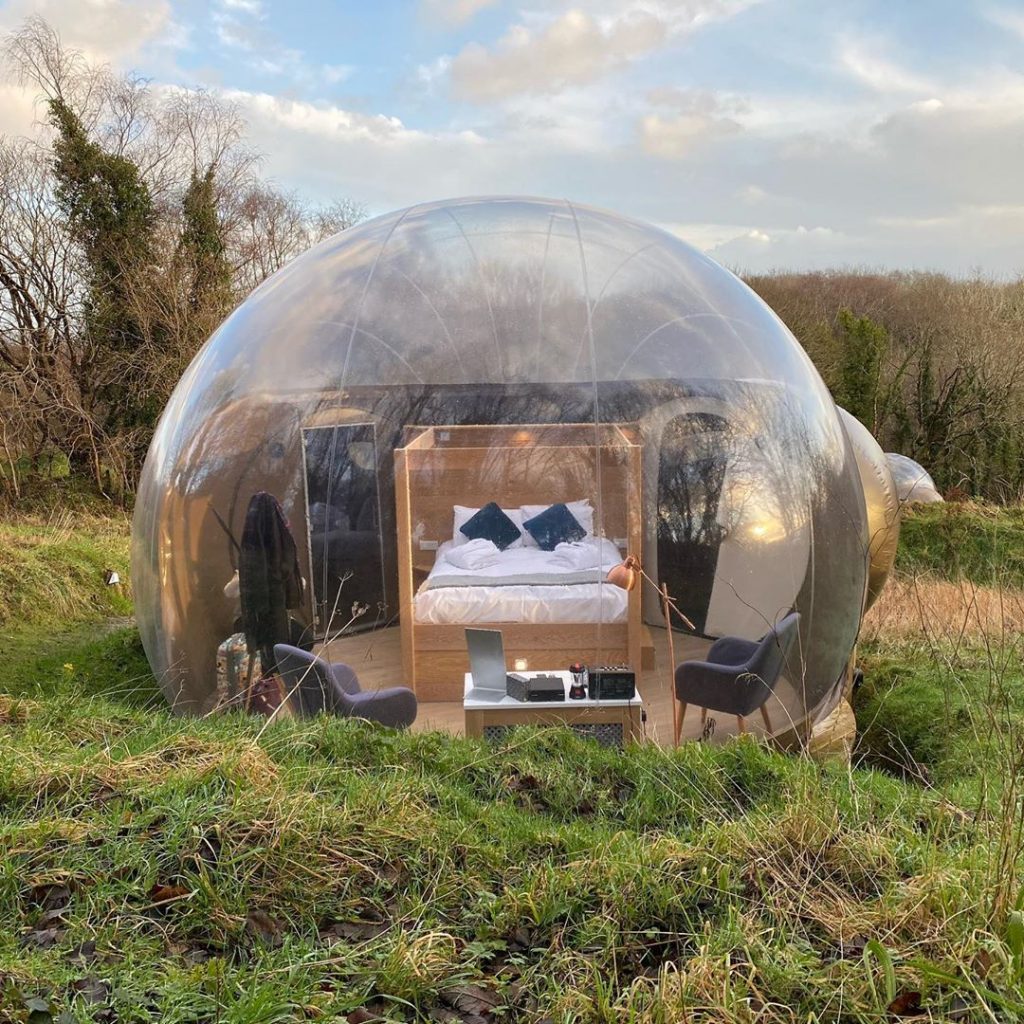 If you are looking for a unique way to spend the night, then why not try glamping in one of the Finn Lough bubble domes. Here you can enjoy a restful night gazing up at the night sky and marvelling at the stars.
Address: 37 Letter Road, Aghnablaney, Enniskillen BT93 2BB
3. Enniskillen Castle – a castle steeped in history
Enniskillen Castle is the centre of Enniskillen town and is a landmark that is steeped in Irish history.
It is so old that the exact date of when it was originally built is unknown. The castle still stands as an impressive structure and contains two museums to explore too. A must visit if you're doing an Irish road trip.
Address: Enniskillen BT74 7HL
2. Marble Arch Caves – explore the underground
The Marble Arch Caves are definitely up there with the best things to do in Fermanagh.
The caves contain natural rivers, waterfalls, many interesting passage cavities, and were once the home of the now-extinct Irish elk.
Visitors to the Marble Arch Caves can take the exciting one hour tour, which even includes a fantastic underground boat journey.
Address: 43 Marlbank Rd, Enniskillen BT92 1EW
1. Cuilcagh Mountain – Ireland's Stairway to Heaven
In first place on our list of the best things to do in Fermanagh is Cuilcagh Mountain, which is often referred to as the Stairway to Heaven.
Its boardwalk and steep staircase have become a viral sensation as it has been tagged in millions of Instagram and Facebook posts.
For those who manage to trek to the very top of the boardwalk, you will be in for a real treat as you will be rewarded with stunning views that are out of this world.
Address: 43 Marlbank Road Legnabrocky Florencecourt County Fermanagh Northern, Enniskillen BT92 1ER