Explore ancient caverns and underwater rivers with our list of the best caves in Ireland, big and small, clear and remote; ranked.
Caves have captured the imagination of humans for millennia. Countless legends and folklore have centred around these mysterious structures, and many books and tv shows still make use of their unique attraction.
Ireland just so happens to have some of the largest and most impressive caverns in Europe, but which one will you choose to explore first? Let us give you the run-down of the 10 best caves in Ireland to get you started.
10. Crag Cave – worth a visit to the Kingdom
Fancy a trip to the 10th longest cave in the country? Situated just outside Castleisland in County Kerry, Crag Cave is well worth a visit.
It is perfectly prepped for visitors, with a sound system and lighting to guide you on your journey through the ancient structure. The beautiful Cathedral and Crystal gallery are impressive sights not to be missed.
Address: Crag, Castleisland, Co. Kerry, Ireland
9. Bruce's Cave – inspiring the warrior Robert Bruce
Bruce's Cave in County Antrim gets its name in the same way that many places in Ireland do, from ancient Irish legends.
The story goes that a warrior named Robert Bruce hid in these caves in 1306, after his defeat by the English at Perth. While in the cave, he became inspired by a spider's repeated attempts to reach the top of the cave.
The creature's determination finally paid off, and this was all the inspiration Bruce needed to return to Scotland to defeat his English enemies and reclaim the Scottish throne at the battle of Bannockburn.
Address: Rathlin Island, Ballycastle BT54 6TF
8. Glens Hedge School – providing refuge to primary school children
Like Bruce's Cave, this cave has become synonymous with a story that has been retold with each coming generation.
In the 18th century, this cave in Glenariff reportedly provided much needed shelter to local primary school students during a particularly bad spell of weather. In those days, 'hedge' schools, where classes were held outside, weren't uncommon.
Address: 4-14 Glenariffe Road, Ballymena, Antrim BT44 0RH
7. Murder Hole Beach – Donegal's geological wonder
Murder Hole Beach is a hugely popular tourist destination in its own right, but it also happens to feature a geological wonder as well. Although not as large as some of the structures on our list, this cave is definitely still worth exploring.
It may be a little more off the beaten track than some of the more tourist-adapted caves in Ireland, but you won't regret your journey once you enter this beautiful site.
Address: Sheephaven Bay, Ireland
6. Dunmore Cave – for the seasoned cave-visitors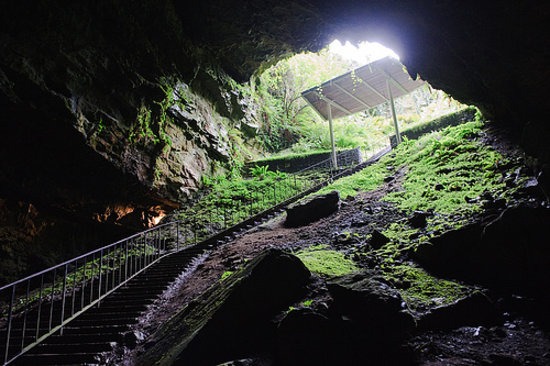 If you're a seasoned cave visitor and you know your stuff, then Dunmore Cave is worth a visit. This national monument has some of the most impressive calcite formations in the country.
As with most of the caves on this list, it is also seeped in folklore. Formed over millions of years, the foreboding entrance is known to elderly locals who fond of legends as "the mouth of the beast".
This limestone show cave is also popular for being the site of a massacre that happened back in the age of Vikings.
Address: Castlecomer Rd, Inchabride, Kilkenny, Ireland
5. Doolin Cave – for six miles of fascinating passages
If you've got an hour to spare and you fancy exploring a geological marvel, then Doolin Cave in County Clare is the place to go. Known in the past as 'Poll an lonain,' this cave was discovered in 1952 and has six miles of passages.
Doolin Cave is perhaps best known for its feature "The Great Stalacite", which happens to be one of the largest hanging stalactites in the world. Once you're done exploring, drop by the on-site café to get some home comforts taken care of.
Address: Craggycorradan East, Doolin, Co. Clare, Ireland
4. Aillwee Cave – discover Ireland's birds of prey
Have you ever dreamed of seeing eagles in flight? Get a front-row seat of these impressive birds of prey when you visit County Clare's Aillwee Cave. Take 35 minutes to explore over 35,000 feet of winding passages created by melting waters of a prehistoric Ice Age.
If you are a wildlife enthusiast, or simply want to know more about the birds of prey that grace Ireland's skies, then you can explore Burren Birds of Prey Center at the foot of the cave.
It hosts an impressive collection of falcons, hawks, American kestrels, owls, and white-tailed sea eagles on display. It is much in league with the most incredible caves in Portugal.
Address: Ballycahill, Ballyvaughan, Co. Clare, Ireland
3. Mitchelstown Cave – for the best caves in Ireland
Michael Condon discovered this beautiful natural masterpiece accidentally in 1833 when he dropped a crowbar during a limestone Quarry. When bending down to pick up his tool, he looked down upon a majestic underground world.
The news of his discovery spread quickly, and it didn't take long for visitors to make the journey to see the find for themselves. There are guided tours available and electricity and footpaths have made this cave an assessable site for tourists.
Address: Killavenoge, Co. Tipperary, E21 H920, Ireland
2. Arigna Mining Experience – for a rich historical experience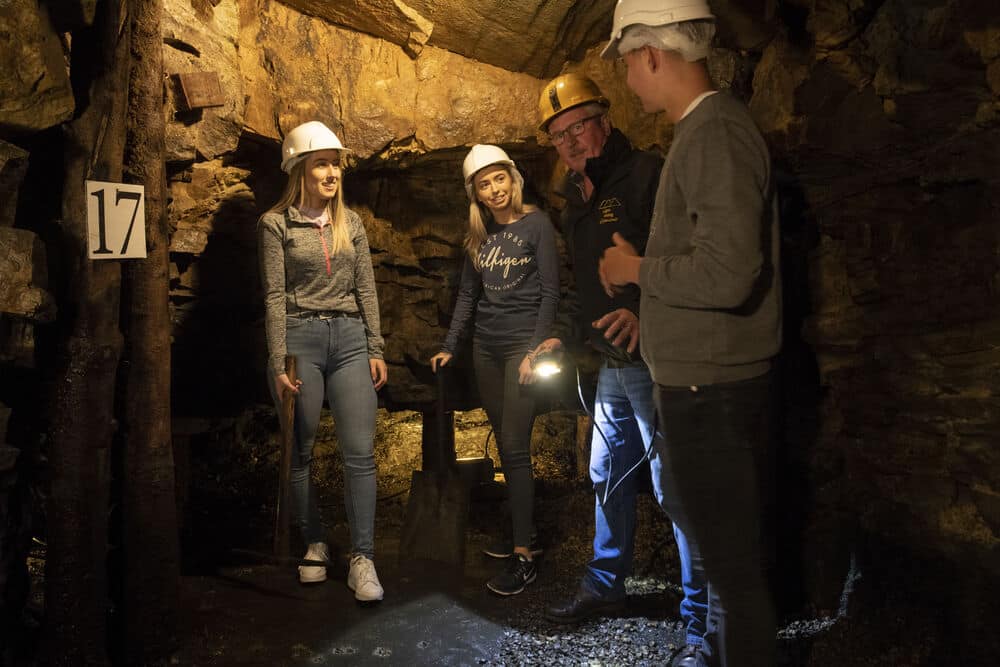 Arigna has a rich 400-history of coal mining and the 'Arigna Mining Experience' pays homage to this. Visit Ireland's first coal mining museum and bolster your knowledge of local geology including mudstones, siltstones, sandstones and new forms of renewable energy.
Upon the closure of the mine in 1992, former miners were employed as tour guides. Let them guide you through the experience and enjoy the historical displays, including mining paraphernalia from different mining stages.
Address: Derreenavoggy, Carrick-On-Shannon, Co. Roscommon, Ireland
1. Marble Arch Caves – ­for underwater passages and waterfalls
The Marble Arch Caves European Geopark in County Fermanagh hold some of the most impressive caves in Ireland. They are a unique Valentine's date idea in Ireland. Take advantage of the fascinating 75-minute tours on offer through the intricate caverns.
Treat your eyes to the sights of underwater passages and waterfalls. The site is adapted nicely for tourists an includes a gift shop and restaurant so you can really make a day out of it.
Address: 43 Marlbank Rd, Enniskillen BT92 1EW