The Guinness Storehouse in Dublin has just been named Ireland's most visited tourist attraction of the past year!
The world-famous St. James's Gate brewery drew more than 1.7 million guests across the last 12 months, making it more visited than any other attraction on the Emerald Isle.
The Storehouse attracts visitors from all over the world and is one of the best things to do in Dublin, as there are many things you can't miss on the Guinness factory tour.
The Guinness Storehouse saw an enormous increase in numbers
It is unsurprising that the landmark attraction made this achievement, as it had already taken the medal for being Ireland's most visited tourist attraction of 2017 and 2018.
However, 2019's huge figure is a dramatic increase of 32% on 2018's number of visitors, and during that time the storehouse saw a phenomenal 1.1 million pints of delicious Guinness being poured for everyone that paid in.
It is a custom every year that at least 50,000 people get to pull their own pints of Guinness and have their selfies printed onto the head using malt ink.
Alongside delicious pints, the storehouse dished up more than 48,000 portions of beef and Guinness stew with almost 50,000 oysters – it is common practice to pair fresh seafood with a pint of the black stuff.
Visitors come from all over the world to make the Guinness Storehouse a resounding success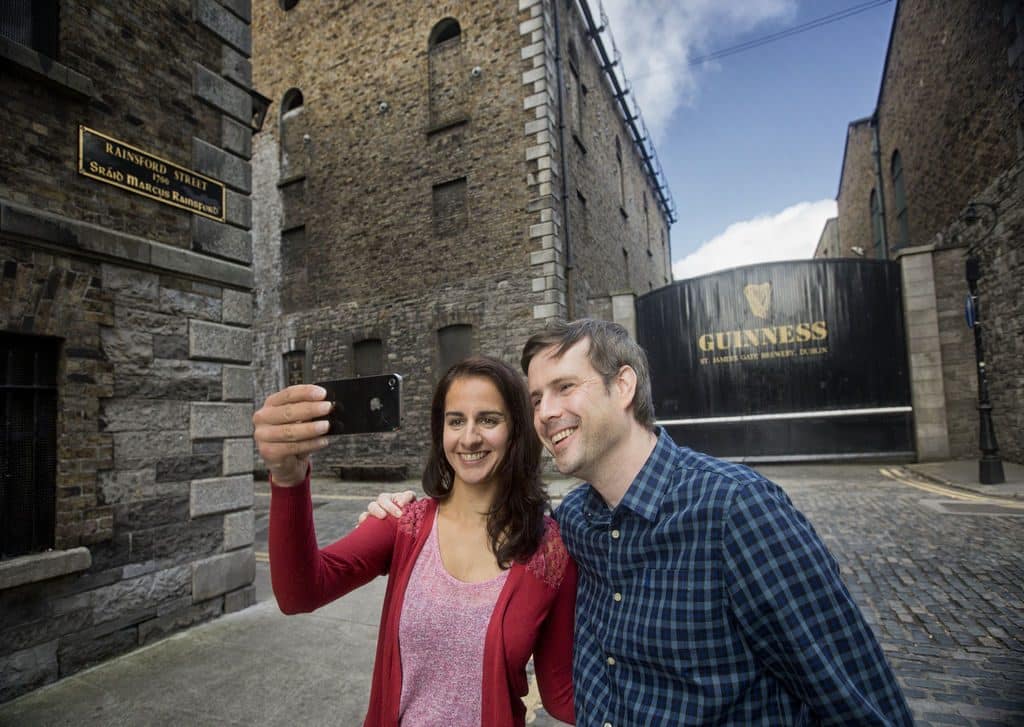 Fascinatingly, around 25% of all visitors to the Guinness Storehouse came from the United States.
Paul Carty, managing director of the Guinness Storehouse, could not have been more enthused by the numbers, hailing 2019 as an "incredibly successful year for the Guinness Storehouse".
He says, "We kicked off the year by celebrating a momentous milestone in our history by welcoming our 20 millionth visitor in April; introduced Guinness Storehouse Seafest, a three-month festival devoted to Ireland's world-famous seafood and its synonymous relationship with Guinness; celebrated International Stout Festival, St. Patrick's Day and much, much more."
2019 also saw the Guinness Storehouse welcoming its 20 millionth visitor ever on April 25. The person in question was Maria Christian from New York, who was visiting the Emerald Isle for the first time with her County Tipperary–born fiancé.
Ever since it opened in 2000, the Guinness Storehouse has continually reinvested its money into improving its visitor experience. It's no wonder it has been such a success.
More exciting news is still to come in 2020
As if this news weren't enough, Guinness is already set to introduce a new premium tour to the well-known tourist hotspot. The new tour will begin on January 17, lasting about two hours and promising the ultimate Guinness experience that delves into the past, present and future of St. James's Gate.
Visitors of this premium experience will be among the few permitted to go inside the Roast House, where Guinness's barley is roasted to 232 degrees Celsius. Visitors will experience the legendary underground tunnel that will take them to Brewhouse 4, the state-of-the-art brewery that is responsible for the creation of today's Guinness.
It is also expected that limited-edition food, beer and special vouchers will be given out at the end of the tour.
Tickets start at €95 per person.