Donegal is a must-visit destination in Ireland. If you're looking for a place to stay there, here are our five favourite Airbnbs in County Donegal.
Located in the province of Ulster, Donegal is without a doubt one of Ireland's most scenic counties. Boasting dramatic landscapes, glorious sandy beaches, sensational coastal drives, a rich Gaeltacht culture, and an abundance of things to do, see, and experience, Donegal is a must-visit destination for visitors to the island of Ireland.
If you are looking for a place to stay, there are so many unique accommodation options available along this stretch of the Wild Atlantic Way, from railway carriages to treehouses, perfect for everything from family holidays to romantic getaways.
We thought we'd narrow it down a bit for you and pick out some of the most unique listings, so here are five unique Airbnbs in County Donegal to check out!
5. The Railway Carriage – enjoy a cosy stay in a quirky railway cabin
Our first unique Airbnb is in Corcreggan Mill holiday village, just outside the beautiful village of Dunfanaghy. This beautiful 150-year-old, mahogany railway carriage sleeps up to 16 people. Its sleeping compartments can be booked individually, or the entire carriage can be booked for exclusive use.
The 'Railway Station' housing the carriage features a self-catering kitchen, dining and an open fire sitting room for guests use and there is oil-fired central heating throughout the carriage. Perfect for those chilly Irish evenings! During high season, guests can also enjoy the newly refurbished "Wine Loft" where they can enjoy a selection of wines, home-made pizzas, and gourmet fish and chips!
Surrounded by some of the island's most beautiful sandy beaches, lakes, mountains and attractions such as Glenveagh Castle and Mount Errigal, this quirky listing offers guests a truly unique opportunity to experience Donegal. What's even better is the site is also dog-friendly, so your family pooch can join in on the holiday fun!
See the listing here.
Location: Corcreggan Mill, Castlebane, Dunfanaghy, Co. Donegal, Ireland
4. Lough Mardal Lodge – share a unique glamping experience in a yurt
Next on our list is Lough Mardal Lodge in the remote yet accessible area of Bradlieve. This listing offers fully insulated and luxuriously furnished yurts, each with wood-burning stove and private veranda.
Guests can avail of the amenities in the communal Lodge which offers a fully equipped kitchen, hot showers, toilets and a lounge area with panoramic views of the lake and mountains. There is no electricity in the yurt and light is by rechargeable lantern and candles which are provided, making the experience even more magical.
Set in a stunning, wild location the yurts are immersed in nature. Well-known surf spots Bundoran and Mullaghmore are close by, and guests can also go swimming in the lake, so make sure to bring your togs!
For more details, click here.
Location: Lough Mardal, Bradlieve, Ballintra, Co. Donegal, F94 W4FE, Ireland
3. The Spires – release your inner history enthusiast in a renovated 19th-century church
Our next dwelling is the ideal location for visitors to Letterkenny. Located just 5 minutes from the busy town this listing is ideal for touring the Wild Atlantic Way. 'The Spires' is a restored 19th-century church and offers guests a wonderfully peaceful retreat while also being in the thick of the action. Within a short drive of Letterkenny with its pubs, clubs, theatre, cinemas and famous eateries there is no shortage of things to do.
With a history spanning 190 years, this stunning church is an ideal home away from home and is completely at the disposal of guests so you and the family can make yourselves right at home. With its welcoming aesthetic and quirky features, this listing is worth a look at when planning your visit to Donegal!
For booking details, click here.
Location: Letterkenny, Co. Donegal
2. The Birdbox – kick back and relax in a treehouse with stunning valley views
Our next unique Airbnb in County Donegal is The Birdbox, one of the weirdest Airbnbs in Ireland. Located in a quiet valley and nestled in the branches of beautiful mature oak and pine trees, this cozy, handcrafted treehouse is a sensational base to explore Donegal from. A short distance from The Wild Atlantic Way coastal drive, The Birdbox offers is ideal for a peaceful (and unique!) getaway with views of Glenveagh National Park.
The treehouse features a couch, wood-burning stove (with fuel provided), a kitchenette, a shower, a private deck area and access to a washing machine and dryer in a nearby outhouse. A mezzanine above the living space holds a double bed. Mind your head on the way up, but it looks super cozy!
This unique listing would be perfect for anyone seeking to immerse themselves in the Donegal wilderness while also remaining close to a bit of civilization. While secluded, the treehouse is near Fintown village which offers a range of amenities including a shop and pubs. This is a Gaeltacht area rich in traditional Irish culture, so a trip down to one of the local pubs for a traditional session is a must!
Click here for more information.
Location: Fintown, Co. Donegal
1. CroPod – live out your fantasies in an underground Hobbit pod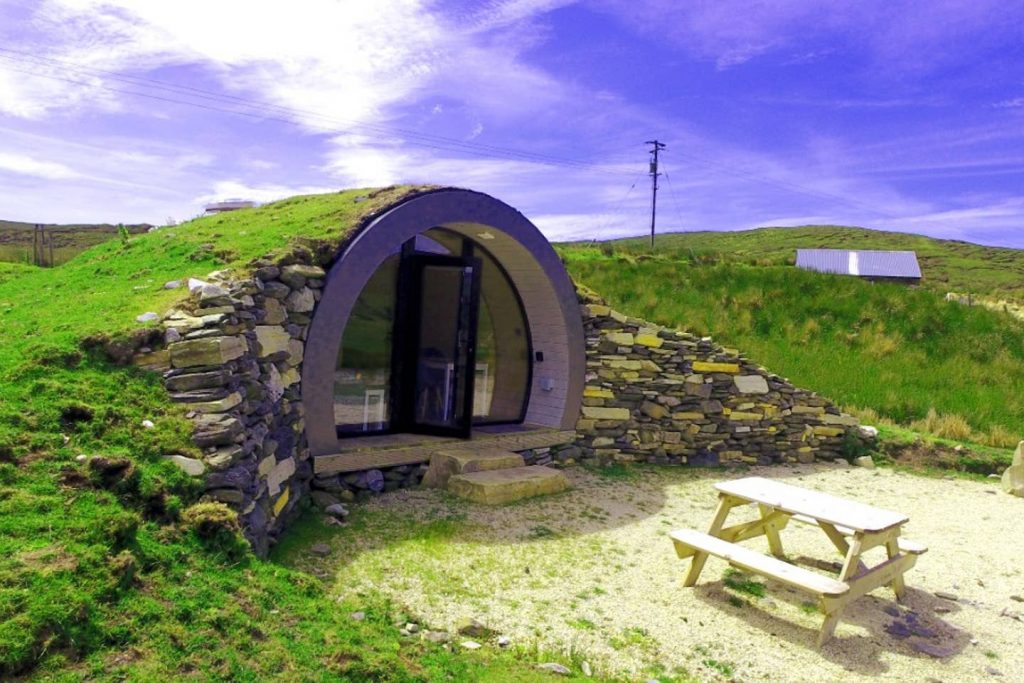 Top of our list of unique Airbnbs in County Donegal is a unique underground shelter in glorious Glencolmcille. Recognized by the Irish Times as the best place to stay by the sea in April 2019, this truly sensational space oozes character and charm. Inspired by the archaeology of Ireland (and perhaps the iconic Lord of the Rings series), the CroPod can be your own personal Hobbit pod with spectacular views over Glencolmcille by day, and star-filled Irish skies by night.
You must admit, you'd be crazy not to be intrigued by this unique dwelling. Who in their right mind doesn't want to spend the night in a hobbit house? Live out your fantasies in this amazing contemporary mountain-dwelling and discover all that Donegal has to offer.
For booking information, click here.
Location: Croaghacullion, Glencolumbkille, Co. Donegal, Ireland
Get featured on Ireland Before You Die
Do you want to get your Irish business more online exposure? Especially to those interested in travelling the best places in Ireland? Then why not get a dedicated feature on Ireland Before You Die. Find out more 
here.