One of the best ways to get to know Ireland's capital is to sit back with a coffee or an ice cream and observe the locals. Here are five great spots for people-watching in Dublin.
Dublin is home to one of the most diverse populations on the island of Ireland, and with this comes a wealth of opportunity to observe and overhear some amazing characters.
An afternoon spent people-watching in Dublin is one of our favourite ways to get to know the soul of the capital. Here are some spots where you're bound to come across stories to bring home with you!
5. St. Stephen's Green – enjoy an ice cream and observe the locals
This large urban park space adjacent to shopping haven Grafton Street is a popular meeting spot amongst locals. On a sunny day, grab a 99 ice cream to go from the nearby St. Stephen's Green shopping centre and bag a spot on one of the benches beside the duck pond.
Here you'll see everything from gaggles of giggling teenagers to lunching professionals, to awkward first dates. St. Stephen's Green is within walking distance of some of the city's most exclusive wedding venues—meaning you might even be witness to a newlywed photoshoot!
Address: St Stephen's Green, Dublin 2, Ireland
4. Patrick Kavanagh statue – sit by the canal and take it all in
People-watching was a hobby favoured by one of Ireland's most beloved poets, the late Patrick Kavanagh. He even mentions it in one of his most famous pieces, 'Canal Bank Walk', where he speaks about sitting contentedly at the edge of Dublin's Grand Canal watching a 'couple kissing on an old seat'.
A bench with a statue of Kavanagh sitting at one end has been conveniently placed at his favoured viewing point along the canal, meaning that you can sit with one of Ireland's literary greats and observe both the nature and the many walkers and cyclists that pass by the 'leafy with-love banks' on a daily basis. Who knows—maybe you'll even be inspired to write a masterpiece of your own!
Address: Wilton Terrace, Grand Canal Dock, Dublin, Ireland
3. The Confession Box pub – grab a pint and watch the busy streets (or the game!)
This prime snooping location gets extra points because you can people-watch with a creamy pint of Guinness in your hand (or even one in each hand—we won't judge)! The Confession Box is housed in a sensitively restored Georgian building that was once typical of this inner-city area.
The pub is so named because legend has it that excommunicated rebels (including renowned Irish hero Michael Collins) would receive Catholic sacraments here in secret during the War of Independence from priests sympathetic to their cause. If the walls of this pub could talk, they would certainly have some juicy stories to tell.
Bring your pint upstairs and grab a seat on the bar stools by the window. You can keep one eye on the crowds that flock the streets outside and the other eye on the local punters who give this spot its old Dublin soul. For a truly authentic experience, come during a Dublin GAA match; this venue is a fan favourite for gathering to watch the game.
Address: 88 Marlborough St, North City, Dublin 1, D01 X267, Ireland
2. Dun Laoghaire Pier – a scenic spot to people-watch and daydream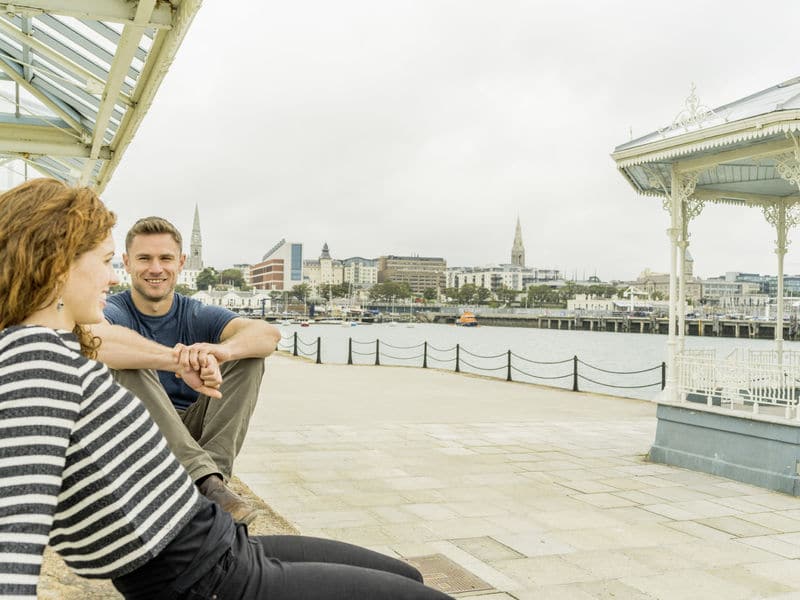 This is one of our favourite spots in the city, and the locals seem to share our opinion, judging by how they flock here to shake off the cobwebs with a brisk walk on a weekend morning. Though outside the city centre, Dun Laoghaire is easily accessible by DART, and certainly worth the short rail journey to see one of the most picturesque parts of the county.
Come on a Sunday after 11 am and stop in the nearby People's Park market for some delicious street food. Then set up camp along the pier for some of the best-ever people-watching in Dublin.
You will see Dubliners from all walks of life here (no pun intended)—from well-heeled pensioners convening after Mass, to exhausted parents chasing their scooter-yielding brood, to hung-over students struggling to put one foot in front of the other.
For ice cream fans, there is great debate amongst Dubliners about whether old favourite Teddy's or new kid on the block Scrumdiddly's serves up the best soft scoop—and there's only one way to find out…
Address: Dun Laoghaire Harbour East, Co. Dublin
1. Liberty Market – a bustling slice of city life
Dublin's street trader history is fondly captured in the world-famous ballad of Molly Malone, and in this little pocket of the inner city, it is still alive and well. Makeshift market stalls selling toys, homewares, clothes, and everything in between form the beating heart of bustling Meath Street from Thursday to Saturday.
Visit in the late morning and listen to the iconic cries of the stall owners, shouting out the bargains of the day to passers-by in the distinctive inner-city Dublin accent. If you close your eyes at Liberty Market, you could almost be in the old Dublin that the folk songs speak of—but don't actually close your eyes, because that would mean missing out on people-watching gold.
Within comfortable walking distance of the Guinness Storehouse, the covered indoor market area makes this an activity suitable even for a dreary day. To catch a slice of the city that many tourists never get to see, this has to be our favourite spot for people-watching in Dublin.
Address: Liberty Market, Meath St, The Liberties, Dublin, Ireland
By Nicola Spendlove