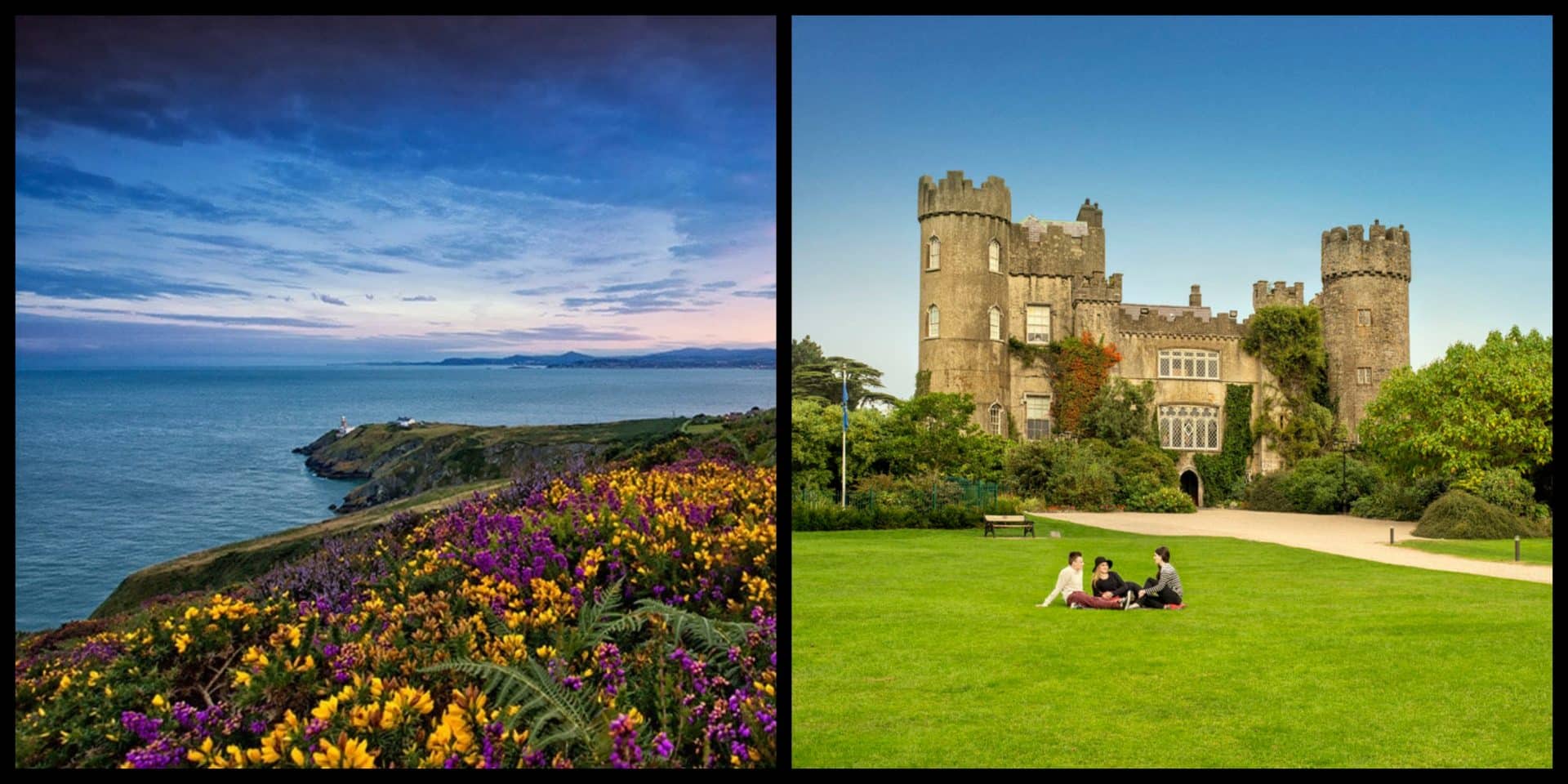 Dublin is a small city—that is one of its charms. While the city itself is ripe with things to do, places to see, sites of cultural and historical interest, pubs, entertainment venues, museums, and shops galore, sometimes it is nice to venture out!
As luck would have it, the city has the DART (Dublin Area Rapid Transit) line, a fast-moving train that runs along the coastline from North Dublin all the way to Greystones in County Wicklow (also known as the "garden of Ireland" due to its immense natural beauty).
The DART has three stops in the city centre, making it super accessible for all of you who are touring Dublin and looking to get away from the hustle and bustle of the city.
Need some new scenery for the day? These five day trips from Dublin on the DART line won't disappoint, and they all take less than an hour from point A to point B.
5. Dun Laoghaire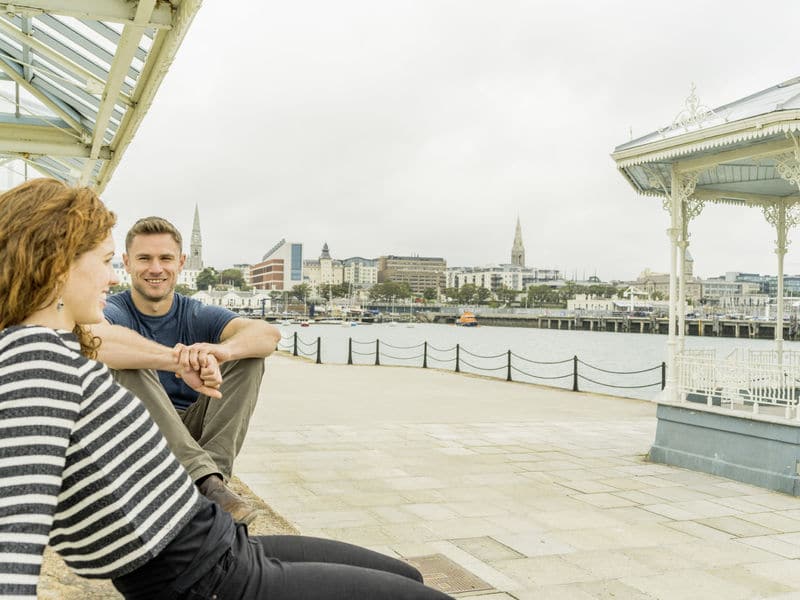 Dun Laoghaire is a super easy and fun day trip when in Dublin city. Less than 25 minutes from the city, this seaside locale packs quite a punch with tonnes of things to do for all ages.
Sites of cultural and historical significance such as the James Joyce Tower and Museum and Dalkey Castle and Heritage Centre offer a unique, out-of-city alternative to Dublin sightseeing.
There are great outdoor adventures to be had here too. The Forty Foot is a fantastic swimming spot just off the pier (if you dare to brave the cold). Alternatively, a stroll on the pier or some hot-off-the-grill pub grub is likely to warm your bones.
4. Greystones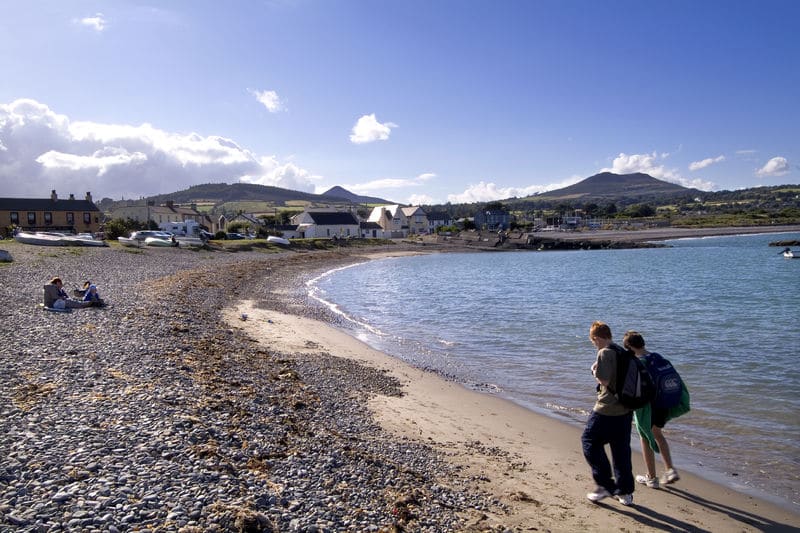 Greystones is a quaint seaside town located in Wicklow. Less than 60 minutes by DART from Dublin City, Greystones makes for a perfect daytime adventure.
Located in the "garden of Ireland," this place offers umpteen wonders to enjoy, from stunning waterfalls and impressive hikes to mountain-view vistas and cliff walks with stunning weather-worn coves and caves aplenty.
The charming town is laden with shopping opportunities, local restaurants, and cafes, as well as tonnes of places to grab a couple of pints—after a romantic stroll on the beach, of course.
Although the majority of the tourist trade happens around the summer months, a winter day-date in Greystones would definitely get the sparks flying.
3. Bray
When it comes to day trips from Dublin on the DART, Bray is another must. Situated in the north of County Wicklow, this seaside town is perfect for those wanting to explore beyond the boundaries of the city.
Only about 45 minutes by DART from Dublin, the train will follow a coastal route, winding along the water's edge before landing you on the shorefront in Bray Town. The coastal town is a popular local and tourist destination, especially when the sun decides to say hello.
There are heaps of things to keep you keen in Bray, too. Not only does the locale boast the captivating SEA LIFE aquarium, but an outdoor fairground (operating in the summer months) and a fun-filled arcade also keep the kids—and adults—coming back for more.
Stunning coastal walks and cliff routes offer bird's-eye views of the surroundings too, and there are tonnes of dining and drinking venues, which offer the perfect end to a perfect day.
2. Malahide
The picturesque harbour town of Malahide is another fantastic option for a day trip when visiting Dublin. Just over 30 minutes from the city, it's a short trip, and with so much on offer once there, this one's a no-brainer.
A large park, aptly named Malahide Park, is a major attraction in the locale. An old stately castle offers tours daily, and a state-of-the-art playground and gourmet café make it all the more appealing to families.
The village itself is small and local with a selection of clothing boutiques, one-of-a-kind stores, upscale dining, low-key cafes, and traditional Irish pubs. This is the perfect place to go should you be looking to do some shopping outside of the high-street bubble.
1. Howth
Topping our list of day trips from Dublin on the DART, Howth is a picture-perfect escape—and only 30 minutes away! Whether you're looking for a stroll along the pier to check out fishing trawlers up close or wish to try the finest seafood in all of Dublin…whether you're looking to stretch your legs on a challenging cliff hike or visit the nearby island, Ireland's Eye…Howth is a satisfying day trip for everyone.