We absolutely adore our capital but, just like in every relationship, we sometimes need a little break. Feel the same? Read all about the ten best day trips from Dublin you can do today.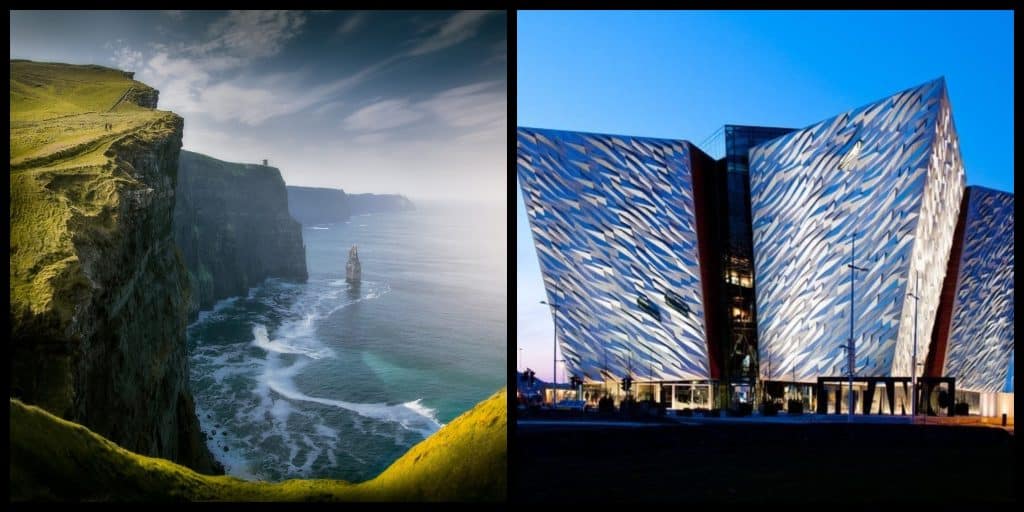 Cliffs, beaches, lakes, and haunted castles; Dublin's surroundings have it all, and while they certainly deserve more attention, it's entirely possible to get a glimpse at the rest of Ireland even in just one day. Why not take one of these numerous day trips from Dublin to see more?
If you only have a few days in our country – or are a Dubliner looking for a change of scenery – we suggest taking these trips to see what else our beautiful island has to offer – you might end up writing down a bucket list for your next visit!
Not sure where to go and what to do? Check out our list of the ten best day trips from Dublin you can do today – and tell us which one you liked best.
10. Malahide – visit the most haunted castle in Ireland
Just a 20-minute-trip north by DART from Dublin, Malahide makes a great day trip destination for history as well as beach fans. The town centre is easily walkable, and you are never far from the marina, so bring your swimming suit if you visit in the warmer months.
However, the main attraction in town is the medieval Malahide Castle where the Talbot family lived for 800 years. Besides checking out their private rooms and some stunning pieces of art, you might also see a ghost. Yes, a ghost!
Rumour has it Malahide Castle is the most haunted building on the Emerald Isle – the guides will happily fill you in on all the legends. Ghost sighting or not, make sure to leave some time to explore the beautiful gardens all around the castle!
If you have an extra hour or two, hop off the DART in Clontarf on the way to or back from Malahide for a relaxing beach walk and a great view of the legendary Poolbeg Chimneys.
9. Belfast – explore the story behind the Titanic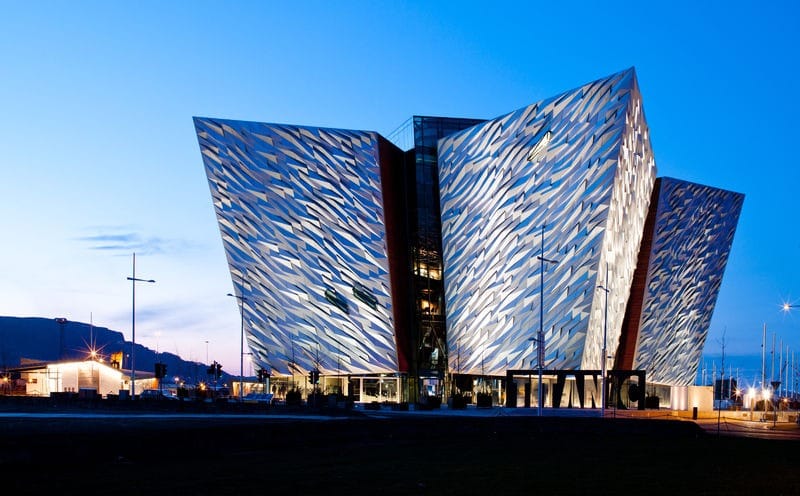 Whether you are a history buff, a Titanic fan, or just enjoy exploring cities, you certainly can't go wrong with Belfast. The Northern-Irish capital is only two and a half hours by train or bus from Dublin, making it one of the ten best day trips from Dublin you can do today.
There's no doubt, the city's most famous attraction these days is Titanic Belfast, a six-floor, nine-gallery interactive museum on Queen's Island, where you can explore the story behind the world's most famous ship (and James Cameron's movie starring Leonardo DiCaprio and Kate Winslet). Book your ticket and entry slot before you head off to Belfast to avoid wasting time in the waiting queue.
After the museum, stretch your legs at the nearby pay-as-much-as-you-want eatery, The Dock Cafe. Then, either take a stroll through the city centre or a black cab tour to check out the sights and murals of The Troubles. If you are up for a pint, we suggest Kelly's Cellars, one of the oldest, most popular, and most authentic pubs in town.
8. Cliffs of Moher – take a walk along Ireland's famous cliffs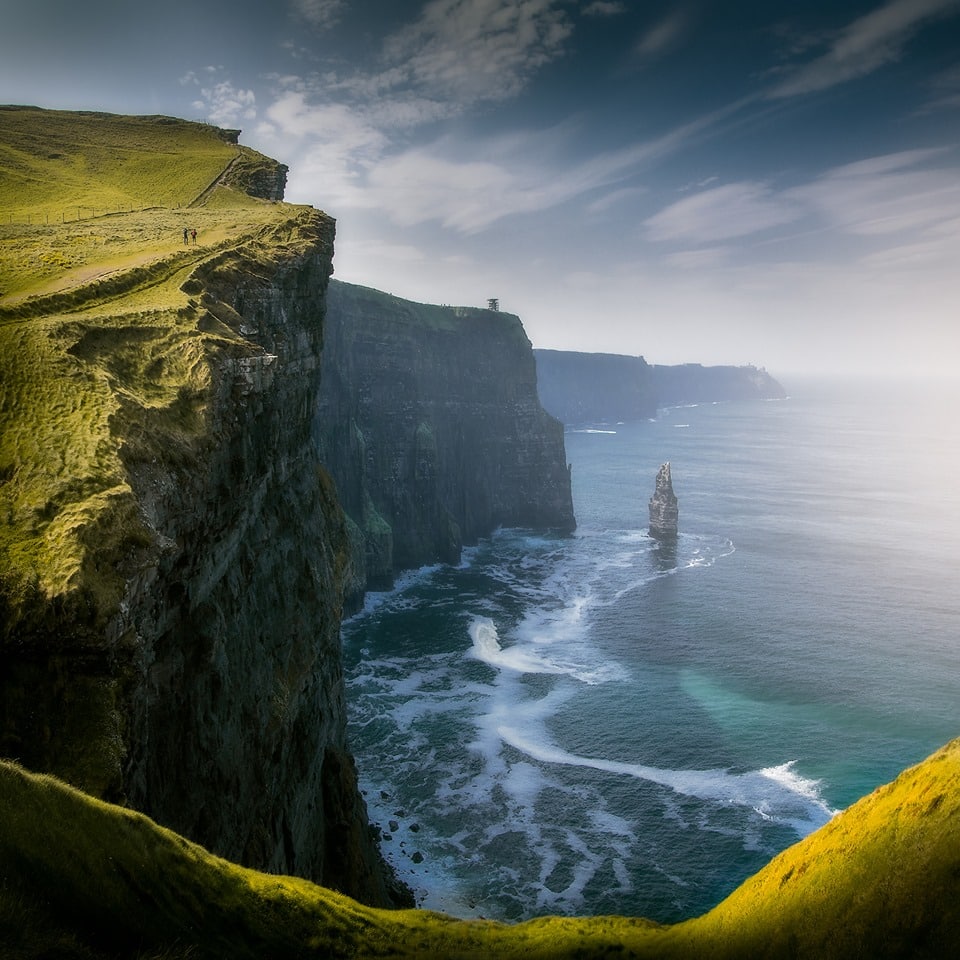 A trip from Dublin to the Cliffs of Moher is great if you don't mind getting up early (and coming back late). The trip to the Cliffs of Moher is doable within a day. The Emerald Isle's most famous cliffs are located on the west coast, roughly 270 kilometres from Dublin, and draw more than 1.5 million visitors a year. 
Up to 213 metres high and 14 kilometres in length, you can marvel at the Aran Islands in Galway Bay, the Twelve Pins and the Maumturks in the north, and Loop Head in the south from their peak.
The easiest way to access the attraction is the Cliffs of Moher Visitor Experience. However, if you have a little more time to spare, we recommend one of the Cliffs of Moher hiking trails. And just in case you are wondering, yes, Harry Potter was really filmed here!
Being easily one of the ten best day trips from Dublin you can do today, there are numerous guided tours available from the capital, some even offering a hotel pick-up. If you prefer to go on your own, it's about a three-hour-drive.
As the weather at the cliffs can change from sunshine to storm, rain, and even hail within minutes, wear comfy shoes and pack everything from shades to a water-proofed jacket.
7. The Wicklow Mountains – see mystical ruins and crystal-clear lakes
A 75-minute-road trip takes you to one of Ireland's most beautiful natural gems, Glendalough and the Wicklow Mountains. Even the journey there is quite spectacular, with the scenery changing dramatically just a few minutes outside the city border.
Glendalough is famous for its glacial lakes, moors, forests, and of course, as one of the main shooting locations of Hollywood blockbusters such as Braveheart and P.S. I Love You. However, most visitors come to see the mystical monastic ruins, dating back to the 10th and 12th century.
Before you explore them, head to the visitor centre – the short film about the attraction gives you the history in a nutshell and makes your stay a lot more worthwhile.
The Wicklow Mountains are a nature-lover's paradise and options to spend the rest of your day are endless. Whether you want to go hiking (there are trails for beginners as well as pros), chill at one of the many lakes, or shoot some spectacular outdoor photos, we are confident you won't regret the trip.
6. Howth – take a cliff walk, enjoy a cheesy sunset, and eat delicious seafood
Whether you are into coastal hikes, walks on the beach, or boat trips, if you love seafood or Instagramming lighthouses, Howth has you covered! Just a thirty-minute-ride by DART, the picturesque fishing village north of Dublin is a must-see and our winner of the ten best day trips from Dublin you can do today.
Steps from the train station you will find the Howth Market, independent businesses, and little antique shops, while the pier just a little further down the road features colourful fishing boats and excellent restaurants serving the fresh catches straight from the boat.
A pleasant walk to the lighthouse gives you postcard-perfect views of the bay, while little boats take off regularly to the nearby island, Ireland's Eye, home to dozens of birds and seals.
Another attraction not to be missed is the Howth Cliff Walk, allowing panoramic views over the peninsula while burning some calories. The Summit Inn pub is a great place to rest your legs afterwards.
In a romantic mood? Howth's sunsets are always a catch, and you will find plenty of locals and visitors gathering around the pier or on the beach for an evening walk. Make sure to get the lighthouse in the picture for a cheesy Instagram shot.
5. Lough Tay – for amazing lake views
This natural wonder is located in the Wicklow Mountains National Park, on the shores of a private property. The freshwater lake is often referred to by locals as "Guinness Lake" because it somewhat resembles a pint of Guinness, with its dark, black body and a white foamy "head."
The latter is actually a private beach with stark white sand (offering this dynamic contrast). The Guinness family still own all the land today, and a beautiful private residence that costs €20,000 a week to rent is available to punters with a wad to spend.
Lough Tay lies between the Djouce and Luggala mountains, and as it is private, it is most often observed at a height from the Wicklow Way route or the road R759.
It is said that the best way to enjoy the beauty of this lake is from above, looking down while enjoying a can of Guinness. However, please do not drink and drive; doing so is not only illegal but also even more dangerous than usual on Wicklow's challenging and sometimes treacherous roads.
Address: Lough Tay, Ballinastoe, Co. Wicklow
4. Blessington – for charming garden strolls
Blessington is not only one of the best day trips from Dublin within a one hour drive, but it is also perhaps one of the most beautiful places in the entire country. Situated in the "garden of Ireland" (a.k.a. Wicklow), Blessington sits along the River Liffey and is a great place for a day adventure.
Russborough House is one of the most sought-after destinations in all of Blessington, and the stately home offers charming garden paths and woodland wanders, as well as indoor artist workshops, art collections, exhibits, house tours, and even a quaint tea room for light refreshments and lunch.
A walk along the neighbouring Poulaphouca Reservoir is the perfect way to top a day off in Blessington, before returning to the Republic of Ireland's capital city.
Address: Blessington, Co. Wicklow
3. Powerscourt Estate – for magnificent manor vibes
Powerscourt Estate has got to be one of the most breath-taking natural wonders on the East coast of Ireland, and as luck would have it, it's just moments from Dublin city.
Set in County Wicklow on 47 acres, this country estate consists of a great house – what was originally a 13th-century castle – perfectly manicured gardens, wild woodlands, and a mesmerising waterfall.
Today it is a popular tourist destination and a favourite of those looking to get away from the city slog for a day and enjoy the country air. On a warm day, the outdoor options are endless, so don't forget to pack your walking shoes and a picnic.
Address: Powerscourt Estate, Enniskerry, Co. Wicklow
2. Glendalough – for valley walks and scenic picnics
Also set in County Wicklow is Glendalough – an ancient 6th-century monastic settlement hidden in a glacial valley. Founded by St. Kevin thousands of years ago, Glendalough has got to be one of the most popular tourist destinations in all of the East coast of Ireland.
Today, the round tower still stands strong, and the area boasts fantastic hiking and picnicking options for the entire family. During the summer months, ice cream vendors and fun activities fill the area, so keep an eye out for upcoming events.
Address: Glendalough, Derrybawn, Co. Wicklow
1. Newgrange – our favourite day trip from Dublin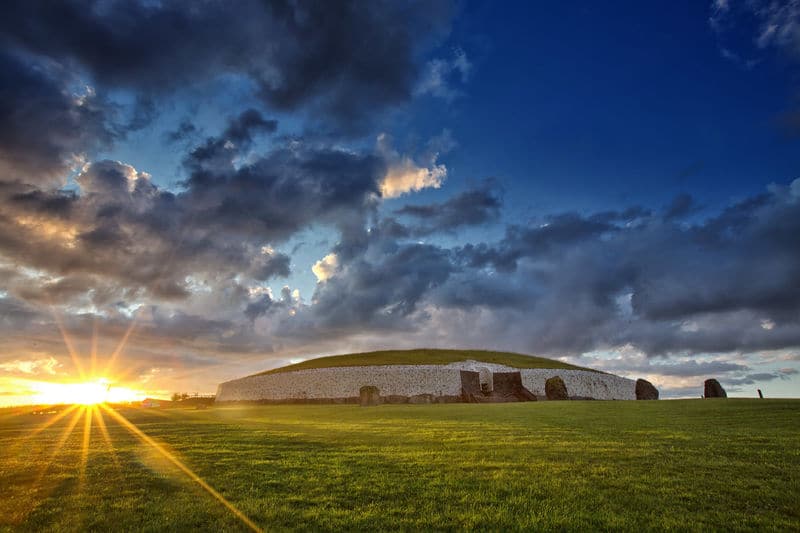 Newgrange is one of the most famous landmarks in Ireland.
This man-made wonder is most popular with tourists for its recognition of the winter solstice, when light from the sun illuminates a passage in this tomb.
The sheer integrity of the infrastructure sheds light on methods of building and tools from a period of over 5,000 years ago. The strength and resilience of its build prove how capable the people of that time were, too.
If you're looking for stunning day trips from Dublin within a one hour drive, you can't miss this one.
Address: Newgrange, Donore, Co. Meath
Frequently Asked Questions (FAQs)
1. What time is it in Ireland?
2. What is the population of Ireland?
6.8 million people live on the island of Ireland (2020). There are 4.9 million living in the Republic of Ireland and 1.9 million in Northern Ireland.
3. How many counties are there in Ireland?
There are 32 counties on the island of Ireland. County Louth is the smallest, and County Cork is the biggest.
4. What temperature is it in Dublin?
Dublin is a coastal city with a temperate climate. Spring sees balmy conditions ranging from 3°C (37.4°F) to 15°C (59°F). In Summer, temperatures rise to a range of 9°C (48.2°F) to 20°C (68°F). Autumn temperatures in Dublin are generally between 4°C (39.2°F) and 17°C (62.6°F). In winter, temperatures are usually between 2°C (35.6°F) and 9°C (48.2°F).
5. What time is sunset in Dublin?
Depending on the month of the year, the sun sets at varying times. On the Winter Solstice in December (the shortest day of the year), the sun can set as early as 4:08pm. On the Summer Solstice in June (the longest day of the year), the sun can set as late as 9:57pm.
6. What to do in Dublin?
Dublin is a dynamic city with tonnes of things to see and do! If you're keen to learn about what to do in Dublin, have a look at the below articles for some inspiration.
If you are visiting Dublin, you will find these articles really helpful:
Where to stay in Dublin
The 10 best hotels in Dublin city centre
The 10 best hotels in Dublin, according to reviews
The 5 Best Hostels In Dublin – Cheap and Cool Places to Stay
Pubs in Dublin
Drinking in Dublin: the ultimate night out guide for the Irish capital
The 10 best traditional pubs in Dublin, ranked
The ultimate 5 best bars in Temple Bar, Dublin
6 of Dublin's Best Traditional Music Pubs Not in Temple Bar
Top 5 Best Live Music Bars and Pubs in Dublin
4 Rooftop Bars in Dublin You MUST Visit Before You Die
Eating in Dublin
5 Best Restaurants for a Romantic Dinner for 2 in Dublin
5 BEST places for Fish and Chips in Dublin, RANKED
10 Places to Grab a Cheap & Delicious Meal In Dublin
5 Vegetarian & Vegan Restaurants in Dublin You NEED To Visit
The 5 best breakfasts in Dublin that everyone should visit
Dublin Itineraries
One Perfect Day: How to Spend 24 hours in Dublin
2 days in Dublin: the perfect 48 hour itinerary for Ireland's capital
Understanding Dublin & its attractions
10 fun & interesting facts about Dublin you never knew
50 shocking facts about Ireland you probably didn't know
20 mad Dublin slang phrases that only make sense to locals
10 Famous Dublin Monuments with Bizarre Nicknames
10 things you should NEVER do in Ireland
10 Ways Ireland Has Changed Over The Last 40 Years
The history of Guinness: Ireland's beloved iconic beverage
TOP 10 Amazing Facts You Didn't Know About The Irish Flag
The story of Ireland's capital: a bite-size history of Dublin
Cultural & Historical Dublin attractions
Top 10 famous landmarks in Dublin
7 Locations in Dublin where Michael Collins Hung Out
More Dublin sightseeing
5 SAVAGE Things To Do On A Rainy Day In Dublin
Top 10 weirdest tourist attractions in Ireland