As the capital of Ireland, Dublin city is brimming with local life and culture, street performers, cool restaurants, historical sites, and, of course, some of the finest pubs on the entire island.
In fact, as of February 2018, Dublin had over 772 bars, meaning the city offers a style or vibe suitable for every type of pub-going occasion.
That said, with so much choice on offer, it can be tricky—especially when you're only discovering a city for the first time—to know where to go.
While opinions vary and vibes depend on the day and time, one thing for sure is that these are 10 bars and pubs in Dublin that locals swear by.
10. O'Neill's – for setting
Located in the heart of Dublin, close to Grafton Street and Trinity College, is O'Neill's. Sitting opposite the Molly Malone statue, this is a perfect stop-off when exploring Dublin city.
Although this pub is not huge, it has various sections split over multiple floors. As it is set out like an endless maze, it is easy to get lost in here, but wherever you end up will be a solid spot!
Address: 2 Suffolk Street, Dublin 2
9. The Palace – for a no-frills spot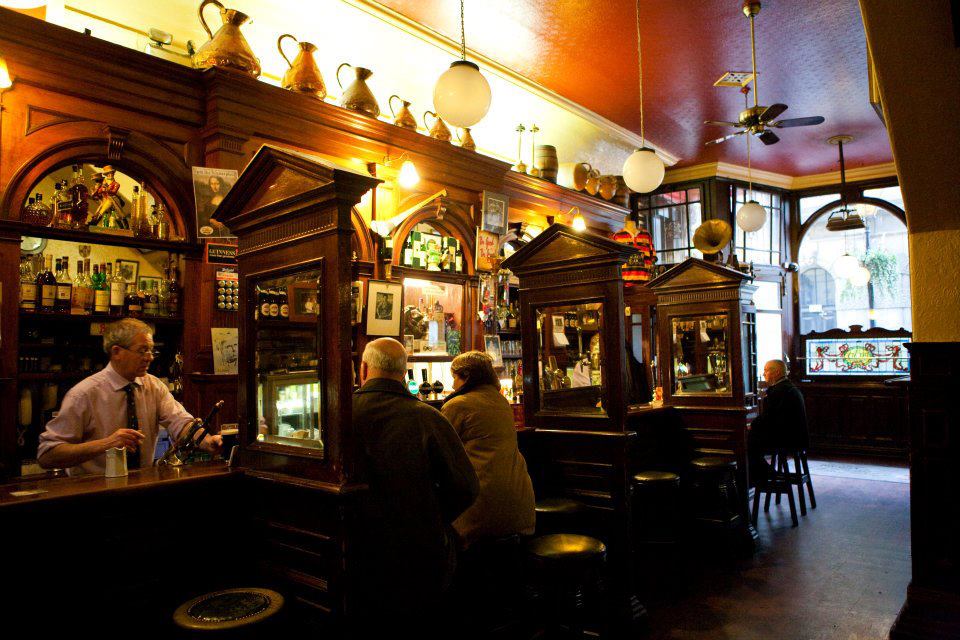 This place is the epitome of a local's pub in Ireland. It's simple and straightforward with a no-frills approach. The décor is of the Victorian era, and the wooden panelling and stained glass will transport you to a time forgotten.
Forget a TV showing sports or background music to bop to; this is the type of spot where you enjoy a pint of Guinness while watching an impromptu trad music session.
Address: 21 Fleet Street, Temple Bar, Dublin 2
8. The Stag's Head – for atmosphere
Set on a side street in Dublin is The Stag's Head. This famous little bar is one the locals swear by.
Brimming with character, the Victorian setting offers stained glass features and antique chandeliers, as well as some of the finest pub vibes in the city.
Address: 1 Dame Court, Dublin 2
7. Kehoes – for a date
Located just off Grafton Street, this little Dublin pub is small and cosy and is a popular place for locals who love after-work pints or enjoy filling the street outside on a sunny day in Dublin.
The venue is intimate with little secret snugs, making it a great date spot too.
Address: 9 Anne Street South, Dublin 2
6. The Cobblestone – for live music
If you're looking for proper Irish tunes, check out the Cobblestone in Smithfield. Located a short walk from the centre of the city, this is certainly one of the top 10 bars and pubs in Dublin that locals swear by.
Cosy and charming, this is the sort of place where impromptu trad sessions thrive in abundance!
Address: 77 King Street North, Smithfield, Dublin 7
5. The Long Hall – for old-school vibes
This veteran pub on the Dublin social scene has been licensed since 1766, making it one of the oldest operating pubs in the city.
Long (as you may have guessed from the name) and narrow, this pub serves a fine pint of Guinness, and with its dimly lit Victorian interior, it also makes for a nice date spot.
Address: 51 South Great George's Street, Dublin 2
4. Mulligan's – for local craic
Located on a sleepy side street that runs parallel to the River Liffey is Mulligan's, a little local gem that Dubliners have favoured for years.
This no-nonsense pub offers solid pints and classic pub vibes in the heart of Dublin, and it's the kind of place where locals and bartenders know each other by name.
Address: 8 Poolbeg Street, Dublin 2
3. Grogan's – for people-watching
Located on the corner of South William Street and Castle Market is Grogan's, yet another no-nonsense pub on our list.
It's small and cosy inside, but the focus area is its outdoor seating, which makes for one of the prime people-watching spots in Dublin.
Address: 15 William Street South, Dublin 2
2. Toner's – for the Guinness
Some say that Toner's does the best pint of Guinness in all of Dublin, and we're not going to fight them there. This pub has one of the best-covered beer gardens in Dublin and is lively no matter what day you pop by.
Address: 139 Baggot Street Lower, Dublin 2
1. O'Donoghue's – for a post-work pint
Located down the road from Toner's is O'Donoghue's. This is another small and characterful Irish pub, which has a great little alleyway-style beer garden, and it tops our list of bars and pubs in Dublin that locals swear by.
Impromptu trad sessions from locals spice up the atmosphere here, and, dare we say O'Donoghue's also does one of the best pints of the "black stuff" (a.k.a. Guinness)!
Address: 15 Merrion Row, Dublin
Get featured on Ireland Before You Die
Do you want to get your Irish business more online exposure? Especially to those interested in travelling the best places in Ireland? Then why not get a dedicated feature on Ireland Before You Die. Find out more 
here.