Ireland's title as the "land of saints and scholars" is well earned, with some of the world's most renowned writers coming from the Emerald Isle.
Luckily for the literature enthusiasts who live here, and for those paying a visit, there are plenty of literary spots in Ireland honouring Irish writers.
Here are the top five places dedicated to our most beloved literary giants.
5. Frank McCourt Museum, County Limerick
Set in the author's old school, Leamy School in Limerick, which is now Leamy House, this museum allows visitors to see for themselves what Frank McCourt described in his memoir Angela's Ashes.
The museum not only has a recreation of a 1930's classroom a young Frank would have sat in, but there's also a recreation of his childhood home. The museum also displays a mural capturing scenes from the book, as well as authentic school books from the time donated by former pupils of Leamy School.
Although he painted a jarring picture of abject poverty in Limerick in the memoir, his dying wish was to have his ashes spread in the city he grew up in after his family left New York. That wish was fulfilled in 2017; eight years after his death, his ashes were spread in Limerick.
Some of his ashes were donated by his family to the museum and reside in a box in one of his former classrooms.
Address: Hartstonge Street, Limerick City, County Limerick.
4. Coole Park, County Galway
One of W.B Yeats' most beloved poems is "The Wild Swans at Coole" which describes an autumnal scene in Coole Park where a despondent Yeats spent time watching the swans. The 4.5km Seven Woods Trail in Coole Park is a real treat for literature enthusiasts, as it includes areas that feature in the renowned writer's poetry.
However, W.B Yeats wasn't the only one of Ireland's most famous writers to find inspiration in Coole Park, as it was very much the heart of the literature scene in the 20th century.
Sean O'Casey, Bernard Shaw, and John Millington Synge all frequented Coole Park; their initials, among others, are even carved into the autograph tree that still stands in the park today.
Address: Coole Demesne, Co. Galway
3. Oscar Wilde Statue, County Dublin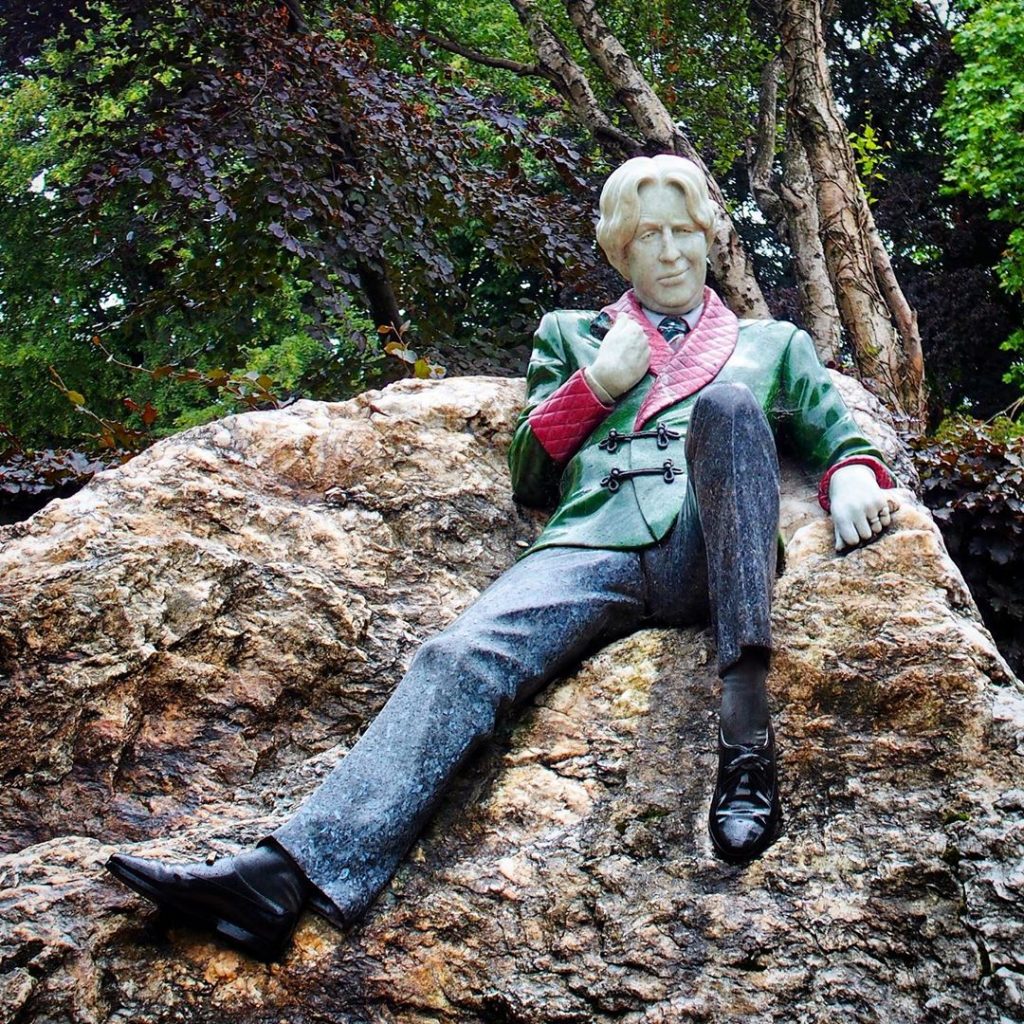 The infamous writer Oscar Wilde was born in Merrion Square in Dublin, with a statue in his honour being erected in Merrion Square Park in 1997.
Arguably most recognised for his first and only novel, The Picture of Dorian Gray, Oscar Wilde is one of the most eccentric writers from the 19th century, remembered for his wit and unique style of dress. He was also a popular poet and playwright.
The statue depicts him lounging on a rock in the park in a vivid green and purple jacket. His pregnant wife can also be seen accompanying him. He's depicted around age 40 at a high point of his life.
Tragically, Oscar Wilde died of meningitis at only 45 years old, after a rough final few of years. The statue showing him during one of the best periods of his life is a nice tribute—certainly one of the best literary spots in Ireland honouring Irish writers.
Address: 12 Merrion Square N, Dublin 4
2. Maeve Binchy Memorial Garden, County Dublin
Maeve Binchy was one of Ireland's most beloved modern writers. She was also one of the most prolific, having written 16 novels, 12 short story collections, three novellas, one play, and four works of non-fiction in her 73 years!
Dalkey Castle in County Dublin dedicated a memorial garden in the library to the writer following her death in 2012. The writer was born in Glenageary but moved to Dalkey when she was 12 years old, with the staff and management of the castle being very supportive of her writing career.
They staged her play "Deeply Regretted By" on the premises shortly before she passed away, and still show play adaptations of her novels on the grounds in the years since she passed. As well as visiting the memorial garden, visitors can also embark on their "Maeve Binchy and Famous Irish Writers" tour.
Address: Dalkey Castle & Heritage Centre Castle Street, Dalkey, Co. Dublin
1. Bram Stoker's Castle Dracula, County Dublin
Topping our list of literary spots in Ireland honouring Irish writers is this chilling site, located in the birthplace of Bram Stoker—Clontarf in County Dublin. Castle Dracula is a must-see not only for Dracula fans, but for vampire and Halloween enthusiasts too.
Although in Stoker's novel Count Dracula's castle was located in none other than Transylvania, Dublin's Castle Dracula is like the book come to life.
For those wanting to learn more about one of Ireland's most famous writers, the man who changed the face of horror, the castle offers the world's only Dracula museum as well as a guided tour of the ground, which features appearances of beloved characters from the book.
Sights also include the Vampire Courtyard, Dracula's lair, and spooky tunnels. With Halloween not too far off it sounds like a real scream!
Address: Westwood Club, Clontarf Road, Clontarf, Dublin 3
By Aisling O'Connor