From tasty pizza to fantastic fish dishes, here are our five favourite restaurants in Waterford, Ireland, that foodies will love.
Waterford city is a popular tourist destination in Ireland, with lots of attractions such as Waterford Crystal and the Viking museum.
Waterford is especially popular at Christmas because of the amazing Waterford Winterval festival that they host every year.
With so many places to eat in Waterford, it can be hard to know where to go, so we have compiled our favourite restaurants in Waterford to help make your decision a little easier. If you're a foodie, check these out!
5. Geoffs Cafe Bar – a cosy pub with an exciting menu
Geoffs is always busy. Some people might see this as a negative, but we personally see this as a sign of good-quality food. You might have to wait for a table, but if you have the time, the food is definitely worth the wait.
Geoffs is a cosy pub with an exciting menu. They have a wide variety of foods from Italian dishes to Asian meals to seafood and a lot more in between. It definitely isn't boring pub-grub.
All of their dishes are great, but Geoff's stir-fry is next-level.
Address: 9 John St, Waterford, Ireland
4. Bodega – a fantastic menu in a funky venue
Bodega is a funky restaurant in the heart of Waterford with a unique design and feel. According to their website, they try to create a relaxed environment where customers can let themselves go, and they have definitely achieved this.
The outside of the restaurant is covered in awards, and the food that they serve is representative of why. They open Monday to Saturday from 17:00 to 22:00, but if you can make it in between 17:00 to 18:45 on Monday to Friday, you can avail of their fantastic early-bird menu of two courses for €23 or three courses for €28 with a good selection of starters, mains and desserts.
Overall, Bodega is definitely a restaurant for foodies to try out in Waterford.

Address: 54 John St, Waterford, Ireland
3. McLeary's Restaurant – the best fish dishes in Waterford
McLeary's Restaurant on Parade Quay and McLeary's Cafe on Cork Road are both fantastic places to eat in Waterford, and both offer a different experience, but McLeary's Restaurant is our choice for foodies to try out in Waterford.
Although McLeary's have a variety of fantastic dishes, they are really well-known around the city for their outstanding fish. They have a variety of different types of fish dishes, and it would be hard to find a traditional fish and chips in Waterford better than McLeary's; it is to die for.

If you are unable to decide between fish or meat, you can always choose the Surf and Turf and you will receive an 8oz sirloin steak and tiger prawns beautifully cooked in garlic butter. It really does taste as good as it sounds.
Address: 122 Parade Quay, Waterford, Ireland
2. Momo Restaurant – especially great for lunch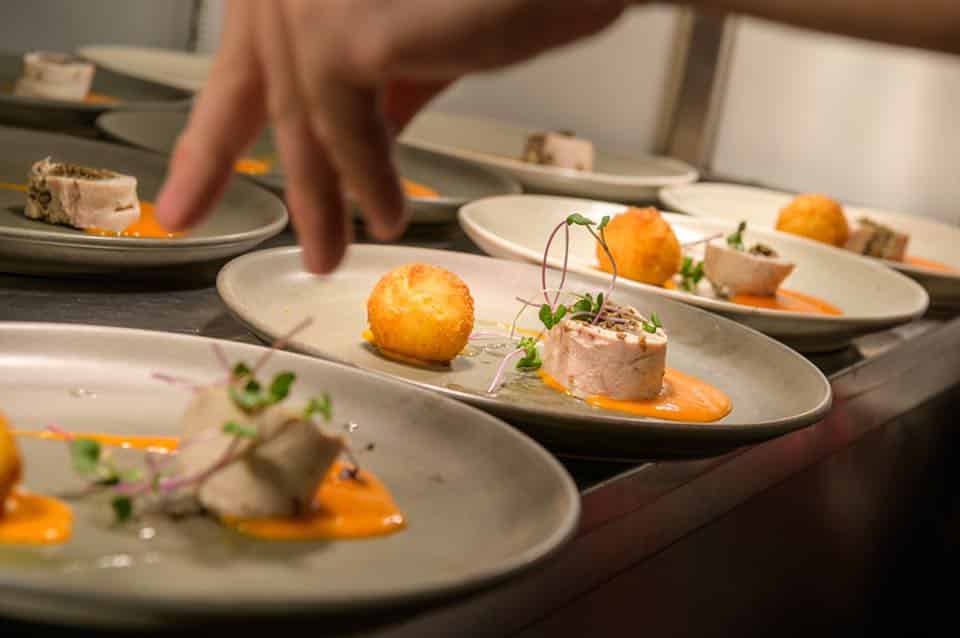 Momo is a multi-award-winning restaurant in Waterford city that features fresh and healthy food direct from the local food producers in County Waterford. Momo presents dishes rich in flavour and finesse in a relaxed and casual atmosphere.
Unlike some other restaurants in Waterford, Momo is open on Sundays and offer their fantastic value early-bird menu from 13:00 to 20:00 Sundays, giving you loads of time to get in and try it out. Their early-bird offer is two courses for €23.50 or three courses for €28.50.
One thing we really like about Momo is their great lunch options. You can either eat off their lunch menu or go with their great lunch offer, where you can choose two items from their selection of freshly made sandwiches, a daily salad bar, or homemade soup for €10 to eat in or €9 to take away.
Address: 47 Patrick St, Waterford, X91 DX49, Ireland
1. Emiliano's – the best pizza in the city
Emiliano's is ranked as the number 1 restaurant in Waterford on Trip Advisor, with a 5.0 rating and over 1,000 reviews. The food is great, the prices are fair, and the staff is pleasant: a winning combination.
This cosy little Italian restaurant arguably does the nicest pizza in Waterford. Along with their pizzas, Emiliano's also offers a selection of meat, fish and pasta dishes even including a fresh catch of the day.

Emiliano's also gives you that authentic Italian feeling; it doesn't feel like an imitation.
Every item on their menu is fantastic, but Emiliano's 'Rustica Pizza' is simply out of this world. A beautifully cooked pizza with tomato, mozzarella, parma ham, rocket salad and parmesan.
We think that Emiliano's is the best restaurant for foodies in Waterford.
Address: 21 High St, Waterford, Ireland
By Ryan McCarthy