Donegal, situated on the northwest of Ireland, has an array of magical spots to be discovered. There is something for everyone up in this fantastic region, from beaches to caves, mountains to cliffs, and more.
You will be glad you got off the beaten track up in this wonderful part of Ireland. So, let's take a look at these hidden gems we speak so highly of. Here are the top five hidden gems in County Donegal.
5. Tory Island – a trip back in time
Tory Island, or Tory as its generally known, is the most remote inhabited island of Ireland located about 14 km (8.7 miles) off the northwest of County Donegal.
This island, home to 119 residents, has so much to offer, including stunning crystal-clear waters famous for swimming and diving, many archaeological and ancient monastic sites, and stunning coastal walks.
The boat ride over starts from Bunbeg and leads you into this fascinating community of islanders, where you will definitely feel like time stood still. The island has kept its Celtic culture and charm and is one of the best hidden gems in County Donegal.
Address: Tory Island, Co. Donegal
4. Horn Head – a rugged and wild experience
About 4 km (2.5 miles) from Dunfanaghy, this rugged and wild peninsula is a gem to be discovered.
There are many walks to do here and many things to see, including an old WW2 signal tower. However, if you want to discover this spot by road, you can opt for the stunning Horn Head drive.
Tourists often bypass this Irish National Heritage Area when exploring the county, but we believe you should add it to your bucket list.
Address: Largatreany, Co. Donegal
3. Maghera Beach and Caves – for the adventurer in you
If you're looking for a fantastic beach to enjoy and some activities to go along with it, this is the place for you.
Grab your kayak and head out of the bay towards the 20 caves, eight arches and five tunnels, which will satisfy any explorers appetite for adventure.
Close by, you can visit the Assaranca Waterfall, drive the Glengesh Pass, and see the village of Ardara, the festival capital of Donegal and one of the best towns in Donegal for a night out.
Address: Co. Donegal
2. Mount Errigal – Ireland's most iconic mountain
Mount Errigal stands at 2464 ft (751 m) high and is closest to the town of Gweedore.
It's a fantastic place for hiking, photography, or a family day out and is particularly stunning at sunset when the quartzite stone gives off a pink shimmer.
The mountain is renowned for having different shapes depending on which angle you view it from, making it a perfect spot to get great natural photographs.
Tourists often overlook this spot in favour of seeing all the 'main attractions' in Ireland. But we guarantee this is a spot you'll remember as one of the best hidden gems in County Donegal.
Address: Money More, Co. Donegal
1. Slieve League Cliffs – towering above the rest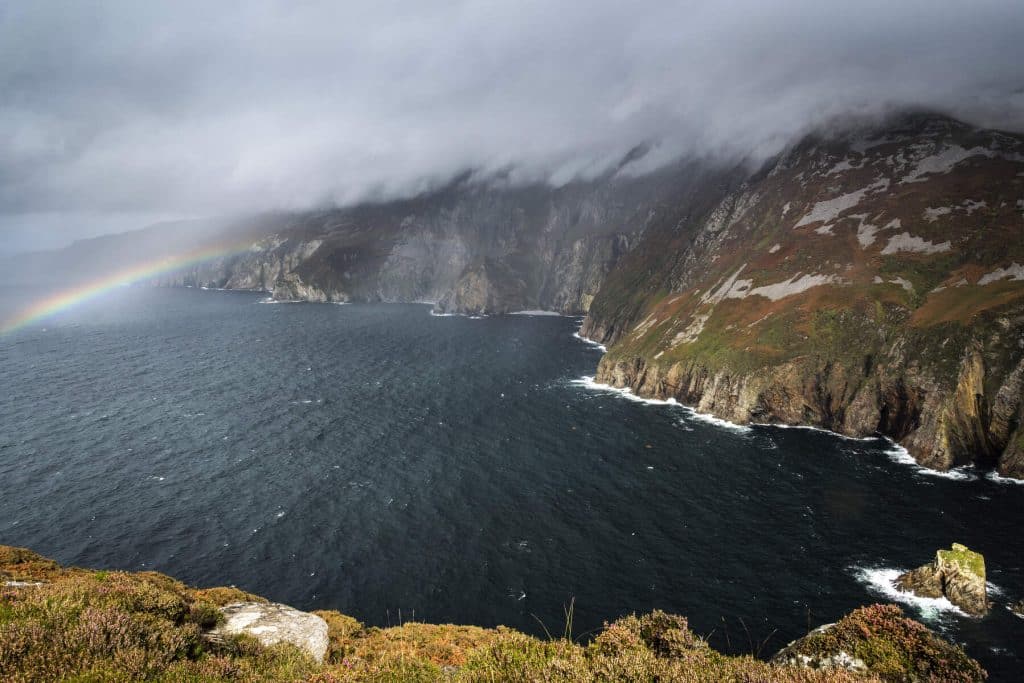 Take a trip to some of Europe's highest sea cliffs and enjoy the fantastic views for miles around.
The Cliffs of Moher are renowned worldwide. However, the Slieve League Cliffs are three times higher and just as stunning. Thus, making them one of the best hidden gems in County Donegal.
Once you've discovered this breathtaking landscape, it will be hard to leave this region. There are many things to encounter here: caves, white sandy beaches, and several beautiful lakes you will see along your walk.
Address: Shanbally, Co. Donegal, Ireland
If you find yourself itching for adventure, away from the crowds, or perhaps you feel like you've seen all that Ireland has to offer, then this list should be kept close at hand.
These hidden gems located in County Donegal will satisfy anyone seeking a new experience. Plus, they are absolutely perfect for families, solo travellers, or those travelling with pets.
The one thing we would have to say is, make sure you have that camera fully charged up. Exploring these spots, you will be inundated with beautiful photo opportunities up in these regions.
So, forget the tourist trail and take yourself to these best hidden gems in County Donegal. We promise you'll be pleasantly surprised!