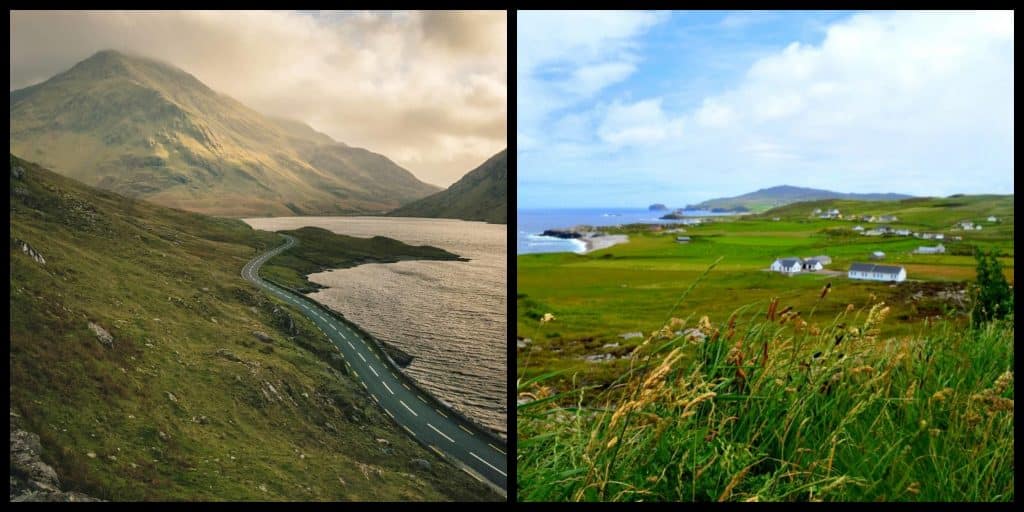 The Wild Atlantic Way is the most iconic route in Ireland—the journey of a lifetime through nine counties and three provinces. Drivers can expect to discover majestic cliffs, hidden beaches, and vibrant towns and cities.
The scenery along the way is truly sensational. With such a dramatic backdrop, it's easy to fall in love with this epic road trip, and social media demonstrates this.
The Wild Atlantic Way is one of the best road trips in Europe. Indeed, in an analysis of 47 million #roadtrip posts on Instagram by car hire provider Europcar, the Wild Atlantic Way was discovered to be the 10th most popular road trip route in Europe. The hashtag #wildatlanticway has 952,000 posts on the site.
With 2500km of coastal road, you can do the Wild Atlantic Way however you like. Take two to three weeks to explore each region, or dip in and out. You could stop in every county or choose a few. It's always good to drive South to North (Cork to Donegal) as you'll be on the ocean side of the road.
The main areas of the Wild Atlantic Way are:
Northern Headlands: Malin Head; Donegal Town
Cliff Coast: Clare; Galway; Kerry
Surf Coast: Sligo; Mayo
Southern Peninsulas: South Kerry; West Cork
Bay Coast: Galway Bay
Haven Coast: Baltimore; Kinsale
Hop in a car and see for yourself why the Wild Atlantic Way is one of Europe's top 10 Instagrammed road trips. Below is Europcar's recommended route.
Start: Cork
This cosmopolitan city in the southwest is the perfect place to kick off your road trip. Cork has the perfect mix of Ireland old and new. You'll find artisan coffee shops, quirky art galleries and museums, and traditional Irish pubs where you can enjoy a pint of Guinness.
Despite being a city, Cork is compact, and the locals will always make you feel welcome. Highlights are the English Market (a foodie paradise) and the Gaol, an imposing former prison from the 19th Century.
Enjoy the food, drink, and culture before you start your journey on to the awe-inspiring coast.
Section 1: Slea Head Drive
This 30-mile route is one of Ireland's most scenic, passing through historic landmarks, famous Hollywood film locations, and villages where the locals only speak Irish. You'll see the Blasket Islands closely and get a great view of the Skellig Islands.
Allow a minimum of half a day to do this section of the trip.
Section 2: Cliffs of Moher
If you don't yet understand why the Wild Atlantic Way is one of Europe's top 10 Instagrammed road trips, this stretch will make it crystal-clear. The magnificent Cliffs of Moher run for 14km at the southwestern edge of County Clare—but they look like they're never-ending.
Brave hikers will be rewarded at the top with views that are to die for, especially on a clear day when you can see the Aran Islands in Galway Bay. Walk up to O'Brien's Tower for an Instagram-worthy picture on one of the best road trips in Europe.
Section 3: Galway
Galway marks the halfway point on the Wild Atlantic Way and is the only city officially on the route. The city is equal parts bohemian and cultural, with sandy beaches, art and quirky shops aplenty.
Many of the city's pubs host traditional music, and if you time your trip right, you might experience one of Galway's famous events such as the Galway Races or the International Arts Festival.
Section 4: Achill Island
One of the most spectacular parts of the coast is on the southern shore of Achill Island. Follow Atlantic Drive for breath-taking panoramic views of the ocean. Keem Bay is one of the signature discovery points, said to have been blessed by Saint Patrick during his stay on Croagh Patrick.
Section 5: Sligo
County Sligo is the jewel of the Surf Coast. If surfing is your sport, head to Mullaghmore Head, surrounded by rocky cliffs, a sandy beach, and a stone harbour. If gastronomic delights are more up your street, follow the Sligo food trail, packed with nourishing local food.
For poetry fans, W.B. Yeats' grave in Drumcliffe makes a tranquil rest spot. Determined hikers can also walk around (not up!) a 320-million-year-old rock formation. Essentially, Sligo has it all—it's no wonder it was the source of much inspiration for Yeats.
Finish: Malin Head
End your road trip fittingly at the most northerly point of Ireland. Steeped in history, Malin Head recently made a dramatic stage for Star Wars. You can truly be one with nature here, and enjoy activities such as walking, fishing, bird watching and swimming.
Five Finger Strand is also home to some of Europe's largest sand dunes. If you're feeling especially daring, you can head to Hell's Hole, where the tide rushes in with striking force. Lastly, do a spot of treasure hunting on Ballyhillion Beach, known for its semi-precious stones.
By the time you've finished, you'll no doubt understand why the Wild Atlantic Way is one of Europe's top 10 Instagrammed road trips. In fact, you'll probably have posted a few epic shots on Instagram yourself. Don't forget the #roadtrip and #wildatlanticway hashtags!