Dublin, the capital of the Republic of Ireland, is thriving with life and culture. While the city itself is small in size and easily navigable on foot, suburbs sprawl to the North, South, and West, with the Irish Sea to the East and with mountain ranges climbing to the skies inland.
For those of you with four-legged furry friends, never fear: Dublin is a dog-friendly town!
Progressively, we are seeing more and more cafés and pubs become pup-friendly, and there are endless places to explore with your pooch in and around the city.
Here are the 10 most incredible places to walk your dog in Dublin. You and your pup can thank us later!
10. Sandymount Strand – for a nice neighbourhood walk
Although Ireland's Environmental Protection Agency deemed this beach unsafe for bathing, it still makes for a stunning place to stretch your legs (and your dog's legs, too).
Set in the upmarket area of Sandymount on the south skirt of Dublin city, this makes for a fantastic Sunday stroll. Although seeing as the water has been put on the blacklist for pollution, we wouldn't advise you to let your pooch in for a dip.
Location: Sandymount Strand, Sandymount, Dublin
9. Great South Wall – for a pier walk
If you're looking for an amazing place for both you and your dog to meander in Dublin, check out the Great South Wall.
Although this isn't the sort of place where your dog will be doing laps, it's perfect for dogs on a lead or for more chilled furry friends who are happy for a leisurely stroll.
This pier stretches out into Dublin Bay and ends at the Poolbeg Lighthouse. Upon turning back, you will be greeted with panoramic views of Dublin city and the Poolbeg Chimneys, which are synonymous with the capital.
Address: S Wall, Poolbeg, Dublin
8. Burrow Beach – for a dreamy beach
This gorgeous stretch of sand is one of the best beaches in Dublin and it could make you feel like you're in the Mediterranean on a sunny day with rolling dunes, coastal islands in the near distance, and crystal waters lapping the shore.
With fine sand that feels like satin underfoot, this is one of the most incredible places to walk your dog in Dublin and is ideal for a picnic on a sunny day too.
Address: 4, Strand Court, 19A Burrow Rd, Quarry, Dublin 13
7. Phoenix Park – for endless parklands
Next on our list of places to walk your dog in Dublin is Phoenix Park. This is the largest enclosed park in Europe and offers endless trails and treks, which splay over flowered fields and enchanting woodlands.
The park is also home to a large herd of wild deer that graze at dawn and dusk—a true sight for sore eyes!
Address: Phoenix Park, Dublin 8
6. Killiney Hill – for views over Dublin
If you're looking to break a sweat, try out this incredible place to walk your dog in Dublin!
Sitting south of Dublin city, this suburb stretch of hill land towers over the city and offers panoramic views over the Irish Sea and the surrounding suburbs from its summit.
5. Bull Island – for a proper run
Another amazing place to walk your dog in Dublin is Bull Island's Dollymount Strand beach. This five-kilometre stretch of sand is connected to the mainland at two points and is a terrific staging ground for a proper muck about.
If your mutt is one who likes to run and jump and splash and play, this is the ideal spot for you!
4. Howth Cliff Walk – for a cliff walk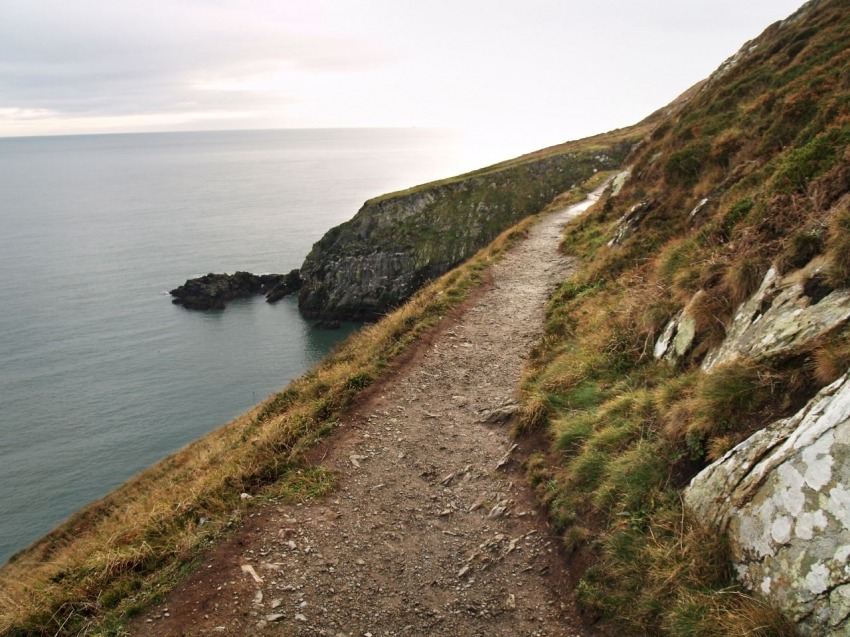 If you're looking to enjoy a scenic stroll with a more mature dog who is calm off-lead, check out the Howth Cliff Walk.
The Howth Peninsula is surrounded by stunning cliff paths, meaning there are heaps of trails you can take, offering varying durations and levels of intensity.
Address: 23-21 Balscadden Rd, Howth, Dublin
3. Hell Fire Club – for local myth
If you're looking to get away from the city for the day and bring your dog for a solid leg stretch, look no further than the Hell Fire Club in the Dublin Mountains.
This setting is shrouded in local myths, so if you spook easily, we suggest you don't go in the dark! During the day, however, it offers stunning views from its hilltop, which overlooks the city.
Address: Mountpelier, Co. Dublin
2. Saint Anne's Park – for enchanting woodlands
Saint Anne's Park in North Dublin is the epitome of an enchanting and equally untamed public park.
The sprawling grounds cover over 240 acres and offer endless activities for public use (sports grounds, courts, play areas, etc.), but another fantastic offering is its dog-friendly nature!
Address: Clontarf East, Raheny, Co. Dublin
1. Ticknock – for a perfect hike
Ticknock is another option if you're looking to get away from the city for a day with your four-legged furry friend.
A hill walk or hike with your pooch in tow and bird's eye views over Dublin city could make for the perfect Sunday afternoon, we reckon!