The ultimate destination if you are interested in modern Irish revolutionary history!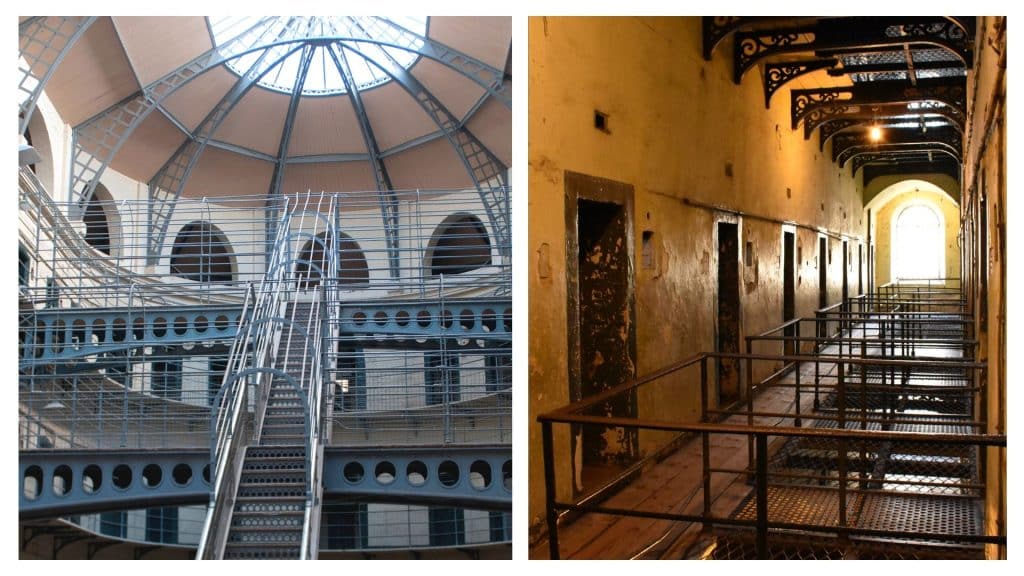 Kilmainham Gaol in Dublin is one of Ireland's most historic landmarks. It is the most important place for Irish Republicans and anyone interested in Irish revolutionary history, as the leaders of the 1916 Rising were executed here.
Without this rising and the public outcry following the executions of the leaders, The Republic of Ireland might not have independence today.
The prison itself was built in 1796 and has been the site of many significant events in Irish history. Not just the Rising but numerous revolutions. Many famous people, including Charles Stewart Parnell and Éamon de Valera, were imprisoned here.
The prison is no longer in use. Today, it is a museum that offers guided tours where you can learn about its history and the stories of those held there. The fantastic tour here takes you on a journey through the numerous wings of the prison and shows you the cramped cells where prisoners were kept.
Visiting is a sombre and reflective experience. You could be filled with pride, but you also might shed a tear or two. This place is one of the best things to do in Dublin and should definitely be top of your list if you are interested in Irish history and you are in the Irish capital. 
Ireland Before You Die's top tips for visiting
It is extremely popular and gets booked up, so book early to avoid disappointment.
Make sure to go for a pint of Guinness in the Patriot bar after. It is a great spot!
If you are interested in the 1916 Easter Rising, don't miss the Arbour Hill Cemetery, where the leaders of the rising are buried, the GPO museum and also Glasnevin Cemetery, where more revolutionaries are buried
There's no parking at Kilmainham Gaol, but you can park nearby at the Irish Museum of Modern Art/Royal Hospital Kilmainham. Access via East Gate on Military Road. The car park is only a 5-minute walk from the prison.
Interesting Facts about Kilmainham Gaol
Kilmainham Gaol is a former prison in Dublin, Ireland, operated from 1796 until 1924.
Over the years, it housed many well-known Irish political figures, such as Charles Stewart Parnell and Eamon de Valera, as well as prisoners during the Irish War of Independence and the Irish Civil War.
The prison has become a museum and tourist attraction where visitors can learn about its history and take guided tours.
Intended initially for minor offenders, the prison became notorious for its use as a detention centre for political prisoners.
During the Great Famine in the 1840s, it even held people convicted of stealing food.
Kilmainham Gaol was also the site of many executions, including those of the leaders of the Easter Rising in 1916.
In addition to its historical significance, the prison served as a filming location for movies and TV shows like "The Italian Job" and "The Tudors."
Recognising its importance, the Irish government has designated Kilmainham Gaol as a national monument.
What's Nearby
Food: Riggers D8 (Café) and Kari (Indian Restaurant)
Drink: The Patriots Inn (nearest pub) and Donoghues Bar Lounge
Tourist attractions: Guinness Storehouse, Phoenix Park and Irish Museum of Modern Art
Your questions answered about Kilmainham Gaol, Dublin
Is Kilmainham Gaol worth visiting?
Definitely! It's one of Ireland's most important historic sites, and you'll learn a lot about our country's past.
How long does the Kilmainham jail tour take?
The guided tour lasts about an hour, but it's best to allow 1.5-2 hours for the whole experience.
How much does it cost to visit Kilmainham Gaol?
The standard admission fee is €8, but discounts are available for students, seniors, and families.
Why is Kilmainham Gaol famous?
It's renowned for being the prison where many of Ireland's revolutionary leaders, including those involved in the 1916 Easter Rising, were held and executed.
Need to know anything else?
Contact the museum directly (see their contact info below).
Contact and more info
Address: Inchicore Rd, Kilmainham, Dublin 8, Dublin
Email: [email protected]
Website: www.kilmainhamgaolmuseum.ie
Phone: +353 1 453 5984
Price: €8 for adults, €6 for seniors with ID, €4 for children 12-17 and students with ID, plus €20 for family, free for children under 12
IB4UD Guides to Dublin
Read: 1916 Spots in Dublin worth visiting
Read: The 25 best things to do in Dublin