By trying to complete our best things to do in Clare list, you will be sure to enjoy your visit to the county and experience everything it has to offer.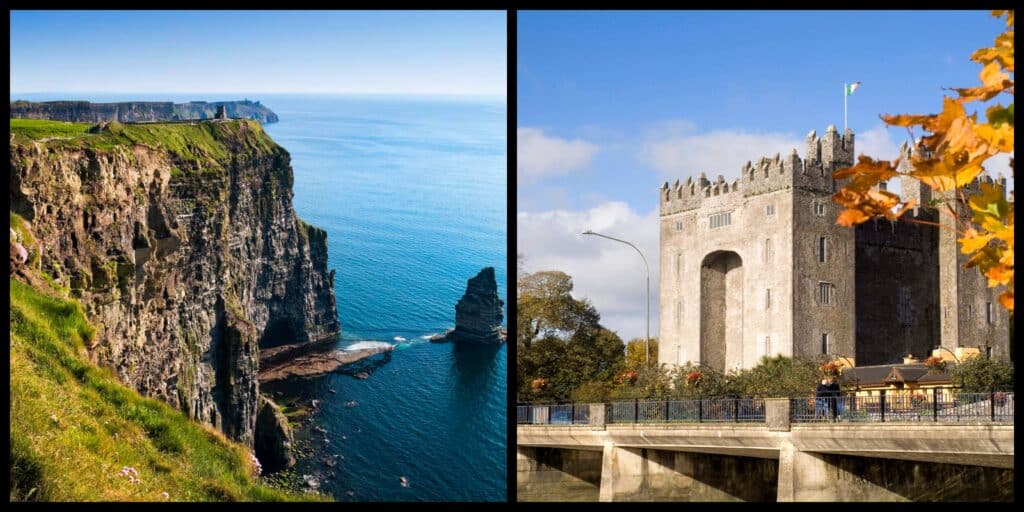 County Clare is an excellent county on the west coast of Ireland, which is full of natural attractions and scenic beauty that will enthral and amaze any visitor to no end.
From mesmerizing cliffs to famous fictional priest houses and historic buildings, there is no shortage of great places to visit and explore in County Clare.
In this article, we will list what we believe to be the ten best things to do, whether you're on a day trip, staying in a hotel or glamping in Clare!
Ireland Before You Die's tips for visiting County Clare:
Pack for the Irish weather. It can be unpredictable, so bring some options.
Rent a car so you can explore with ease!
Download offline maps so you always have access to navigation.
Clare is famous for traditional music, so make sure you go to a session in a local pub!
10. Find love in Lisdoonvarna Town – a town steeped in history, love, and tradition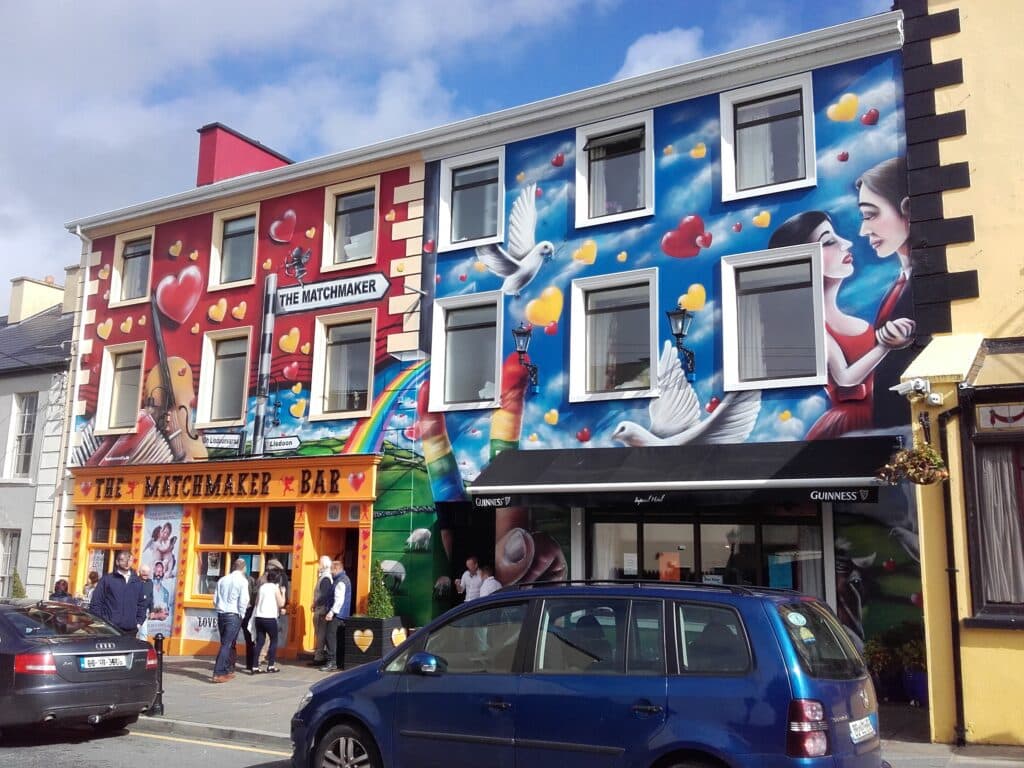 Lisdoonvarna is a town that is most famous for its 'Matchmaking Festival', which runs for the entire month of September and contains excellent parties, great music, and maybe even some courting!
Address: Kincora Rd, Rathbaun, Lisdoonvarna, Co. Clare, V95 HD70, Ireland
READ: the history of the Lisdoonvarna Matchmaking Festival
9. Grab a cup of tea at Father Ted's house – ah go on, go on, go on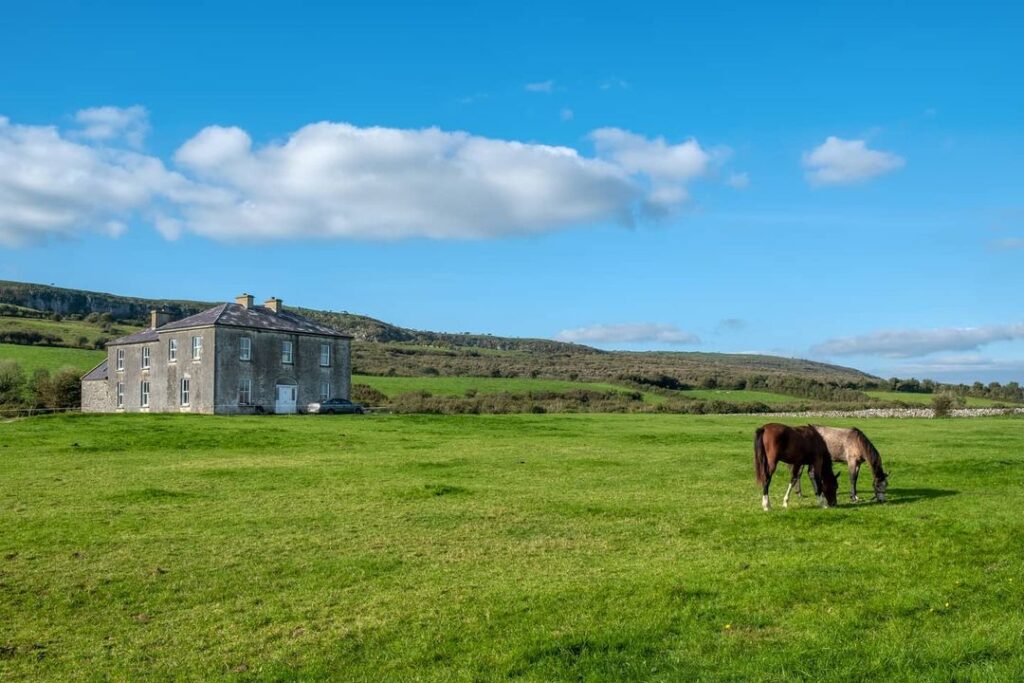 Father Ted is, without a doubt, one of the most popular and best-known Irish TV shows of all time.
The Parochial House, which was featured in the show, is iconic and instantly recognizable.
It is located in the Lackareagh area of County Clare and is a fan favourite for tourists to visit and get a picture at. You can even have a tour and a cup of tea in the famous house if you pre-book it.
Address: Lackareagh, Carron, Co. Clare, Ireland
RELATED: IB4UD's guide to visiting Father Ted's House
8. Immerse yourself in history at Scattery Island – a historic island
Scattery Island is a small monastic settlement which contains a still-functioning lighthouse, six ancient church ruins, and also one of the highest round towers in Ireland that stands at 120 ft (37 metres) tall.
The island is also steeped in Irish history. It's one of the most famous abandoned ghost towns in Ireland.
Address: Ferry Road, Co. Clare, Ireland
7. Go golfing at one of Clare's many great golf courses – perfect that swing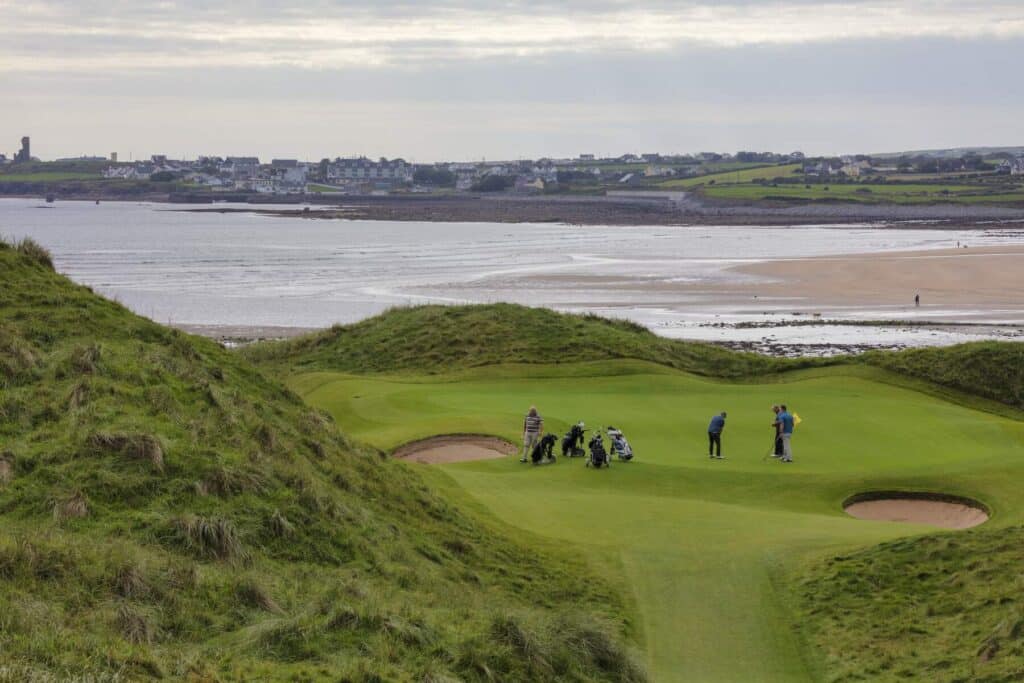 If you are a golf enthusiast, then you are in luck, as Clare contains some of Ireland's very best golf courses.
In Clare, you will find the natural terrain course at Lahinch Golf Club and the world-famous golf course at Doonbeg, which offers idyllic views of the Atlantic.
Address: Dough, Lahinch, Co. Clare, Ireland
6. Enjoy the beautiful scenic views at Loop Head and Lighthouse – a seaside treat
The Loop Head and Lighthouse is located on the Loop Head Peninsula and offers stunning views of the western edge of Clare.
For the best view, be sure to head to the very summit of the lighthouse, which stands at 300 ft (90 metres) high – and don't forget to keep an eye out for the 160+ dolphins that live in the nearby waters.
Address: Loop Head Lighthouse, Kilbaha South, Kilbaha, Co. Clare, Ireland
5. Relax at Fanore Beach – a sandy paradise
If you are looking to feel the sand between your toes and relax in a peaceful environment with great views, then look no further than Fanore Beach.
Fanore Beach is a sandy paradise, which can be found in the heart of the Burren and is a fan favourite with hikers, fishermen, surfers, and families.
Address: Fanore More, Fanore, Co. Clare, Ireland
4. Explore the Burren – a world-famous natural landscape
The Burren has a landscape known as the Karst landscape, which is a natural landscape that is famous across the world for being of the very few places on the entire planet that is home to Alpine, Arctic, and Mediterranean plants. It is a true wonder to explore and investigate.
Address: Turlough, Bell Harbour, Co. Clare, Ireland
READ: Ireland Before You Die's guide to visiting The Burren
3. Immerse yourself in the darkness of the Ailwee Caves – a natural wonder
The Ailwee Caves are one of Ireland's most popular tourist attractions.
The Ailwee caves contain an extensive series of caverns, which are a treasure trove of wonder for any geology lovers as they are full of giant stalactites, stalagmites, and frozen waterfalls.
Address: Ballycahill, Ballyvaughan, Co. Clare, Ireland
2. Visit Bunratty Castle and Folk Village – a full day activity
If you are looking for a full-day activity, then look no further than the Bunratty Castle and Folk Village.
The Bunratty Folk Park is a whole town that provides an insight into the way Ireland was during the 19th century.
Besides the folk park and gardens, you will also be able to explore the castle, which is fully furnished on the inside and will make you feel like you have stepped back in time.
Address: Bunratty West, Bunratty, Co. Clare, Ireland
READ: our guide to Bunratty Castle and Folk Park
1. Marvel at the wonder of the Cliffs of Moher – Ireland's most famous natural attraction
In first place on our list of the ten best things to do in Clare is the Cliffs of Moher, which are Ireland's most famous natural attraction and attract vast amounts of tourists annually.
Visiting the Cliffs of Moher is a no-brainer as they offer truly breathtaking views of the Irish coastline, making them a place of picture-postcard perfection.
That concludes our county guide on what we believe to be the ten best things to do in Clare. Have you done any of them yet?
Address: Lislorkan North, Liscannor, Co. Clare, V95 KN9T, Ireland
MORE INFO: our guide to visiting the Cliffs of Moher
Your questions answered about the best things to do in County Clare
If you still have questions, we have you covered! In this section, we've compiled some of our readers' most frequently asked questions and popular questions that have been asked online about this topic.
What is the most beautiful town in Clare?
Our favourite town in Clare is the county capital, Ennis. Check out our article on the best towns in Clare for more.
What is County Clare famous for?
One of the most famous things in County Clare is the Cliffs of Moher. Besides the popular tourist attractions, Clare is known for being a cultural hub in Ireland and has deep roots and links to traditional Irish music.
What is a fun fact about County Clare?
Every county in Ireland has a nickname. The nickname of County Clare is 'The Banner County' due to the county's history of symbolic banners being led at important political events.