Traditional Irish music is as old as the hills. It is an ancient cultural pastime and art form that is embedded into the fabric of Irish identity, and it is much loved and respected by those who share in Irish ancestry.
Passed down from generation to generation, this genre of folk music stems from times far gone. It is only from the 18th century onwards that we have records of the music and songs our ancestors played.
Here are ten iconic instruments used in traditional Irish music. Keep an eye (and an ear) out for these Irish instruments the next time you head to an Irish pub to enjoy a "trad session"!
10. Accordions & concertinas – watch a traditional Irish concertina player
These box-shaped Irish instruments are often used in traditional Irish performances.
They have the cool colloquial name of "the squeezebox," as sound is produced from the instrument by means of squeezing and releasing the box while pressing buttons in tandem.
The most popular concertinas played today have 30 buttons!
9. Low whistle – for a mellow sound
The low whistle is another Celtic instrument commonly found in Irish traditional music.
This instrument appears similar to a standard tin whistle (see #8), although it is larger in size and produces a deeper, lower tone than that of its sister instrument.
The low whistle is one of the fipple flutes that come to prominence throughout the 16th century.
8. Tin whistle – a common Irish wind instrument
The tin whistle would be more popular throughout Irish culture in comparison to the aforementioned. This instrument is greatly associated with Irish music and is taught to most Irish school children during early education.
The simple mechanism has a mouthpiece that is blown into while air holes are covered and released to produce various sounds. Factory made tin whistles were first produced throughout the 19th century.
Nicknames for this popular instrument used in Irish music include the penny whistle, flageolet, Irish whistle, Belfast hornpipe, or feadóg stáin.
7. Irish flute – gained popularity throughout the 19th century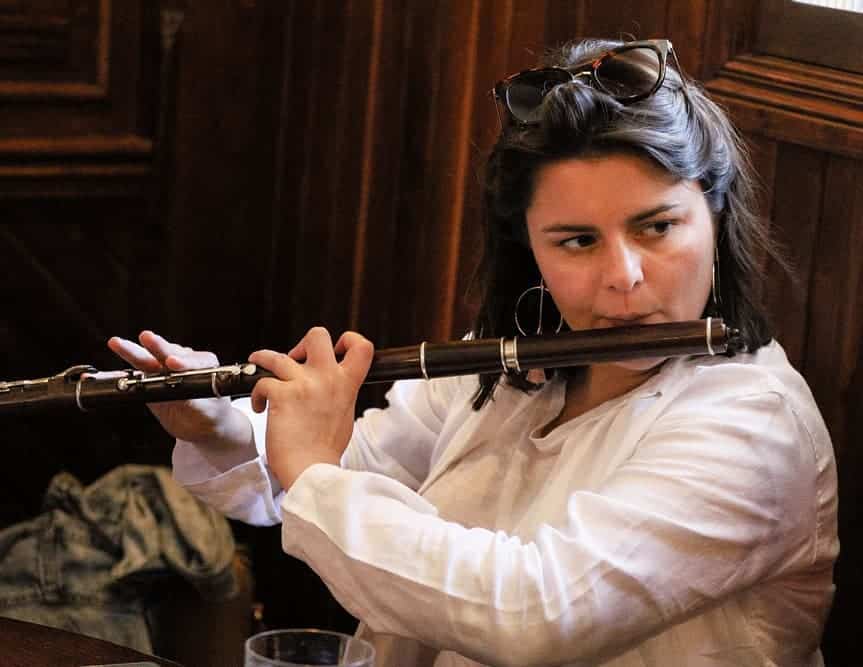 Next on our list of musical instruments used in traditional Irish music is the Irish flute. Again, many Irish children would have been taught this instrument due to its simple mechanism.
Similar to the tin whistle, air is blown through a mouthpiece while holes are covered and released to produce varying tones. Unlike the tin whistle, however, the Irish flute is made of wood.
These wooden flutes have been popular since the early 19th century and modern flutes are suited to various different playing styles.
6. Banjo – a lively Irish instrument
Another popular instrument often seen in Irish traditional music would be the Irish banjo. This instrument can be found with four, five, or six strings and has a round body.
Oftentimes, Irish banjos can be seen at an impromptu traditional Irish music session that kicks off at the local pub. Banjos can either have nylon and steel strings.
5. Irish bouzouki – similarities with an acoustic guitar
The Irish bouzouki is, in fact, a Celtic adaptation of a 4th century Greek instrument of a similar build. This instrument, often featured in Irish music groups, was first seen in the 1960s.
In 1969, English musician Andy Irvine presented Irish musician Donal Lunny with a Greek bouzouki. Lunney was left-handed, so he reversed the string order.
Dublin-based musician Johnny Moynihan of the folk group Sweeney's Men is credited as having introduced the instrument onto the Irish music scene.
The key difference between the Irish and Greek bouzouki is that the Irish version offers the same instrument with different tuning (GDAD') than its predecessor.
4. Uilleann pipes – Ireland's ancient pipes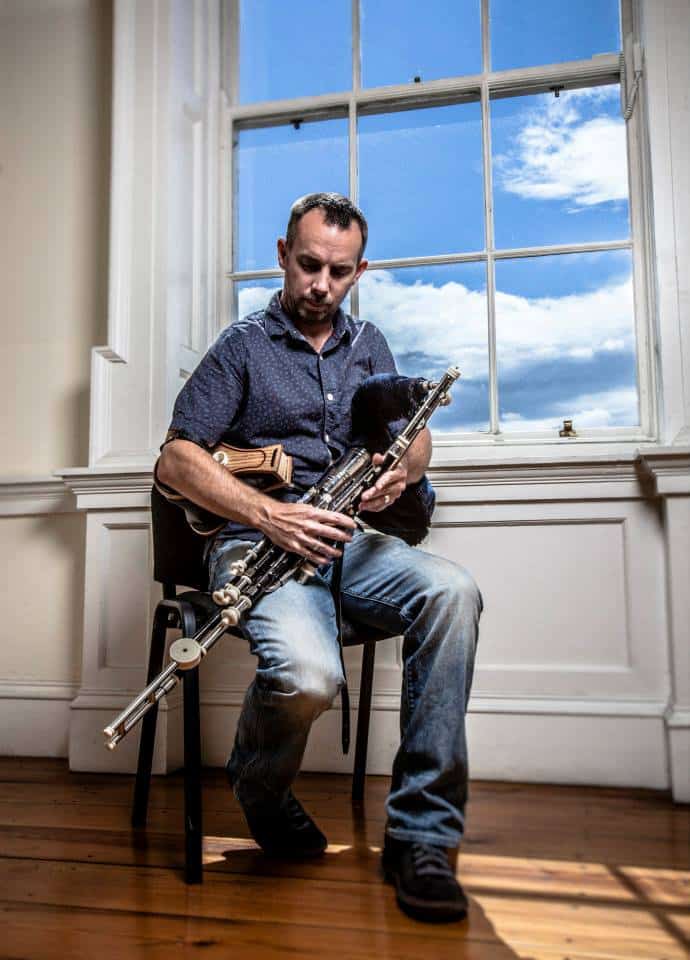 Uilleann pipes are warmly known as "the Bagpipes of Ireland." Similar to Scottish bagpipes, this instrument first gained traction in the Irish music scene between the 18th and 19th century.
Formerly, this instrument was known in the English language as the "union pipes." A mechanism assists in the inflation of the bag, while a wide range of notes allows for varying tones.
Willie Clancy is one of the most well-known professional players of the wind instrument, known to many as a type of bagpipe.
3. Celtic harp – both a string and Irish percussion instrument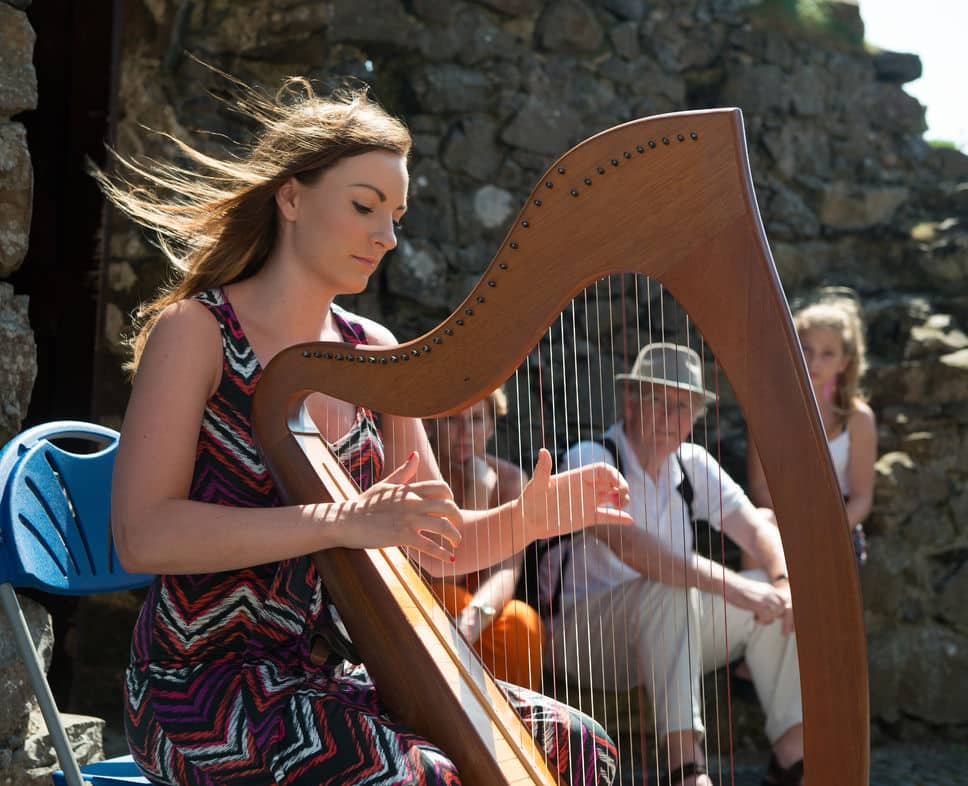 The Celtic harp is an ancient instrument associated with Ireland. So much so, that the Celtic harp is a cultural heritage symbol synonymous with Ireland. Ireland is, in fact, the only country in the entire world whose emblem is a musical instrument.
While the Irish harp is not so commonly seen in traditional Irish music sessions in contemporary times, it is inextricably interconnected with the medium of Irish music.
The instrument is large in size, often with a wooden frame and wire strings. This is considered an incredibly difficult instrument to learn and requires commitment and tenacity.
This beautiful instrument is one of the most well-known Irish string instruments. This is one of the most traditional instruments associated with Ireland.
2. Bodhrán – known for its deep tone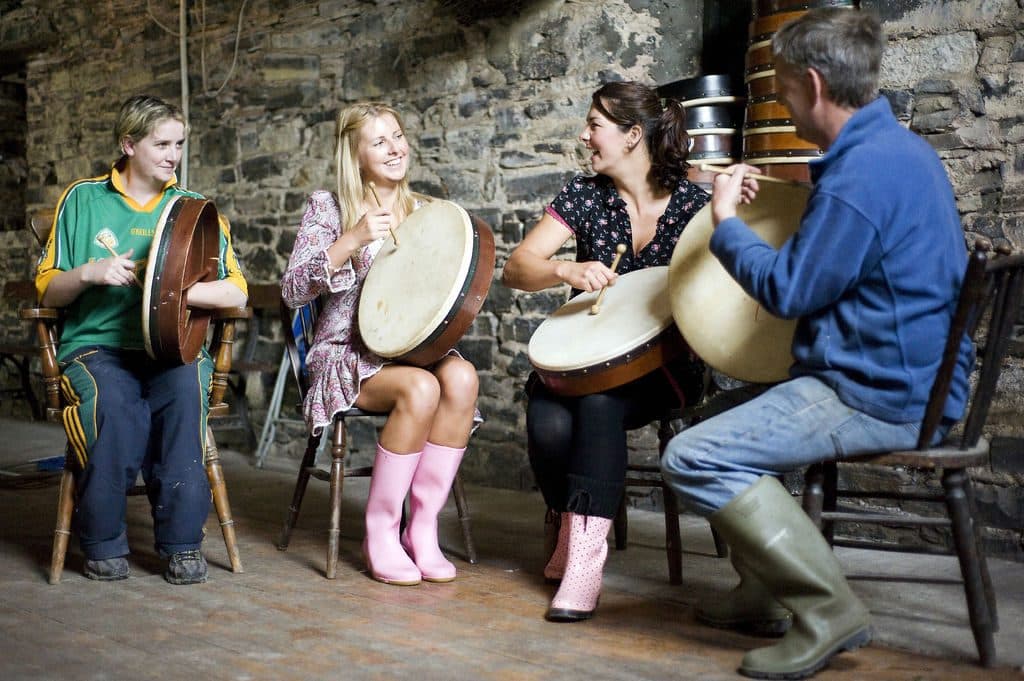 The bodhrán is a hand-held, framed drum instrument that originated in Ireland. This lightweight effective instrument is commonly seen today in traditional Irish music groups.
The body of the drum is usually made from wood, while the head or covering is made from goatskin. A small double-headed stick called a beater (or sometimes a cipín or tipper) is used to create sound drumming against the goatskin.
Some well-known bodhrán players are John Joe Kelly and Tommy Hayes.
1. The Irish fiddle – everyone loves the Irish fiddle player at the trad session
It may come as no surprise that one of the most popular instruments used in traditional Irish music is the Irish fiddle.
In comparison with lesser-known Irish instruments, traditional musicians use the Irish fiddle worldwide and it is one of the central players in Ireland's rich culture.
This instrument, so often associated with Irish music and Irish band, originated in Western Europe in the early 17th century and is today popular worldwide. Fiddle playing brings a bright sound that is so intrinsically linked with Irish genres of music.
A fiddle is the Irish colloquial term for a violin, and it consists of bow strings held across a small wooden body. The typical playing style of the Irish fiddle is very fast and you can't beat some fast-paced fiddle tunes!
FAQs about Irish instruments
What is the oldest traditional Irish instrument?
The Irish harp is considered to be the oldest traditional Irish instrument.
What is the oldest Irish tune?
Dinnseanchas from the year 544 is the oldest Irish song we know of today.