On the East coast of Ireland lies the island's best-known city. While it may be small in size, Dublin does harvest some major benefits from its intimate environment. This capital city's close proximity to the sea, mountains, and countryside make it an ideal base for day trips.
While most visitors fondly enjoy the panache of a Dublin pub, the vibrancy of Temple Bar, or the history of Trinity College, don't forget to get out there and explore the Greater Dublin Area and beyond.
Here are five day trip ideas that Dublin locals swear by, and seeing as they're all a stone's throw from the centre of the capital city, we're sure they'll make a great addition to your next trip to Dublin.
5. Malahide – for food and shopping
Malahide is a small and affluent seaside suburb on the Northside of Dublin city. Accessed from the city centre by bus or, more efficiently, by DART (Dublin Area Rapid Transit) in no more than 30 minutes, this is certainly a day trip worth enjoying in the capital.
The town boasts a charming harbour, chic cafes and restaurants, endless retail opportunities, and Malahide Park, which is home to a 12th-century castle and grounds.
Guided tours of this majestic site run daily, and the park is also home to a stunning Irish retailer and café, Avoca, a children's playground, sports fields, walking tracks, and enchanting woodlands.
Address: Malahide Demesne, Malahide, Co. Dublin
4. Howth – for seafood
Another amazing day trip idea that Dublin locals swear by is Howth Village. This is also accessed via the DART from the city centre, in the Northbound direction.
This local fishing village is as quaint as they come, with weathered fishing trawlers hugging the piers; a yacht club; tonnes of seafood restaurants, bars, and pubs; and fantastic walks around the surrounding cliffs.
With trips to the nearby island of Ireland's Eye daily (weather permitting), a children's playground and some of the best fish and chips in the city, this is an ideal day date or day trip from Dublin city.
Address: Howth, Dublin
3. Phoenix Park – for city park vibes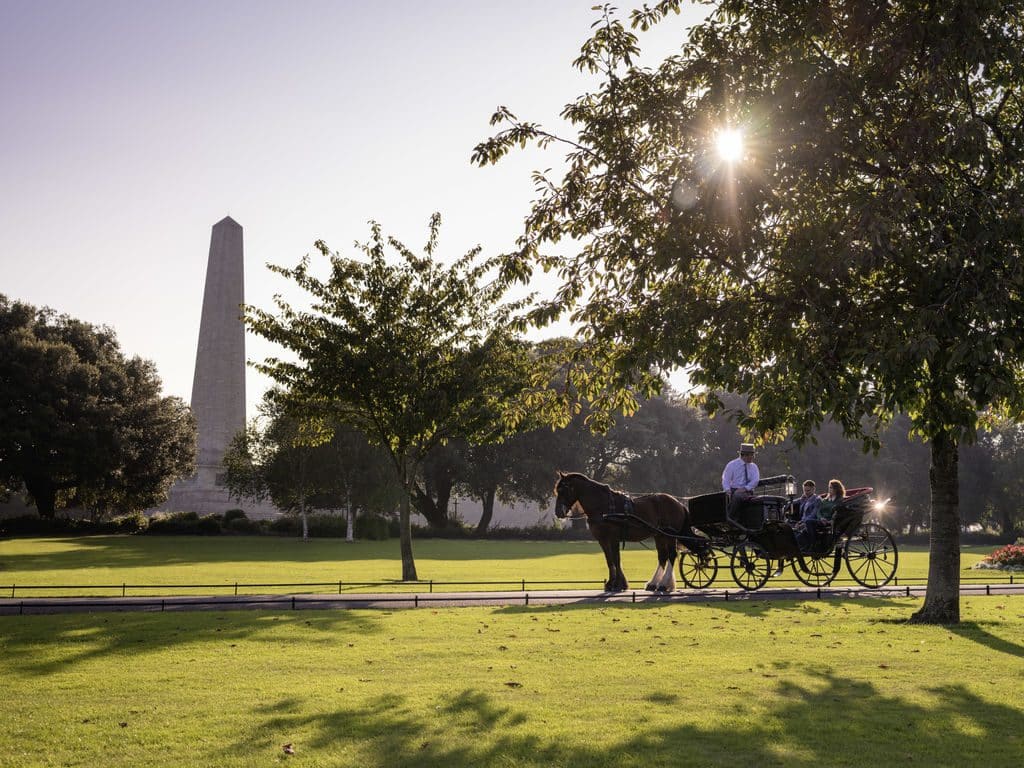 If you're looking for a day trip in Dublin that locals swear by, without having to leave the city, look no further than Phoenix Park. This is, in fact, the largest enclosed park in Europe and home to tonnes of Dublin sights.
Dublin Zoo, Áras an Uachtaráin (the President of Ireland's permanent residence), endless gardens, monuments, and play areas all exist here; so pack a picnic and make a day of it.
Seeing as it is in walking distance from the centre of the city, as well as super accessible via bus, this makes for a great day trip in Dublin.
Top tip: At dawn and dusk you're likely to spot large herds of wild deer grazing against the backdrop of a watercolour sky!
Address: Phoenix Park, Dublin 8
2. Bray – for activities
Bray is another great day trip that Dublin locals swear by. This location is, in fact, in County Wicklow, but accessed via the Southbound DART line.
This seaside town offers heaps of fun things to do on a day trip away from Dublin city. Sitting on the sandy shores, Bray is stunning on a sunny day. Walk the promenade while enjoying an ice-cream, or trace the cliffs all the way to Greystones, the next seaside town.
If rain starts to drop, head on into SEA LIFE Bray, a state-of-the-art aquarium, or check out the Bray Bowl, a family-friendly bowling alley just off the seafront. Not to your liking? Then try your luck at Star Leisure, an amusement centre with adult and children's gaming areas, as well as outdoor carnival rides (weather permitting).
Address: Florence Rd, Bray, Co. Wicklow, A98 C8X4
1. Wicklow Mountains National Park – for adventure
Another fantastic day trip idea that Dublin locals swear by is an adventure to Wicklow Mountains National Park.
Only about an hour's drive from Dublin, County Wicklow (nicknamed the "garden of Ireland") offers endless beauty, stunning scenery, fantastic outdoor adventures, and postcard-worthy settings.
Wicklow Mountains National Park offers limitless opportunities for wonder and awe; we suggest you check out Powerscourt Estate, including the impressive waterfall and gardens, as well as Sally Gap for a scenic drive.
The Great Sugar Loaf is well worth a climb if you're feeling adventurous, and remember to stop by Johnnie Fox's on the way back to Dublin for a spot of pub grub and some live music!
Address: Laragh, Co. Wicklow