Set in North County Wicklow, only moments from the capital city of Dublin is Bray. This sleepy seaside town offers an abundance of things to do when in search of something not from the Dublin hub.
Accessed most easily by the DART (Dublin Area Rapid Transport), this buzzing little town is, in fact, one of the best places to spend the day with a range of centres, museums, sites of cultural significance and activities bound to impress.
Here's our top pick of things to do when in Bray…
5. Mermaid Arts Centre
Mermaid Arts Centre is a unique cultural space set in Bray, County Wicklow. Its vision is clear: to form a direct connection between performers and guests, encouraging personal development, creativity and inspiration.
Having opened in 2002, the Mermaid Arts Centre has consistently expanded, forever staying aligned with its mission whilst offering a truly unique community and creative space, exclusive to no one.
It is also home to the tasty Betelnut Café which has a lovely outdoor terrace. Open for breakfast, lunch and coffee 8am – 6pm Monday to Saturday (closed Sundays except for performances), this is a fine spot to try out or to hang pre- or post-show.
An array of performances, workshops and classes take place in this centre, and it is most certainly worth a visit when in Bray.
Location: Mermaid Arts Centre, Main Street, Bray, County Wicklow, Ireland.
4. The Promenade
A trip to Bray wouldn't be complete without a walk along Bray Promenade! The walk starts near the Martello Tower – the childhood home of the famous Irish writer, James Joyce – and finishes at the foot of Bray Head.
This is the perfect place to get an ice cream and stroll with friends or grab some lunch and sitting looking out to sea.
Check out the best pubs in Bray! The surrounds include lively pubs and fine, local restaurants, and the buzz of this promenade, as kids play and people float in and out of Sea Life, make it an electric place for an afternoon stroll or day date.
Location: Bray Promenade, Bray, Co. Wicklow, Ireland.
3. SEA LIFE Bray
SEA LIFE is one of Bray's most exciting tourist and local attractions. The aquarium offers family fun and exhibits to impress all ages.
This place may not be the biggest aquarium you've ever seen or heard of, so don't be expecting a colossal centre, but saying that the exhibits are well designed and suitable for the many impressive species. And, the staff are more than knowledgeable and renowned for their customer service.
School trips, talks and feeding times are all reasons to love this place too, and seeing as it is indoors, it makes for a fantastic rainy-day activity when in Bray! Just make sure to book your tickets online, as there is a 20% discount by doing so.
Location: The National SEA LIFE Centre, Strand Road, Bray, Co. Wicklow, Ireland
2. Bray Head Cliff Walk
This is one of the most scenic sights in Bray and certainly not worth a miss when in town.
Leading all the way to Greystones (where you can then hop the DART back to Bray), this grade "moderate" walk is more suited for relatively fit adults or families with older children.
The coastal path winds weather-beaten cliffs that offer stunning views across the Irish Sea, the Wicklow Mountains and Bray Head.
Look out for the red arrows that navigate this specific walking path and give at least 2.5 hours for this 7-kilometre walk.
Location: Bray Head Cliff Walk, Bray, Co. Wicklow, Ireland.
1. Star Leisure & Casino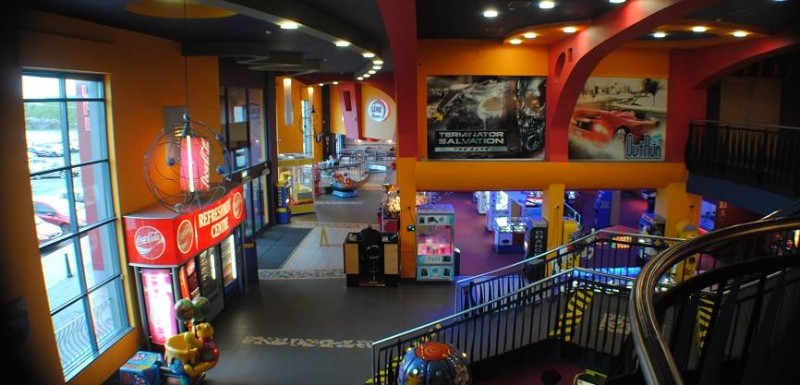 This classic casino-arcade on Bray seafront is one which has been around for decades. And, although it has received a facelift, is still the stuff of nostalgia to many.
Packed with money-hungry arcade games and outdoor carnival attractions for the kiddies (and adults who never grew up!), as well as private indoor poker rooms and a casino for the adults, this place really does have something for all ages.
All games are priced at only €1 and admission is free which means seriously good value. Also, it has a classic prize system, whereby winnings equal toys, games or teddy bears!
Open seven days a week from 10am – 2am this is a great place to spend the day when the weather turns or you're feeling lucky. Just remember to set a budget before coming through the doors – this place gets you hooked too darn quickly!
Location: Star Leisure & Casino, Seafront Park, Newcourt, Bray, Co. Wicklow, Ireland.