Temple Bar is Dublin's leading tourist area. It has earned the fair title of Dublin's "cultural quarter", and with its old cobblestones, buskers lining the streets, bars serving Guinness left, right and centre, it seems only fitting that a trip to Dublin includes a tour of this area.
Set alongside the River Liffey in the heart of Dublin, Temple Bar is as easy to access as you can get. In fact, it's the heart of the city, sitting alongside the Ha'penny Bridge that links the Northside to the Southside of Dublin.
As one of the oldest areas in Dublin, it's packed with character and charm and offers nightlife in abundance with a steady string of traditional pubs, bars, eateries, venues, cafes and coffee shops lining the streets.
Here is our top pick of watering holes in the famous, Temple Bar.
5. Bad Bobs
Bad Bobs is a bit of everything. And, when there so much choice in the area (which can be a tad overwhelming at times), it's awfully handy to end up somewhere that is a late-night pub, bar, club, music venue, and restaurant. With quirky vintage living room décor and eccentric accents throughout the venue, it's certainly a memorable setting for a night out in Temple Bar.
Perfect for a post-work pint on the rooftop terrace or cocktail and dance on a girls night out, Bad Bobs is the kind of place that wanted to offer something for everyone, so did just that.
Address: 35-37 Essex St E, Temple Bar, Dublin, D02 Y891, Ireland
4. Porterhouse Temple Bar
This ultra-popular venue in Temple Bar is bound to be bustling any night of the week and weighs out equal in tourists to locals who choose this as their watering hole of preference.
This chain venue (there is also a Porterhouse on Nassau Street and another in Drumcondra at Cross Guns Bridge), offers its own fine ales and lager, perfect for a beer aficionado looking to try a local brew.
With a never-ending selection of live musicians on rotation, you're not likely to get too bored in this Temple Bar hangout. Bonus points go for its menu which offers traditional Irish dishes as well as catering for speciality diets, too.
Address: 16-18 Parliament St, Temple Bar, Dublin 2, D02 VR94, Ireland
3. The Vintage Cocktail Club
If in search for something a little trendier in Temple Bar look no further than the Vintage Cocktail Club (or VCC as it's known by the locals).
Hidden in plain sight, behind a black door marked only by its acronym in the centre of Temple Bar, this Dublin gem is a favourite of locals and celebrities who have been known to frequent the venue when visiting our fair city (Aaron Paul from Breaking Bad was spotted there not too long ago!).
Behind this mysterious door lies floors of 1920's prohibition-inspired, art-deco interiors with lush, low-lit bar areas serving the finest cocktails on offer in Dublin, alongside an artisanal menu.
Address: 15 Crown Alley, Temple Bar, Dublin, D02 E229, Ireland
2. The Old Storehouse
This top spot in Temple Bar is bound to be one of the highlights of your visit to the capital. Bustling with live music seven nights a week, traditional Irish food, Irish dancers, solid pints of the "Black Stuff" (slang for Guinness) and tonnes of banter all round, The Old Storehouse never falls short of expectation.
With Victorian architecture giving this venue a charming, traditional ambience, this is an ideal spot to rub shoulders with the locals and get some great tips of where to trek off the beaten track.
Check out its website for a full line-up of entertainment to come; running all day, every day, you're never going to get bored at The Old Storehouse.
Address: 3 Crown Alley, Temple Bar, Dublin, D02 CX67, Ireland
1. The Temple Bar
This is an ultimate must-visit bar in Dublin, not to mention Temple Bar. It is a bar that is always mentioned on Dublin travel itineraries. Serving loyal patrons as far back as 1840, this iconic pub is home to the quarter's only fully-licensed beer garden making it the best shout on a sunny day in Dublin.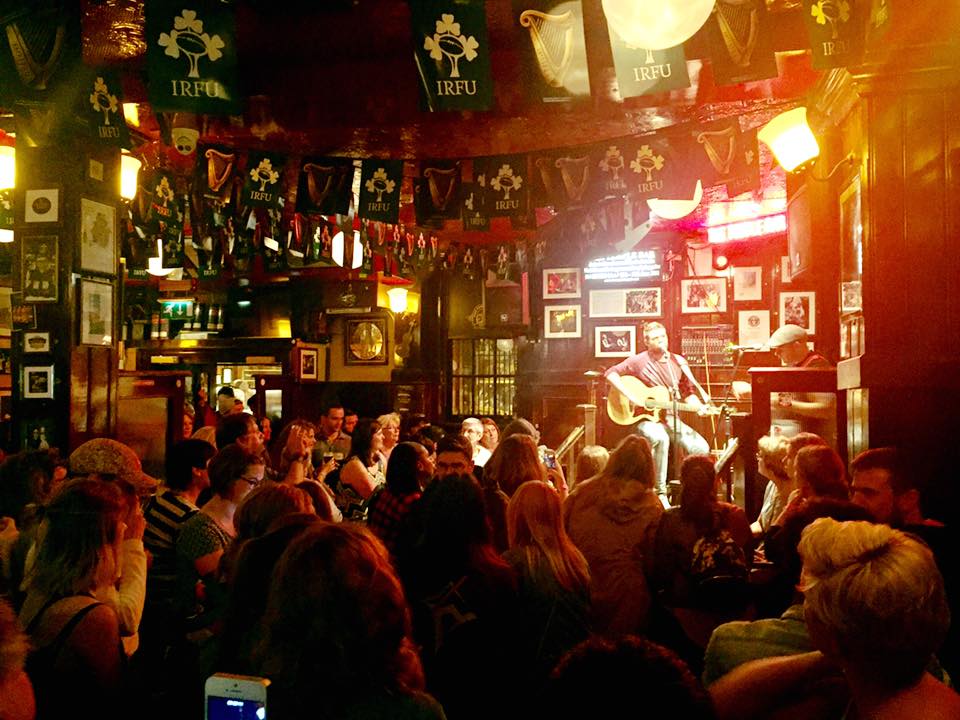 It is also home to one of Ireland's largest collections of Whiskey, with over 450 bottles of whiskey and bourbon on offer. Whether it's Guinness you're after, a classic Dublin dish, some live tunes or banter with the locals, The Temple Bar is always the best bet!
Address: 47-48 Temple Bar, Dublin, D02 N725, Ireland