Over the past couple of decades, the quaint seaside fishing village of Howth has firmly established itself on the tourist trail. For those coming from out of town or Irish nationals venturing their homeland, it's a great spot to explore.
Howth is a great place to watch the sunrise in Dublin.  It is favoured for day dates and mini-adventures as it sits on Howth Peninsula which juts out into the Irish sea. Therefore, it offers a dramatic coastline and tonnes of outdoor excursion opportunities, as well as restaurants and bars in abundance.
Feel like spending 24 hours in this magical Irish fishing village? Here's how to make the most of your time!
Morning
The Grind Coffee
Start your day out right with breakfast and a cup of speciality coffee at The Grind in the Village. Not only is this Howth's leading coffee spot, but The Grind has been recognised in the "Best of Dublin Awards" for three years running.
Its best breakfast offering has got to be the protein pancakes which you can choose to dress with a selection of toppings. Other breakfast delights include a superfood acai bowl, granola, baked porridge and a range of mouth-watering sandwiches.
Location: The Grind, St Lawrence Road, Howth, Co. Dublin, Ireland
Ireland's Eye
After you've filled up quality food and coffee, it's time to get exploring. A trip to Ireland's Eye is one of the most adventurous and unique ways to spend the morning, and a boat from the West Pier takes only a few minutes to reach its sand.
Tours run daily (weather permitting) from 10.30 am until 5 pm. Visitors can choose to do a boat ride around the island, or land on the island and catch a return ferry whenever it passes!
Location: Ireland's Eye Ferries, 3 West Pier, Howth, Co. Dublin, Ireland
Afternoon
The Doghouse Blue's Tea Room
When you've got back to the mainland after your island excursion, it'll be just about time to cosy up in front of a roaring log fire in a big living room style armchair. The place to go is The Doghouse Blue's Tea Room (or locally, just "The Doghouse").
Expect quirky and eclectic décor, made-to-order wood-fired pizza, freshly caught fish dishes and an atmosphere like no other.
Location: The Dog House Blue's Tea Room Restaurant, Howth Dart Station, Howth, Co. Dublin, Ireland
Walk the Piers with an Ice Cream
After you've warmed your bones at The Doghouse for some time, head across the road to The Gem. It may seem like a standard newsagent/convenience store, but this spot is known by locals to have the best soft serve ice cream in town. Then stroll the three piers and enjoy a unique opportunity to inspect fishing trawlers close-up.
Location: The Gem, 2 Harbour Rd, Howth, Co. Dublin, Ireland
Hike to the Summit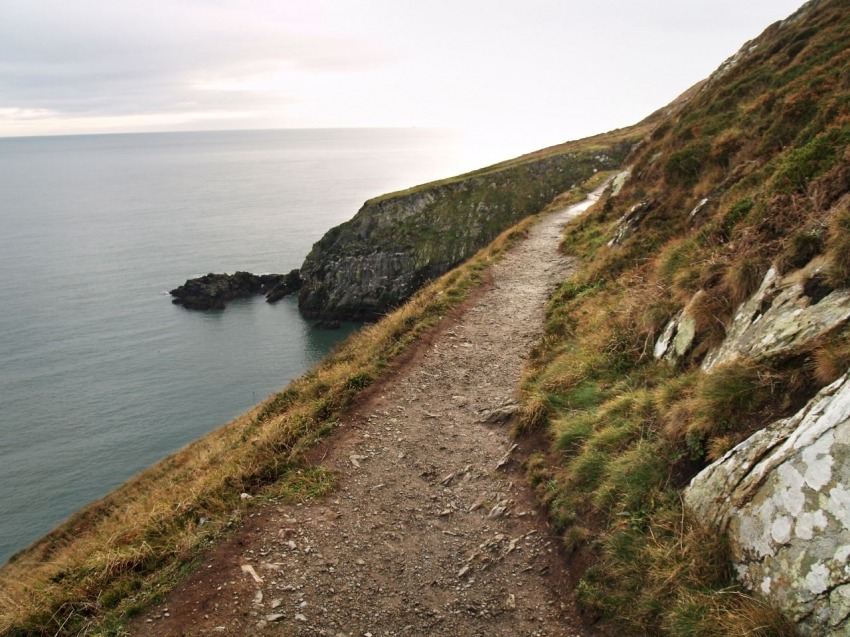 By the time you reach the final pier, you'll be perfectly set up to walk along the cliffs to Howth Summit.
This is a somewhat challenging walk (which will take approx. 1 hour) with some steep ascents, so wear appropriate footwear and expect to experience some of the most stunning coastal vistas you could imagine! The cliffs are one of the best things to do in Howth and are mentioned on many trip guides including Wunderlust Crew's Ireland Itinerary. 
Once you reach the Summit, you'll have birds' eye views over the entirety of Dublin.
Therefore, you could imagine why it's a beautiful place to watch the sun go down.
Then head into the Summit Inn for a pint of "the black stuff" (Guinness) before doing the return walk on the main road back to Howth Village.
Location: The Summit Inn, 13 Thormanby Rd, Howth, Co. Dublin, Ireland
Evening
The House
The House is a top spot for dinner in Howth. Having won a series of accolades you can be sure to enjoy an excellent meal in a relaxed and modern home-style setting. The House has been listed on the "Top 100 restaurants in Ireland" for 5 consecutive years.
Location: The House, 4 Main St, Howth, Co. Dublin, Ireland
Pints in the Bloody Stream
Post-dinner, head on down to the harbour and enjoy pints alongside the locals in The Bloody Stream. This pub is set under the DART (Dublin Area Rapid Transit) station, so it isn't hard to find. Buzzing nightly and home to some great local live music, this is the perfect place to retell the adventures you've had in Howth!
Location: The Bloody Stream, Howth Railway Station, Howth, Co. Dublin, Ireland
Stay
Howth doesn't have any big fancy hotels, so expect instead to get quality local hospitality in the likes of B&Bs. We suggest the King Sitric, which offers harbour views over a fantastic seafood restaurant and bar.
Location: King Sitric, E Pier, Howth, Co. Dublin, Ireland
For those of you looking for a hotel-vibe, check out the Marine Hotel in Sutton, only five minutes drive from Howth Village.
Location: Marine Hotel, 13 Sutton Cross, Burrow, Sutton, Co. Dublin, Ireland