While nowadays he is a household name thanks to a glittering career that seems to be only going from strength to strength, there may still be many interesting facts about Jamie Dornan you were never aware of.
Thanks to his role in Fifty Shades of Grey, the Belfast actor Jamie Dornan has become famous worldwide. Since, he has taken on many more incredible roles, which have seen him star alongside megastars such as Rosamond Pike and Cillian Murphy.
Most recently, having starred as Pa in Kenneth Branagh's semi-autobiographical movie Belfast, Dornan played a part in bringing the story of his home city to global attention.
In this article, to better get to know the humble man, we will list the top ten facts about Jamie Dornan you never knew.
10. Fifty Shades of Grey – he was not the first choice for the role of Christian Grey
While Dornan has now become quite synonymous with the Fifty Shades of Grey franchise, you may be surprised to discover that he actually was never intended as the first choice for the role of Christian Grey.
The role was originally going to be played by Charlie Hunnam of Sons of Anarchy fame. However, he turned down the role, and Dornan had only a few weeks to prepare.
9. He comes from a successful family – from good stock
Perhaps it's not surprising that Dornan has become such a success considering he comes from a very successful family. One of his two older sisters works for Disney, while the other is a prominent fashion designer.
Dornan's father is a gynaecologist and obstetrician who almost became an actor, funnily enough.
8. He was once a model – a different career path
Before he became an actor, Dornan was in front of a different kind of camera.
He worked as a clothing model for fashion giants such as Armani, Dior, and Calvin Klein.
7. He once went out with Keira Knightley – dating the stars
While Dornan has been happily married to his wife Amelia Warner since 2013, there was a time between 2003 to 2005 when he went out with famous English actress Keira Knightley of Pirates of the Caribbean and Pride and Prejudice fame.
They both met during a photoshoot and were in a relationship for the following two years.
6. He's a huge Manchester United fan – a sporting fanatic
Between his love of rugby and soccer, it's no secret that Dornan is a huge sports fanatic.
He played rugby quite a bit when he was younger and when it comes to soccer, he is a massive Manchester United fan. He is said to be a season ticket holder for Manchester United, which is a true sign of any fan's loyalty.
5. He almost became a rugby player – a man of many talents
As mentioned in our previous point, Dornan was a lover of rugby. He was so talented at the sport that he was actually seriously considering turning professional before he went on to become a model and later an actor.
He played as a winger for the Belfast Harlequins, which we bet is one of the facts about Jamie Dornan you never knew.
4. He feels insecure without a beard – not a fan of being baby-faced
Despite being clean-shaven for his most iconic role as Mr Grey, Dornan has claimed that it's not his favourite look. He prefers having a beard to being without one.
He was quoted as once saying, "I feel uncomfortable without it. I find myself moving differently. I don't like myself without a beard".
3. He was once a member of a successful folk band – a true renaissance man
Dornan is truly the embodiment of a renaissance man. Not only is he a successful model and actor but also a gifted singer and guitar player. He even once sang in a fairly successful folk band!
The band was called Sons of Jim, and they once even supported Scottish star KT Tunstall. The band split in 2008.
2. He is obsessed with Don Rickles – the voice of Mr Potato Head
Dornan has confessed in the past to having a weird obsession with the comedian Don Rickles, who is perhaps best known to younger audiences for being the voice of Mr Potato Head in the Toy Story series.
He even has an autographed photo from him, which takes pride of place in his bathroom.
1. Was once roommates with Eddie Redmayne and Andrew Garfield – living with the stars
In first place on our list of ten facts about Jamie Dornan you never knew is that he was once roommates with fellow stars Eddie Redmayne and Andrew Garfield when they were all struggling actors.
Dornan has recalled the experience with fondness and has claimed that all three of them remain close friends to this day.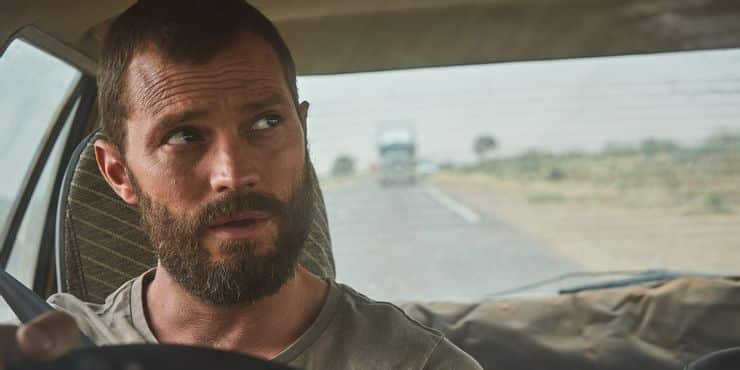 That concludes our list of ten facts about Jamie Dornan you never knew. Did you know any of them already?