We take a look back over the past five decades and lists what in his opinion were and still are the ten best Irish bands.
Throughout the centuries Ireland has given the world many of its greatest: artists, poets, and writers.
This small little country of ours has also since the middle of the sixties, given the world some of its best popular and rock and roll bands. Ireland has also spawned its own genre of popular music — that of Celtic Rock.
I suppose I was lucky, having been born just at the start of the sixties. I entered an era when popular music and rock and roll was as some say at its pinnacle; The Stones, The Beatles, T-Rex and Slade were all at their best when I was a teenager.
Here in Ireland, we were aware of what was called the pivotal moment in rock history happening across the pond in the state of New York at a place called Woodstock. We were also aware of the beat music happenings in the swinging London and Mersey Side of the UK.
While occasionally visiting Dublin or Waterford or any other east coast county you might if you were lucky, grasp at a chance to watch Top of the Pops which wasn't broadcast in single channel-land.
I grew up literally just across the street from Limerick-born singer and songwriter Johnny Duhan. Johnny was a tad bit older than me and was the front-man for what was then one of Ireland's groundbreaking early rock groups, Granny's Intentions. I remember standing outside Johnny's house in Woulfetone Street listening in awe as the band practised for upcoming tours in Ireland, Germany and the UK.
One's preferences in music are subjective and influenced by what one hears as a teen and I have to admit mine would have been influenced by those early days in Limerick. Anyway enough reminiscing, and on with what I would consider Ireland's top ten bands.
Our top facts about Irish Bands:
Celebrated for their traditional folk sound and iconic songs like "Whiskey in the Jar," The Dubliners legacy spans over five decades.
A fascinating fact about Thin Lizzy is that their band name drew inspiration from the British comic strip "The Dandy," featuring a character named Tin Lizzie. They altered the spelling for a more memorable name!
The Pogues had this tradition of incorporating Spider Stacy, a non-musician friend, into their rehearsals. His remarkable tin whistle skills led them to invite him as an official member, greatly influencing their unique sound.
Did you know the Boomtown Rats achieved a notable milestone by being the first Irish rock band to reach number one on the UK Singles Chart with their energetic hit song "Rat Trap" in 1978?
Inspired by a hearing aid shop's name in Dublin, U2 frontman Bono adopted his stage name from the phrase "Bono Vox," which is Latin for "good voice."
10. The Dubliners – the most famous Irish folk band
You might think that the Irish folk band the Dubliners are an odd addition to this list, but think about it.
In the 50 years during which they performed, the band brought Irish traditional music to venues all around the world. They guested on the Ed Sullivan Show in the States, appeared on Top Of The Pops on numerous occasions, collaborated with the Pogues, and were unofficially banned by RTE.
Thanks to inspiring vocals of original lead singers, Luke Kelly and Ronnie Drew, The Dubliners can truly be said to have been the band that popularised Irish folk music not only on the Irish music scene but across the world.
9. Clannad – Donegal's most famous Irish folk band
Often being more popular and successful abroad than at home in Ireland; the Donegal band Clannad has been hugely instrumental in showcasing not only Irish music and traditional folk music but also the Irish language to the world.
Their haunting melodies — Harry's Game and Robin The Hooded Man are only two of the singles that helped bring this Irish band international critical acclaim that can be measured by their achieving eight UK top ten albums.
8. The Corrs – an Irish band with a pop-rock twist
Combining traditional Irish musical themes with rock and pop music has never been easy but a group of siblings from the County Louth have pulled it off in style and with great success.
Since their formation in 1990, the Corrs have released seven studio albums which have sold forty million worldwide along with numerous singles.
Two of which, Talk On Corners and their acclaimed debut album Forgiven Not Forgotten, have been simultaneously number one and two in the UK charts, one of only a handful of bands ever to have achieved this. They are undoubtedly one of the best Irish pop bands.
7. The Boomtown Rats – an Irish rock band from in Dublin
It is very few Irish bands that can lay claim to fame by playing live to a global audience of 1.9 billion people. But the Boomtown Rats can; they played at Live Aid a dual-venue benefit concert held on 13 July 1985 an event organised by band front-man Bob Geldof.
Albums released over the years: The Boomtown Rats, A Tonic for the Troops, The Fine Art of Surfacing, Mondo Bongo, V Deep and In the Long Grass, achieved International success and contained many hits such as; Lookin' After No.1, Mary of the 4th Form, She's So Modern, Like Clockwork, Rat Trap, and I Don't Like Mondays were classics and displayed Geldof's moody talent to the full.
6. The Pogues – singers of the most famous Irish Christmas song
Since its release in 1987, The Pogues single Fairytale of New York has become synonymous with the Christmas holiday season and has joined the long list of Irish classics.
That one particular song which strangely enough has never made it to the number one spot in the UK has sold 1,217,112 copies in the UK, with an additional 249,626 streaming equivalent sales, for a total of 1,466,737 combined sales.
The Pogues' frontman Shane MacGowan is one of Ireland's most prolific and talented songwriters a modern-day Brendan Behan, an Irish writer whom MacGowan has often said was one of his greatest influences.
MacGowen and the Pogues have taken that extraordinary Irish ability for deep meaning and philosophical musings – put their thoughts to music and done the country proud.
RELATED: The 10 best Irish songs of all time ranked.
5. Thin Lizzy – a hard rock band from Dublin
I remember going to an early Thin Lizzy gig in St John's Pavilion Limerick; I must have been about sixteen and it was probably the first gig I ever attended. The atmosphere was electric and when the band struck-up the guitar intro to Whisky In The Jar, well, the building shook. The Boys were very definitely back in town and no mistake.
To hear Phil Lynott belt out the lyrics accompanied by the wailing of Scott Gorham's guitar solos was an experience I'll never forget.
Lizzy were unique in those early days of Hard Rock/Heavy Metal in that they were one of the first bands to incorporate two lead guitarists in the lineup, influenced perhaps by the British band Wishbone Ash.
4. The Cranberries – Limerick's most famous Irish band
The Cranberries were formed in Limerick during 1989 by the then lead singer Niall Quinn, who was to be shortly replaced by Dolores O'Riordan.
An alternative rock with post-punk influences mixed with a bit of Irish folk music ensured the band's international success with the release of their first album, Everybody Else Is Doing It, So Why Can't We?
Known for their alternative pop ballads, this band have not only made their mark on the Irish charts but the global albums chart.
CHECK OUT: Top 10 most famous songs about the troubles.
3. Horslips – the Celtic rockers
To be technically correct Celtic rock is a miscegenation of the traditional folk music of Ireland, Scotland, Wales and Brittany. But one Irish band which was formed in the early seventies has taken the genre to a level popular and recognised worldwide.
Traditional ballads, jigs and reels have forever been revitalised by Horslips and their addition of electric rock instrumentation to the more traditional Irish instruments, like the fiddle and bodhrán.
The pure excitement of their first album Happy To Meet, Sorry To Part, left the country — if you'll pardon the pun — reeling.
RELATED: Top 10 Irish music groups.
2. Westlife – one of the best Irish boy bands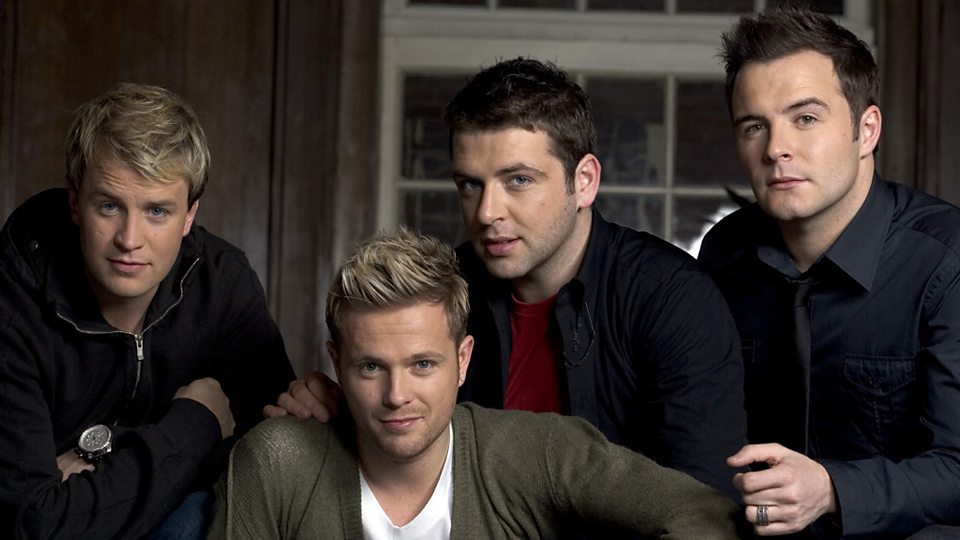 Having written about my own personal musical indoctrination — listening to Granny's Intentions — above, my inclusion of Westlife in this list may seem strange and out of character. But, and in all fairness to this boyband, they have achieved global success and popularity, and if that is a measure of greatness, well, so be it.
One interesting fact I came across while researching this piece was that Simon Cowell reputably said to Westlife's then-new manager Louis Walsh, "You are going to have to fire at least three of them. They have great voices, but they are the ugliest band I have ever seen in my life."
Subsequently, three members of the famous Irish boy band were fired and Nicky Byrne and Brian McFadden were recruited. Ah Well, they are still one of the most revered Irish boy bands.
1. U2 – 170 million+ records sold worldwide, our number one
Love them or hate them and in Ireland, opinions can be equally divided, you have to hand it to the Dublin based Rock group who have conquered the world in music terms.
Formed in 1976 as the Irish showband era was well into its decline, U2 with Bono's expressive vocals coupled with the Edge's individual style of guitar effects, and backed by Adam Clayton and Larry Mullen Jr. the band reached international acclaim with the release of their second album War.
Having released fourteen studio albums to date and sold in excess of 170 million records worldwide you just can't deny their global success. If in only terms of this commercial success you have to hand it to Bono and the lads, they are top of the charts for famous Irish bands.
Well there you have it, my choice of the ten top Irish bands. Take it or leave it, anyway a bit of controversy never did any harm.
Other notable Irish bands
Aside from the Irish bands listed above, there are plenty of others who have made their mark on the global music scene.
Northern Irish band Snow Patrol are one of the most well-known in recent years, with hits such as Chasing Cars skyrocketing them to global success.
Other Irish bands, such as The Murder Capital, have been compared to the likes of Joy Division, while Girl Band redefined the world of Irish post-punk.
Up-and-coming groups, such as girl band Dea Matrona and Inhaler, fronted by Bono's son Elijah Hewson are continuing the legacy of great Irish music.
Your questions answered about Irish bands
Do you have more questions about Irish bands? We've got you covered. Here we will answer our reader's top, most-asked questions.
What is Ireland's most famous rock band?
U2 are often considered to be the most famous Irish rock band.
Who is the most famous Irish singer?
Many consider Enya to be the most famous singer from Ireland.
Who's the most famous Irish traditional band to come out of Ireland?
The Dubliners are the most famous traditional Irish folk band to gain worldwide recognition.