Whether you want to discover some new music or relax with the old favourites, here are the top ten best Irish traditional folk bands of all time.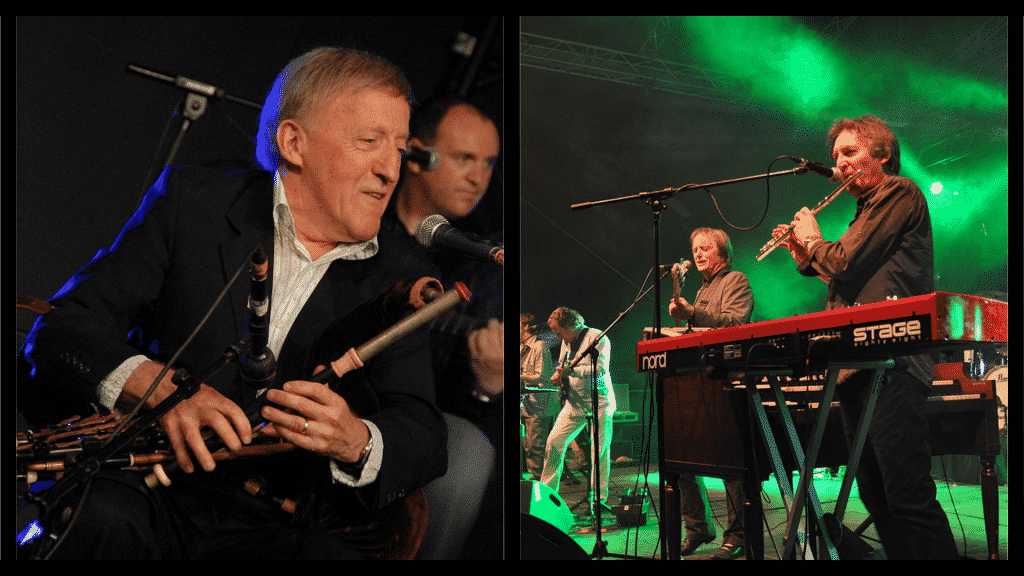 Traditional music is an integral part of Ireland's culture. This is common knowledge to anyone who has been to the Emerald Isle.
Primary school students are well-versed in Celtic folk songs. Grandparents hum trad tunes to their grandchildren. Tourists dance along to Irish music in the pub. Our country's music is everywhere, and Ireland has no shortage of fantastic folk bands.
While ranking them in order seems near impossible, we've given it our best shot. Read on for our list of the top ten best Irish traditional folk bands of all time.
Ireland Before You Die's interesting facts about the best Irish traditional folk bands
Traditional Irish folk bands are known for their distinctive sound created using instruments such as the fiddle, tin whistle, and bodhrán (a type of drum).
Did you know that Riverdance, a globally renowned Irish dance show, helped popularise traditional Irish music and inspired the formation of numerous folk bands?
The tradition of session music, where musicians gather in pubs or homes to play and share tunes, has been a vital part of the Irish folk music scene.
Irish trad music has roots in ancient Celtic music traditions and has been passed down through generations, preserving its unique character and style.
10. Horslips – known as 'the founding fathers of Celtic rock'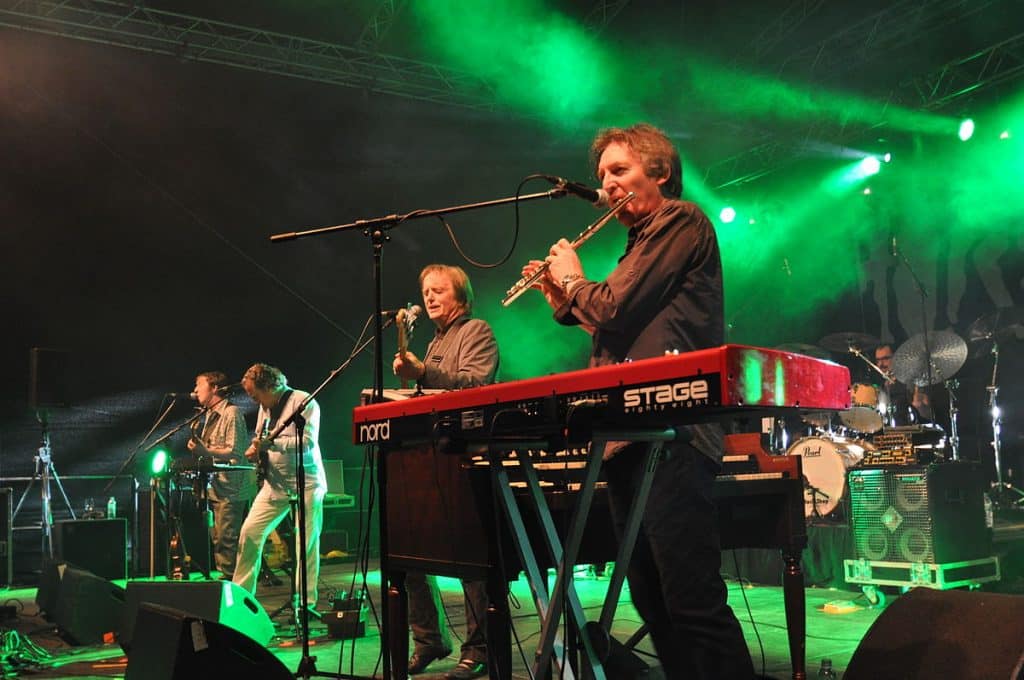 Although this band can be identified primarily as a rock band, they qualify as a traditional Irish folk band, too. Horslips are celebrated for their use of traditional Irish music that underlies their Celtic fusion style.
Their most popular song is called 'Dearg Doom'. There's not an Irish person alive who won't dance as soon as they hear this song's opening guitar chords.
9. Celtic Woman – North America's favourite Irish folk band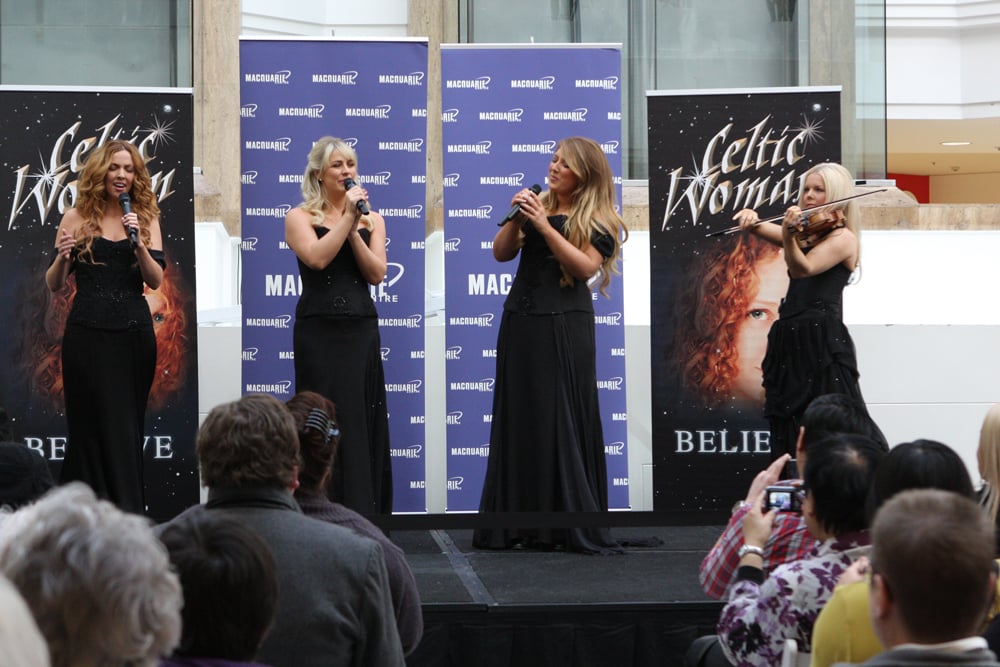 Celtic Woman, the all-female ensemble, has achieved worldwide fame. They have sold nine million records globally with incredible traditional songs and Celtic music.
What was originally meant to be a once-off performance featuring five Irish musicians who had never performed together before transformed into the band we know today.
Celtic Woman are hugely popular in North America, thanks to their stunning vocals and consistency when it comes to releasing new albums.
8. Dervish – one of the best traditional Irish folk bands of all time
This County Sligo band formed in 1989 are still making music today. They received a lifetime achievement award from the BBC in 2019 and continue to perform their Irish folk songs.
With a combined love for jigs, reels, and songs, Dervish have captivated audiences worldwide. The band is due to tour the USA and Canada in 2022. So, don't miss out if they visit your city!
7. Altan – the first traditional Irish music group to sign with a major record label
Altan was formed by husband and wife, Mairéad Ní Mhaonaigh and Frankie Kennedy in County Donegal. Irish language songs from their home county inspired their music and led them to sell over a million records.
Altan became the first traditional Irish music group to sign with a major label when they signed with Virgin Records in 1994.
Frankie Kennedy sadly died that same year. However, the group's other members and Ní Mhaonaigh have carried on his legacy as one of Ireland's best Irish traditional folk bands.
READ MORE: Top 10 facts about the Irish language you never knew.
6. Lúnasa – merging the old with the new
The Celtic Irish folk band Lúnasa have spent their career touring the Americas, Europe, and Asia. They've recorded a total of twelve albums since their formation in 1997.
Lúnasa's music incorporates both traditional and contemporary Irish music. We suggest you check out their compilation album 'Lúnasa: The Story So Far' to get the low down on their greatest hits.
RELATED: Top 10 iconic instruments used in traditional Irish music.
5. Clannad – Ireland's multilingual folk band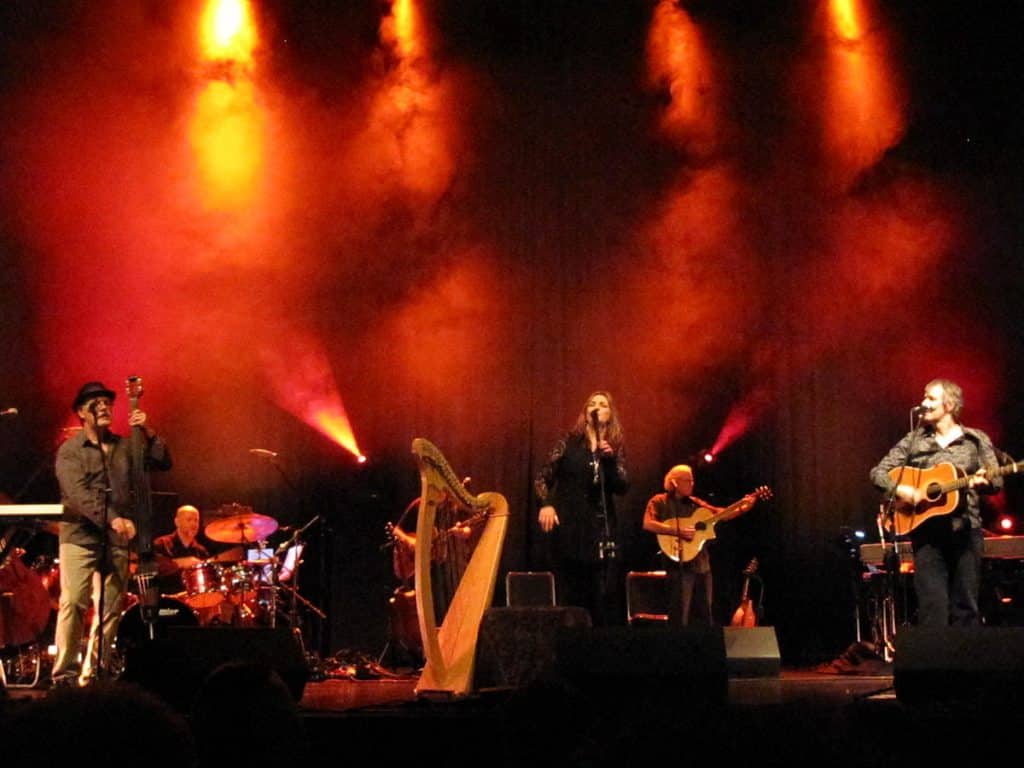 Clannad is an Irish band hailing from Gaoth Dobhair, Donegal. The current members consist of three siblings and one uncle who have created memorable Irish folk songs.
Formed in the 1970s, Clannad have experimented with several styles of music; traditional Irish music, Celtic rock, new age, and jazz to name but a few. Clannad are well-known internationally, having toured the USA and recorded music in six different languages.
CHECK OUT: Top 10 best traditional Irish music festivals in Ireland ranked.
4. Planxty – where Christy Moore started out
Planxty were an Irish folk band that formed in the 1970s. Joining the band were huge names in Irish music, such as Christy Moore and Andy Irvine.
Following the release of their first single 'Three Drunken Maids'/'Sí Bheag Sí Mór' in 1972, the band performed live on an Irish talk show called The Late Late Show, where many trad acts have been known to gain their fame.
3. The Clancy Brothers and Tommy Makem – Ireland's most influential folk band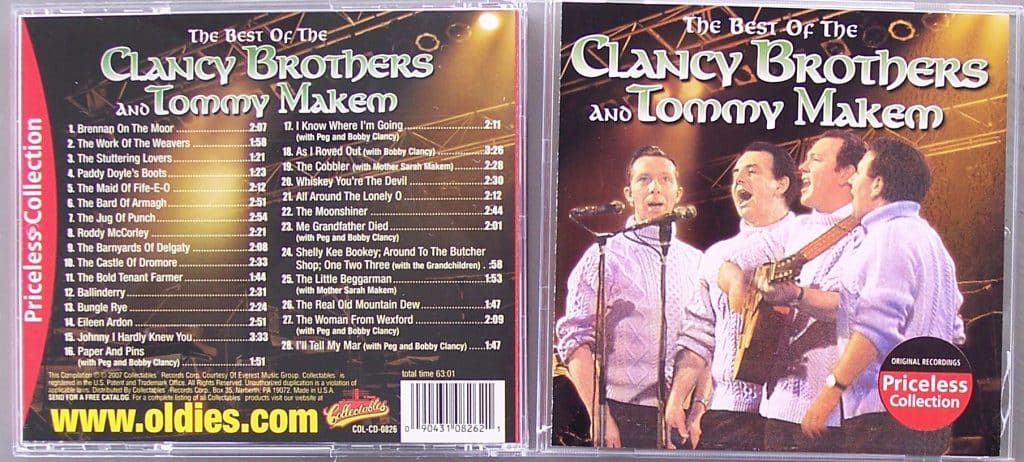 Popular in the 1960s, The Clancy Brothers and Tommy Makem often performed in their iconic Aran jumpers, popularizing traditional Irish music in Ireland and abroad, spreading the Irish musical tradition.
The band, in their prime, were well-known for their lively renditions of old Irish ballads, sea shanties, and drinking songs. Thus, making them some of the country's best traditional artists. 
It is said that their talent acted as a catalyst in the age of Irish folk bands, prompting the likes of The Dubliners and The Wolfe Tones to take centre stage.
2. The Chieftains – one of our favourite Irish traditional folk bands
The Chieftains have played a huge part in making Irish music known to the world. They have won 6 Grammys and were awarded the title of 'Ireland's Musical Ambassadors' by the Irish Government in 1989.
Their music is almost entirely instrumental, made unique by its frequent use of uilleann pipes. The band has seen many members, including Paddy Moloney, who sadly passed away in 2021.
1. The Dubliners – legends of Irish traditional music
The Dubliners are the epitome of a traditional Irish folk band. A 50-year career saw Ronnie Drew and Luke Kelly as the band's lead singers.
With a legacy to inspire generations, The Dubliners toured Europe and attracted fans near and far. Big names, such as Bob Dylan and Jimi Hendrix, followed the band.
One of their albums entitled, The Very Best of the Dubliners, will present you with famous sing-alongs and poignant ballads, keeping Ireland close to your heart at all times. The album includes some of the best Irish songs ever made. 
Other notable mentions
The Bothy Band: Formed in the 1970s and including the likes of Matt Molloy, they were traditional musicians who quickly become one of the most popular and best Irish traditional folk bands.
The Boys of the Lough: This was a collaboration between Irish and Scottish musicians, which developed a lovely mix of traditional music and musical forms. Giants of Scottish music, such as Dick Gaughan were involved.
The Kane Sisters: The Kane Sisters are traditional Irish fiddle players from Connemara in County Galway. They have released three excellent albums. Their latest album is from 2010, which includes some great contemporary folk music.
Your questions answered about the best Irish traditional folk bands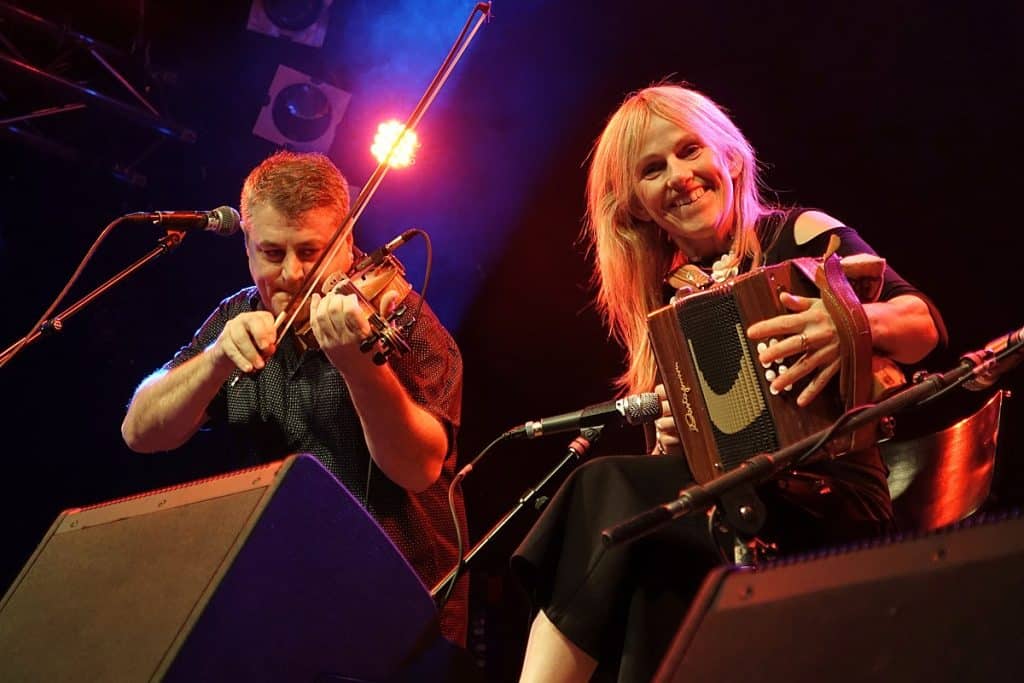 What Irish band is considered the best of all time?
U2 are often considered to be Ireland's best band of all time, with in excess of 170 million records sold worldwide and composing some of the best Irish songs.
Which band is famous for Irish folk music?
The Chieftains, founded by Paddy Moloney in 1962, are extremely famous for Irish folk music. The Chieftains have created popular music worldwide.
Are there other popular names in Irish traditional folk music?
Yes. They would include Dónal Lunny, Sharon Shannon, Lisa O'Neill, and Barney McKenna, who helped to make and write traditional songs and Celtic music.
Is folk played elsewhere in the world?
Yes, Scottish music has already been mentioned. There is Hungarian Folk Music, Scottish Folk, Swedish Folk Music, and other Nordic countries.
There is the Canmore Folk Music Festival in Alberta, the Lowell Folk Festival in Seattle, and the Port Fairy Folk in Australia. Folk music is also played in North Carolina, USA. Each have their own mix of traditional artists and contemporary folk music.